Veteran players embracing experience
February, 15, 2010
02/15/10
11:14
PM ET
VANCOUVER, British Columbia -- It struck me on Monday seeing the enjoyment these two old goats were having out there in practice with their respective teams at Canada Hockey Place.
[+] Enlarge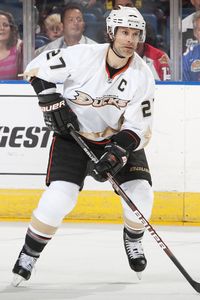 Scott Audette/NHLI/Getty ImagesScott Niedermayer is enjoying his Olympic experience.
Sergei Fedorov and Scott Niedermayer, one with thinning hair, the other graying, but both re-energized by this two-week trip down memory lane. One last kick of the Olympic can for two future Hockey Hall of Famers.
"It's going to be a great time," Niedermayer, 36, told ESPN.com after Team Canada's practice.
"It's a big event for so many people and athletes. So to be part of that, it's a lot of fun."
The 40-year-old Fedorov smiled ear to ear as he described what lay ahead here. He's surrounded by young star teammates and they're making him feel young again.
"I'm just delighted to be around those guys and have fun," said Fedorov. "If you want to be part of the group, you have to goof off too sometimes."
Both Niedermayer and Fedorov were feeling a little nostalgic Monday. They both promise to soak it all in this time in their third and final Olympics.
"That's what happens when you get older," laughed Niedermayer. "But yeah, the fact that you've been here before, at times you relax a bit more and try to really enjoy it. I'm going to try to do that for sure. It's a fun time to be part of this."
Niedermayer has the added bonus of playing in his native province of British Columbia. Quite frankly, even if he won't admit it, I truly believe the only reason he came back for another NHL season is for these two weeks.
Both veterans will be counted on to help alleviate the immense pressure on their respective countries to deliver a gold medal. Russia, despite its huge talent, has not won a gold medal in the three Olympics with NHL players (its best showing was silver in '98). How much is that weighing on the Russians?
"I don't think anybody on the team thinks about when we won last time Olympics and stuff because we're having too much fun," said Fedorov. "Just hanging out together and practicing together and hopefully playing well together."
Over on the Canadian side, let's not explain yet again just how much pressure there is on the host country. But Niedermayer, who wouldn't get frazzled in the middle of a tsunami, sees the bright side of the Canadian obsession, er, I mean passion.
"I think people here love hockey, it's as simple as that," said the Ducks captain. "There are many, many people in Canada that love the game. They love playing it, they love watching it, they love cheering their team on -- we're happy to be part of that. Playing hockey in Canada is a huge thrill."
And I think he actually means that. He's loving hockey for the first time in a long time. His Russian counterpart? He sees the exit door soon approaching. These Olympics could be a heck of a final chapter.
"I always say that in my entire career I'd like to [go] out with a bang I guess," said Fedorov. "I've got one more year in Russia [KHL] after this Olympics and I'd like to just try to touch that style of player I used to have when I was 25 years old.
"So if I can do that just a touch, not necessarily stay on it, that would be great for me."