Is Selanne the greatest Finn player ever?
March, 22, 2010
03/22/10
4:23
PM ET
One major milestone down, one more to go.
Reaching the 600-goal plateau was one thing. But if Teemu Selanne scores two more goals in the 11 games left on the Anaheim Ducks' regular-season schedule, he will pass Jari Kurri for the most NHL goals ever scored by a Finnish player.
"I know, that will be a huge honor if it's going to happen," Selanne told ESPN.com on Monday. "I had his picture on my wall when I was younger. Now he's a really good friend of mine. It would really be an honor."
Kurri, the clutch triggerman for Wayne Gretzky in Edmonton during the 1980s, knew Selanne would pass him one day.
[+] Enlarge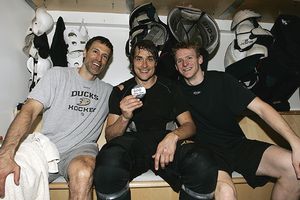 Debora Robinson/NHLI/Getty ImagesScott Niedermayer, left, and Corey Perry, right, both set up Teemu Selanne's historic goal Sunday.
"I accepted that a long time ago already," Kurri, with a chuckle, told me Monday from Helsinki.
From one Finnish hockey legend to another, Kurri was thrilled to wake up Monday and hear his countryman had scored No. 600.
"It's great to see; what a great career," the Hockey Hall of Famer said. "He's been such a great sniper. He loves to score goals. He enjoys that part of the game so much. He's kept himself in great shape. To reach that milestone, not many have done it, and he's a very unique player."
So, the greatest Finnish player ever is … Kurri or Selanne? Surely the 600-goal club puts Selanne into the discussion.
"For sure he should be [in the discussion]," Kurri said, chuckling. "I'm obviously not the guy to answer that question, but he's in that debate for sure. It's up to you guys to answer that. But it doesn't really matter to both of us. I'm just happy for him. He's had tough times in his career with injuries, but he's come back with heart."
Knee problems almost derailed Selanne's career a half decade ago, as his 16-goal campaign in 2003-04 in Colorado was marred by aching knees. But surgery during the 2004-05 lockout gave him a second lease on his career, not to mention 158 more goals.
"The Colorado year, when I was struggling with my knees, I couldn't really play at my level, and it was really hard," Selanne said. "After the knee surgery, when I realized I could use the same speed and play normally, it was an unbelievable feeling. After that, after the lockout, I really have enjoyed this game more than ever. Everything else is just a bonus. When you're driving to the rink with a smile on your face, it's fun."
I can't remember ever seeing Selanne without a smile. There are few players more fun to be around than he.
"He's just a great person," Keith Tkachuk, his teammate in Winnipeg almost two decades ago, told ESPN.com on Monday. "The way he treats people, whether it's guys on his team or fans or people he's met for the first time, he leaves a special feeling with you when you meet him. He was phenomenal to be around."
"Off the ice, he's done a lot for the community and charities and stuff like that," Kurri said. "He always finds the time for fans. Not too many superstars spend so much time with fans like he does."
Selanne and his warm smile arrived in North America 18 years ago, and it didn't take long before the "Finnish Flash" was a sensation in Winnipeg.
"I saw him score 76 goals in a season," said Tkachuk, a fellow rookie on the Jets in 1992-93. "What he did that year was amazing. He caught the league by surprise with his speed. I don't see how it's changed since the time he was 21 to right now. It seems like he hasn't lost a step. He always has found the net in stride, which you only see in the National Hockey League from a few players."
Former standout NHL defenseman Phil Housley racked up 79 assists that season in Winnipeg. You can guess why.
"The Housley-to-Selanne connection happened at least 25 times that year on breakaways alone," Tkachuk said. "It didn't take long for people to figure it out, and they still couldn't stop him, he was so fast. Phil had such great vision, and Teemu would always find an opening. The finish [no pun intended] Teemu had was amazing. It was fun to watch. It was something special."
Selanne fondly remembers that rookie season in Winnipeg.
"You know what, we had an unbelievable line with [Alexei] Zhamnov and Tkachuk, and we had Housley [on defense]," Selanne said. "Hockey was so much fun and so wide-open. I remember [there were] two or three breakaways every game, and I knew if I got open, there were guys that could feed me, and Housley was a huge part of that.
"Over the years, I've been so lucky to have played with so many great players. That made my job so much easier."
How fitting indeed that a fellow legend in Scott Niedermayer got the primary assist on Selanne's 600th goal Sunday night. The two are both headed to the Hockey Hall of Fame one day and, who knows, maybe at the same time if they both retire this summer. Selanne told people around him before this season that this was likely his last, but he's kept a small window open just in case.
"I'm going to decide that after the season," the 39-year-old forward said. "When I have been healthy, I still enjoy every moment. But this year has been tough with all these strange injuries that I've had. It's just unbelievable. It has been tough. I still look at this [season] as my last one, but I think my final decision is going to come a couple of weeks after the season when you just feel normal and you have a better, bigger picture of the whole thing. But in my mind, I had decided earlier that this would be my last year, and I still think the same way."
Tkachuk's future
Because I had Keith Tkachuk on the phone Monday, I made sure to ask him about his own future. Has he made his decision?
"Not yet," the St. Louis Blues forward said. "We're in a crucial run right now, and I don't want any distractions. We'll see what happens after the season."
But it'll be a quick decision right after the season.
"Yes, either way," he said. "We'll see. I'm hoping we're in the playoffs."