Who will win latest chapter of rivalry?
March, 23, 2010
03/23/10
10:20
PM ET
Round 3 of the NHL's glitziest rivalry comes Wednesday night in Washington with the NHL-leading Capitals frothing at the mouth as they host the reigning Stanley Cup champion Pittsburgh Penguins.
OK, I made up the part about the Caps frothing at the mouth. But the chance to go up 3-0-0 in the season series against the rival Penguins is an attractive possibility for the run-and-gun Caps. There's no love lost for the team that knocked Washington out of the playoffs last season in a series that brought this rivalry to new heights.
Try being Mike Knuble. He got the double whammy. First, Sidney Crosby's team knocked him out of the playoffs two seasons in a row when he was still with the Philadelphia Flyers. Now, he's with the team whose Cup hopes were crushed by the Pens last spring. Forgive Knuble for having Pittsburgh, Pittsburgh, Pittsburgh on the mind!
[+] Enlarge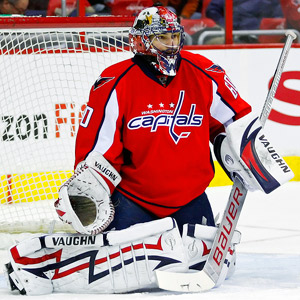 Geoff Burke/US PresswireJose Theodore has posted a 16-0-2 record in his past 18 games for the Capitals.
"Pittsburgh just seems to get the upper hand on everybody," Knuble told ESPN.com on Tuesday after practice. "Even from my time in Philly, they seemed to get the upper hand on us then and everybody last year. They're the ones everybody wants to be like. That probably means there's a bit of a bull's-eye on them."
It seems that way, although the defending Cup champs haven't had an easy time with the two other chief contenders in the Eastern Conference. The Pens are winless in eight games versus the Caps (0-1-1) and New Jersey Devils (0-6-0).
Knuble, meanwhile, has switched from one heated rivalry to another.
"I think there's a Bermuda Triangle between Philly, Washington and Pittsburgh," said Knuble, who scored the overtime winner Feb. 7 against Pittsburgh. "They're all pretty competitive games, but obviously with [Crosby and Alex Ovechkin] you've got two big headliners. They get a lot of the attention, so everybody wants to see a good game out of those guys, some excitement, see them get a couple goals apiece. But they're pretty good games. I'm sure we're all going to see each other in the playoffs."
Ah, yes … the playoffs. There's nothing else the Caps can possibly achieve in the regular season that would impress anyone anymore. From wire to wire, they've been the most impressive team in the NHL this season, scoring goals like it's 1984 and doing it with style.
But that will mean nothing three months from now unless they're in the Stanley Cup finals. Maybe that's a little harsh, but it's the truth. The proof will be in the playoffs for the Caps. It doesn't matter whether they beat the Penguins on Wednesday night. Can they do it when it really counts?
Caps GM George McPhee has been a busy man since that Game 7 loss to the Pens in the second round last season. Knuble and fellow veteran forward Brendan Morrison were added in the offseason. Other veterans followed during the season via trades: forwards Jason Chimera, Scott Walker and Eric Belanger as well as defenseman Joe Corvo.
Knuble was an especially inspired addition, a cerebral and character player who just gets the job done; a "glue" guy, if you will.
"It's been a pretty good fit, and obviously we've won a ton of games and that makes things easier," said Knuble, fourth on the Caps with 25 goals in 60 games. "Personally, I got off to a bit of a slow start and [coach] Bruce [Boudreau] was mixing things up and then I missed a dozen games with a broken finger. Next thing you know, it's around Christmas and you felt like you haven't really started your season yet.
"But from the absolute first game of the season, the team has been playing well and just winning a ton of games. So for me, it was just a matter of time and getting comfortable. There were a lot of good pieces and good players here already. I was just trying to fit in."
This team is still about Ovechkin, Mike Green and Nicklas Backstrom, but now the Capitals have some veterans to help ease the burden.
"Leaving Philadelphia last summer, you knew what this team had," said Knuble, who signed a two-year, $5.6 million deal. "You knew it was a young group that has got a lot of playoff experience the last two years, lost to Philly in seven games [in 2008] and made a good run last year. George has done a good job of getting his core group and letting them mature."
The Achilles' heel of this incredibly talented Caps team, real or perceived, has always been goaltending. To be fair, that conclusion wasn't too far off halfway through the season when the team still wasn't sure who would be their No. 1 goalie, Semyon Varlamov or Jose Theodore. But the second half has produced a victor: veteran Theodore, who has somewhat quietly posted a 16-0-2 record in his past 18 games while allowing more than three goals in only three of those starts.
At some point, you have to say, what else can the former Hart and Vezina trophy winner do to convince his critics?
"If he perceives there's a lack of respect, that could be a great motivator for Jose," Knuble said. "But it's not on our goalies, Varlamov or Jose. We've got the numbers; maybe people don't like the way we've achieved those numbers. You figure Theo is 16-0-2 and people still have a problem with it. I guess people don't like the way we've achieved it sometimes. But Theo has played very well. He deserves to have a record like that."
No point arguing about it. The playoffs will settle the matter. Not just for Theodore but for all the Caps.
Bring it on.