You can't forget these 50-goal seasons
March, 26, 2010
03/26/10
1:20
PM ET
Alex Ovechkin, Sidney Crosby and Steven Stamkos are knocking at the door of the 50-goal club as we approach the end of the regular season. The 50-goal plateau has always had a special place in NHL history, and Ovechkin is on the verge, amazingly, of attaining it for the fourth time in his five-year NHL career.
Let's take a trip down memory lane thanks to my purely subjective list of memorable 50-goal seasons:
• Will Ovi match Gretzky or Bossy's 50-goal campaigns? Vote now!
[+] Enlarge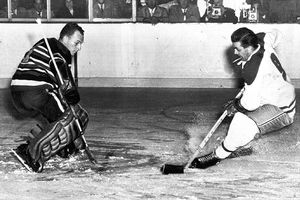 AP PhotoMaurice "The Rocket" Richard was the first NHL player to score 50 goals in a single season.
March 18, 1945: Maurice Richard
Montreal's Richard was the first player in NHL history to score 50 goals, as "The Rocket" did it in his 50th and last game of the regular season.
Legendary hockey broadcaster Dick Irvin, whose father coached "The Rocket" in those days, wasn't there that very night, but he did catch one heck of a game that same season.
"I was on the bench the night 'Rocket' scored five goals, so I saw five of those 50 in one night," Irvin told ESPN.com on Thursday from his Montreal home. "I was still living in Regina at the time, but we would come down and visit my dad sometimes at Christmas time. So that time he had me sit on the bench for that game. Can you imagine that?"
March 16, 1961: Bernie (Boom Boom) Geoffrion
Geoffrion became the first player to reach 50 goals since "The Rocket" set the mark 16 years earlier. The Montreal forward did it in his 62nd game of the season. Irvin, of course, was there to witness that superb season.
"Geoffrion that year had as good a year as any player I've ever seen," recalled Irvin. "He was a terrific player that year. He won the Hart Trophy. I mean, nobody had done it since 'Rocket,' you know? At the time, Boom was kind of in the soup here. He was the guy that had won the scoring championship when 'Rocket' was suspended [in 1955], so he was never the most popular guy.
"I remember when I wrote my book on the Canadiens and I interviewed Geoffrion, all he talked about was how his kids were treated at school and what the people did to him because he beat the 'Rocket.' 'What do you want me to do, not score goals?' he told me. When he got the 50 goals, it kind of got him off the hooks with the fans here. But at the same time, he still wasn't the most popular guy in town even with the 50 goals."
March 2, 1966: Bobby Hull
The Chicago Blackhawks winger put one past Hank Bassen for his 50th goal in his 52nd game of the season. He would end up tallying 54 goals, becoming the first player to eclipse 50 goals. Hull posted five 50-goal seasons in the NHL and four more with the WHA's Winnipeg Jets. Hull's trademark was his wicked slap shot.
"In those days, it was big time," said Irvin. "He had the flash and dash."
Feb. 20, 1971: Phil Esposito
The Boston Bruins forward tallied No. 50 in his 58th game of the season en route to a then-NHL record 76 goals. Espo would register five 50-goal seasons and, strangely enough, three of his 50th goals were tallied on the same day in three different seasons (Feb. 20). His 76 goals in a single season stood as the record until a guy named Wayne Gretzky came along and broke it in 1981-82.
March 29, 1975: Guy Lafleur
The Canadiens forward scored No. 50 in his 66th game of the season. The first overall pick in the 1971 NHL draft carried enormous pressure on his shoulders; he was expected to be the next great Habs superstar following in the footsteps of Jean Beliveau. Reaching the 50-goal plateau in his fourth NHL season got the monkey off his back.
"I always remember that after his third season, [GM] Sam Pollock called [coach] Scotty Bowman and [director of player development] Claude Ruel into his office and wondered if they should trade him," said Irvin. "Scotty argued no. So did Ruel. They were the ones who talked Sam out of it. He was discouraged about Lafleur, because he got only 21 goals in his third season."
The following season, Lafleur famously stopped wearing a helmet, and the rest is history.
"I remember the first game they played that season was against the Islanders," said Irvin. "You just had to say, 'Wait a minute, who's No. 10?' He was a transformed player. Something happened to him. From that day on, I always say he was the best player in the world for a period of five years or so."
The Flower would put up six consecutive 50-plus goal seasons, the third best consecutive 50-goal season streak in NHL history.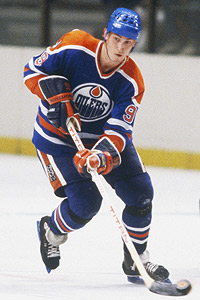 Focus on Sport/Getty ImagesWayne Gretzky scored five goals on Dec. 30, 1981, to become the first player to score 50 goals in 39 games.
Dec. 30, 1981: Wayne Gretzky
The Edmonton Oilers star scored No. 50 into an empty net against Philadelphia. And the empty-net goal was his fifth of the game.
This will be the only time you'll ever see "December" and "50th goal" in the same sentence. In a ridiculous record that in my mind will never be matched -- ever -- The Great One needed only 39 games to reach 50 goals en route to an NHL-record 92 goals that season. Mind-boggling. Gretzky, of course, still holds the all-time career record with 894.
Jan. 24, 1981: Mike Bossy
The New York Islander scored 50 in 50, the first player to do it since Richard.
"It was a great television shot of him doing a tap dance after that goal," said Irvin. "He told me once he was embarrassed by it now, the way he celebrated."
March 28, 1982: Blaine Stoughton
Cue up "Brass Bonanza"! The Hartford Whalers forward reached the plateau in his 76th game of the season. To me, Stoughton is the poster boy of the free-wheeling '80s and the complete disregard for defensive hockey. I miss those days. Hey, I'm not picking on Stoughton, he was a good player. But the 50-goal plateau should be for great players. In the 1980s, there were a number of good players who took advantage of the open style of play to reach 50 goals, including Dennis Maruk, Wayne Babych, Mike Bullard, John Ogrodnick, Bob Carpenter and Jimmy Carson. Again, nothing against those players, they had good careers. Good, but not great.
• Have your say on the 50-Goal Club now!
March 14, 1984: Rick Vaive
The Toronto Maple Leafs winger scored No. 50 in his 69th game, reaching the plateau for a third consecutive season. To this day, I don't think Vaive gets nearly enough credit for what he achieved on a brutal team. These were the '80s-era Leafs, the Harold Ballard-stinky Leafs. The team missed the playoffs two of the three seasons Vaive scored 50. And believe me, making the playoffs in the Norris Division in those days wasn't exactly a chore, so you had to go out of your way to miss the postseason. Hats off to Mr. Vaive.
March 11, 1986: Bossy
Bossy scored his 50th in his 67th game, making it an NHL record nine seasons in a row with 50 or more goals (Gretzky did it eight seasons in a row, but had nine overall). Bossy would play only one more season, score 38 goals and retire due to back problems. His career would see him with 50 more or more goals in nine of his 10 NHL seasons, including five seasons of 60 or more.
"He's one guy that never missed a chance," Gretzky told ESPN.com on Wednesday. "He was probably the best goal scorer I ever saw. And I never saw 'Rocket' Richard live. But Mike Bossy was the best I ever saw. Second was Mario. They just didn't miss. If Mike got a breakaway, you might as well just go straight to center ice because he didn't miss. It was in the net."
Thank you for the Mario reference, Wayne. On this date, Lemieux scored No. 50 in his 44th game en route to his legendary 85-goal season, the fourth-best goal campaign in NHL history. Injuries and illness would "limit" Super Mario to six 50-plus goal seasons, so one only wonders where this incredibly gifted center would have ended up if he stayed healthy. Not that his NHL totals are anything to sneeze at: 690 goals in 915 regular-season games, an average of 62 goals per 82 games. Hello.
The Los Angeles Kings center scored his 50th in game No. 51 en route to a career-best 70-goal, 150-point season. Do you think there's any chance Gretzky's arrival from Edmonton that season had a big influence on Mr. Nicholls? His 70-goal year was the only time in 19 NHL seasons he would eclipse the 50-goal plateau. Go big or go home!
The Detroit Red Wings captain potted No. 50 in his 55th game ... against Pokey Reddick, no less. Stevie Y would end up with a career-high 65 goals. He had five 50-goal seasons, but none over his final 12 campaigns, as the Hockey Hall of Famer changed his game under Scotty Bowman and became the league's premier two-way player while winning three Stanley Cups.
The St. Louis Blues star scored No. 50 in his 49th game, well on his way to a career-best 86-goal season, the best goal-scoring campaign in NHL history not produced by a guy named Gretzky. Hull would score 50 or more goals in five seasons, which is kind of low when you consider his 741 career goals. But he also fell victim to playing during the league's trap-focused era in the late 1990s.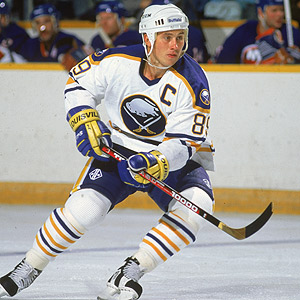 Claus Andersen/Getty ImagesAlexander Mogilny reached the 50-goal mark twice in 17 NHL seasons.
He registered his 50th goal in only his 46th game of the season for the Buffalo Sabres, victimizing Sean Burke on the play. This remains one of the most underrated seasons in NHL history, as the mercurial Russian tallied a career-high 76 goals. He would score 50-plus goals only one more time in his career and always left you with the impression there was so much more there.
Boston's fan favorite beat Don Beaupre for his 50th goal in only his 44th game of the season.
Imagine, only 44 games -- that's Gretzky/Lemieux territory. The injury-plagued Neely would register three 50-goal seasons and, for a short time period, was the best power forward of his era.
The Calgary Flames forward tallied No. 50 in his 79th game of the season. He would add two more for a career-high 52 goals. Here's why I'll never forget this campaign by Iginla. The Flames ranked 22nd in the NHL that season with 201 goals; Iggy was responsible for 26 percent of his team's offense. Truly amazing.
The
San Jose Sharks
forward scored his 50th goal in his 78th game of the season. He ended up with 56 goals that season. Four seasons later, he's playing for the AHL's Binghamton Senators. And he's only 29. Truly a mystery. While being paired with the newly acquired
Joe Thornton
in 2005-06 was certainly the main reason for his trigger-happy season, Cheechoo never rediscovered that magic with Thornton (part of that is because of a series of injuries).
March 3, 2008: Alex Ovechkin
The Washington Capitals star netted No. 50 in his 67th game en route to a career-high 65 goals. He was the first player in 12 years to eclipse the 60-goal barrier and is this era's premier goal scorer. His rugged, sometimes over-the-edge style of play is also a fitting salute to where the 50-goal club all started, with the fiery Richard.
"That was the 'Rocket,' that was the way he played," Irvin said. "You know, everyone talks about his suspension in 1955, but he got suspended in 1947 in the Stanley Cup final against Toronto. 'Rocket' hit Vic Lynn over the head with his stick [in the same game he also swung his stick at Bill Ezinicki] and Clarence Campbell suspended him for one game. And they lost that game, and lost that series to Toronto. ... Can you imagine Gretzky or Lemieux being suspended for a game in the Cup final?"
No, but I can with Ovechkin.
"You're quite right," said Irvin. "'Rocket' was in trouble all the time. My dad got criticized a lot, he had to handle the 'Rocket.' It wasn't easy. 'Rocket' always kept you on edge, even his own teammates, and Ovechkin seems to be the same. He's the kind of guy that in the middle of a playoff series, he could do something and then bingo."
But just like the "Rocket," Ovechkin is electrifying.