The second annual LeBrownie Awards!
April, 7, 2010
04/07/10
1:18
PM ET
Anxious times, indeed. The buildup has been unreal. Yes, folks ... it's time to unveil the second annual LeBrownie Awards.
(Full disclosure: Somehow, some people thought this was serious last season. It's a joke. Relax and enjoy.)
So, without further delay ... drum roll, please ... the 2009-10 LeBrownie Awards: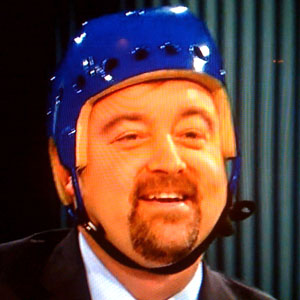 Screen grab from 'Hockey Night in Canada' broadcastESPN.com's lovable, self-proclaimed Buffoon of the Year, Pierre LeBrun.
Buffoon of the Year
Me.
For wearing a helmet on "Hockey Night in Canada." Mercy. What was I thinking?
Best Ongoing Feud of the Year
New York Rangers coach John Tortorella and veteran hockey columnist Larry Brooks of the New York Post.
I mean, this stuff has been priceless. The highlight was
the postgame scrum from Jan. 21
, when Torts asked Brooks whether he had ever been in a fight.
Shot Across the Bow Award
Bill Daly, NHL deputy commissioner.
Irritated at the NHL Players' Association for what the league perceived as a delay in fast-tracking a new head-shot rule, Daly fired off a comment to ESPN.com that raised some eyebrows around the hockey world. Indeed, there's a new round of labor talks on the horizon.
"Without trying to throw anyone under the bus here, let's be real," Daly told ESPN.com on the night of March 23. "This is a rule that's intended to make the game safer for the players. It's a no-brainer. The PA needs a hockey person, or at a minimum a player, who is willing to take charge, to step up and make a decision in the best interests of the game.
"It's one thing to 'punt' on all the more mundane issues surrounding the game until the Union has a new Executive Director and a clear direction. We are used to that. But this is different. Someone needs to show leadership, and they need to do it fast."
Whoa, Nelly!
Rant of the Year
A Flames fan.
From an ESPN.com reader called "permster," we got this terrific poem in January, lamenting the plight of the
Calgary Flames
this season:
Roses are Red
Violets are Blue
I am a Flames fan
And I don't know what to do
One week they dominate
The next week they [expletive]
I find myself sitting around
Thinking what the ...
The three Flames defensemen
Who didn't make Canada's team
Need to look in the mirror
And start playing with a bit of steam
I am writing this in a poem
Because I am depressed
Us blue-collar Albertans
Expect them to play at their best
Patriotic Fighter of the Year
David Backes, St. Louis Blues.
Just more than a month before the 2010 Vancouver Olympics, the Team USA forward dropped the gloves with Team Canada forwards
Jonathan Toews
,
Rick Nash
and
Corey Perry
within a two-week span.
"Maybe we'll do a little intimidating before Vancouver," Backes told ESPN.com at the time.
Gotta love this guy. He was joking, of course. But give him credit for having fun with it.
Best Poker Face of the Year
Darryl Sutter.
The Calgary Flames' GM got me real good Jan. 7 when I asked him about all the
Dion Phaneuf
trade rumors, which he unequivocally dismissed. "Put that to bed," Sutter told ESPN.com.
Three weeks later, he traded Phaneuf to Toronto. Even 16 years into my hockey-writing career, another important lesson: Don't always believe a GM.
Missed You So Much Award
Jaromir Jagr.
His presence at the Olympics in February was like a homecoming for the former NHL star. It was like old times, the veteran Czech winger cracking jokes with the media every day and flashing his trademark smile, on and off the ice (except when
Alex Ovechkin
hammered him). With some gray in his beard and his hockey mullet back for another run, Jagr told us a return to the NHL was possibly in the cards once his contract in the KHL expired this season.
"If I decided to come back [to the NHL], I think I would be a better player than before I left," Jagr said Feb. 20.
Let's hope we get the big guy back. He's too much fun.
Best Fantasy Moment of the Year
Walking into the San Jose Sharks' dressing room in December and hearing
Joe Thornton
yelling excitedly at me because he heard I had just acquired him in the Toronto Media Hacks Hockey Pool.
"I won't disappoint you, Pierre," Thornton said.
You certainly did not, sir. Thanks to Jumbo Joe leading the way, Mr. LeBrun is hanging on to first place overall with the season winding down.
Most Honest Quote of the Year
Ryan Kesler, Team USA.
On the eve of a preliminary-round win over Team Canada, the
Vancouver Canucks
center couldn't help himself. The truth had to be told.
"I hate them," Kesler said when asked about Team Canada.
He later backtracked when he realized the PR faux pas, but I laud Kesler for speaking from the heart. He should hate Team Canada. It wins a lot.