Here's our recap of a crazy Tuesday
June, 22, 2010
06/22/10
9:20
PM ET
LAS VEGAS -- So, anything happen Tuesday in the NHL?
Mercy.
Forget the trade deadline. The postseason is where the show is at these days.
"Busy day, eh, boys?" Dallas Stars center Brad Richards said with a laugh to ESPN.com on Tuesday as the NHL award finalists congregated in the city that never sleeps.
[+] Enlarge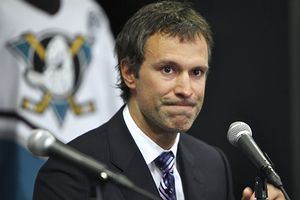 AP Photo/Damian DovarganesNow that Scott Niedermayer has made his decision, the Ducks must go to Plan B.
Let's start in Anaheim, where the retirement of sure-bet Hockey Hall of Famer Scott Niedermayer (well, who knows after Tuesday's HHOF debacle) puts Ducks GM Bob Murray under the gun. He prepared for this possibility and hoped to strengthen his blue line even if Niedermayer returned, but there's no replacing one of the era's truly great blueliners.
"Plan B goes into effect now," Murray told ESPN.com. "Obviously, our defense is in dire need of an overhaul."
Now, the GM awaits the decision from veteran winger Teemu Selanne. Will he follow Niedermayer into retirement as many expect? Maybe, maybe not.
"I talked to Teemu this morning. I let him know about Scotty," Murray said. "We'll talk again after the draft next week. He remains undecided right now."
Either way, the Ducks are not blowing things up and going back to square one. They want to remain competitive.
"We're going to try to transition without rebuilding," Murray said.
Blackhawks rumors
Speaking of transitioning, the rumor mill was rife with speculation Tuesday regarding the Stanley Cup champions. The Chicago Blackhawks have been working the phone lines hard as they attempt to fix their massive salary-cap issues. Our colleague from ESPNChicago.com, Jesse Rogers, has more in his blog.
But I can pass on that three Eastern Conference executives, who shall remain anonymous, told me Tuesday that Kris Versteeg, Dustin Byfuglien and Andrew Ladd are the three players being shopped the most, but Patrick Sharp is not available. At least not at this point.
The price for Byfuglien, specifically, is a first-round pick and a prospect.
"Good luck," said one NHL GM, who requested anonymity. "No freakin' way they get a first-round pick. They're asking too much for all their guys right now."
In San Jose, Sharks GM Doug Wilson found a way to grab some of the spotlight on a day full of hockey headlines, announcing to local media he wasn't bringing back veteran goalie
Evgeni Nabokov
, who is slated for unrestricted free agency on July 1. In fact, both Wilson and Nabokov's agent, Don Meehan, confirmed to ESPN.com on Tuesday night there was never even a negotiation after the season. Nada.
I can't say I'm surprised. With forward Patrick Marleau also a UFA and Joe Pavelski set to become a restricted free agent in need of a huge raise, the numbers didn't add up for San Jose.
"We made a decision to go another direction in goal," Wilson told ESPN.com via phone from San Jose on Tuesday night. "We've got a couple of young goalies we believe in and there's also a solid group of [free-agent] goalies who are going to be available."
There's a long list of UFA goalies available and Boston's Tim Thomas is on the trade market. You have to wonder what job is the most appealing right now for those UFA goalies: a starting gig for the perennial powerhouse Sharks, who just went to a Western Conference finals, or the No. 1 job for the Stanley Cup finalist Philadelphia Flyers?
Panthers start making moves
Florida GM Dale Tallon began his shakeup of the Panthers by moving underperforming yet undeniably talented forward
Nathan Horton
to the
Boston Bruins
in a deal that netted the Panthers, impressively, the 15th overall pick and top-four blueliner
Dennis Wideman
.
Tallon had promised us change and delivered quickly. He really likes Wideman, but nabbing the 15th overall pick was huge.
"That was the key to it," Tallon told us Tuesday night. "We had offers of good players but no picks, and other offers of picks but no players. So this was the right mix and the right offer. ... Having five picks in the first 50 [Friday and Saturday] is pretty exciting."
Tallon said a dozen teams inquired about the 25-year-old Horton, a list that dwindled to "three or four'' really serious bidders. And the Horton deal won't be the last this summer.
"Nine years out of the playoffs -- we're far from done with our work here," Tallon said. "We'll talk more with teams in L.A."
Pens keep Cooke
In Pittsburgh,
Matt Cooke
re-signed for three years at $1.8 million on average, calming all those Penguins fans who tweeted me that they feared his loss on the market. The real concern, of course, should be the future of 36-year-old blueliner
Sergei Gonchar
, also a UFA on July 1.
Penguins GM Ray Shero and Gonchar's agent, J.P. Barry, spoke again Monday as they try to find a solution to their contract impasse.
"I talked again to J.P. today and we'll get together again when I get to L.A.," Shero told ESPN.com. "We're still hopeful we can get something done. In a perfect world, we'd like to have him back, no question."
Tuesday's decision by the NHL Players' Association to maintain the growth factor in the salary cap was watched closely by Shero. Every dime counts under his cap, and the union's decision means the cap will be more than $59 million next season as opposed to closer to $57 million had the NHLPA chose differently. Now, Shero has a better idea what cap space he has to work with.
"Although we both expected this [the NHLPA decision] to happen, it will provide more certainty in our discussions and I look forward to sitting down with Ray later this week in L.A.," Barry told ESPN.com.
Good news for Habs fans
In Montreal, where the streets were still burning from the
Jaroslav Halak
trade to St. Louis last week, the Canadiens gave fans some good news Tuesday as they announced the re-signing of
Tomas Plekanec
to a $30 million, six-year contract. Plekanec was slated to be a UFA on July 1 and would have been among the bigger names among a thin free-agent forward class. The 27-year-old center led the Habs with a career-high 70 points (25-45) in 82 games this past season.
While I understand those who balk at paying him $5 million a season, I say this: Who would the Habs replace him with in this thin free-agent class, and how much more would it have cost?
Secondly, he's only 27, so the term doesn't bother me. What does worry me is that Plekanec didn't have a good postseason when the stakes were at their highest. Still, what else was Montreal going to do?
And finally ...
I woke up Tuesday morning and caught up on another round of bogus
Jason Spezza
-to-Columbus rumors via Twitter. Enough already. Not going to happen.
"There have been no discussions with [Senators GM] Bryan Murray about Jason Spezza," Blue Jackets GM Scott Howson told ESPN.com via text message.