Category archive:

Philadelphia Flyers
June, 10, 2010
06/10/10
3:21
AM ET
PHILADELPHIA -- Marian Hossa got the heads up from the captain at the morning skate Wednesday. Chicago Blackhawks star center Jonathan Toews made up his mind: the Slovak star would be the first to hoist the Stanley Cup after him.
"It was funny. In the morning skate, he came up to me and said, 'You know, Hoss, I don't really want to talk about it, but let's say if we win it tonight, I'm going to hand it to you,''' Hossa said after Wednesday night's Cup-clinching victory. "I said, 'That sounds great.' He kept his promise and that was an unbelievable feeling."
Well, really, who else would you give it to?
"You know, it's special for him, and I can't imagine being a part of three long seasons like that and to win one finally," said Toews. "It's amazing for all of us, but especially for him."
Who else has gone through what Hossa has the last three years, losing in back-to-back Cup finals with two different teams? The thought of going 0-for-3? Well, that just couldn't happen.
"I mean, what a feeling," said Hossa, who had a strong Cup finals. "I'm so happy I'm finally on the other side. I'm truly enjoying this moment. It wasn't easy. There were lots of hockey games three years in a row. This feels even better because of it."
His teammates wanted to win it badly for him.
"There's not one guy on this ice that deserves it more than him. I love that guy," said Kris Versteeg.
Versteeg believes Hossa's overtime goal in Game 5 against Nashville back in the first round was a gigantic part of the end result nearly two months later.
"That goal right there won us the Stanley Cup," said Versteeg. "We just carried off that every day after that."
Hossa was all emotion when he grabbed the Cup from Toews, lifting it up and down and up again in excitement.
"It was great that Tazer gave it to him first," said Hawks star blueliner Brent Seabrook. "He's done so much for this team. He's been great all season. It was really nice to see him win it this year."
Next up? His trip back home with the silver mug this summer. This time, he won't go overseas empty-handed.
"Well, I'm definitely going to bring it to Slovakia," said Hossa. "I'm going to put it in front of my old apartment where I grew up and where I used to play best-of-sevens with my friends and we're going to play hockey."
June, 8, 2010
06/08/10
7:41
PM ET
PHILADELPHIA -- The Philadelphia Flyers' top line of Mike Richards centering Jeff Carter and Simon Gagne hasn't produced much offensively. Given the dramatic results the Chicago Blackhawks got from changing their lines, one wonders if Philadelphia shouldn't consider doing the same. But don't count Richards among those thinking that way.
"I don't think we're playing poorly," Richards said Tuesday. "I think we are getting a lot of great looks at the net. We're just not scoring goals. Confidence is such a big thing in hockey, where if you have it, you're almost unstoppable. If you don't, it's tough to get anything going.
"But we're getting great chances at the net. You have to think, sooner than later, they're going to go in. Let's hope tomorrow night is the night."
It has to be for the Flyers to have a chance. Philadelphia has been carried in this series by Danny Briere's line with Scott Hartnell and Ville Leino; but with the Hawks now finding offense from its top three lines in Game 3, the Flyers must have Richards' unit produce.
"Like Mike said, we've played some good games this series with the lines we've got going," Carter said. "I think last game we basically just didn't play our game. I don't think it's a matter of panicking and going out there and changing our lines up. We have to get back to playing Flyers hockey and playing the way we've played to get here at this point."
Carter hasn't looked the same since returning from a foot injury. He was asked Tuesday if his foot has impacted his play in the Cup finals. "It hasn't, no," Carter said.
Flyers coach Peter Laviolette said Carter has looked good to him.
"He still looks like he can contribute," Laviolette said. "He's probably not at 100 percent, but I would expect a good game out of Jeff, as well."
Expect the Hawks to stick with the lines that produced a 7-4 Game 5 victory.
"I liked the way we exited the game with the lines," Hawks coach Joel Quenneville said Tuesday. "We'd like to improve off of the level and the intensity and the rotation of all four lines bringing it. I think that's going to be how we want to approach the game."
The Cup winners
Tomas Kopecky
,
Andrew Ladd
and
John Madden
were trotted out to the podium Tuesday -- they are the three Cup winners on the Blackhawks' roster. They know what's like and they want to experience that feeling again.
"When I was with Detroit, the memories that stay with you for the rest of your life, that feeling is unbelievable," said Kopecky, a Cup winner in 2008.
Ladd took it home in 2006 with the Carolina Hurricanes.
"It's just a special feeling you can't really describe," said Ladd, perhaps influenced by that terrific NHL commercial in which former Cup winners are speechless.
"For me, there was no better feeling in hockey," said Madden, a two-time Cup winner with New Jersey. "The look on your teammates' faces when you've all come together and accomplished your goals, there have been trials and tribulations, you've been able to overcome a lot. It's a real nice feeling to have."
Closing it out
John Madden was been on both sides of the coin when it comes to having a chance to close it out in Game 6 of the Cup finals. He knows what is at stake Wednesday night.
"You know you want to take care of business when you can," Madden said. "You don't want to leave the chance for a Game 7. We have an opportunity tomorrow. All I can say is, we have to be focused on that opportunity and not look at having another game to go to. You have to care of business and treat it like it's an elimination game."
June, 8, 2010
06/08/10
6:24
PM ET
PHILADELPHIA -- Since the Blackhawks can clinch the title in Wednesday's Game 6, Lord Stanley's shiny mug will be in the building for the first time in the series.
Blackhawks captain Jonathan Toews has often dreamed what it would be like to lift it.
"I mean, countless times growing up," he said Tuesday. "Any kid growing up in Canada, anywhere as a hockey player, that's the dream. That's the one thing you keep telling yourself, in your heart you kind of know you're going to do it someday."
Last season, when Sidney Crosby lifted the Cup for the Penguins, Toews said it hit home that his team might soon one day do the same.
"I think that's when it really first set in ... this is something that can really become a reality," Toews said. "It's been a long year, but I think we all knew all along that we can make it this far. Hopefully we can find a way to do it tomorrow."
The Flyers, meanwhile, want to keep that silver trophy in the trunk.
"That's the goal," Danny Briere said. "We believe we are going to do that. We've played well all playoffs long in this building. So for us, there's no other way around it. We believe we're going to push this to a Game 7."
Flyers forward Ville Leino played with a Detroit Red Wings team last year that twice failed to capture the Cup with the trophy in the building (the Penguins came back from a 3-2 series deficit to win it).
"Well, last year -- it's tough time," Leino said Tuesday. "You just want it to be over with. You want to be winning and raising that Cup. It's just something you try to block out, but it's still there. It's not very easy to shut it out and blank it out. It's going to be there. Hopefully it's going to be a little bit of an advantage to us."
Not allowing the Blackhawks to celebrate a Cup on Philly ice? That's reason enough right there to play well Wednesday night.
"Yeah, I think it's a motivating factor," Philly defenseman Chris Pronger said. "You're on home ice. They have a chance to clinch. You don't want to see that in your building and you want to get to a Game 7. You want to have an opportunity to win it. That's the biggest thing. We're not here just to get to a Game 7. We want to win.
"At the end of the day, we're here to win a Stanley Cup. We need to get two wins to do it, but you have to get one before you get two."
Flyers coach Peter Laviolette remembered coaching Carolina in the 2006 Cup finals, knowing the Cup was in the building in Edmonton for Game 6 with a chance to win it that night. But the Hurricanes didn't.
"It was nauseating," said Laviolette. "I went back to the hotel room in Edmonton and I almost threw up."
In Game 5 of that series, with Carolina up 3-1 in the series, the Cup also made an entry, but to no avail.
"We were winning, they tied it up late," recalled Laviolette. "We went on the power play in overtime and they scored on a short-handed goal in our building with the Cup being polished out back. So that one wasn't much better."
Laviolette and the Hurricanes did wrap it up in Game 7. Now, he'd love the chance at another Game 7.
"You keep fighting for it," he said. "One thing this team really has proven is that they're capable of fighting. We'll be ready to do that tomorrow."
June, 8, 2010
06/08/10
6:07
PM ET
PHILADELPHIA -- Coach Peter Laviolette didn't come out and outright announce that Michael Leighton will start Game 6 for the Philadelphia Flyers on Wednesday night, but he hinted mighty strongly at it.
But only after a little media prodding Tuesday.
Reporter: "Have you told your goaltender who is going to start?"
Laviolette: "No, I haven't."
Reporter: "When will you do that?"
Laviolette: [Long pause] "Do you know who is starting in the net for Chicago? Did they announce that yet?"
Reporter: "We assume Antti Niemi."
Laviolette: "Oh, but nobody asked?"
This is when we wish we had said, "No, Peter. No one asked because Niemi isn't the one who has been pulled twice in the Cup finals."
Finally, Laviolette all but named Leighton his starter. "Our goaltender has the best numbers in the playoffs," said the Flyers coach. "I didn't think I had to announce it."
But just so we're clear, he didn't make it official. Leighton is 6-0 at Wachovia Center in these playoffs and has given up only nine goals over that span. He was the obvious choice despite his struggles in Chicago.
"I'm very confident in Michael," Laviolette said. "He's played excellent in the playoffs. His home numbers are terrific. Yeah, I'm very confident in Michael."
Leighton has put Game 5 behind him.
"I take it as a challenge. You're obviously not happy with what happened," he said Tuesday. "You got pulled, you didn't play as well as you thought you would. You want to prove them wrong and jump back in and play well."
A black eye
We kidded with Flyers center Daniel Briere on Tuesday that he can forget those male modeling contracts for the summer. But the ugly shiner underneath his right eye, courtesy of a
Duncan Keith
high stick that wasn't called in Game 5, made a more serious impression on his kids.
"Yeah, there's one of them that was scared," Briere said. "They didn't see me until late yesterday afternoon after school. They didn't know too much what to expect. But it's all good now. They're old enough now to understand that it's playoff hockey and it's the way it is."
If the Flyers win the Cup, Chris Pronger will likely win the Conn Smythe Trophy, but we believe Briere also deserves some strong consideration.
Speech, coach?
Laviolette might pump his guys up before Wednesday's Game 6. That's what a coach does. Can he use Pittsburgh's Cup win last year as motivation when the Penguins erased a 3-2 series deficit against Detroit?
"I do look for those type of things," said Laviolette. "I think part of your role as coach is trying to motivate and get your team to believe in things, and there's no question we talked about that situation. I mentioned the Carolina situation in the past. We've talked about what our team has been through. You talk about winning championships. You see them happen year after year.
"But our championship that we're pursuing is special, maybe more so than others if you look at how we had to get here and what we had to do to get our hands on that thing."
June, 7, 2010
06/07/10
7:41
PM ET
PHILADELPHIA/CHICAGO -- As the Stanley Cup finals shift back to Philadelphia, Scott Burnside and Pierre LeBrun check in and debate where this series between the Flyers and Hawks will end. Chicago leads 3-2 heading into Wednesday's Game 6.
Scott Burnside: Hello, my friend. How is Chicago in the aftermath of its crushing 7-4 win over the Flyers? The team you saw roll through the Western Conference playoffs finally showed up in force Sunday in Game 5. The Hawks have a chance to bring home a championship for the first time since 1961. Do you think their effort in Game 5 will carry over into Game 6 on Wednesday and bring the season to a close?
Pierre LeBrun: Scotty, I thought we were friends. I can't believe you left me behind in Chicago today. Oh, well … there are worse towns to be left behind in! Speaking of which, talk about a town that's ready to explode. An Original Six franchise that's one win from erasing 49 years of waiting. But it'll be the Hawks' toughest win ever.
As the Red Wings found out last season and the Calgary Flames did in 2004, being up 3-2 does not guarantee a team Lord Stanley's mug. I expect the Flyers, who are so tough at home, to play their best game of the season Wednesday night. Having said that, I've seen these Hawks go into some really hostile arenas this spring and step on the throats of very talented opponents.
"We expect them to come out hard," Hawks coach Joel Quenneville said here in Chicago today. "I think we want to come out the same way we began the game last night. I think we have had some real good road games in these playoffs. … Some of our best games in the playoffs were in Vancouver and San Jose, even in Nashville."
What did you hear from Peter Laviolette in Philly today, Scotty?
Burnside: Pierre, as always, Laviolette was relentlessly upbeat about his team's chances in Game 6. He couldn't quite pinpoint why his team had such a lousy start to the game Sunday night, but believes everyone will be a lot better Wednesday.
"I have no question that we'll respond. It was not a good game for us," Laviolette said Monday morning at Wachovia Center. "Again, you don't want to make excuses for it. There's no reason to have a game like that, certainly not under the circumstances. Chicago ramped up their game. They took advantage of us in the first period, and got on the board. We didn't respond to it."
Laviolette and his players were to meet for lunch; and although he hadn't told his netminders who was going to start in Game 6, he said he already has made up his mind. I have to believe he'll go back to Michael Leighton, even though Leighton was yanked for the second time in this series after giving up three goals on 13 shots. He didn't look good at all, but he's 6-0 at home this spring and has bounced back before. Do you think it's time to give Brian Boucher a chance, or do you maintain the status quo?
LeBrun: Well, Boucher didn't fare much better in giving up three goals in relief, and perhaps there's some rust there after missing a chunk of time with injuries to both knees. I think Leighton is the choice, given his home record.
But, to me, it shows you what happens when the Hawks pay the price to drive the net. They didn't do it enough in Games 3 and 4 and played too much of a perimeter game. They made Leighton look good. Sunday night, the Hawks buzzed around his crease like crazed bumblebees, and Leighton was somewhat exposed. On the flip side, Antti Niemi also looked shaky in Game 5 and has been ordinary since his terrific Game 2 performance. Quite the pedestrian goaltending we've had in these Cup finals, which in part explains the high scores.
"I think both teams are capable of scoring," Quenneville said. "I don't think we envisioned scoring at the rate we're scoring at. I think the thing I always try to stress with our team is 'defense first' in our approach. I still think that's an area where we can enhance and solidify going into the next game and try to be a little bit airtight around our net."
Burnside: One player everyone will be watching in Game 6 will be defenseman Chris Pronger, who had one of those nights to forget (he was minus-5 and on the ice for six of seven Hawks goals and in the box for the seventh). But you know he's going to bring his A-game Wednesday.
Laviolette said that it will be a mistake if the rest of the team simply looks to Pronger to be "the man" and that everyone has to be at that level. I'm guessing he'll be much better, although do you think Laviolette will try to get Pronger on the ice against the new No. 1 line from Chicago (Jonathan Toews, Tomas Kopecky and Marian Hossa), or will he use Pronger to try to neutralize Dustin Byfuglien, who had such a big night Sunday, roaming free (for the most part) of the menacing Pronger?
LeBrun: Here lies the beauty of what Quenneville did last night: Toews, Kane and Byfuglien on three different lines but only one man in Pronger to try to contain them. Laviolette started the game with Pronger on Toews' line, but it ended up being a bit of everything as the Flyers tried to find an answer for a Chicago attack that was coming from all four lines.
It's funny, Byfuglien had the four points and Kane added two more, but I thought Hossa and Toews were the most dangerous even though all they had was Toews' assist to show for it. There is no easy answer. If you put Pronger back on Byfuglien (playing with Dave Bolland and Kris Versteeg), then Toews will be allowed to run wild with Hossa and Kopecky, as will Kane with Patrick Sharp and Andrew Ladd (who, for my money, was one of Chicago's better players Sunday night).
It's really an impossible choice for Laviolette. What the Flyers need in Game 6 is for a forward line other than the terrific trio centered by Danny Briere to do something offensively.
Burnside: You are absolutely right; for me, if the Mike Richards-Simon Gagne-Jeff Carter line cannot get back on track (and those three shouldn't have to worry about playing against pest Bolland that much), the Flyers are cooked. Carter has been terrible, and even Laviolette, who is loath to talk about specific players' shortcomings, said he thought Carter was taking strides forward in his game until Sunday.
Claude Giroux, Game 3's overtime hero, has to be better along with linemates James van Riemsdyk and Arron Asham (unless Laviolette goes back to Daniel Carcillo in van Riemsdyk's place). The Flyers win Game 6 if all three lines force the Hawks into mistakes in their zone, taking penalties and crowding Niemi. Kind of like what the Hawks did in Game 5. OK, pressure time: What do we see in Game 6?
LeBrun: I just have the sense this is a homer series. Although I find it hard to believe the Hawks will backtrack too much from the A-game they finally produced Sunday night, I think the Flyers have shown us too much bounce-back ability this spring, especially at home, not to force a Game 7. I predict a Flyers overtime victory Wednesday night at a rocking Wachovia Center, setting up the second consecutive Game 7 in the Cup finals. What say you, my wise red-headed friend?
Burnside: Funny, I was talking to Pittsburgh GM Ray Shero and winger Bill Guerin this morning for a story and thinking about Game 5 last season, when Detroit crushed Pittsburgh 5-0 in a very similar series. I remember thinking there was no way the Penguins were going to get back up off the mat. They did, of course, and that's why I'm with you on this one.
I don't think the Flyers are done yet. I don't know whether they can win a game at the United Center, but I think there's enough will in the Philadelphia locker room to give us one more game to contemplate before we have a new Stanley Cup champion. Look for Briere to score the winner for the Flyers despite having had his face mangled by an errant Duncan Keith stick in Game 5.
June, 6, 2010
06/06/10
11:36
PM ET
CHICAGO -- Earlier in the series in one of his ESPN.com player video blogs, Blackhawks forward Dave Bolland told Pierre LeBrun he looks for actor and Chicago fan Vince Vaughn after he scores goals at the United Center.
Think you can spot Mr. Vaughn in this photo after Bolland scored to give the Hawks a 2-0 lead in the first period of Sunday's 7-4 win over the Flyers?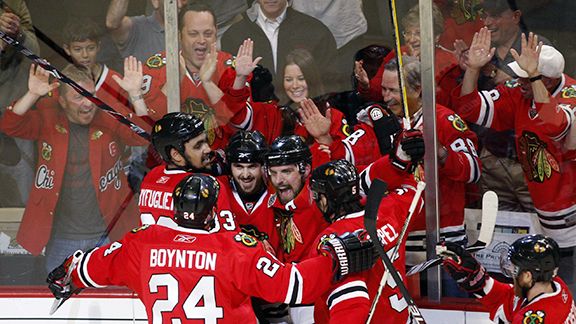 Jerry Lai/US Presswire