The Chicago Blackhawks and St. Louis Blues are two NHL franchises attempting to make that long, purposeful climb out of the NHL gutter.
The Hawks have missed the playoffs in seven of the past eight seasons and last won a postseason series in the spring of 1996. The Hawks have WWW on the front of their uniforms this season. That is not the start of a Web site address, it is for the late owner William W. Wirtz, who died before the season began.
Wirtz was a compelling individual with contrasting characteristics shared by a fair number of wealthy, 20th-century white men. Generous to charities and short-sighted in the marketing of his hockey team, Wirtz was a successful businessman who supported good causes and neglected the infrastructure of the Hawks management and marketing departments. Considering the number of companies under the Wirtz family's umbrella, it's not surprising a company here or there may go awry from time to time.
Hawks fans pointed to Wirtz as the reason for the demise of this once passionate fan base. As society evolved in the mid-1990s with the big bang of the Internet, the Hawks were still run like an 8-Track player with Journey's "Infinity" blaring in a '78 Trans Am. The NHL was changing and the Hawks seemed to either under-react or overreact. When Wirtz passed away, there was little sentimentality from Hawks fans. Instead, they asked, "Would the funeral be televised in Chicago?"
After the NHL lockout, the Blues, strapped with older players and big contracts, missed the playoffs for the first time since the 1978-79 season and missed the postseason again in 2006-07 after a 24-point improvement. Owner Dave Checketts and president John Davidson began running the show last season and this duo could sell a coal-burning power plant to Al Gore. They gots mad people skillz. So, to call the Blues a gutter team is probably not accurate; they're more like a gutter ball from Mark Roth. The Blues' two-season playoff drought is likely over.
The Blues were a big-time team as the 21st century arrived. They were a first-class organization that spent a lot of money and treated people well. Successful sports franchises are not all about spending money; it's also the ability to understanding and interacting with different kinds of people with different needs. That's one thing the Blues were always better at than the Blackhawks. Now, with the Checketts/Davidson duo at the helm, the Blues might be the leader in the clubhouse in that department.
In Chicago, GM Dale Tallon and chairman Rocky Wirtz are trying to close that interpersonal communication gap. An early first step in their attempt is televising home games. After only five home games were aired locally last season, Wirtz is reportedly in the starting stages of talks with Comcast SportsNet to televise more home games this season.
''It's important to understand that Comcast SportsNet's current schedule was developed well over a year ago, so fitting the Blackhawks into that schedule can't be done overnight,'' the Blackhawks said in a statement. "[This is] ''the appropriate next step to re-energizing Chicago hockey fans and creating new fans. 'We have already showed, and will continue to embrace, positive change, and we remain committed to a bright future."
From 2000-04, the Blues' point totals were: 114-103-98-99-91. They signed free agents and went for it all, but never reached the Stanley Cup finals. Now, they are trying to rebuild through the draft and sign smart free-agent deals (three years, not seven, for Paul Kariya) in an attempt to build their 21st-century salary-cap team and reconstruct their fan base. That is difficult to do, but not as difficult in the cap era.
The last two No. 1 overall draft picks have been made by these two franchises – Erik Johnson, the big and sturdy Chris Pronger-like defenseman for the Blues, and Patrick Kane, the quick and smart Daniel Briere-type forward for the Hawks.
With all that in mind, I sat down last Tuesday and watched the Blues and Blackhawks on the NHL Center Ice package. The Hawks were wearing their classic red and black uniforms, one of the best in all of sports. The Blues were wearing the white teddies that they picked up at Victoria's Secret on the way to the rink. This is the 250th meeting between the Blues and Hawks and Chicago leads the series (116-96-35). The announced crowd was around 10,000, which is just about half of the capacity number in the soulless United Center. Chicago doesn't know what it has yet -- Jonathan Toews is better than any young Chicago Bulls player and Kane is close.
Here's my blog from the game (I indicate how much time is left in the period):
First Period
17:46: Paul Kariya scores his first goal as a Blue and No. 368 of his career. It's a power-play goal. Kariya has such a presence on the ice. He will lead the Blues in scoring this season.
15:46: I like the physical play of the Hawks so far. Martin Lapointe, Patrick Sharp, Kevyn Adams, James Wisniewski, Adam Burish and others are making good human contact. In fact, this is a hard-hitting affair on both sides. This is an old-school Norris Division battle. And, yes, it televises well. It would help if the arena was full; then, we would have a Clash concert instead Aqualung playing a half-full Wembley Stadium.
14:53: Three big saves by Nikolai Khabibulin. He is a big-time goaltender and will need to make saves like this to make up for some of the young Hawks' turnovers from tonight and beyond.
13:29: Bryce Salvador scores for the Blues to make it 2-0. Great passing by the Blues and Salvador wristed it over the shoulder of Khabibulin.
10:30: Yanic Perreault, Sergei Samsonov and Adam Burish are playing together.
If you are wondering, Andrei "Desperately Seeking" Zyuzin is now a Blackhawk. This is his sixth team. The Hawks are hoping veterans like Robert Lang, Perreault and Samsonov can mix in with their high-level young players to give them a chance to make the postseason. As some of you know, I picked the Hawks to make the playoffs in the West before the season began.
7:50: Kane is putting on a clinic right now. He is out there with Lang and Jason Williams, creating all kinds of chances with his speed, Denis Savard spin-o-rama moves and excellent vision. Oh, and he has good hands. He could be as good as Pat LaFontaine if he has Patty's energy and drive.
6:50: Kane and Toews are on the ice for the last minute of a Hawks power play. Kane is electric -- think Andy MacDonald or Daniel Briere. He seems to reach top speed after one stride and makes many NHL defensemen look like human pylons. Kane turns 19 on Nov. 19. Toews reminds me a bit of Vincent Lecavalier. Toews will be 19 over the entire regular season. He turns 20 on April 29. He was born in Winnipeg, Manitoba.
6:20: There is a goal review going on that has taken up the commercial break and five more minutes and counting. "Dances With Wolves" didn't take this long. The question is whether a puck went in the net or not for the Hawks. The puck rode up the back of the net like an X-Games skateboarder, sat on top of the net for a second, popped up in the air, off the back of Blues goalie Manny Legace and into the net for a split second before Legace knocked it out of midair with his arm. It's a goal. Thank God, or Bobby Orr. The goal horn sounds, literally, more than 10 minutes after the puck went in. That has to be a record. Williams gets the goal. By the way, too many teams have horns now. It's cliché. Everybody stop.
4:30: Magnus Ver Magnusson Johannson and Brent Sopel are playing together. Johannson might be a concern. He makes me nervous. I've always like Sopel and thought he was a big offseason sign by the Hawks. He has good size, plays physical and has a good, right-handed shot. He doesn't appear to be proficient at Scrabble, but that is a rash generalization on my part.
Second Period
18:58: Brent Seabrook and Duncan Keith are an excellent pair of young defensemen. They move the puck well, have good feel, make nice first passes and play physical. After those two, there is a drop-off. Again, this is where Khabibulin comes into play.
16:15: The Blues' broadcasting team is now having a conversation with injured Blue Eric Brewer. This is just great. As the two teams go up and down the ice, we are hearing a conversation. Why don't television people realize that we hate this? We want to hear play-by-play announcers describe the play and build the drama. Brewer is a cool dude, but talk to him in between periods. If a goal would have been scored while this conversation was going on, I would have thrown my Dell at the TV and turned on "Hannah Montana."
14:43: Keith Tkachuk scores his third goal of the season off a nice pass from Brad Boyes, who is a real good player. It's now 3-1. That is career goal No. 476 for the player everyone refers to as "Walt." Is Keith Tkachuk a Hall of Famer? I'm going to say no by a hair -- for now. The Hawks are not good in their own end and coach Denis Savard better fix that if Chicago wants to make a run at the playoffs.
9:40: Blues play-by-play man John Kelly just mentioned how the Hawks signed Sopel for $1.5 million after the Red Wings only offered $500,000. Analyst Bernie Federko said something to the effect that it was a good financial move and he went to a much nicer city. Kelly responded, "Well, that's your opinion." Note to John: That's the opinion of every person who has been to both cities, including the mayor of Detroit, Steve Yzerman, Jack White and Gates Brown.
8:14: Samsonov, the 1998 rookie of the year, is getting booed again. Even some of the empty seats are booing. Samsonov entered this season with 32 goals in his last 137 NHL games. One reason is he will not take the puck to the front of the net. He is the only small player who got worse after the lockout. And to think, as I write this, he is only 28 years old, 28 years old and finished.
3:41: The Blues have sucked the life out of this game, sitting back and nursing their 3-1 lead. They better be careful. They've basically told the Hawks, 'We are no longer attempting to score.' Legace is starting to get peppered as his Blues teammates are on their heels. The Blues have just 17 shots on goal in the game through two periods.
Third Period
20:00: My over/under on Blues' shots on goal in this period is six. I'm taking the under. [They ended up getting eight as a result of a last-minute power play.] It just dawned on me that the Hawks should begin to focus on Marian Hossa as a free-agent signing next summer. The Thrashers forward will only be 29 years old. If I am the Hawks, I go after him hard with a seven-year deal. Hossa is a productive, durable player who would be perfect with Toews. And how good would Wade Redden look in a Blackhawks jersey, Chicago? The Hawks must get one of these two players. They probably won't be able to get both, but you never know.
16:00: The Blues are in full 1-2-2 trap mode. The Hawks could pull Khabibulin, replace him with a humidifier and the end result would probably not change. James Wisniewski just leveled Ryan Johnson with a nice, hard hit. Jamal Mayers then came over and challenged Wisniewski to a fight. Split decision. Possible death is one reason to ban fighting in the NHL, but another is the lack of willingness to exchange punches to the face. I miss those days when players would trade dozens of punches to the face. Of course, those players now stare at a black-and-white TV and watch VHS tapes of Dean Martin Celebrity Roasts.
10:24: Power play for the Hawks. This is an important power play in the game. The Hawks are doing nothing, the crowd is getting restless and an opportunity goes by the wayside. The game has lost all of its starch. The crowd is not a factor, there are very few scoring chances and no excitement. If you are a Blues fan, at least you can enjoy the process of preserving the lead. It's the kind of game that makes it difficult to blog.
4:50: All that being said, this game can turn on a dime if the Hawks can get a goal here soon and make it a one-goal contest. It's amazing how everything changes when the trailing 3-1 home team makes it 3-2. But it doesn't look like that will happen. St. Louis is playing a good road game. Which begs the question: Why don't home teams play a good road game if good road games result in wins?
1:40: The goalie has been pulled and a hooking penalty has been called on Kane and that will do it. The game ends and the Blues win 3-1. The Blues are now 4-1 to start the season for the first time in nine campaigns. The good start is so important for teams that battle for playoff spots down the stretch.
That was fun. Here's what we learned:
1. Toews will win the Calder Trophy for rookie of the year.

2. The Blues are superbly coached.

3. Watching the game, the Blues actually might have a better chance than the Hawks to make the playoffs. They are a much better defensive team.

4. The Hawks need their veterans to produce, their rookies to improve in all three zones as the season progresses and for the goalie to have a career year.

5. Legace is probably adequate enough with the system that the Blues play.
Thank you. Good day. Drive safely.
Your questions, their answers
Shjon Podein played 699 NHL games and made 6,999 friends along the way. He played for Edmonton, Philadelphia, Colorado and St. Louis. "Podes" scored exactly 100 career goals. He also played in Japan and Sweden.
Off the ice is where his legend grows. His greatest accomplishment is his heartfelt work with the Shjon Podein Children's Foundation and various inner-city youth hockey programs. He was awarded the 2001 King Clancy Memorial Trophy for his leadership role and off-ice humanitarian contributions.
Podes will now answer your e-mails.
Question from Dave (Madison, Wis.): Is it true after you won the Cup with the Avs in 2001, you wore your equipment around all night during the celebration? I heard you didn't even take off your skates until the next morning.
Answer from Podein: Yes, I did wear my equipment, skates and all for 25 hours. My feet swelled to twice their size by the next night and dancing was not easy out at the bar and I smelled like rotten garbage on a hot July day. Funny thing was nobody seemed to be crowding me all night.
Question from Edna Campbell (Outer Banks, N.C.): Since you and Ray Bourque are my two favorite hockey players of all time, the Avalanche's Stanley Cup win in 2001 was the best. What were your feelings when the final game was over?
A: When the final buzzer went in Game 7, I kind of broke down with the realization of something I had chased for so long and came very close to before. As much fun as the whole experience was, I think the memories of what it took to get there in the next few months were the best. Winning the Cup made me remember many things I had forgot for years and remember all the people who helped me along the way.
Question from Jill (Chicago): I've heard that your parents couldn't decide whether to name you "Shawn" or "Jon", so they decided on "Shjon." Is this true?
A: Actually, my mom liked the name, but wanted an original spelling. She took my grandpa's name, which was John, mixed it with Shawn and got Shjon. Thank goodness she won because my dad wanted Wolfgang.
Question from Kyle Kopanyshyn (Osaka, Japan): I saw you play in an Asia League game in Kobe a couple of years ago. At the time, I had no idea the league existed or that you played in it. As the players were coming out at the beginning, I saw your name on the back of your jersey and it immediately gave me a huge interest in the game. "That dude there has won a Stanley Cup you know!?" I told my Japanese buddy. Where are you playing now? I heard you were in Sweden.
A: Well, I retired a year and a half ago and finished up in Japan. I am now chasing my two kids around. We have a 4-year-old girl and 1-year-old boy. That was my last season over in Japan and, I have to say, one of the best experiences I've had on and off the ice. My buddy who got me over there, Hiroki Wakabyashi, is from Osaka and introduced me to Taki Waki and Japanese Pizza in downtown Osaka. Great city.
Question from Eugene (Philly): Did you want to be traded away from the Flyers or did you want to stay hoping to win a Cup there?
A: I never wanted to leave Philly. We loved it there and absolutely loved the organization. It worked out in the end with the move as we won in Denver, but at the time, it was devastating.
Question from Stephen (Drexel Hill, Pa.): I am a huge Flyers fan and have been for a long time. You were always one of my personal favorite Flyers. I have met you in the past and every NHL team could use a player like you with the personality that you had. When you look back at your career, where does Philly rank with everywhere else you have played and what was your most memorable moment wearing the orange and black?
A: Great question. I was very fortunate to play in some great cities, but Philly was something special. We made the playoffs my first year there after the team missed it for five straight years. We were a young team and we had a bunch of great guys. I still remember walking out of a small corner bar in South Philly and some guy on the street yelling out loud, "Yo, Podes!" That was the moment I felt like I fit in with the whole Philly vibe. I hated leaving at the time, and if I would have had my way, I would have never left. We still love getting back to the city.
Question from Matt Rottmund (Denver): What was the best line you ever played on (most fun, most points, whatever)?
A: I had a couple. Trent Klatt, Joel Otto and me in Philly and Eric Messier, Stephane Yelle and me in Denver.
Question from Matt Grochowski (Pennsauken, N.J.): Thank you for your years as a Flyer. Where was your favorite place for pizza in South Jersey? With you and Keith Jones being traded for one another and both of you being friends with Bucci, how does it feel to be a part of this NHL love triangle?
A: Favorite pizza place in South Jersey ... I can't remember the name off the top of my head, but my favorite hangout was the Main Street Pub in Voorhees. Great wings, cold beer and great people. As for Jones and Bucci, John strictly told me that they were done and that their relationship was strictly plutonic. Why? Did you hear something?
Question from John (La Mirada, Calif.): As you take your last breath and pass from this world to the next, what do you think your last thought will be -- hoisting the Stanley Cup, receiving the King Clancy Memorial Trophy, or that birthday night in the Edmonton hotel when your brothers left you wandering the halls in your boxers with a sombrero, a 4-foot inflatable T-Rex and a beer?
A: Oh, the boxer story. That is one of my personal favorites. Cute, charming and innocent. My words of advice -- if you ever find yourself in the wrong wing of a hotel in boxers, a sombrero and a dinosaur, throw out the name Craig MacTavish to security. It worked for me.
[Bucci's note: Here is the full story as featured in this space a couple of years ago:
So, I'm in my rookie year in Edmonton and it's my birthday. We had just come home from one of our infamous 15-20 day road trips and my family is there to celebrate. So, the family and I go out to have some dinner and drinks. We're just relaxing when one of my brothers gives me a 4-foot high, inflatable Tyrannosaurus Rex for a birthday present. My other brother gives me a sombrero.
We get back to the hotel and get mom back in her room. As we're leaving mom's room, my brothers jump me and rip my suit off in the hotel hallway, leaving me with just my boxers, a sombrero and my 4-foot high inflatable Tyrannosaurus Rex.
So I'm wandering the hallways of the hotel trying to find where my room is. We'd been on the road for 15-20 days, it's late, and I can't remember my room number. I stick my room key in a number of doors, hoping to find the right one. All of a sudden, I look up and there is one of Canada's finest security guards.
I go, "Hey, what's going on!"
The security guard says, 'We've had a complaint that some guy is walking down the hall in his boxers, wearing a sombrero, with a bottle of Bud in one hand and an inflatable dinosaur in the other, making too much noise.'
I looked at him and said, "You've got the WRONG GUY, brotha."]
Question from Dan Pyun: What do you think of the recent hits by Steve Downie and Jessie Boulerice? What was your angriest moment (on ice) in your NHL career and what were your reactions (on ice), if any?
A: I tell you what, Dan. If Boulerice would not have jumped in the air, I think it would have been a solid hit. McAmmond was watching his pass and had his guard down. He did have a past that did not help him out much, either. My angriest moment was probably when, I can't remember his name from Montreal, elbowed Petr Svoboda right in the head and knocked him out in Philly. I was on the bench, but the next time we played them was in Philly, last game of the season. Kate Smith was played for the anthem and the OLD Spectrum was electric. We won in overtime in a hard game. I miss that building. I'm getting goose bumps typing. Now that's hockey.
Question from Steven M. Sobotka (Philly): While you were a Flyer, I heard you and John LeClair met Phish backstage at one of their concerts at the Spectrum. Is this true, and if so, were you a fan before, or did "Johnny Vermont" get you interested?
A: John LeClair, who I still have a deep crush on (but don't tell him), got me on the Phish bandwagon. Great guys and have seen them quite a few times since. Actually, Trey Anastasio and their manager Brad Sands were at our Cup parties. It's funny who you meet along the road.
Question from Eric Kelly (Marlboro, N.J.): As a huge Flyers fan, I can still remember you putting in the game winner from Joel Otto and Trent Klatt against Steve Shields and the Sabres in the 1993 playoffs. Third period, under a minute to go and Podein lights the lamp! Wanted to know what you thought of your time in Philly and if you thought they had a good enough team to win the Cup in those years?
A: That goal was pure jubilation. Not before or since did I ever do a Mike Foligno impersonation like that. We had some special teams, and, yes, we did have a good enough team to win the Cup. But as I found out in my career, it is freakin' tough to win when only one team is allowed to win every year. One of the only things I regret is not winning in Philly. That town would have absolutely lost it.
[Bucci's note: E-mails from Flyers fans out e-mailed Avs and Blues fans 10-to-1. I've said it before and I'll say it again, Philadelphia is in the top 2 of the most loyal and passionate hockey markets in the United States.
Question from Phil Pierre (Pittsburgh): I know he's your boy, but can ex-Phish frontman and Vermont transplant Trey Anastasio skate? Also, what would be more terrifying – being in the path of a [Sheldon] Souray slapper or pulling the Parm from Bucci's hand as he is about to chow it down?
A: I had Trey on the ice in Colorado after practice once. He was great, taking one-timers from Ray Bourque, lighting up Patrick Roy. He's a natural. The other question -- I've seen Bucci eat when he gets real hungry. Imagine John Belushi, "Animal House," cafeteria scene times 10. I get the willies just writing this.
[Bucci's note: I once witnessed Shjon steal a vacuum cleaner from a restaurant at 2 a.m., carry it for two Calgary city blocks and give it to a young couple waiting for a cab.
Question from Danny Wegwerth (Minneapolis): Toughest player? Favorite team? Favorite memory outside of the Cup?
A: Oh, little Wegs. It seems like only yesterday I had a tear in my eye listening to you give a toast to Contra -- the video game circa '87. But I do regress. OK ...
Toughest guy I played against, at least for me, was Bob Probert in his hay day. Good player and tough as nails.
Favorite team is the John Marshall Rockets High School team, of course. What kind of question is that?
My favorite memory outside the Cup? Tough question. But I would have to say my first NHL goal. I was nervous, tripped over my own feet on my first NHL shift. Coach Ted Green asked me what my problem was, and then two shifts later, I scored on a slap drive top cheese with 0.6 seconds left in the first. It was one of those moments where I felt the weight of the world come off my chest. Peace out, Danny Boy, and say hi to the family. Tell pops I still remember the 10-2 drubbing of Burnsville when he took over the helm. That's a close second.
Question from Denis Lemieux (St. Louis): We noticed you dining at Bandanas in Clayton with your young daughter and wife just after the Blues had been eliminated from the playoffs. You were clearly battered and bruised, quite literally, and seemed to be emotionally sad and displaced, having left it all out on the ice. As fans, we wanted to express our appreciation for your hard work and effort, but wanted to respect your privacy. We didn't want autographs or pose for a photo. I know it differs for each player, but what are your thoughts on how we should handle the situation? Should we express our appreciation or respect privacy?
Keep up the good work with Team25 (http://www.team25.com/).
A: This has happened to me a few times. I see someone who I really respect for what ever reason, playing hockey or in a band I really like. I usually just go up and say something like "I love what you guys do" and then just keep moving on doing what I am doing. At a dinner place, I think, like anyone, most people like to eat in peace; but after they're done or before they start, it is more than cool to ask for an autograph or something like that.
Well John, it's time I crawl back in my bunker, watch some "Aqua Teen Hunger Force" reruns and kiss the kids goodnight. Thanks again for all the questions and always remember three things:
1. Never start a land war in Asia.
2. Never trust a girl who has a tattoo of a dagger on her body.
3. Enjoy every day to the fullest as we only get so many.
See you at the opening of the new Minnesota Twins stadium in 2010. Peace!
Attention, puckheads!

Toews

Don't forget -- I want you to interview subjects for me. E-mail me your question along with your name and location. I'll pick the best questions, ask the subject and give the answers the next week.
Next week, I'll talk to NHL rookie Jonathan Toews. E-mail me your questions for Jonathan!
Mini-Me Mailbag
Bucci,
Love the column and love your pick of the Leafs making it into the playoffs this season. It's going to take some luck to make it in to the playoffs, but we Toronto fans are always hoping for good things for our team, even if it falls short more often than not.
Speaking of hope, I hope my nephew sees a Cup-winning season sooner than later! His name is Nicolas and he'll be 8 months old soon, but it's never too young to start rooting for your team.
Thanks for all your hard work.
Go Leafs!
Oscar Dominguez
West Palm Beach, Fla.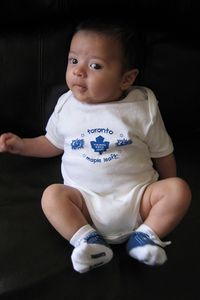 There's more mailbag where that came from! Check out Bucci's Mother of All Mailbags every Thursday at ESPN.com.
John Buccigross is an anchorman for "SportsCenter" and ESPNEWS. For questions, comments or crosschecks, e-mail him at john.buccigross@espn.com. To check out his new book, "Jonesy: Put Your Head Down & Skate", click here.