Blues, Blackhawks and Podes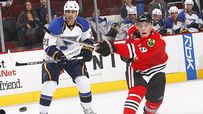 Why does the NHL need the Blues and Blackhawks to return to prominence? Bucci has a few periods worth of reasons.
Editor's Note: As promised, here is Bucci's weekly Mother of All Mailbags. This section of his column appears every Thursday on ESPN.com, while his regular rants and raves appear on Tuesday.
Hey John,
I was at the Blackhawks' home opener against Detroit, and I've got to tell you how shocked I was at the fan reaction to the moment of silence for Mr. Wirtz. I've been a fan since the early '90s, from [Jeremy] Roenick and [Tony] Amonte to the black void that came afterward to the resurrection with Toews, Kane and, my favorite, Ruutu. I know how upset fans were with the ownership; I was one of them. But to boo a man who accomplished so much in his lifetime and did so much for this city made me sick. He may not have been a great owner for the Hawks, but a little respect for his life was something I expected from Chicagoans!
Doug Axelrad
Chicago
There is that, and then there is this:
Hey John,
Until last week, the last Blackhawks game I attended was Game 6 of the 1996 Western Conference semis.
Soon after, Bill Wirtz would run Jeremy Roenick out of town -- he was easily the greatest American-born player in the NHL and has pretty much been the most recognizable face in the NHL since Wayne and Mess left. Soon after, Chelios, a native son of Chicago and the greatest American defender ever, was shown the door. Just like Eddie Belfour, one of the best goalies of his generation. ... A gutless coup that was a blatant slap in the face to all the fans who spent their money on the most expensive sports ticket in town.
As a result, I vowed to never attend another Blackhawks game as long Bill Wirtz was the owner and/or still drawing breath, with no particular preference over which circumstance changed first.
Six weeks ago, Bill Wirtz died, and five weeks later, 11 years after my last game, I returned to Blackhawks hockey and was treated to what might hold up as the goal of the year. So don't worry, as soon Wirtz died, people suddenly began to look at the Hawks again. ... There is a growing buzz out there. There is a hope of seeing the sun after a long, black, nuclear winter.
The Blackhawks will not only be back, but they may be the only ones who can save the NHL.
Mark Blecha
Chicago
Born-again Blackhawks fan
---
John,
First, you picked the Hawks to make the playoffs. That I could handle. Then, Kane and Toews start the season off on a great run. I was fine with that. Now, you're talking about the Hawks going after Marian Hossa and Wade Redden. I can take no more. Even when I lived in Illinois, you couldn't watch Hawks games. The only reason I followed them was because of my grandfather, who was a Hawks fan. I still followed the Hawks when I moved to N.C. I held on for dear life until the Hurricanes moved to N.C. I have not looked back until recently.
I've tried not to get my hopes up about the Hawks the same way I didn't get my hopes up about the Cubs, but I can take no more of your pumping them up. Please don't do this to me. And please don't mention how the baby Bulls are back on their way down and the Hawks are primed to once again be a presence in Chicago, and nationally. I cannot be hurt by the Hawks again. Watching Chelios in a Red Wings jersey on Center Ice is tough enough. Please, no more.
Brian
Current Hurricanes (former Hawks) fan
Organizations, in and out of sports, start at the top. The tone and direction of a company are set there. The Blackhawks never seemed to have a tone of energy, forward thinking and competitiveness. Red Wings owner Mike Ilitch burns to win. That energy connects all the way to the soul of Tomas Holmstrom as he takes a beating in front of the net, night after night. Ed Snider is ultra-competitive, and, as a result, the Flyers are "normally good." Then, you look at the Bruins or the Thrashers, and it doesn't seem like there's a burning desire to win hockey games. The Bruins seem to be attempting to do it from the middle out, not from the top, which could work over time. Listening to Blackhawks general manager Dean Tallon and observing the actions of Rocky Wirtz, the Blackhawks are determined to build that culture of expectation and desire. Building that first is more important than just throwing money at a bunch of free agents.
---
John,
Hell is officially beginning to freeze over here in Chicago. They just announced yesterday that the Blackhawks were in negotiations with Comcast SportsNet (the local sports channel owned by the Bulls, Cubs, Sox and, yes, Hawks) to televise some Blackhawks home games as early as Nov. 11. I truly think the organ-I-zation is turning the corner. Give Matt Nathanson a listen if you have time. "Curve of the Earth" is one of my favorites.
THANKS!
Eric Rieger
In case you missed this release from Comcast SportsNet:
"Representatives of the Chicago Blackhawks met with Comcast SportsNet executives to begin discussions about televising some home games this hockey season. It's important to understand that Comcast SportsNet's current schedule was developed well over a year ago, so fitting the Blackhawks into that schedule cannot be done overnight. No definitive agreement has been reached at this time, however, we are convinced that it is the appropriate next step to re-energize Chicago hockey fans and create new fans. We are also working on a long-term strategy for televising additional home games in the future. As we have already shown, we will continue to embrace positive changes and remain committed to a bright future. We hope to be able to provide additional information on this effort in the very near future."
---
John,
I know, as adults, we're not supposed to like them, but I'm a PS2 nut, especially for sports games. Madden's got the market (literally) on football, but why is so little attention paid to hockey games (and the current ones out there are HORRIBLE). Instead of getting better and better, they get worse and worse. Especially for a rabid hockey fan like myself who demands a realistic game (i.e. realistic scoring and realistic fighters). NHL 2K8 does a bit better with the details, like attributes and rosters, while NHL 08 has got more realistic graphics and the game isn't so choppy. Either way, the best was NHL 01, and it's been a steady decrease ever since.
Mike Davis
Dallas
Gamers ... respond, please.
---
Bucci,
The Rangers lost to the Bruins 1-0 in a shootout last Saturday. Since no regulation goals were scored, do Henrik Lundqvist and Manny Fernandez both get credited with shutouts?
Scott
Holbrook, N.Y.
Yes, each goalie gets a shutout. And Manny Fernandez receives a $100 gift certificate to Legal Sea Foods.
---
Hey John,
I just finished your book "Jonesy," and it was amazing.
"I really felt a sense of responsibility to that one fan who bought that one ticket for that one game that year. If I didn't play hard that one night, there might have been a John Poor in the stands whom I disappointed." One of the greatest quotes I have ever heard. I wish all pro athletes had this attitude.
Putting my head down and skating,
Joe M.
Marinette, Wis.
Thanks to you, Joe, and all of you who have bought "Jonesy" so far. Sales are going well, and most of you seem to think it's a good read. We will do an e-mail Q&A with Jonesy next month for those of you with questions on the book and all things hockey.
---
Bucci,
I attended the Pens-Caps game at the beautiful Verizon Center in downtown D.C. on Saturday night. In addition to some good hockey (great third period) and the chance to see two of the most exciting players in the league on the ice (every time Ovie touched the puck, the Pens fans in attendance were terrified), I got a chance to see why Sidney Crosby will save this league. It wasn't the crunching check he laid on a Cap that put him into the bench, it wasn't his no-look helper on the game-winner -- it was something so small that, unless you were there early, you would have missed.
During pregame warm-ups, Sid was standing just off the bench area, watching his teammates skate. He had a group of young fans behind him, cheering and banging the glass. Crosby took the time to reach down and throw no less than four pucks over the glass to the kids. I have seen players throw a puck over, but Crosby went out of his way to throw multiple pucks over and really acknowledge and smile at the kids. It was something to see, and it is something that someone that truly "gets it" would do. I am a die-hard Flyers fan, but I will never be able to truly root against that kid from now on.
Go Flyers,
Tom Catroppa
---
Bucci,
What do you think the odds are of a team actually rebelling against the "Edge" system and coming out in last season's uniforms? I'd love to see someone pull that off.
My favorite album right now has to be "Echoes, Silence, Patience & Grace." I'd been listening to "The Pretender" on the radio for weeks before the CD came out, and this is now my favorite Foo Fighters album.
Rob Siergiej
Plymouth, Mich.
---
John,
Just because of the volume of hate mail you put into your mailbag about the new Reebok jerseys, I thought I'd drop one defending them. I like them. I like the fit. I like that I can see the shape of a player instead of a big, flowy muumuu. Last season, I swear I saw Daniel Briere do a 360 inside his jersey. That's ridiculous. Historically, sweaters fit tighter to the body. Google images of Bobby Orr, and see how his sweater fit.
Jeff Wilcox
Los Angeles
Good point.
---
Hey John,
After you gave a shout out to U2's "Running to Stand Still" in this week's letters, I thought you'd be interested to know that the subject of the song, the heroin-infested high rises of the Ballymun Flats housing project in North Dublin, is in the process of being demolished.
From a New York expatriate, Islanders fan and regular reader.
Cheers,
Rich
"I see seven towers, but I only see one way out."
---
John,
Can everyone finally take the Flyers seriously? As I write this, they have beat Carolina, and both [Roberto] Luongo and [Martin] Brodeur, who are arguably the two best goalies playing today. So, again, I am asking everyone to believe and to give the whole organization credit. It is not like we picked up random players. Remember, we got three captains from other teams in Briere, [Scott] Hartnell and [Jason] Smith. I just do not understand why the Flyers have been ignored and why people seem to be surprised.
Dan
Philly
It's early, Dan. Let's wait until the 30-game mark. But you make good points, especially the leadership issue. The Flyers have talent and character, and Martin Biron looks calm in net. I didn't pick the Flyers to make the playoffs, but it appears if they stay healthy, they are a good bet.
---
Hey John,
I love your work. Do you still think it was a mistake for the Flyers to pay Briere all of that money?
Joe
Philadelphia
I love your work, Joe. Mistake? It's never a mistake to acquire a competitive, top-flight talent like Daniel Briere. It's not my money. I think when the contract is said and done, the Flyers probably will have overpaid for him. As long as it's by just a little, that's fine. If Briere stays healthy and produces as expected, then the signing will be fine, especially if the cap continues to rise.
---
Bucci,
Regarding Center Ice online, its quality is very questionable for those of us located anywhere south of the equator. It's fine when you are looking at it in a 3-by-5 window on the monitor, but when it's blown up to full screen there on the monitor or streamed onto a TV screen, I'd defy anyone to be able to locate the puck or be able to identify individual players among the various pixels.
Those of us who live anywhere outside North America are dying to have a way to watch the games in (or near) TV quality when we have the time. It's not possible to watch the games here when they are shown live -- it's in the middle of the working day for us. So, until the NHL comes up with something that let's us start a game at, say, 7 p.m. our time, we'll keep finding alternate ways to satisfy our hockey viewing needs.
Sorry, but when spending $180-plus on it, we want and expect something of much better quality than we are currently getting ...
Doug Wilson
Sydney, Australia
---
Hey Bucci,
I'm a big Islanders fan and was wondering if your preseason rankings have changed at all with the way they're playing? With the way the team has been playing lately, we should easily be a top-5 team in the East. What's your take?
Josh "JoKir" Kirschner
Woodmere, N.Y.
In their first eight games, the Islanders scored 23 goals, gave up 25 and were 5-3.
Over 80 games, that translates to 230 goals scored and 250 goals against. That's not good enough for the playoffs. The Islanders have a chance to make the playoffs, for sure. I think top 5 is pushing it. I still have them just missing.
---
John,
Will Brian Rafalski be in the Hall of Fame one day?
Demetrius,
Los Angeles
No.
---
Hey John,
I had to send you this picture of my son, Jack (9 weeks old). Since the confirmation of his conception, I have been waiting for the night we would sit to watch our first Wings game on TV. The night was a blast, complete with pizza and a Detroit victory (Mommy surprised us with a large Little Caesars).
GO WINGS!
Tim Piccini
Pizza, pizza. Sparky, Sparky.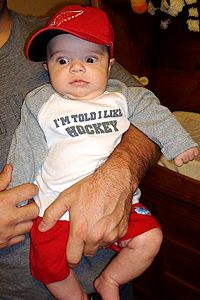 John Buccigross is an anchorman for "SportsCenter" and ESPNEWS. For questions, comments or crosschecks, e-mail him at john.buccigross@espn.com. To check out his new book, "Jonesy: Put Your Head Down And Skate," click here.