Love and Patience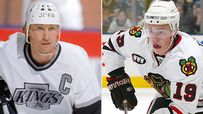 John Buccigross' two keys to a successful hockey career: love and practice. Wayne Gretzky had them, and so does Jonathan Toews.
Editor's Note: As promised, here is Bucci's weekly Mother of All Mailbags. This section of his column appears every Thursday on ESPN.com, while his regular rants and raves appear on Tuesday.
If you haven't figured it out yet, my hockey column is being released in two phases this year. Columns on Tuesdays with only an e-mail, or two, or three, with a much larger e-mail bag unleashed on Thursdays.
Here are this week's e-mails. Ted Saskin and Bill Daly have not read any of your e-mails before they have been released in this e-mail bag.
I received the following e-mail from Reebok concerning some of the issues being raised about the new uniforms, like the wet socks issue brought up to us this week by Jonathan Toews, and other media reports:
"After working with NHL players, teams and equipment managers to gather feedback on the Rbk Edge uniform system, Reebok has decided to provide an alternative jersey to the players who request it.
"Many NHL players are satisfied with the current Rbk Edge jersey, but since the start of the season, we have received player feedback about the jersey's moisture management and durability. Based on this feedback, Reebok will provide players with the option to wear a version with slight sizing and fabrication adjustments.
"In the alternate version, one fabric has been replaced with an air-knit fabric and the bead-away water repellency technology has been removed. Both jerseys will continue to offer up to four performance materials, including Reebok's PlayDry moisture-wicking technology and a stretch mesh for increased range of motion and ventilation.
"There will be no visual difference between the jerseys. The newly designed comfort necklines, jersey cut lines, anatomical fit and team designs will remain identical. Retail versions of the jersey also will remain unchanged.
"Reebok has taken this customized approach with other sports, providing multiple cuts of jerseys to professional athletes based on their individual preferences and performance needs.
"The performance benefits of the Rbk Edge uniform system were proven during testing last season with 28 of 30 NHL teams. We are pleased that overall player feedback has been very positive. We will continue to work with NHL players to ensure they have the best hockey uniform possible."
David Baxter
President, Sports Licensed Division
---
The Islanders e-mailed us this one:
"Hall of Fame coach Al Arbour is returning to coach his 1,500th regular-season game with the Islanders on Saturday when they host Sidney Crosby and the Pittsburgh Penguins at the Nassau Coliseum at 7 p.m.
"Coach Arbour will attend Islanders practice at the Coliseum on Friday at noon. At 1:15 p.m., Al will be joined by Islanders general manager Garth Snow and head coach Ted Nolan for a ceremonial signing of his one-day coaching contract."
---
John,
They announced on WIP (the all-sports station in Philadelphia where Keith Jones is a part-time co-host) that his/your book is No. 1 on Amazon among hockey-related books, edging out Martin Brodeur's book. It seems a shame that Jonesy had to retire before he finally beat Brodeur at something.
Anyway, I'm looking forward to reading it and seeing both of you at a local book signing. (I live near the headquarters for Alex's Lemonade Stand, so hopefully you guys can choose a location or two out here in the suburbs, in addition to Center City.)
Keep up the good work and please post the book-signing dates in your column when you get them.
Adam G.
Devon, Pa.
Thanks for everyone who has bought the book and don't forget "Jonesy" makes a great holiday gift! I will certainly post book signings in this space for the fear that only three people would show up.
---
John,
Holy Tim Thomas! The guy is 4-1 with the lowest goals-against average in the league. [Phil] Kessel is being Kessel, winning games on the shootout, scoring two beautiful goals against [Nikolai] Khabibulin, and Milan Lucic (thought he is a fourth-liner) is only 19 and is playing his heart out. And I'm sure you saw highlights from the Hawks game where [Zdeno] Chara just brutalized [David] Koci. Suddenly, my Boston Bruins are 6-3 and are finally a harder team to play against.
Pete Turenne
Rhode Island
The Bruins should be among those teams battling for the final playoff spot in the Eastern Conference. Their challenge will be generating enough offense, especially with the injury to Patrice Bergeron. A big bright spot in Boston is Lucic, who is bringing back Cam Neely memories for Bruins fans. Four years ago, Lucic didn't make his "zone team" in his hometown of Vancouver.
At 16, Lucic tried out for the Coquitlam Express in the British Columbia Hockey League, but was cut in the rookie camp. He was eventually called back and joined the team. Last season in the WHL, Lucic was captain of the Vancouver Giants and MVP of the 2007 Memorial Cup (won by Vancouver). He was also captain of Team Canada in this summer's Super Series.
---
Hey John,
I'm a 21-year-old reborn hockey fan from Chicago. I went to my first Hawks game in 1992 at the old Chicago Stadium against the Canucks, and I remember my dad having to overpay a scalper for tickets because it was sold out. As of today, I've been to three Hawks games and paid a whopping $24 (Hawks games are only $8 with a student ID on game days.) Watching [Patrick] Kane and Toews for $8 is the greatest deal in the city, and it's a cheaper date than taking the girlfriend to the movies. I was just wondering how long you think it's going to take for people in Chicago to actually care about the new-look Hawks. Is it even conceivable that people around the league will actually care about us?
Jason Maciejewski
Chicago
I'd love to see Patrick Kane and Jonathan Toews on the cover of Sports Illustrated or ESPN The Magazine. I know magazines don't operate like that anymore and are more into big-time names on the cover. Still, it would make a great story to talk about the great times, the bad times and, now, the hopeful times. It will probably take a playoff appearance to get the city back in full.
By the way, the Blackhawks officially announced this week that the team's first televised home game of the season will be Nov. 11 against the Red Wings. Blackhawks chairman Rocky Wirtz said in a statement: "It's time to share the energy and excitement of the Blackhawks with all of our fans. We are entering a new era, and putting home games back on TV is the first step to supporting our great players and fans."
The rest of the televised home dates will be announced next week.
---
Bucci,
Two things I LOVE: Anze Kopitar and Arctic Monkeys.
Cheers,
Gary Kraus
Hollywood
Two things I LOVE: Boston Cream Donuts at Dunkin' Donuts and ... talking contracts.
The Kings locked up Dustin Brown to a long-term contract Friday, signing the forward to a six-year extension worth $19.05 million. This is a good sign for Brown. I don't see him being more than a 25-goalish, Shane Doan kind of scorer. To get almost $20 million and set yourself up for life as you and your wife expect a baby boy in February is a great thing for this courageous player who could suffer injuries because of the way he plays. The Kings are assuming most of the risk in this deal. If Brown can be a 25-30-goal guy and stays healthy, Los Angeles will have made a good sign. Still, that's a big if. Oilers GM Kevin Lowe has made a lot of players very rich with his two summer offer sheets. Lowe should have been named NHL Players' Association executive director, not Paul Kelly.
Kris Draper, who could have been an unrestricted free agent in the summer, agreed to a three-year extension worth $4.75 million with the Red Wings. Draper, who at 36 is being paid $2.128 million this season, will make $1.85 million next season, $1.65 million in 2009-10 and $1.25 million in 2010-11. This is a smart sign for both sides. It gives the Red Wings more cap room as the deal progresses and keeps Draper in Detroit until he is 40. It also preserves a relationship for Draper that will likely continue after his playing days are over.
---
Bucci,
The Nashville Predators are at the bottom of the Central Division and have that out-clause in their lease allowing new ownership (to be named later) to move the team if the average attendance falls below 14,000 a game for this season. A year ago, the Preds averaged about 13,800 and had an exciting, pretty darn good hockey team. This season? No Kariya. No Forsberg. They added a Bonk and attendance has bonked, too:
Date/Day of week/Attendance
Oct. 2/Tuesday/16,363
Oct. 6/Saturday/13,079
Oct. 11/Thursday/12,155
Oct. 13/Saturday/13,152
Oct. 25/Thursday/13,383
Average through five games: 13,626
Do you think the team will move after this year and where to? I agree with your thought from last year that the league should not contract and try to keep as many U.S.-based teams as possible. It's the only way to grow the sport.
Brad Lee
St. Louis
I never root for any team to move. That's like rooting for a puppy to pull a hamstring. It is something worth monitoring, however. Nashville is starting to feel like Hartford, where there was a slow string of disappointing news before the big announcement as Peter Karmanos kept asking for more and more. Although, in Hartford's case, the NHL didn't want the Whalers to stay in Connecticut. They don't seem to be doing the same thing in Nashville, although you never know. Predators owner Craig Leipold decided Wednesday to give more time to the local investors who are trying to buy the Predators and keep them in Nashville.
This from John Glennon in The Tennessean: "[Preds GM] David Poile said he doesn't feel an urgency to make any trades, but if that changes soon he'll probably check price tags closer than usual. Nashville began the season near the NHL's salary cap basement. And with the team's change of ownership still unresolved, it's unlikely current owner Craig Leipold, who reported losses of $27 million over the past two seasons, would authorize much of a payroll increase through trade. Asked if he'd be allowed to increase salary through a trade, Poile said it would be up to ownership."
---
Hey Mr. Buccigross,
My name is Anders Cedhamre and I'm the senior editor of a brand new Swedish sports site, writing about ice hockey, basketball and soccer. I just want to inform you that Swedish national team coach Bengt-Ake Gustafsson has picked Peter Forsberg to play in the Karjala Cup. Use this info in any way you want.
Anders Cedhamre
Welcome, Anders Cedhamre, the official Swedish correspondent of this column. Get me some Hakan Loob news, Anders! STAT!
---
Hey Bucci!
The Hurricanes' early success has the city of Raleigh buzzing again. It's a very similar vibe to the Cup year two seasons ago. The re-signing of Scott Walker and Ray Whitney, and bringing back Matt Cullen, were huge offseason accomplishments.
What do you think will be the key to this team getting back to the finals? I think the two biggest factors will be health and Cam Ward having a career year as the starter. What do you think?
Reid
Raleigh, N.C.
Isn't it strange how Matt Cullen just fits in Carolina? Like Luc Robitaille fit in Los Angeles and David Lee Roth fit with Van Halen.
As Eric Staal told the Raleigh News-Observer: "We've got three or four lines that can score. It makes a difference. That makes it hard for teams to match up defensive pairings. That's what we want: a lot of guys in the top of the league in scoring."
As far as Cam Ward, he continues to slowly improve. His save percentage in his rookie season was .882. Last season, it was .897. This week, it began at .917. Ward lost a lot of weight and resembles an Olsen twin, compared to last season's Merlin Olsen look.
---
John,
What is your list of the five greatest hockey names? Mine are as follows: 1. Garth Butcher; 2. Rob Ramage; 3. Kevin Hatcher; 4. Terry Sawchuk; 5. Glen Featherstone.
Jim
Osage Beach, Mo.
Let's Go Blues!
Hakan Loob
Bruce Shoebottom
Cal Clutterbuck
Pokey Reddick
Ott Heller

---
Good day John,
You've probably gotten a dozen e-mails on this already, but …
From Podes' e-mail: "My angriest moment was probably when, I can't remember his name from Montreal, elbowed Petr Svoboda right in the head and knocked him out in Philly."
The perpetrator was Marc Bureau, then playing for the Habs and later to become a Flyer. It's almost funny, because I was sitting in the previously mentioned Main Street Pub in Voorhees watching that game, enjoying the great wings, cold beer, and great … people.
Thanks,
Matthew Pensabene
Marc Bureau: 567 NHL games, 55-83-138, 327 PIMs.
---
Bucci,
I read your column religiously and get a kick out of the e-mails asking for baby names. Well, my wife and I are expecting our first child this spring (sometime during the second round of the Stanley Cup playoffs). We do not know if it will be a boy or a girl, so we're going to need suggestions for both!
Thanks,
Chris Ekern
Northfield, Minn.
Trevor Christopher Ekern (I'm big on the name Trevor; you don't hear it lately). It will be a boy, so you are all set, brutha.
---
Hey Bucci,
You are always mentioning new singers in your column and I don't blame you. But where are the classics? No Beatles? Come on John. The Beatles are like Brendan Shanahan and fine wine. The older they get, the better they get. I walked down the aisle at my wedding to "While My Guitar Gently Weeps," and me and my wife danced to "Here, There and Everywhere" as our first dance. Classics, but perfect. Show some love to those boys.
Bryan Salamon
University of Maryland, Class of 2007
Hofstra Law School, Class of 2010
Bucci does not discriminate toward any music. I love The Beatles. The summer between my freshman and sophomore years in high school, I listened to The Beatles' "Greatest Hits" cassette tapes every day. I bought Beatles posters. I love The Beatles because they were always about melody, and I'm all about melody.
My five favorite Beatles songs:
"Hello, Goodbye"
"Norwegian Wood"
"Penny Lane"
"Something"
"I Am the Walrus"

---
Hey Bucci,
I saw a picture of Pascal Leclaire on ESPN.com after he posted yet another shutout (man, he's been a stud so far this year) and I just had to laugh. Besides his "cat who ate the canary" grin, he's got that Dairy Queen-dollop hairdo thing going on!
Also, I wanted to give a little plug for the U.S. Hockey Hall of Fame. All you puckheads out there should check it out. Keeping in touch with the history of the game, as well as nurturing the youth hockey movement, are two vital keys to strengthening the future of this great sport.
Keep up the great work, Bucci!
Brian Wheeler
Maple Grove, Minn.
Pascal Leclaire: The love child of Wendy Whiner and Ed Grimley.
---
John,
What do you think of [Randy] Jones getting only a two-game suspension, while [Patrice] Bergeron will be out much longer than that. It was obviously a dirty hit and he had time to let up, but he went after him anyway.
Thanks,
Chris
I don't know what the answer is here. Bergeron certainly lowered his body and exposed his head to the top of the boards, but should he be "penalized" for winning a race? Or does he have the responsibility, in all cases, to protect himself first and make a play on the puck second?
Randy Jones really had no reason to hit Bergeron as he was beaten to the puck. He would have been better off anticipating what Bergeron was going to do and try to get a stick on the puck. What we do know is hockey is a lightning-fast game played by fast, big men. Accidents will happen. I would have suspended Jones for five games in the end. It was not a malicious hit, but it was probably careless, and carelessness and dangerous things never mix. He could have easily engaged Bergeron without dangerously hitting him, knowing both he and Bergeron were going north-south.
Hockey is a dangerous game. That is part of its allure. It takes courage to play it. But players must always have respect and care as they play. This is extremely difficult because, unlike dangerous things like rock climbing, surfing, skydiving and various X Games events, hockey is an emotional game. The adrenaline and fear and anger can obviously affect judgment. Jones didn't seem to be in an emotional state. Ducks GM Brian Burke mentioned a bear-hug rule for these situations, but while I know what Burke is trying to prevent, a player could pin a player's arms to his side in a hug situation and smash his face on the glass.
Do we ban hitting behind the end line? These hits only seem to be hits from behind, or hits like Steve Downie on Dean McAmmond, where a player is nearly defenseless as he tries to make an offensive play. Of course, that could be a nightmare to officiate in situations where a player is on, or near, the line. Why don't we pad the end boards at the top end? These are questions to throw out there for thought.
The only sure thing is the Bruins will desperately miss Patrice Bergeron. Obviously, they are not as good without him. Their depth and offense suffers. Bergeron also plays with underrated jam despite having low penalty-minute numbers. I believe he was on his way to a 30-goal season and helping the Bruins battle for a playoff spot. The 30 goals won't happen now and the Bruins' playoff hopes take a major hit if Bergeron misses more than a month.
---
Bucci,
A friend of mine, Bob, works at Trump Plaza in valet parking. One morning, he's standing outside and sees Chris Therien of the Flyers (Bob is a Devils fan). He walks up to him, verifies that the guy is in fact Therien and asks him if he would give Paul Coffey (then a Flyer) a message. Therien looks at him a bit funny, but says he will.
Bob: "Tell him he plays like a daisy."
Therien laughs a bit disbelievingly and says, "What?!"
Bob repeats himself: "Tell him he plays like a daisy."

Shaking his head, Therien says he'll tell him.
Bob forgets about it and a few months go by. He's standing outside at the Plaza one morning and sees this guy, disheveled, that he thinks he recognizes. He walks over.
Bob: "Aren't you Paul Coffey?"
Coffey: "Yep. How you doin'?"
Bob: "Good. I was wondering, did Chris Therien ever give you a message?"
Coffey looks at him funny (Bob gets this a lot) and says, "No."
Bob: "Oh. It figures. I asked him to tell you you play like a daisy."
Coffey: "What?!" (Bob gets this a lot, too.)
Bob: "You play like a daisy."
Coffey: "Well [with a little pause], I'm old!"
You can only get away with that kind of stuff with hockey players.
Keith Filling
---
Hey Bucci,
I just read that Chris Osgood has 339 career wins. Now, he did play on some amazing teams, but he also won a Cup as the starting goalie (1998) for the Wings and has, I believe, 43 shutouts. Is he a Hall of Famer? What if he gets to 400 wins? No matter how good your teams are, you don't do that without being very good yourself.
Take it easy,
Kurt Simer
Chris Osgood is 16th in all-time wins. No one can seem to figure out the criteria for goalies. Osgood has more wins and a lower goals-against average than Gump Worsley, but we all know Osgood is not going to end up in the Hockey Hall of Fame.
---
Bucci,
What's up? Sitting at work in C-Bus and got into a dilemma over the ending of the Blue Jackets game last night, a 3-0 shutout win over St. Louis. We were wondering how they gave the last goal to Jiri Novotny. Apparently, the Blues pulled their goalie at the end and Columbus ended up with a breakaway. When Novotny shot, the defensemen hooked him from behind and the puck hit the post and deflected off the boards. However, the refs ended up giving him a goal without the puck going inside the goal. What is the ruling on this?
Thanks,
Tim Florak
If a player is penalized from behind in an empty net/breakaway situation, the goal counts whether or not the puck goes in.
Tim Florak is the brother of Mike Florak, who was most recently the head baseball coach at Youngstown State University in Ohio. Mike was also the most prolific offensive player in the weekend street hockey league me and my friends played during high school in Steubenville, Ohio. We rented out a local gymnasium and played on Saturday mornings. I provided a weekly newspaper, complete with up-to-date statistics, game stories, player bios and team reports. No parents, no pressure. Just kids running and playing in our own league.
---
John,
You're looking at the future center forward for Les Habitants in the 2026-27 season. Michael John Neri III, or as he'll be known, Tre Neri. Keep up the good work. Go Habs!
Michael Neri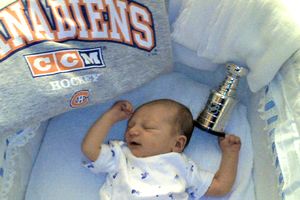 John Buccigross is an anchorman for "SportsCenter" and ESPNEWS. For questions, comments or crosschecks, e-mail him at john.buccigross@espn.com. To check out his new book, "Jonesy: Put Your Head Down And Skate," click here.