Pucks, Sushi and J.R.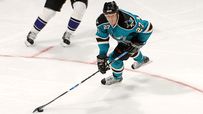 Jeremy Roenick has stayed out of the limelight this season as he leads the way in San Jose. But he couldn't turn down Bucci. J.R. talks pucks, Gretzky and sushi with our resident puckhead.
Editor's Note: As promised, here is Bucci's weekly Mother of All Mailbags. This section of his column appears every Thursday on ESPN.com, while his regular rants and raves appear on Tuesday.
Bucci,
With Eric Lindros announcing his retirement and considering Peter Forsberg's health problems will conceivably prevent him from playing another NHL game, how do you rate the Hall of Fame chances of these two players who were once traded for each other? Their credentials are somewhat similar:
Forsberg -- 697 games, 248 goals, 871 points, one Hart Trophy
Lindros -- 760 games, 372 goals, 865 Points, one Hart Trophy
Edward
Chicago
I've gone on record here (doesn't it sound so, official?! And, important?!) that if I had a vote, I would vote for both Forsberg and Lindros for the Hockey Hall of Fame. Lindros played in more games than Cam Neely and Forsberg played in more games than Bobby Orr. Forsberg isn't Orr, of course, but he's been a massive playoff performer and his .894 assists a game is bettered only by Mario Lemieux, Wayne Gretzky and Orr. Think about that.
Lindros is muddled only because of some of his rather minor off-the-ice issues and the overprotectiveness of his parents and how they attempted to orchestrate his life. But he has the MVP and his .489 goals per game is better than Dale Hawerchuk, Peter Stastny Joe Sakic, Steve Yzerman, Gordie Howe and Paul Kariya.
---
John,
My new wife and I just got back from our honeymoon in Europe. I've been to London. I've been to France. I've been to the Louvre. I've been to the Tate. I saw the Mona Lisa. I saw the Venus de Milo and the Winged Victory of Samothrace. But after watching that Stars/Ducks tilt, I have to say that the 'stache on George Parros is truly a work of art.
Edward
Dallas
It was announced yesterday that Ken Burns' next 49-part PBS series will be on the 'stache of Parros.
---
Bucci,
Per this week's mailbag, you don't have to wait for your fix from Sweeeeeden. I recommend the band Thunder Express and their video for "Believe in You." It's only vaguely metal, but Sweden is one of the few places where kids still write and record rock and roll.
Bill
I want to hear Thunder Express cover "Dancing Queen."
John,
A good Swedish band? The only band you need is Freak Kitchen! You can find them on Amazon (only import, sorry) or on their homepage www.freakkitchen.com.
Cheers,
Kristofer Johansson
Sweden
I want to hear Freak Kitchen cover "Take A Chance On Me."
John,
You don't have to wait for Anders. I have a great Swedish heavy metal band for you to check out. Evergray. Their latest is a concept album about corrupt preachers. The first and last tracks are fantastic. I first heard of them when they opened for Iced Earth at The Quest in Minneapolis. Three songs into their set, my friend and I were headed to the merchandise table to buy their albums. They are that good.
Ralph
Eden Prairie, Minn.
I want to hear Evergray cover "Fernando."
John,
Was wondering what your take would be on the all-time teams of hockey nations:
Sweden, Canada, Russia, Czech Republic/Slovakia, USA and Finland. Order intentional, by the way.
Here's an attempt for Sweden:
G -- Göran Högosta
D -- Nicklas Lidström
D -- Börje Salming
LW -- Ulf Samuelsson
C -- Mats Sundin
RW -- Peter Forsberg
Patric
Ulf Samuelson on wing! Nice! I'd replace him with Henrik Zetterberg and replace your boy Göran Högosta with Henrik Lundqvist.
---
John,
First, I miss NHL 2Night. It kept me going while I was living in Birmingham, Ala. I wanted to ask about Evgeni Malkin and Jordan Staal. I noticed on The Hockey News' Web site that they both become restricted free agents before the 2009-10 season. Will they be able to afford both of them? And, if not, will they trade them, and when?
Kyle Krahl
I do think the Penguins will be able to keep both Malkin and Staal because I don't see Staal as being that "max contract" kind of player. I see Staal as a $3-5 million player at best.
---
Bucci,
Flipped channels the other night and found that the NHL has its own channel. Caught a Calgary-at-Edmonton playoff game from 1984. We're talking Gretzky, [Jari] Kurri, [Mark] Messier, [Al] MacInnis and your boy [Hakan] Loob. There were Hall of Famers by the fist full and we all remember the past fondly, but we are definitely watching a much better brand of hockey today. Working from the back out, the goalies today are much more agile and bigger (I couldn't believe how much net I was seeing). Today's defensemen quicker (although Paul Coffey was the best player on the ice that night) and less like traffic cones. And today's forwards would have dominated with their speed. I really cannot believe the sport is losing fans. Today's hockey is more exciting than ever before.
David Chapman
Let's Go Kings!
Orange County, Calif.
We call this a "soft launch" in the sports and entertainment business. I don't know why the NHL has been quiet on this, but with the channel trickling in, it might be better to let the NHL Network be introduced by word of mouth. But we will do our best to give it notice here, so the folks who may have it that are not aware are sacrificing days on earth without a hockey channel they can go to. As far as the quality of play, we've been saying that here for a long time. The level of play in the NHL far exceeds anything we've seen before on a league-wise basis.
---
Bucci,
I was wondering if you have gotten into "Flight of The Conchords" on HBO? I think it is one of the best shows out there.
Evan from Philly
Didn't miss a show all year.
"It's business.
It's business time.
That's what you're trying to say, you're trying to say, let's get down to business, it's business time."
"Business Time" by Flight of the Conchords
Flight of the Conchords was also a favorite show of Chris Drury over the summer.
---
Bucci,
Even though no one picked the Jackets to do anything this year, just as many people could have expected Pascal Leclaire to already post five shutouts. While it's early, what do you think the chances are of Columbus not only making the playoffs, but staying within the top 4 in the Western Conference?
William Chase
Virginia
As I write this, only Ottawa has allowed fewer goals than Columbus. Also, Columbus is scoring enough goals to win and are on pace for about 220 goals. If Columbus scores more than 200 goals and gives up fewer than 200 goals, it will probably make the playoffs. The key to that Central Division might be to take care of business (business time) in their division. The Central is a tough division and, along with the Atlantic, probably the most deep. Columbus needs to get those power-play numbers up and play respectable on the road. Historically, the Blue Jackets have been a dreadful road team. If they can stay around .500, they will be a threat. Ken Hitchcock is the early coach of the year.
---
Hey John,
I love reading your column every week. Check out this great band -- Year Long Disaster.
Heather Hunt
Findlay, Ohio
I love you for reading my column every week Heather. Nice win over Ohio State in basketball, Findlay! We will check out Year Long Disaster. Send Kevin Lowe a copy in Edmonton. Look for Edmonton to soon trade 29-year-old center Shawn Horcoff for a defenseman. It makes sense at this point. Horcoff would be a great pick-up for a solid team looking to get better.
---
JB,
The rankings for the Boston Crème Donuts are as follows:
Tim Hortons -- better than the rest, plain and simple. (Favorite location -- Mystic, Conn., or Portland, Maine.)
Krispy Kreme -- Chocolate Iced or Custard Filled. (Charleston, S.C.)
Dunkin' Donuts -- Boston Crème. (Red Hook, N.Y.)
I can't remember what they are called at Bess Eaton (never been) or Honey Dew (Auburn, Mass.).
No offense, but I just had to get it off my chest. And yes, I do have the required girth of a donut connoisseur. Rod Brind'Amour hasn't eaten a donut since he's been able to feed himself. He's gonna load up after retirement at age 53.
Your bi-weekly devotee,
Lee
Cameron, N.C.
Excellent effort, Lee. It makes me think of the Tenacious D song "Lee."
"Lee, Lee, Lee, Lee,
Lee Lee Lee Lee Lee Lee Lee Lee Lee.
We're talkin' [bleeping] Lee.
I had a friend named Lee,
He cast a spell a spell on me.
If me and Lee and KG could be three,
Flyin' free Tenaciously,
Skinny-dippin' in a sea of Lee,
I'd propose on bended knee
To Lee Lee Lee, Lee Lee Lee,
Lee Lee,
Lee Lee Lee, Lee Lee Lee,
Lee Lee,
Le-Lut-Le-Le-Le-Lee Lee Lee,
Le-Lut-Le-Le-Le-Lee Lee,
If me, and Lee, and KG, (that's me)
Could be three, (could be three)
Plant a tree, (plant a tree)
Just for Lee, (just for Lee)
Just for Lee, (Lee)
Just for Lee!
LEE!"
---
Hi John,
I think you've named three babies so far this season. You owe us three hockey facts.
Thanks,
Danny Jones
Blairstown, N.J.
My bad. Ask your hockey loving coworker, classmate or friend the following questions:
• Most penalty minutes in an NHL career? Tiger Williams, 3,966.
• Most assists in one period? Dale Hawerchuk, five.
• Top three all-time goal scoring leaders with goal totals? Gretzky, 894; Gordie Howe, 801; Brett Hull, 741.
---
HEY LOOK, ANOTHER NHL NETWORK EMAIL! (Oh, NHL, you so owe me.)
Booch,
This past Monday before heading up to the Rangers game, I was sitting around the house with time to kill and decided to see what was actually on the other 700 channels of digital cable besides ESPN. As I searched through, I stumbled upon channel 276, the NHL Network.
When did this channel start and where has it been all my life? Since the days they pulled NHL2Night off the air, I have been void and empty of a show that could catch me up on all the night's action and give me some great highlight shows from the past.
Needless to say, my TV hasn't left this channel since I found it, except to watch Rangers games. This channel shows classic highlight shows from past playoff series, old games in their entirety and, best of all, a great recap show every night showing in depth analysis, interviews and highlights.
I'm more than halfway through "Jonesy." I'll actually finish it this Monday as I head up to the Flyers-Rangers game. I'll give you my full feedback then, but it's been a fun read thus far.
Chandler Withington
Assistant Golf Professional
Merion Golf Club
The Christmas season is now here, people. Pick up "Jonesy" for you and your closest 15 friends. Available now online and in bookstores!
---
Bucci,
Do you think Henrik Zetterberg can keep up the pace and finish top 5 in scoring?
Dan Brown
Miami, Fla.
Red Wings coach Mike Babcock is giving Zetterberg a lot of ice time and it is paying off. I would still go with Sidney Crosby in any scoring race for the next 10 years. That's like going with Tiger Woods in a major. But we are not even 20 percent through the season, so there is time for players to regress to their means. Zetterberg is on a 125-130-point pace. His career high is 85. That being said, he is entering his prime right now as his experience continues to intersect with his youth and he should be able to get his first 100-point season. But, when one is dating Emma Andersson of Sweden, does it really matter?
---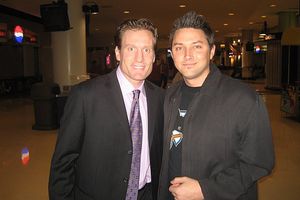 Dear Bucci,
Just got done reading the interview/mailbag with Jeremy Roenick and thought I would finally write you. Anyway, the reason I am writing is to share the greatest hockey experience of my life, which happened to take place last Saturday. Long story short, after the Sharks played the Kings, we got to go to Luc Robitaille's after party in the Grand Banquet room at Staples.
As we are hanging out talking to the likes of Luc, Rob Blake, John Zeiler and my girlfriend Rebecca's favorite, Jack Johnson, she gets a call from Joey. "Get out here now we have to go downstairs, don't ask questions." We proceed to run out of the party and hit the elevator. We walk around half the building, and there, in the distance, I see my idol Joe Thornton. Joey introduces us (they have been friends for years) and we get a picture.
After some small talk, he has to get on the bus and we start walking back to the party. Who do we run into down the hall on the other side of the building? Yes, J.R. himself! I congratulated him on No. 499 and snap another quick one. He was very genuine and appreciative. We walk back up to the party and I felt like I was walking on air. Meeting two of my hockey heroes in the same night when it was totally unexpected was a treat that I will always remember.
So, I thought I would share that with you. I hope you enjoyed reading it as much as I enjoyed sharing it. Check the photos. If you don't get any worthy kid pictures, maybe you can throw one of ours in your next mailbag!
Justin Bartek
Burbank, Calif.
John Buccigross is an anchorman for "SportsCenter" and ESPNEWS. For questions, comments or crosschecks, e-mail him at john.buccigross@espn.com. To check out his new book, "Jonesy: Put Your Head Down And Skate," click here.