Last week, I was in New York to take in the 2007 Lester Patrick Awards.
Brian Leetch, Cammi Granato, John Halligan and Stan Fischler were all honored at the Sheraton Towers, a hotel that hasn't changed its carpeting since Vic Hadfield was going top daddy on Gilles Gilbert.
Jim Schoenfeld, former NHL defenseman and current Rangers assistant GM, once again gave me the firmest hand shake of all time, just ahead of former Big Bad Bruin Ken Hodge.
Shot of the Week
Back by popular demand (and we mean that), the shot of the week is back!
You know how it works. We will present an NHL photo and Bucci will provide a caption. E-mail him your suggestions (include your name and hometown/state) and we will use the best ones and provide a new photo the following week.
THIS WEEK: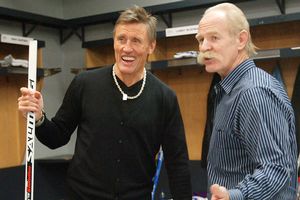 Lanny McDonald is stunned at the addition of Roger Daltrey to the latest Legends Game. (Getty Image)
NHL commissioner Gary Bettman was there and, despite two empty tables in the back, convinced everyone the room was sold out.
Devils GM Lou Lamoriello was there, and true to his old-school mentality, he ate his salmon and steak with his bare hands.
Rangers play-by-play man Sam Rosen pointed to Chico Resch's hair and screamed, "And this one will last a lifetime!"
Devils play-by-play man Mike Emrick was there and proved once again that although we are both technically in the broadcasting business, he is Wayne Gretzky and I am Hal Gill.
Adam Graves was there and looked as though he could still play in the NHL. His shoulders could not fit in the doorway. His arms are freakishly long and his hands are the size of satellite dishes. I am confident he could easily kill me within 20 seconds.
Blues president John Davidson was there, and while he is doing a fine job in St. Louis, he is missed in the broadcast booth. We need him there.
And, of course, Granato was there. Cammi is married to former NHL player and current Edmonton Oilers/Sportsnet analyst Ray Ferraro, who was also in New York for Cammi's big day.
Last December, Cammi and Ray had a son named Riley. Ray also has a son, Landon, who is playing in the WHL for the Red Deer Rebels. Landon Ferraro is projected to be a future first-round NHL draft pick.
Cammi and Ray will now answer your e-mails:
Your questions, their answers
Question from Jon Moncrief (Santa Monica, Calif.): Serious question: Ray, what's wrong with the Devils? How can they turn this around? Not so serious: Do they serve chicken parm at NBC before you go on the air? Fun: Who will your son, Riley, more resemble as a hockey player, Cammi or Ray?
Answer from Ray: Whenever a team has a new coach, new system and a new defense, there are sure to be growing pains. The biggest issue for the Devils right now is how to meld their personnel with the new system that [coach] Brent Sutter wants to play. Not so serious: Nope, although we got to choose what we wanted. The staff would pick it up for us. Sushi was excellent; soup was always a dangerous choice (spillage). Fun: Hopefully, Cammi's hands, Ray's competitiveness and Uncle Tony's speed.
Question from Michael (Evansville, Ind.): Parm, please satisfy my thirst for some "NHL 2Night" nostalgia. Can you tell us one story or experience involving Bucci that he wouldn't want us to know about?
A: Before we could go on the air, we would grab a workout, eat dinner and then head back to the studio. Bucci has the skinniest calves on the planet and would never wear shorts. Come to think of it, he never wears shorts on the golf course, either.
Question from Rich (NYC): Ray, I have always appreciated you as a player and commentator, but my favorite memory of you is this. Back when you were with the Islanders, I met you. You kindly gave me an autograph while talking about going home for dinner. Although it wasn't chicken parm (spaghetti and meatballs), I was wondering what your favorite memory was while playing with the Isles?
A: Without a doubt, the 1993 playoffs. We knocked off the two-time defending Cup champion Penguins in overtime of Game 7. I had 13 tallies that postseason -- the best time of my career.
Question from Dan: Ray, did you consider playing college hockey, and if so, where? My roommate (Leroy Rempel) at Northern Michigan said he was committed to playing there. Any truth to that? Those guys in Penticton [British Columbia] could really sling the stuff, eh?
A: I had a scholarship at NMU as did Leroy (by the way, he could fly). I bailed out in late August to play Junior. It turned out to be a good idea as we won the Memorial Cup [with the Portland Winter Hawks]. I did miss out, for sure, on the college life.
Question from Willie Jenkins (Wintersville, Ohio): Ray, give us a scouting report on your son Landon, who is playing for Red Deer.
A: Good size, very good skater. He has terrific hockey instincts. He loves the puck and loves to score. Oh yeah, better than the old man.
Question from Mike (Class of 2001): Cammi, as a fellow PC alum, what are your two favorite memories (one on the ice, one off the ice) during your days at Providence College?
Answer from Cammi: On the ice, winning the ECAC Championship during my senior year. We won the game; then, after the game, six of us jumped in a Ford Taurus and drove 24 hours to Fort Lauderdale for spring break. Off the ice? Hmm. Too many great memories. Hours and hours of hanging with friends in the cafeteria or in McVinney Hall or pretending to study at the library! Oh yeah, and some pretty fun nights at Brad's Bar.
Question from Steve (New Jersey): Mr. and Mrs. Parm, is there any chance we'll see either of you on American TV again soon?
A: Not on "Dancing with the Stars," that's for sure. Hopefully, somewhere soon we'll get the opportunity.
Question from Mike Travis (Edmonton, Alberta): Ray, is there any hope for the Oilers?
A: Not this season. They are very young and so banged up that by the time they get straightened away, they will have lost too much ground. Their young players give hope for the coming year, but it is going to be a struggle at times this season.
Question from Gene Bernardo (Providence, R.I.): Cammi, my niece (you met her in 2002) is a player that showed a very real shot at the USA Girls Select Festival this summer for 14-year-olds … However, while she has the talent on the ice, she's just not putting in the commensurate effort in the classroom. Like so many young girls, she looks up to you. If she won't listen to her insistent uncle, perhaps some sound advice from a legend will take hold. Can you please impart on her, and other young aspiring women hockey players, the importance of education and how your education has translated to your overall life success.
A: I went through high school thinking it was OK to just "get by" and when I was applying for colleges, I learned my lesson. Because my grades were average at best, I had very few schools who would look at me. I had to be wait-listed at Providence College and the coach had to beg the administration to get me in. If I didn't get into Providence, I was going to Wisconsin to play soccer. Imagine how different my life would have been? Also, when I got to Providence, I had to go to study hall every night for three hours while everyone else was having fun in the dorms! Take your schoolwork as seriously as you take your game, and more doors will open for you.
Question from Sanjay (Pasadena, Calif.): Cammi, is there any chance that you would make the Hockey Hall of Fame? Let's face it -- you are currently the best player (female) the U.S. has ever produced and perhaps one of the best players ever to play the game. (If it were up to me, you would be in.)
A: It's a big debate whether women should go into the Hall or not. It is, after all, called the Hockey Hall of Fame, not the NHL Hall of Fame. So, of course, I am for it. It would be an unbelievable honor to be considered.
Question from David Gartner (Valencia, Calif.): Cammi, tell us about your broadcasting experience as a radio commentator for the Los Angeles Kings in the late '90s. Would you consider doing this again in the future, or do you have other hockey-related plans?
A: It was a great experience for me. It was challenging because not only had I not done anything like it, but I was also a woman in what was seen as a man's position. I know one thing, it's a heck of a lot easier to play the game than it is to analyze it for 2½ hours a night! I really did enjoy it and the Kings organization treated me first-class.
Question from Chris (Vestal, N.Y.): Cammi, you have been a source of inspiration and pride for all hockey players and fans. My wife and I named our 8-month-old daughter Camryn Isabelle ("Cammi") in honor of both you and Cam Neely. After the less-than-righteous way you were released from the women's national team in 2006, I was wondering if you are still involved with USA Hockey, and if not, if you thought there would be any chance of you participating in the organization in the future, in either a coaching or advising role?
A: First off, that's really cool that your daughter's name is Cammi. I am honored. As for the USA Hockey stuff, it's taken me awhile to let go of what happened. I am not involved in any way right now, but, in the future, I'm open to the idea.
Question from Carol DiCesare (Ohio): Cammi, any chance of you playing for Team USA at the 2010 Olympics?
A: I've entertained the idea! But, right now, I'm enjoying a different part of my life with my 10-month-old son.
Question from Chris Reed (St. Louis): Ray, I am a lifelong (32 glorious years) Blues fan. What can you tell us about your "stint" with the Blues. I won't settle for the "the fans were great in St. Louis and traffic wasn't too bad" type of answer. We need something juicy.
A: I really wished I could have been there longer. I met a couple of awesome teammates -- Shjon Podein, Scott Young and Scott Mellanby, in particular. Maybe the funniest thing I can relate is that Walt isn't that good of a bus driver.
Question from Mat (Oakville, Conn.): I'd like Ray to comment on his experiences with the Whalers and I'd like to know if he thinks another NHL team could survive in the Insurance Capital of the World.
A: I loved playing in Hartford. The fans were great to us and our team was very good. Most of us guys kind of grew up together in Hartford. I do believe a team would survive in Hartford. I was definitely sad to see the Whale leave.
Attention, puckheads!
Next week, send your e-mails for NHL TV analyst Bill Clement. Bill will answer your e-mails in next week's space.
Mini-Me Mailbag
John,
I wanted to write, to congratulate you on your book. I set aside a Sunday and went to my local Barnes and Noble to purchase "Jonesy" and was totally blown away by how much I enjoyed it. I finished it that afternoon and recommend that every hockey fan read this book. Since I am a Flyer faithful, I have the pleasure of watching Jonesy on the Flyers broadcast team. His life story is just as enjoyable as hearing some of his anecdotes during play-by-play. In my opinion, you truly captured the entire persona of Keith Jones. Any plans for a book-signing tour?
Dale Smith
Robbinsville, N.J.
Jonesy had one book signing last Saturday. I'll keep you apprised of future book signings for those of you in the Philadelphia area. Remember, "Jonesy" makes a great holiday gift for 10 of your best friends.
---
Mr. Buccigross,
I am from South Burlington, Vermont, right in the middle of a big hockey state. I grew up watching Martin St. Louis, Eric Perrin and Tim Thomas play at UV (I was too young to see John LeClair play there). Somehow, I ended up in Windsor, Conn.
The thing that bothers me about the dismal interest in hockey is the fact that CBS, FOX, and ESPN don't show games (NBC had the occasional Sunday game last year). I am forced to beg my dormmates to switch back to the third period of a one-goal Bruins game during the commercial breaks of some college football game.
I will, however, always love this game. Just the thought of a Saturday night game between Toronto and Montreal at the Bell Centre gets me excited. Thanks for taking the time to respond.
Sincerely,
Greg Babbitt
Greg, get your degree, get a good job and purchase the NHL Center Ice package. Between that affordable option for the hard-core fan and the Internet, it has never been a better time to be a hockey fan. There are plenty of people like you out there who love the sport. You are not an island. Embrace the "smallville" intimacy of hockey. NBC will resume broadcasting games on Jan. 1, when the Buffalo Sabres and Pittsburgh Penguins will play in the NHL Winter Classic, the league's first regular-season outdoor game in the United States at Ralph Wilson Stadium (capacity 73,000). Attendance is expected to surpass the NHL single-game record set on Nov. 22, 2003, when the Montreal Canadiens and Edmonton Oilers drew 57,167 to The Heritage Classic at Commonwealth Stadium in Edmonton.
---
Dear John,
I was wondering what you thought Joe Sakic's chances are of getting 700 goals, 1,100 assists and 1,800 points in his career?
Sunjay Kaushal
Calgary
700 goals? I'll say no. 1,100 assists? I'm gonna say maybe. OK, no. 1,800 points? No.
---
John,
VHS or Beta -- great band that I recently discovered. I haven't been this excited about a band since I first heard Pete Yorn. Check them out. You might have heard their single "Can't Believe a Single Word."
Joe Drucker
When Joe Drucker commands, I follow. The CD, "Bring On The Comets," was ordered on Amazon.com. And while I was there, I ordered "Jonesy" as a gift for a college friend! (Only a few more weeks of shameless plugs, I promise.)
---
John,
How much is it going to take to get fans back to the United Center? There were 9,000 the other night against a surprising Columbus team. This town is a hockey town, just look at the great numbers in the youth programs throughout the city. I'm convinced that if they go watch this team just once, they will be hooked and realize that this team has the capability of being just as good as their teams in the early- and mid-'90s and probably more exciting. By the way, I think you and me were the only hockey experts who picked the Hawks to make the playoffs this year.
Thanks,
Andrew B
Well, one thing that probably needs to be done for teams like Chicago is to tweak the NHL schedule to have fewer divisional games. Hockey has been so dormant in Chicago for so long, I bet there are people in Chicago who literally don't know there are the Columbus Blue Jackets and Nashville Predators in the NHL. Of course, the NHL didn't do Chicago any favors by scheduling the Red Wings for the home opener. Put the Red Wings as the SECOND game, not the first. The first game would have had a great crowd anyway.
As long as the Hawks continue to win, the marketing department continues its much-improved campaign and young players are allowed to be as comfortable as possible, things will slowly turn around at the turnstiles. But the NHL also needs to have the Rangers, Flyers, Bruins, Canadiens, Maple Leafs and Penguins play in Chicago every season. If the Hawks are to make the playoffs, they need to keep the power play humming over 20 percent, continue to get balanced scoring, which includes good rearguard scoring, and learn to play a little better team defense. If they do all of that, they'll be battling for the eighth spot at the end.
---
Bucci,
As a longtime reader and die-hard Sabres fan, I felt compelled to hard-sell my wife on bringing Sabres gear to the hospital for the birth of our first child. For whatever reason, mothers just can't comprehend that the "Mother of all Mailbags" is a place of honor for proud hockey-loving fathers.
Addison Taylor was born on Nov. 6 and was sporting her team colors early the next morning. Later that evening, the Sabres pulled out an overtime victory vs. the Bruins. That makes the Sabres undefeated in her lifetime -- a streak that is unfortunately sure to fall soon. That being said, she still has a lot to look forward to in this world -- your columns, Labatt's Blue, buffalo wings, fried bologna at HSBC Arena, Chippewa Street and her first Rick Jeanneret "moment." I don't know what's scarier to me, the fact that I have a child or the fact that my newborn daughter will be in the second grade when Thomas Vanek's contract expires!
Let's go Buffalo!
Rob Learn
You la-la-la-la-la-la-la-la-la-la-live, you La-la-la-la-la-la-la-la-la-la-learn.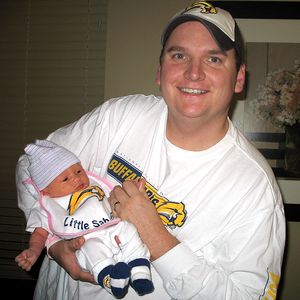 There's more mailbag where that came from! Check out Bucci's Mother of All Mailbags every Thursday at ESPN.com.
John Buccigross is an anchorman for "SportsCenter" and ESPNEWS. For questions, comments or crosschecks, e-mail him at john.buccigross@espn.com. To check out his new book, "Jonesy: Put Your Head Down & Skate," click here.