The beauty of blogging is you are never really sure where it will take you.
There are no real space or time limits to hinder, persuade or dissuade one from heading in any direction. It's a wonderland for those who are curious, enthusiastic and energetic about what they are writing about. If a sport no longer moves you, and there are plenty of people who cover sports who no longer love them, then blogging and the Internet scare you. They require a childlike heart.
If Albert Einstein were alive, we can be sure of two things:
Shot of the Week
Back by popular demand (and we mean that), the shot of the week is back!
You know how it works. We will present an NHL photo and Bucci will provide a caption. E-mail him your suggestions (include your name and hometown/state) and we will use the best ones and provide a new photo the following week.
LAST WEEK: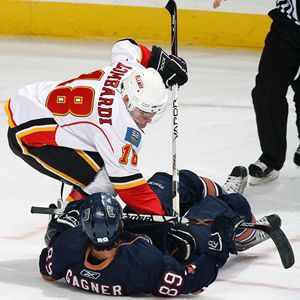 Shish-ka-Gagner. (Getty Image)
Your captions:

"Sorry, you don't reach the minimum length; we'll have to throw you back."
--
RTJ Marquart
"Say hello to appendectomy: The socialized medicine way."
--
Chuck B. (
New Hampshire)
"You're about a quart low."
-- Bob Lentz (Willow Grove, Pa.)
"I struck Oil!"
-- Lee Gorlin (
Las Vegas)
"Now, we attach a sail to this stick, and you're off, baby."
-- Bill Ruffalo (Pittsburgh)
Gagner: "This is madness!"
Lombardi: "This is CALGARY!"
-- Tim Starmack
THIS WEEK: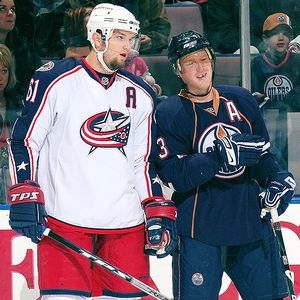 "One more 'A' and we could provide free towing for qualified members." (Getty Image)
1. Einstein would have loved the array of hair-care products that would have helped tame that wild salad of his.
2. Einstein would have been an incessant blogger and e-mailer. Einstein loved to share thoughts and ideas late into the evening when there was a comparable five-star mind to chew the physicist fat with.
With what we have today, Einstein would have spent 10-12 hours a day at his laptop, sharing ideas with people all over the world. There is little doubt in my mind he would be able to increase scoring in the NHL with a tweak we have yet to come up with and turn all the world's uneaten doughnuts and pizza into crude oil.
From time to time, I have blogged an NHL game in this space in order to share a wide variety of ideas and thoughts. You learn a lot from blogging because your awareness muscles are fully flexed, giving you the ability to change history, especially when you are lucky enough to blog for the most-read sports Web site on the planet.
A couple of years ago, I blogged an Avalanche-Canucks game in which I made the observation that Colorado coach Joel Quenneville's suit looked like something from the "Barney Miller" collection. Like magic, Quenneville soon transformed from one of the worst-dressed coaches to one of the best. I clearly got into Quenneville's kitchen. Or closet.
For some time, I had been kicking around the idea of blogging an NHL game from the past. These days, so many media types write or speak without doing their homework. Talk radio and television have a lot of people saying a lot of things without really studying numbers or actual games. So, I thought it would be good for me to blog a game from years past to help me in my comparisons with today's game. And now that the NHL Network has arrived, I can do that more readily.
The arrival of the NHL Network is akin to first receiving ESPN, MTV, HBO, VH1 Classic, Classic Sports Network (which became ESPN Classic) and The Golf Channel. Once a hockey fan receives the NHL Network, most of the old arguments about not getting enough hockey coverage on "SportsCenter," radio or other places are rendered almost obsolete.
The network has highlights of every game -- every night and every morning; miles of NHL Productions footage, heretofore wasting away on shelves and unseen by the masses; special presentations; and, yes, vintage games shown in their entirety. It's all a hockey fan needs. The network is still growing here in the United States, but popularity doesn't concern me. My own entertainment concerns me. I'd love to be your hockey genie and grant you all the NHL Network, but I can't, so I will enjoy this bright new day while hoping you too will share in it soon. Between the Internet, satellite radio, the NHL Center Ice package and the NHL Network, there has never been a better time to be a hockey fan.
And with the NHL Network showing those vintage games, it gives me the opportunity to do something I've wanted to do for a while -- blog a game from the past.
So, here we go.
---
The game is between the Detroit Red Wings and Toronto Maple Leafs from Jan. 2, 1971.
There is no "scoreboard bug" (as we call it in the TV biz) to help us with score and time remaining, so I will go by TiVo time approximations. I wanted to pick an obscure game like this because I have no idea of the outcome.
Opening faceoff
It's Jim Rutherford, now the Carolina Hurricanes' GM, in net for the Red Wings and Jacques Plante is in the Maple Leafs' cage. Imagine being able to watch a full-length baseball game with Babe Ruth in it! Jacques Plante!
The game, a "Hockey Night In Canada" broadcast, is televised in black and white. The announcers are Bill Hewitt and Brian McFarlane. The players' hair is longish and sideburns are in. The beginning stages of hockey hair are upon us. Whenever there is a replay, the giant word "REPLAY" appears on the screen as if we couldn't understand it. It's like today, when producers put "REVERSE ANGLE" on the screen, as if it matters. It's a "Matrix" world, bro; we can decipher when people change directions. You don't have to tell us it's a reverse angle. We won't collapse from confusion.
First period
20:00: Gordie Howe is out there for the Wings. Detroit does not make the playoffs in this 1970-71 campaign. The Wings are decent home team at 17-15-7, but for some reason, their road record finished at 5-30-4! What in the hell happened on the road? Keg stands in between periods? I'm thinking this isn't going to go well for Detroit. Especially considering this is a Maple Leafs team that made the playoffs and had one of their best home records ever -- 24-9-6. And remember, this is before overtimes, much less shootouts.
19:00-ish: The first thing a 21st century man notices -- only two or three helmets combined from both teams. No advertisements on the boards. Nothing on the ice but "Season's Greetings." One referee. Low glass. Smaller ice surface. No chirping between players. No hits from behind, but arms, elbows and sticks are up when players hit each other.
18:00: Wow! No. 14 Nick Libett of the Red Wings was lining up Leafs defenseman Mike Pelyk as Pelyk was wheeling out of his own end and watched closely by Garry Unger. Well, Libett leaves his feet and absolutely crushes his own teammate Unger! I haven't seen a hard collision like this in the open ice this season in the NHL. Libett plants his butt in Unger's chest, while Libett's back hits Unger square in the face. Detroit Red Wings hockey, in a 1971 nutshell. Libett gets two minutes for charging even though he hit his own teammate. Unger gets his bell rung, but stays in the game. Thirty three years later, Unger played on a line with me in a UHL celebrity game in Glens Falls, N.Y.
17:00: Look at Rutherford's goalie equipment. He has a mask that looks like it's made with the same materials as your daughter's Cinderella Halloween mask. His catching glove is the size of former Pittsburgh Pirates second baseman Jose Lind's glove. His sweater is, yes, a boys' medium. His blocker looks like it weighs 57 pounds, his pads are like two sacks of wet feathers and he appears to be wearing no shoulder pads. This is the season Phil Esposito scores 76 goals and it's no wonder why. Rutherford is wearing Chris Osgood's No. 30.
16:00: Norm Ullman makes it 1-0 with one of his 490 career goals in his Hall of Fame career. The play in this game is exciting. Up and down. The crowd is into it and there is no ear-blasting music or advertisements. The crowd is providing the fuel for the game with its passion. It's the most beautiful sound in sports. We don't get to hear it at hockey games anymore because, after every whistle, our senses are bombarded with every decibel-blasting noise known to man. That's why The Masters is one of the best sporting events in 2007. The crowd still tells the story.
7:58: Pelyk makes it 2-0 Toronto. Rutherford had lost his stick. So, between that and his small equipment and stand-up style, Pelyk's goal was the equivalent of hitting a tennis ball off the Green Monster from the warning track at Fenway Park. Roberto Luongo would have laughed with such disdain as that puck came toward him, the puck would have stopped before it even got to the net out of sheer shame and embarrassment.
6:58: Howe, at age 42, just gave Garry Monahan of the Leafs a two-handed slash to the wrists, but Monahan is still able to clear the puck down the ice. No penalty is called. This is Howe's 1,650th game. This would be Howe's last season as a Red Wing. He wouldn't play in the NHL again until 10 years later, when, at 52, he would play in 80 games and score 15 goals for the Hartford Whalers.
3:30: Goal, Dave Keon, 3-0 Toronto. Keon had career highs in goals (38) and points (76) this season. What an exciting, classy, shifty player. He looks like Paul Kariya without the helmet and shield. All of the good players in this game could have played today. Some of the defensemen could not, they are so bad. That is the biggest difference between the NHL today and in the 1970s. There used to be just awful defensemen who could barely move. Even the fifth and sixth defensemen today are pretty agile. At this point, the Red Wings pull Rutherford, who must have been pondering a future trade involving someone like Josef Vasicek while trying to stop Keon. The Wings bring in Don McLeod and, as NHL rules allowed at the time, Detroit players warm up the goaltender on the ice. The shots are all low.
Second period
18:00: Watching Plante in action is such a revelation. I had never watched an entire game with him in net. He personifies concentration and care. His focus is unyielding. He was about to turn 42 and he was still a spry mind, caring about every second of this game. Every move has a purpose and all of his actions are efficient. Plante goes on to lead the league with a 1.88 goals-against average. You can feel his presence and aura 36 years later.
15:32:Twenty-year-old rookie Darryl Sittler makes it 4-0 on a give-and-go play that looked very much like Bobby Orr's Stanley Cup-winning goal the previous spring. Only difference -- it was at the other end of the ice and originated from the left wing instead of the right. Sittler scored 10 goals in 49 games that season. Sittler would finish his career as a Red Wing in 1984-85, scoring 11 goals in 61 games before retiring at age 34.
13:07: As the picture shows a close-up, ice-level view of the Wings' bench, a fan behind the bench proceeds to wave at the camera. Yes, this happened in 1971.
12:00-ish: Sittler scores again and makes it 5-0. Once again, there is no Gary Glitter music. Detroit has very little team speed. This was first season of a stretch where the Wings missed the playoffs 12 out of 13 seasons. They appear very uninterested. I imagine a few of them had a wonderful New Year's Day in Toronto.
10:00: Defenseman Jim Dorey, 24, attempts to check Howe along the side boards in the Toronto end and Howe shoves him to the ice with one arm as if Dorey was made of cardboard. It was a Brian Urlacher versus Steve Urkel moment.
4:48: Paul Henderson makes it 6-0. Henderson is wearing a helmet with a football mask on it. He looks like former Chiefs running back Ed Podolak. Henderson had 30 goals this season and 38 the next.
3:48: Interesting play. Plante makes a nice double-pad stacked save and then a Wings player falls on top of him. If that happened today, the Wings player would have been pummeled. But everyone just kind of acted with civility and the play continued on. The level of respect players had toward each other on the ice is in stark contrast with today. I understand all of society is amped up these days and perhaps that makes confrontation more inevitable. Plus, with so much money on the line today, I suppose players will do anything for that fantasy lifestyle.
2:53: Icing is called and the camera shows a shot of a pretty blonde wearing a stylish white coat. 1971, people. Out-of-town scoreboard time. Jacques Lemaire has scored for Montreal and the Canadiens lead California, 4-2. The Canadiens go on to beat the Blackhawks in seven games in May to win the Stanley Cup. The Canadiens trailed 3-2 in both the opening round (versus the Bruins) and in the Cup finals, but came back in both series.
Third period
20:00: Bruce Gamble relieves Plante in net. The cameraman finds another striking blonde in the crowd.
19:00: Bill MacMillan makes it 7-0 Leafs. One of 22 goals in his rookie season. It would be his best year. Remember, sometimes a rookie season ends up being the best one for an NHL player.
15:00: MacMillan scores again to make it 8-0. This game was part of that dark era of watching hockey on television. Directors, the people who call the camera shots, would switch the camera to close-ups of the goalie as a shot was fired toward the net, thus destroying any chance of having any context to a goal being scored or blocked or anything. I don't understand why this wasn't abolished after one try. It would have been such an obvious decision, yet directors continued to cut to the goalie close-ups for years. Even then, TV people did things we didn't like.
14:20: Someone apparently threw an egg on the ice. The way it was described, it sounded as if it was some sort of tradition. Men in sweaters, ties and wingtips come out to clean the ice with gigantic shovels. If that happened today, a girl with 3-percent body fat would have skated out in spandex while "Pour Some Sugar on Me" blared from the speakers. Meanwhile, the cameraman finds more women in the Maple Leaf Gardens stands. Apparently, women had yet to wear hockey sweaters to NHL games in 1971. If this was 2007, a girl in a Darcy Tucker jersey would have turned around and stuck her butt out while she deftly failed to spill a drop of her $8 Molson. Minutes later, back in 1971, another egg is thrown on the ice. There must have been an excess of eggs in Toronto in 1971.
11:20: Monahan makes it 9-0 with a slap shot outside of the blue line after streaking right through the neutral zone. Forwards did not skate backward in the neutral zone in 1971, so it was very easy to advance the puck up the ice with speed. This doesn't help the Wings, who are just dreadful.
4:30: A cherry-picking Henderson makes it 10-0. The Red Wings don't seem bothered by the fact that they are losing 10- … make that 11-0. Ullman scores again to make it 11- … wait, make that 12-0 as Brian "Spinner" Spencer scores his first NHL goal. What a picture of joy he is as the Maple Leafs retrieve Spencer's dream-come-true puck. (Spencer's post-hockey life came to a tragic end. After a history of legal problems and drug abuse, he was shot and killed in 1988 while trying to buy cocaine.)
2:10: Good god, it's 13-0 as Jim Harrison gets credit for the goal as one Wing shot the puck off a teammate's skate in front of their own net. The Maple Leafs are not holding up one bit. If Matt Cooke were in this game, he would be running all over the ice, taking runs at people. That is not happening here. Maybe because there was no instigator rule in 1971.
Final score: Toronto 13, Detroit 0. Happy New Year, Motown!
The three stars announced from 1 to 3 (not 3 to 1):
• First star: Dave Keon
• Second star: Norm Ullman
• Third star: Darryl Sittler
I was 5 when this game was played, I can understand why, even then, I felt that hockey was a great sport on television. The game was fast, up and down. The players had a ghostly mystique in black-and-white as most of them were stone-faced and expressionless. You had no idea what they were thinking or what they were like. You just knew they were doing something very difficult and dangerous, and the talent and courage they showed was mesmerizing.
The game grabbed you by the arm and never let you go.
Attention, puckheads!
Next week, send your e-mails for Keith Jones and his latest book "Jonesy." You know, the book he co-authored with you know who. Remember, it's that "giving" time of year, and one of the last opportunities for blatant self-promotion. So, send in your questions on the book for next week.
Mini-Me Mailbag
John,
Is there any legitimate way to watch NHL via PC, other than the exorbitant Center Ice online? I ran across some info about Comcast broadcasting for free, but it showed no games scheduled. Any info you know of would be greatly appreciated. I travel extensively and am really missing watching my Ducks.
Mark Manwaring
Santa Barbara, Calif.
Ok, Puck Nation. Help out a brutha in Santa Barbara.
---
John,
I enjoyed your rant and the list of Hall-worthy players on current rosters. I have a comment and questions. Five players that you identified as Hall of Famers from the 2002 Red Wings Stanley Cup-winning team remain in the NHL -- Chelios, Hasek, Lidstrom, Fedorov and Shanahan. Three more retired players are obvious choices -- Hull, Robitaille and Yzerman. Here's my question: Does Larionov belong when you factor in his Russian career before he played in the NHL? And why don't you think Datsyuk has a chance?
Mike Taylor
Santa Clarita, Calif.
Igor Larionov was a big part of the Russians' 1981 Canada Cup win, as well as being a large contributor to Olympic gold medals in 1984 and 1988. He's also helped his country to several World Championship titles. Larionov's NHL career was not Hall of Fame-worthy. 921 games, 169 goals, 644 points. Had he played more of his career in his 20s, we can project him with roughly at 1,321 games, 269 goals and 1,005 points. Not really Hall numbers. It's close, but my gut says no on Larionov. He wasn't a huge difference maker and impact player. He was a nice player, a nice playmaker. But if someone like Scotty Bowman and others could make a solid argument with comparables we can all agree on, I'm OK with that.
One reason why I have trouble with Larionov is I believe Pavel Datsyuk is a better offensive player by a solid margin. Perhaps Larionov was a better all-around player with leadership qualities, personality and presence. He had a regal quality to him that has real value. With the more introverted and shy Datsyuk, you have a player who turns 30 next summer, has played under 400 games with three good seasons heading into this season and is under a point-per-game average right now. I wonder if he can be a durable player in his 30s and get enough production to warrant Hall of Fame status.
---
John,
What? No Ryan Smyth? Hasn't he got the stats and oomph to make the Hall?
Tab
Seattle
Ryan Smyth is a very good NHL player, but not Hall of Fame status. He turns 32 in February and I see him finishing, at best, in that 430-goal area. He is the best first-rounder of the 1994 draft.
---
Bucci,
No love for Jere Lehtinen for a Hall pass someday? Three Selkes? Mo's wingman? No Hall? No love for good, fundamental, positional defensive hockey these days? Your thoughts?
Best Regards,
Damian M. May
I thought long and hard about Jere Lehtinen. You mentioned three Selke Trophies. He's a solid goal scorer with two 30-goal seasons. Bob Gainey won four Selkes and never had a 30-goal season. Lehtinen will finish this season with more career goals than Gainey. He can play all three forward positions and does everything well. I've often written in this space that it takes all kinds of characteristics to build a Hall of Fame player. Lehtinen is probably one of those vital bricks. Dallas always looked at him as its glue. Upon further review, I'm OK with Lehtinen being a Hall of Famer if he can give me four more 20-goal seasons. That shouldn't be a problem.
---
John,
As a die-hard Blackhawks fan who has never seen them win a Stanley Cup (born in 1975), I'm hoping my 1-year-old son, Aiden, doesn't have to wait as long as dad. Here he is, sporting his new No. 19 Jonathan Toews jersey before the Nov. 11 game vs. the Red Wings. "LET'S GO HAWKS!"
Nate Wills
Coal City, Ill.
"Oh, where have you been, my blue-eyed son?
Oh, where have you been, my darling young one?"
-- "A Hard Rain's A-Gonna Fall" by Bob Dylan
(I prefer Edie Brickell's cover from the "Born on the Fourth of July" sound track)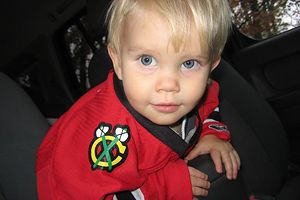 There's more mailbag where that came from! Check out Bucci's Mother of All Mailbags every Thursday at ESPN.com.
John Buccigross is an anchorman for "SportsCenter" and ESPNEWS. For questions, comments or crosschecks, e-mail him at john.buccigross@espn.com. To check out his new book, "Jonesy: Put Your Head Down & Skate," click here.