This column began in 2001 with a plea to get Cam Neely inducted into the Hall of Fame. I still haven't heard from Seabass about all of my hard work, statistical breakdowns and historical analysis. That's OK. The point was justice, not congratulatory, autographed game-used sweaters from the 1988 Adams Division finals. But, you know, it would be nice …
The point is that with the archived system of this column, everything written is available for scrutiny and analysis. And that's the way it should be. Nothing bothers me more than all of the mumbo jumbo we hear throughout the sports world on TV, radio and the Internet without a report card attached.
Therefore, now that we are at the halfway mark of the season, I thought it would be a good and responsible time to look back at my preseason predictions for all 30 teams, see what has happened, and what the chances are of those predictions coming to fruition. Fruition. Not a good word, but a great word.
We will do the West today and the East on Thursday.
WESTERN CONFERENCE
15. Phoenix
Preseason line: "Yes, Phoenix fans, the growing pains will be plenty this season, but your team is on the right track."
Present line: The Coyotes are giving their young players valuable playing time and are playing well. Cleaning house in the front office was the right move. They are certainly ahead of the curve. Now, getting Ilya Bryzgalov for nothing could not have been forecasted, and that will improve the Coyotes' standing this season but also probably cost them a chance at another top-three draft pick. I still expect the Coyotes to miss the playoffs, but they are coming fast. Kyle Turris, who starred for Canada at the World Juniors, should arrive next season. The future is bright, but the Coyotes need one of these young players to develop into a top 10-player. Turris has the best chance. I'd still look into moving Ed Jovanovski and Derek Morris, if the Coyotes can get nice returns.
14. Columbus
Preseason line: "Columbus will not make the playoffs this season, but that's OK. They need to reboot the computer, clean out the viruses and start downloading a new plan."
Present line: I think the top seven spots in the West are just about a lock. The eighth is wide open with the injuries to Joe Sakic and Ryan Smyth in Colorado. The Blue Jackets have a good mix of veterans and youth to get it done to go with their excellent coaching. I give them a slight shot to be that eighth seed, but in the end, I'll stick to my pick of missing the playoffs. Having a healthy Fredrik Modin would help. Aaron Portzline reported in the Columbus Dispatch that Modin, who has played in just six of the Blue Jackets' 42 games, was seen by Dr. Robert G. Watkins in Los Angeles last week about his aching back.
13. Los Angeles
Preseason line: "The Kings are not going to make the playoffs. They are not a 90-95 point team. They don't have the goalie."
Present line: The fewer wins, the better at this point. Keep collecting those top-three draft picks, stay away from average free-agent signings and keep trying to land the big fish whether through free agency or trade. Rob Blake, who has a no-trade clause, would accept a trade to Detroit or Pittsburgh or Vancouver, good teams with deep playoff aspirations. Actively pursue this. I still have a good feeling about the Kings, long term.
12. Edmonton
Preseason line: "It will take 40-45 wins to make the playoffs in the West. That seems like a bit much for the Oilers, who appear destined to be a lottery team without a lottery pick. Ouch, babe."
Present line: Anaheim has Edmonton's first-, second- and third-round picks in June's draft as a result of the Dustin Penner signing. I think you will see Edmonton active at the trade deadline to try to get some of these draft picks back. Sheldon Souray, who missed two months with a separated shoulder, is still having issues with his shoulder.
11. St. Louis
Preseason line: "The Blues are a smart organization run by smart people, but those smarts can't make up for a lack of forward pizzazz."
Present line: St. Louis can do one of two things: Keep all of the assets and think long term while the Blues still battle for the playoffs and get their late-season ticket sales. Or make some deals and go for the playoffs. It's very tempting. Andy McDonald was a good get, although you would have to say much of his out-of-nowhere production the past couple of years was from playing with Hall of Famer Teemu Selanne. It's hard to say this prediction will hold up because you don't know what the Blues will do. I suspect they will try to add at the Feb. 26 trade deadline.
Shot of the Week
By popular demand (and we mean that), the shot of the week is back!
You know how it works. We will present an NHL photo, and Bucci will provide a caption. E-mail him your suggestions (include your name and hometown/state) and we will use the best ones and provide a new photo the following week.
LAST WEEK: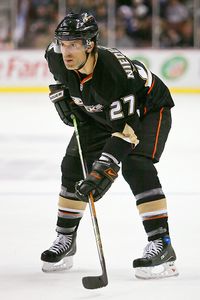 "Joy to the world, the Lord is come.
Let Earth receive her King!" (Getty Image)
Your captions:

"I'm only staying long enough to find my playoff beard."
--
Jesse Swanson, Farmington, Minn.
"I've got your 'Dean Wermer's Dead' right here, pal."
--
Jonathan Moncrief, Santa Monica, Calif.
"Are you guys joking? It's December? I'll never take NyQuil again."
--
Vic Miller, Lancaster, Ohio
THIS WEEK: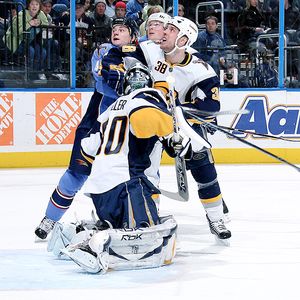 Play stopped when referee Don Van Massenhoven floated to the rafters singing "Jump" by Kris Kross.
10. Dallas
Preseason line: "It's strange because I like everything about Dallas. Modano's skating, the television announcers, Sergei Zubov's IQ, Jere Lehtinen's princely stature and Marty Turco's unique personality. There is so much to like, I don't know what my problem is."
Present line: Dallas fans, feel free to grab a garden hoe and shove it into my forehead. The numbers suggest Dallas is pretty safe, although I wouldn't call the Stars infallible. This one will likely be a whiff.
9. Nashville Predators
Preseason line: "With less scoring depth, the Predators will be an easier team to defend. Add Steve Sullivan's back injury, and getting enough goals could be an issue early in the season."
Present line: Goals are a slight problem but defense is the bigger problem. The Preds have enough time to fix this and the teams they are battling with are equally flawed, so don't give up hope yet, Nashville. The Preds are playing better of late and had their first sellout of the season on Saturday. They have a tough January schedule the rest of the way, however, with lots of travel. This is a key month in Nashville. Dan Ellis looks like the new man in net in Nashville.
THE PLAYOFF PICKS
8. Chicago
Preseason line: "Yes, you are reading this right. I am picking the Chicago Blackhawks to make the playoffs."
Present line: Things are not looking good right now. The defense is not quite tight enough and the Jonathan Toews injury hurts. Long term, getting in the lottery and plucking a defenseman in a defense-rich draft this June might be better. But, I'll still be rooting for the Blackhawks to make it. I'm thinking now they might run out of gas.
7. Colorado
Preseason line: "Anytime you are in that Nos. 7-10 prediction area and attempting to forecast teams' success, all you see are zits."
Present line: The Avs' acne issue right now is surrounded by their injuries to Sakic and Smyth. Can they survive it? They have the coaching and decent depth, so I'm still going to stick with them.
6. Calgary
Preseason line: "When I heard the news that [Mike] Keenan was hired by the Flames this summer, I laughed. Out loud. Funniest. Thing. Of. The. Week. I mean, what are the Flames thinking? Well, what Darryl Sutter and his other brothers think about hockey and understand about hockey is that it is a series of confrontations."
Present line: Calgary is smoking right now, 12-1-4 in its last 17. The Flames are balanced from back to front and led by the raging fire of Jarome Iginla. This pick seems about right.
5. Minnesota Wild
Preseason line: "The Wild sell every ticket available in what might be the NHL's best arena. It makes what already is the center of United States hockey even more vibrant. Can the Wild now take the next step to becoming a Stanley Cup contender?"
Present line: I'd like to see Rob Blake go to the Wild. The team could use a dynamic presence on the back end. The Wild are on a 100-point pace and they have given up more goals than they have scored. I'd like to see the Wild be a little aggressive at trade deadline time but history says that won't happen, and it will be difficult to make happen. As Michael Russo of the Star-Tribune wrote over the weekend:
"There are 116 of 690 players who have no-trade clauses (and 16 in Pennsylvania, by the way): 'That's more than one-seventh of the league,' [Wild general manager Doug] Risebrough said. 'I don't see in the [collective bargaining agreement] a mandatory, "When this player's this age, you give him a no-trade."'
"There are loads of long-term contracts: 'When we have contracts that are 10 years long, that's going to make it harder to trade,' Risebrough said. 'If we know players who don't have term are more tradeable, why do we sign more guys to term? If younger players and core players aren't tradeable, and you can't take on long-term contracts and there are so many guys with no-trade clauses, we just have fewer players to trade.'
"'I know my colleagues want to say it's the cap. It has nothing to do with the cap. It's how we, meaning GMs, have reacted to the cap.'"
4. Anaheim
Preseason line: "Offensively, the Ducks scored 258 goals last season. If [Scott] Niedermayer and [Teemu] Selanne don't take a shift this season, the Ducks will not approach that number."
Present line: The Ducks are on pace for just over 200 goals this season. This is not the same team right now that it was last season. It has 40 games to turn Bobby Ryan into Dustin Penner and to try to get two scoring lines going. If not, the Ducks might have to change their style and play way more defensively than Brian Burke traditionally likes to. Selanne has begun a skating program on his own. Selanne told the Orange County Register, "I talked to Burkie before Christmas, and said I would start skating after New Year's and just go from there," Selanne said. "I want to make the decision this month. This is the last process in my thinking."
3. Detroit
Preseason line: "The Red Wings will win the Central Division and make the playoffs. But unless we see a rise from an unexpected source or a perfect deadline deal, I think we will see more of the same. A few empty seats in the lower bowl of the Joe and another spring without Stanley."
Present line: Valtteri Filppula, Daniel Cleary and Jiri Hudler are giving the Red Wings hope that they will have secondary playoff scoring. Right now, the Wings are a machine, but as we all know, things change in the playoffs. The West is deep, and winning the conference will be a major challenge. I expect GM Ken Holland, at the behest of his owner, to be proactive at the deadline. They can smell another Cup in Detroit.
2. Vancouver
Preseason line: "The Canucks will be monitoring other situations around the NHL to see whom they can add come trade deadline time. With a small addition to the offense here or there, the Canucks can win the Stanley Cup."
Present line: Vancouver is a great defensive team, from Roberto Luongo to the point man on their No. 1 trapping defense in Ryan Kesler. Kesler is a disruptive force all over the ice, using his rangy body and good skating. He might even pop in 20 goals. He'll be a difficult matchup for opposing centers in the playoffs. But, the Canucks need to find more scoring before the deadline in order to win multiple playoff series this spring.
1. San Jose
Preseason line: "Now is the time for San Jose. The waiting and excuses, valid or otherwise, are over. There are no more prospects waiting on the doorstep. The team is the team you see. The Sharks have playoff experience. It's go time."
Present line: At the true halfway mark, the 41-game mark, the Sharks were sitting in first place despite 12 combined goals from Patrick Marleau and Jonathan Cheechoo. I guess you could call this a good sign. All of this scratching and clawing might serve the Sharks well down the road. They know they are a good defensive team, a Stanley Cup-winning defensive team. They have an elite goalie. If they get two lines going and add a nice nugget at the deadline, I'm sticking with them to win the West.
So, upon further review, it appears that Detroit, San Jose, Vancouver, Calgary, Dallas, Minnesota and Anaheim look safe to make the playoffs. I had Dallas out, so in order to go 8-for-8 in the West, I need Chicago to make a second-half run, making up nine points on Dallas, and for Colorado to hang on to that eighth spot.
Looking at the Blackhawks' defense and the injuries to Toews, I'd have to concede it doesn't look good for Chicago.
If Peter Forsberg chooses Colorado as his comeback choice, that will really help the Avs because of what Forsberg could do to Colorado's anemic power play.
Eight-out-of-eight has a very outside chance of happening; 7-for-8 is pretty likely; and 6-for-8 is close to a lock.
Let the second half begin.
---
Mini-Me Mailbag
Bucci:
Please never mention Alexander Ovechkin leaving the Caps ever again, let alone in as much detail as you just did. I'm 23, and I thought I just had my first heart attack.
Alicia
American University Women's Hockey
Washington, D.C.
My bad, Alicia. For the Capitals to break through and win their first Cup, they will need to be bold. Perhaps a big trade is what they need. But, I understand that being able to watch a player who brings one joy game in and game out, it's a feeling that is close to winning.

---
Hi, John:
I am a bit confused, so was hoping you could shed some light on the situation:
I paid my cable company (the dreaded Comcast) for the Center Ice package, of which I assume the NHL gets a share of that money. In the meantime, Comcast places the NHL Network channel (I assume this is owned by the NHL, much like the NFL network setup) on a tiered package that requires an extra subscription. Tonight the Thrashers vs. Hurricanes is being aired solely on the NHL Network channel, which I do not get without buying a special package. So I have paid both Comcast and the NHL to see hockey games, but I don't get to see the game I prefer because I have to pay them more?
What exactly am I missing from this picture?
Reed
I conducted an interview with the NHL's TV point man, John Shannon, and voiced many of your concerns to him. That interview will appear in next Tuesday's column.
---
Happy New Year, John:
The Peter Forsberg front has been quiet for a while. Do you know what his current status is and do you think he will make his way back to the NHL? Maybe if he retires, he can get a front-office gig with his boyhood idol, Hakan Loob.
Matt
Phoenix
Peter Forsberg and Teemu Selanne will make announcements soon on their playing futures. Loob is fine thank, you very much. Loob answers to no man or corporation. Apple pays Chuck Norris 99 cents every time he listens to a song.
---
Bucci:
I have attached a fantastic photo of my newborn son, who was taking in his first game in real style. As a Canadian expat in Hong Kong, it doesn't get much better than this. God bless the people who make Slingboxes.
Trevor Lewis
Hong Kong, China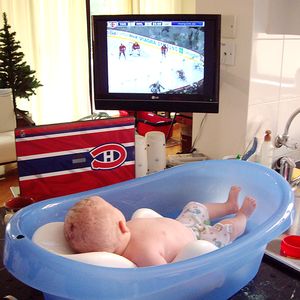 There's more mailbag where that came from! Check out Bucci's Mother of All Mailbags every Thursday at ESPN.com.
John Buccigross is an anchorman for "SportsCenter" and ESPNEWS. For questions, comments or crosschecks, e-mail him at john.buccigross@espn.com. To check out his new book, "Jonesy: Put Your Head Down & Skate," click here.