Once a year, I go down to the local KFC here in Bristol, Conn., and purchase a bucket of Original Recipe chicken.
Shot of the Week
You know how it works. We will present an NHL photo, and Bucci will provide a caption. E-mail him your suggestions (include your name and hometown/state) and we will use the best ones and provide a new photo the following week.
THIS WEEK: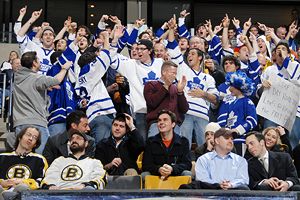 The Tragically Un-Hip.
(Sadly, the recipe no longer includes any trans fat. I, for one, am a fan of trans fats. I was raised on 'em. Made my childhood happy.)
I take the bucket to work here at ESPN and, to the amusement and amazement of my co-workers, I eat the bucket of chicken in its entirety.
Winner, winner, bucket of chicken dinner.
At some point during the night, a co-worker inevitably asks me how I feel and I always reply, "Like I ate a bucket of chicken."
I call this exercise my "Wayne Cashman South Boston Beach Diet, circa 1973."
That leads us to other flightless birds, the Penguins. No, I've never eaten a bucket of penguins. But on Monday night, after eating more chicken, this time made in-house, I sat down and watched the Penguins and Capitals in one of the best NHL games of the season.
Four thoughts on the game:
1. How close is Evgeni Malkin to Sidney Crosby?
I have a new favorite player to watch skate in the NHL, and he is Evgeni Malkin. Malkin gallops more than he skates. If Barbaro were alive and ice-skating, he would look like Evgeni Malkin.
The 21-year-old forward is a thoroughbred. I know his nickname is "Geno," but it should be "Secretariat" or "Man o' War," or "Mr. Ev" or something with an equine touch. Watching Malkin gallop is watching possibility. His effort in Montreal on Saturday night was an exercise in will. His two goals and an assist Monday against the Capitals cemented his status as a top-seven NHL jaw-dropper.
(Top 10 jaw-droppers? Hmm. OK, off the top of my head: 1. Ilya Kovalchuk; 2. Pavel Datsyuk; 3. Marian Gaborik; 4. Malkin; 5. Crosby; 6. Vincent Lecavalier; 7. Alexander Ovechkin.
Sorry to bury the lead; back to the Crosby comparison.
Crosby is a better passer, but not by much, maybe only because Crosby looks to pass first. Malkin has a better shot and longer reach. Crosby is better at taking hits behind the net and has a little more jam, but that is partly because of his Barry Sanders build.
Malkin will get better as he puts more weight (about 10-15 pounds) on his 6-foot-3 frame. Crosby has another edge in taking all of the attention head on and letting Malkin fly.
Crosby's injury might show the Penguins that they need to try to acquire a scorer to play with Crosby, allowing Malkin return to center on a separate line. If the Penguins want to win a Stanley Cup, that's what they are going to have to do. The past two games have showed Malkin can have a much bigger impact playing center and making things happen with the puck.
When Crosby comes back, the Penguins will get better. Now, they need to go find a top-line winger, and I would trade Jordan Staal to get one.
2. The "Big O" for MVP?
Let the "Ovechkin for MVP" talk begin! If No. 8 scores 60 goals and the Capitals win the Southeast Division to make the playoffs, Ovechkin has to be a strong candidate for the Hart Trophy. Right now, Detroit defenseman Nicklas Lidstrom is the MVP in my mind. Flames captain Jarome Iginla is another finalist. With Crosby on the injured reserve, the third finalist spot is wide open and Ovechkin could walk right in.
He is a giant ball of positive energy. Tinted visor, yellow skate laces, "Hee Haw" teeth, and the strings from his hockey pants flapping in the breeze from his locomotive skating. A unique artist. He leads with enthusiasm, fearlessness and empathy. At the end of Monday's overtime against the Penguins, Quintin Laing sacrificed his life by blocking two shots during the Penguins' power play. The Capitals killed the power play and forced the shootout. After the horn sounded, Ovechkin skated right over to the bench and tapped Laing, and then the rest of the penalty-killing unit, on the helmet. He is just as happy for others as he is for himself. His joy is a gift and he is lifting his teammates with his play and spirit. That is an MVP.
3. Nicklas Backstrom for rookie of the year?
Nicklas Backstrom became the first rookie in NHL history to post back-to-back four-assist games on Monday. Playing with Ovechkin will help you do that. Backstrom, who is now second in points behind Chicago's Patrick Kane in rookie scoring, is a perfect complement to the frenetic Ovechkin. He plays a calm, calculated game and should walk in to Ted Leonsis' office and accept a 13-year contract at the NHL minimum for the joy and opportunity to play with Ovechkin. It could carry him to the Hall of Fame. I still say Kane is better and will win the Calder. Kane is the best player on his team and leads the Blackhawks in scoring. If he played on a line with Ovechkin, the 19-year-old would score 100 points this season.
4. The Penguins-Capitals rivalry
Both of these teams are coming on strong as their once-in-a-generation talent gains more experience and their front offices continue to improve the edges. When they meet on the ice, the game takes on the life of a playoff game.
Ovechkin and Crosby will always be Bird and Magic, tied together by their passion and simultaneous entrance into the NHL. Even though Crosby sat next to the tan Mario Lemieux in the owners' box Monday night, the game still had that Crosby-"Big O" edge. Capitals fans boo Crosby and Penguins fans boo Ovechkin.
Yes, Monday's game had it all. Ten goals, stars shining brightly, monstrous hits, blocked shots, a shootout and little balls of hate. The only thing better would have been if Georges Laraque and Donald Brashear got into a fight, knocked each other's heads off, and then, after sliding across the ice, the two heads started fighting.
Other than that missing component, this was the game that had it all. Led on by their iconic players, these two fan bases should take comfort in the knowledge that, sometime in the near future, they will see these Boyz become Men.
When they do, they will bring a Stanley Cup to town.
John Buccigross is an anchorman for "SportsCenter" and ESPNEWS. For questions, comments or crosschecks, e-mail him at john.buccigross@espn.com. To check out his new book, "Jonesy: Put Your Head Down & Skate," click here.