Hey, NFL fans, what's up? Great Super Bowl, huh? Tough for Patriots fans and players. That is a loss that will hurt forever. There are high school games that still hurt when I think about them. I wouldn't be surprised if we saw the same two teams in the Super Bowl next season, but that's a topic for John Clayton.
Now that football season is over, we hope you turn some of your focus to the NHL.
Shot of the Week
You know how it works. We will present an NHL photo, and Bucci will provide a caption. E-mail him your suggestions (include your name and hometown/state) and we will use the best ones and provide a new photo the following week.
LAST WEEK: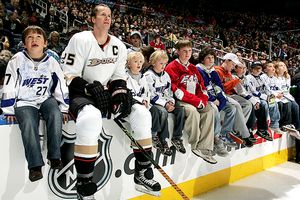 "And the 2008 Hart Trophy winner is: Mrs. Chris Pronger." (Getty Images)
Your captions:
"Say, after 'Dora the Explorer,' who's up for an ice pop?"
-- Matt Behum (Severn, Md.)
Final: Prongers 10,
Pitt/Jolie 5
-- Drew Kingston (Ontario)
"Elf 2: The Hockey Season"
-- Chris McCann
"These are my teammates? I believe in building through youth, but you gotta be kidding me."
--
Chris Sigurdson (Minneapolis)
THIS WEEK: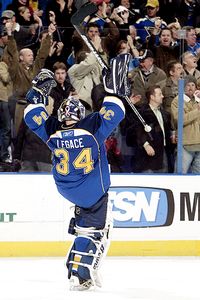 "Karate Kid Night" in St. Louis ended uncomfortably when Manny Legace leg-kicked anthem singer Peter Cetera in the rib cage. (Getty Images)
We've been operating for four months now and have five more to go until we award the greatest trophy in team sports. We hockey fans chuckle at how other sports try to prop their trophies up as a holy grail like the NFL has attempted to do, but it just doesn't stack up to the Stanley Cup. It has a magic to it that no other trophy has. The Heisman Trophy and the Claret Jug (for golf's Open Championship) are two other pieces of sporting hardware that come to mind right off the bat, but nothing attracts a crowd like the Cup.
You have caught the NHL at a good time. For many teams, the playoffs have arrived. The intensity and effort is off the charts as 29 of 30 teams have legitimate playoff aspirations. The NHL is good TV.
To get you caught up on what you have missed so far and give you an idea of how the 2007-08 campaign is taking shape, we offer this CliffsNotes version of the 10 things shaping this NHL season.
1. The Red Wings are King … so far
The Red Wings are dominating the NHL, much the same way the Patriots dominated the NFL during the regular season. Their coach, Mike Babcock, confesses to reading Bill Belichick's Web site. Babcock is a much better interview, however, than Belichick and is neck-and-neck with Kings coach Marc Crawford for the league's best head of hair. We care about these things in the NHL. Hair is part of the history of the league; Derek Sanderson and the Big Bad Bruins of the '70s helped break the mold of no long hair and facial hair in hockey.
Like the Patriots, Detroit should win a slew of regular-season awards. But the Red Wings know, as New England just showed, that regular-season success does not guarantee postseason success; the only things that matters are rings and banners. The Red Wings are well on their way to an eighth straight 100-point season, yet they have just one Stanley Cup in that run. (More on the Wings below in the e-mail bag.)
2. It's all about the O-vechkin
Alexander Ovechkin is not only the most exciting player in the NHL, but he is also one of the most exciting players in all sports and definitely the most exciting in Washington, D.C. The 22-year-old Russian leads the NHL in goals (43) and points (70) after playing 53 games.
No Capitals player has ever won the Art Ross Trophy. Peter Bondra is the only Capital to lead the NHL in goals in 1994-95 (32) and 1997-98 (he tied Teemu Selanne with 52). If the Capitals make the postseason, Ovechkin will likely be one of the three MVP finalists. The Caps have never had one of those, either. Washington has missed the playoffs in four of the last five seasons and hasn't won a playoff series since 1997-98, the season they reached the Cup finals. Despite Ovechkin and an exciting young team, the Capitals have trouble getting good crowds. A playoff berth could help change that.
3. The Winter Classic in Buffalo
The NHL hasn't received more positive PR than it did from the outdoor game between the Pittsburgh Penguins and Buffalo Sabres on New Year's Day. It was, and will likely be, this season's highest-rated NHL game on television in the United States. Only a Game 7 of a Red Wings-Rangers Stanley Cup finals could top it. Sidney Crosby, the Penguins' powder blues, the flurries, the flowing robes … striking. Casual fans were talking about the game and it had traction.
4. Across the sea
Of the nine top scorers in the NHL through Monday's action, four are Russian and two are Swedish. The NHL played two regular-season games in London, England, to open the season and will play regular-season games in Sweden and the Czech Republic in 2008-09. This number will only grow and there is talk of some sort of European Division some time this century. This would be even more likely if someone comes up with an airplane that can be fueled with broken hockey sticks.
5. Loooooong contracts
Ovechkin signed a 13-year, $124-million extension with the Capitals and Mike Richards signed a new 12-year deal reportedly worth $69 million with the Flyers. Ovechkin negotiated his deal without an official agent, so he also saved agent fees. Unlike NFL contracts, these NHL contracts are guaranteed. Straight cash, homey. We have written in this space about how these kinds of contracts are foolish on both ends. From a team standpoint, the risk of injury is great. From a player standpoint, it inhibits movement and there is the likely chance of being underpaid in the future if league revenues continue to grow.
These long contracts are a result of Oilers GM Kevin Lowe's two large offer sheets to Dustin Penner and Thomas Vanek last summer. These fellas were restricted free agents; in the past, there was a gentlemen's agreement not to poach other teams' restricted free agents. How this wasn't ruled collusion, I'll never know. Anaheim let Lowe and the Oilers have Penner and were awarded first-, second- and third-round picks in this summer's NHL draft as compensation. What this means is that unrestricted free agency means nothing anymore; everyone is basically unrestricted now. You don't have to wait for big money if you are a good NHL player.
6. Time for me to Fly(ers)
The amazing turnaround of the Philadelphia Flyers has been shocking. This is no doubt in part a result of the biography of former Flyer and current NHL broadcaster, Keith Jones. The book is called "Jonesy" and I highly recommend it. I personally have a box full of them and it has brought great luck this year. In September, I scored my second hole-in-one. This was on a par-4. This was done just as "Jonesy" was being released.
Coincidence? This Flyers team was dead last in the Eastern Conference last season … by 14 points! This season, they are second and will likely eclipse the 100-point mark. Because of great trades, the explosion of Mike Richards as an All-Star player and world-class leader, and aggressive free-agent signings, the Flyers are in position to give their fans another great spring. You really might want to think about getting that "Jonesy" book. It could change your life.
7. Lighting strikes! And it goes wide
As I type these words, the Lightning are 29th in the NHL. They are the Britney Spears of free-falling NHL teams. This team won the Stanley Cup in 2004 and might get the No. 1 pick in the 2008 draft. Now is the time to trade Martin St. Louis and Dan Boyle. Maybe both of them to Montreal for Carey Price? Revenues are growing and I don't want to hear this Big Three cap thing anymore. The Lightning are where they are because they haven't made the right decisions. I'm sure they came with the best of intentions, but it's not entirely because of the salary cap. It is time to retool. Trading St. Louis now is right because he is still very good and should get a good return. The Lightning have to focus from the net out and let everything else take care of itself.
8. Time out for TO
This will be the third straight season where the Maple Leafs will miss the playoffs. The last time that happened? The late 1920s. No Stanley Cups in over 30 years. And folks still shell out $300 a ticket. It's quite remarkable how the Leafs have built a financially secure brand out of losing. Time to trade to everybody and start over. And I mean EVE-RY-BO-DY. I would actually trade every player on the roster and finish the season with prospects and AHL players.
9. The Forsberg watch
Yes, Peter Forsberg still garners attention. Remember, there are only about 20 point-per-game players in the NHL this season. On a good team, based on at least last season's production, Forsberg would still be a point-per-game guy. That's why so many teams are interested. I can't imagine he won't sign in Philadelphia. They actually need a productive centerman like Forsberg. The Flyers are a good team with experience and firepower. He knows firsthand that Philly is a great place to play and how easy the travel is from there. Adding Forsberg to the mix, if he's healthy throughout, may make the Flyers the favorite in the Eastern Conference.
10. Did somebody step on a Duck?
After a Stanley Cup run, the quasi-retirements of Teemu Selanne and Scott Niedermayer and trading Andy MacDonald, the Ducks are a team barely hanging on to a playoff spot. This isn't all that surprising: Carolina missed the playoffs last season after winning the Stanley Cup in 2006; Edmonton missed the playoffs last season after losing to Carolina in the 2006 finals; Calgary hasn't won a playoff series since reaching the 2004 finals; Tampa Bay hasn't won a playoff series since beating Calgary that year to win the Cup. Strange trend, eh?
I expect the Ducks will try to get some offensive help with the No. 1 draft pick they received from the Penner compensation. Give Niedermayer and Selanne two months to warm up for the playoffs, maybe add a Mats Sundin or Olli Jokinen, and the Ducks should hit the postseason as a favorite to repeat. Recent history says they will either miss the playoffs or lose in the first round.
Mother of All Mailbags
John,
Please help. I'm a lifelong Rangers fan and this year is reminding me of those dark years in the early 2000s when we just bought players to have players and not worry about getting the right players for us. My question is, who goes? Tom Renney? Jaromir Jagr? Chris Drury? PLEASE HELP! This team is too talented to be this bad.
Looking for some Ranger love in N.C.,
Matt
Let's face it: When Michal Rozsival is your No. 1 defenseman, you've got issues. I think the Rangers need an upgrade at D via trade or accelerated play from the likes of Fedor Tyutin. I talked to an AHL coach last spring who coached against Tyutin and observed him in the NHL and was convinced Tyutin is a horse. A possible No. 1 defenseman. So far, that hasn't happened.
When you don't have a good corps of defensemen, especially at least two high-end blueliners, it's like trying to run in football without a passing game or trying to pass without a running game. Every game is like playing Frogger on your last frog.
Also, the Rangers' two top goal scorers are older. Brendan Shanahan, on a 1990s 300-shots-on-goal pace, is 39. Jagr turns 36 this month. The game is quicker now. The last four Stanley Cup finalists -- Carolina, Edmonton, Anaheim and Ottawa -- were all exceptional skating teams. You need your ice-time munchers to be good skaters.
Scott Gomez has scored more than 20 goals once in his eight-year career. Drury had back-to-back 30-goal seasons with the Sabres, but that was with special Buffalo teams that had some of the best cohesion in recent memory. They all fit together PERFECTLY, and it's sad the Sabres front office couldn't recognize that. The Hockey God is more of a
mid- to upper-20s goal-scorer unless he gets insane power-play numbers, which is what he had the previous two seasons in Buffalo.
So, the Rangers have offense issues that probably won't get better unless all of their veteran players get hot down the stretch. The Rangers could, and should, improve their offense at least a little because they've been so cold through 50 games or so. We've seen a little explosion in their last three games. This is either a mirage or the other games were a feeling-out process for the new-look Rangers.
But, in the final analysis, the Rangers have goal-scoring, team speed and blue-line offense/speed/lateral movement concerns that should be addressed as the Feb. 26 trade deadline approaches. If they can get a little more speed and a puck-moving defenseman like Toronto's Tomas Kaberle, the Rangers can establish themselves as a team that will be dangerous in the postseason.
The Rangers do have a lot of guile; that's what they will have to rely on down the stretch and in the playoffs. They play hard and have a roster of winners. Don't underestimate the pride and Cup experience of Drury, Shanahan and Gomez. They are the heart and soul of this team.
That said, I'd be surprised -- shocked -- if the Rangers missed the playoffs. I would be mildly surprised if they won more than two playoff series.
---
Bucci,
I'm in a heated debate right now with a buddy at work. I'm saying that Jagr is an unrestricted free agent at the end of this current season; he's saying Jagr is under contract with New York next year. Can you provide any insight?
Thanks,
Dave Kitsko
Here's the deal on Jagr's contract status.
Because of the negotiations made at the time of the Rangers-Capitals trade, the Rangers pay only $4.9 million of Jagr's $8.36 million salary this season. The Capitals pay the rest, although that number does not count against the cap. Before this season, Tarik El-Bashir of The Washington Post reported Jagr can trigger an option year, another year at $8.36 million, if any of the following scenarios occur:
1. If the Rangers win a playoff round this season and Jagr scores 40 goals during the regular season.
This will not happen. Jagr is on pace for about 25 goals. The Rangers are not a good offensive team and will likely play a very defensive system the rest of the way in order to get to ensure a postseason appearance.
2. If they win a playoff round and he scores 84 points during the regular season.
This is Jagr's best chance at keeping his salary at $8.36 million next season. He won't get that much otherwise. With the Rangers' experience and goaltending, a playoff win is at least a 50/50 proposition if they reach the postseason. The 84 points must be reached first, however. Considering Jagr is on pace for a low 70-point season, and the Rangers' style of play, I would say, right now, Jagr will just fall short of the 84-point mark.
3. If he wins the Hart (MVP), Art Ross (scoring title) or Conn Smythe (playoff MVP) Trophies.
Jagr will not win the Hart or Art Ross. The Conn Smythe is a long shot because, while the Rangers look like a playoff team, they seem to have too many holes to win the Stanley Cup. That's what they would have to do for Jagr to win the Conn Smythe, but hey, you never know.
---
Bucci,
The big debate lately has been which former Hawk deserves to have his number retired next -- Steve Larmer (28), Chris Chelios (7), Jeremy Roenick (27) or Doug Wilson (24). I was wondering what your take would be? I personally could make a good case for all four plus Ed Belfour (30). What about the Hockey Hall of Fame for any of those? Also, now with new management, maybe we can finally get Pierre Pilote (3) retired. He was a three-time Norris Trophy winner and the captain on the last Cup-winning team!
What is your opinion of Steve Larmer as a HOFer? He averaged better than one point per game over his career (1,012 points in 1,006 games), played on the '94 Cup-winning Rangers squad, played in 884 consecutive games and was the leading goal scorer in the 1991 Canada Cup with six and was second to only The Great One in points with 11. Not to mention he was the 1983 Calder Trophy winner.
BTW, don't do the "Winner, winner, chicken dinner" call while I am drinking! I could choke that way!
Go Hawks!
Steve
Northwest Indiana
Of all the Blackhawks you listed, I would say only Wilson and Larmer qualify as players getting their numbers retired in Chicago. Chelios and Roenick didn't play in Chicago long enough, although they certainly left an impression. Roenick played seven full seasons; Chelios played eight. Belfour only played six full seasons in Chicago. One would think a player would need 10 seasons to qualify for "retired sweater status," but maybe not. I would think Roenick was the most popular of the group, but Hawks fans would know best. It's always good for a sellout to retire numbers, and those early-1990s Hawks teams were a lot of fun. I'd be OK with either, or both.
As far as the Hall of Fame argument, Chelios, Belfour and Roenick are going in. Larmer and Wilson are both borderline. I don't think Wilson will make it, but Larmer has a shot. You mentioned his résumé above. You could add his impressive playoff stats, which, as readers know, I like to factor in.
Larmer did play in one of the two best NHL eras for scoring goals, so it's hard to compare his numbers to others in that respect. As I've written before, it takes all kinds to build a team, so it should take all kinds to build a Hall of Fame. All the great values of the game should be recognized, not just superior offensive talent. Two-way play, durability and clutch playoff performance should also matter. Larmer certainly passes those tests.
---
Hey John,
I'm a huge hockey fan, but an even bigger New Jersey Devils fan. When Scott Niedermayer finally decides to retire for good and Hall of Fame voting comes around, do you think he would go to the hall as a Devil or Duck? And do you think it's possible that New Jersey would retire his No. 27?
Evan
Trumbull, Conn.
I think the Devils should absolutely retire Scott Niedermayer's number. Twelve years of excellence and three Cups equals retired number. The problem is Mike Mottau is currently wearing it right now. Unless Mottau was ordered to wear it by GM Lou Lamoriello, I can't imagine a contemporary of Niedermayer wearing No. 27 for the Devils.
---
Hey John,
I read your column every week when I should be doing homework instead, and I finally decided to send you an e-mail. Do you think the Leafs would ever trade Mats Sundin to the Sens? He would be a perfect fit with Alfie, especially since they played together on Team Sweden.
Caitlin Hickey
University of Florida
(P.S. -- Kent is my favorite Swedish band. "Dom Andra" is a great song.)
There is a better chance of Evangeline Lilly dating John Paddock than Mats Sundin getting traded to the Senators. Of course, Sundin should request a trade and, of course, he will be traded. It would be absurd for either side if he wasn't. Mats had a good run in Toronto. Considering where the Leafs are (toast) and where Sundin is (probably two good seasons left), he should garner a prospect and a No. 1 pick in return and he should help a team for a couple of seasons. Sundin hasn't played a playoff game in FOUR years. He will be a caged animal. He is well worth the investment for Anaheim, Detroit, Vancouver, Dallas or any other playoff team. What's good for Sundin is, he can veto a trade if it's not to a team he thinks can win it all. Anaheim seems to be the favorite because of the No. 1 pick it has to offer.
---
John,
Early in his career, Pavel Datsyuk was never known for his defense, but by last season, he had become arguably Detroit's top defensive forward. This season, he ranks second in the NHL in plus/minus, regularly kills penalties and leads the NHL in takeaways by a large margin with 107. Do you think he has a shot at the Selke this season?
Alan
Atlanta, Ga.
Any Red Wings fan who has seen Detroit play this season is marveled at Pavel Datsyuk's ability to strip opponents in the neutral zone. The Red Wings are playing with machine-like efficiency. I expect them to make a major move at the deadline, if they can, and really make a hard run at the Cup. I'm a big "Ryan Kesler for the Selke" guy, as well. But keep an eye on Datsyuk during games and watch how he strips players around the blue line and turns that turnover into points.
---
John,
As always I thoroughly enjoyed the All-Star Game this year. It's one of my few opportunities to see stars from small-market teams; I didn't know Rick Nash was such a horse on skates. He may gallop better than [Evgeni] Malkin.
Adam Van Wagoner
Salt Lake City
Good call on Nash and his gallop. To me, that's the most beautiful thing in hockey -- a galloping puck carrier, gaining speed and hungrily attacking back-peddling defenseman as he fearlessly barrels toward the net. I also like the Chris Farley/Chippendales tryout video they show on the JumboTron.
---
John,
I don't agree with the idea that the All-Star Game should determine home-ice advantage. That would take the All-Star Game from being fun to being serious; adding all the things you initially railed about at the start of the column and undue pressure on players to go to the game if they are injured/recovering from an injury.
Instead, what if the NHL did the following:
1. Drop each conference roster from 20 players to 16.
2. Invite eight retired All-Star/Hall of Fame players to participate in the game (four per conference).
Who wouldn't want to see a Gretzky or Lemieux or Bourque or Roy or Messier or Yzerman or Hull suit up one more time and skate with today's players? Ideally, depending on where the game was held (Montreal in 2009), several of the players invited could be former hometown legends (Roy, Lafleur, etc.).
Plus, with the added superstar names, it would be easier to promote on TV in both Canada and the U.S. since fans would tune in to see old favorites play one more time (I'd love to see Gretz and Crosby skate together just to see the passing between them).
Since the All-Star Game is basically a no-contact exhibition these days, there would be little chance of the older players getting seriously hurt and I'd imagine a lot of the players would relish the chance to skate in a fun game with their heroes.
Tim
That legend idea is kind of intriguing and, at its best, would be great TV. But at its worst, a broken femur for Ray Bourque or a handful of chicklets in Stevie Y's hands, it would be dicey. And the pace would only slow down.
---
John,
Please, right here, right now, put an end to this "Florida might trade Olli Jokinen and Buffalo is interested" nonsense on the interwebs. My poor Sabres fan heart can't take the disappointment of getting my hopes up for an elite center only to be crushed when the front office does nothing for the umpteenth time. So please Bucci, put this one in its place, stomp it out, drown it in a 12-pack and then set it on fire. Please.
A Depressed Sabres fan,
Matt
Chicago
I don't see the Panthers making the playoffs this season; too many teams to jump over and they don't look like a team that can go on a prolonged hot streak. If they can make a good deal, Florida should move Jokinen. He is a BIG-TIME player and would be a huge addition to a high-echelon team. Jokinen is 29 and has yet to play in a Stanley Cup playoff game. That is unfortunate. (To make life more enjoyable, whenever I say the phrase, "That is unfortunate," I use an Irish accent. It's a lot of fun. I highly recommend it as a small way to enrich your life at no cost to your bottom line.)
I think Jokinen would make a big difference for a team looking for a jump-start going into the playoffs. If Florida can land an already-drafted No. 1 pick, a future first-round selection and a good second-line player or top-four defenseman, I would look hard at it.
---
John,
I live in Ireland and get to watch NHL on ESPN; well, it is called NASN here (North American Sports Network). ESPN recently purchased NASN; it shows over 200 regular-season NHL games (including "Hockey Night in Canada," a new ritual for me), playoffs and finals. We also get the NHL Network's "On the Fly" recap show every night. A great watch for any fan. Also, as a lifelong Rangers fan, I get one Rangers game per week, but also get to see other teams on a regular basis. It has only deepened my love for the game to watch these guys every night without having to root against them …
So, for all of those people who write in to say that hockey is dead on ESPN, point them toward Europe! Thanks for reading; at work now, so I hope that will explain the very poor sentence structure.
John Terranova
Co. Limerick, Ireland
I work with Melrose, John; I'm used to poor sentence structure. I made my first trip to Ireland last September covering The Walker Cup for ABC. What a special place. And it seems to me that it would be a country that would really take to hockey. They are tough, fun-loving people.
---
Mr. Buccigross,
Just wanted to drop you a line from wintry Iraq (it has been raining a lot here lately; who would have though that?). Things are good here. We have turned a huge corner with the people of this country and while cruising around the desert in my tank, I have had the chance to drink some Chai with Bedouins. Pretty fascinating to sit on the dirt floor with people that have lived the same way for thousands of years and discuss sheep prices.
For a hockey note, I just have to say that, as a Detroit fan, I continue to be impressed with the front office. It seems to have become a given that Detroit will excel. The sun will rise in the East, what goes up must come down, and Detroit will play excellent hockey. I just wanted to hear your opinion on that subject. I love watching Nicklas Lidstrom quietly do an amazing job, and Pavel Datsyuk and Henrik Zetterberg make defenses look silly. Hope you and your boys are doing great. That is what we miss most here, playing with our kids.
Semper Fidelis,
Maj Stefan R.W. Sneden, USMC
Detroit has been far and away the best team in the NHL, Major. If I had a vote, I would vote Mike Babcock as coach of the year and Nicklas Lidstrom as MVP and Norris Trophy winner.
---
Hi John,
My daughter is four months old and already a big hockey fan. All we watch before her bedtime is hockey and she never takes her eyes off the TV. I already know that she will be a big Edmonton Oilers fan, but I will make sure that she knows all about the Whale!
Always bleeding green,
Rob Tranter
Framingham, Mass.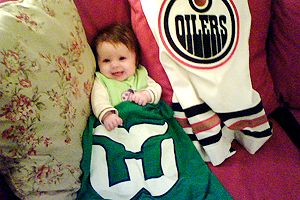 John Buccigross is an anchorman for "SportsCenter" and ESPNEWS. For questions, comments or crosschecks, e-mail him at john.buccigross@espn.com. To check out his new book, "Jonesy: Put Your Head Down & Skate," click here.