The first stanza (below) of the first song ("Smokers Outside The Hospital Door") from the second CD ("An End Has A Start") from the band Editors (Thom Yorke meets Robert Smith meets Townes Van Zandt) goes like this:
Pull the blindfold down
your eyes can't see
Now run as fast as you can
Through this field of trees

This is precisely how it feels when you try to figure out what in the wide world of sports is going on in the NHL this season. Just put on a blindfold and run through the forest -- preferably wearing a Koho helmet after drinking a quart of tequila to ease the pain.
If you canvassed the NHL standings at the start of this week, you could make a case (albeit some are a bit flimsy) that every team except the Los Angeles Kings has at least a dream of going on a big run and finishing in the playoff money.
There are three reasons for this:
Shot of the Week
You know how it works. We present an NHL photo, and Bucci provides a caption. E-mail him your suggestions (include your name and hometown/state), and we will use the best ones and provide a new photo the following week.
LAST WEEK: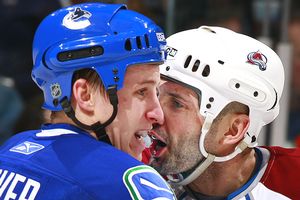 He didn't know which was worse -- the Backstreet Boys medley or the breath that smelled like burnt hair. (Getty Images)
Your captions:

"You went right! Cool!"
-- Chris Healey (Edgewood, Md.)
"Stick in the rink or the orca? C'mon, which logo is it gonna be?"
--
Chris Wolfgang (Dallas)
A slow economy and lack of revenue to the NHL forces players to share equipment.
-- Howard Freedland
"New All-Star skills competition: Mouthpiece Relay."
-- Mason (St. Louis)
"Wow! Your pores are so clean! What moisturizer do you use again?"
-- Rick Swank (Mt. Pleasant, Pa.)
THIS WEEK: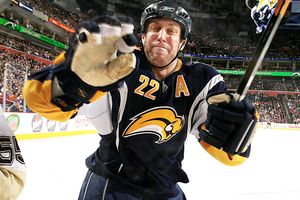 Adam Mair after five pounds of locker room grapes. (Getty Images)
1. Three-point games
Three-point games keep everyone in the playoff picture. The games become conservative as they progress and tend to get unleashed after a point is secured when 4-on-4 play begins. My answer to that is to give every team a point just for showing up! It would make for much more entertaining hockey from the opening faceoff. The NHL will never go to a winner-take-all, two-point game because the three-point game keeps more teams "in the race," resulting in more tickets sold.
We know some of this is a mirage. A team may be six points out, but it has to climb over four or five teams. Tampa Bay is "only" eight points out of a playoff spot, but it needs to climb over seven teams over the next 23 games. But, in terms of points, the three-point system has brought the league together and keeps the players' attentions longer.
In 2003-04, the last season before the lockout, this is how the Eastern Conference point totals looked at the end of the regular season:
8. 91
9. 85
10. 78
11. 76
12. 75
Here is how the East teams looked after the lockout:
In 2003-04, the 10th-place team was 13 points out of a playoff spot. The past two seasons, the 10th-place team missed out by two points. This will be the norm with three-point games.
2. The salary cap
For now, the salary cap is keeping talent spread out among the league's 30 teams and that should continue as long as there is revenue sharing and the cap doesn't get out of control. This could change over time. You might see older players who have already grossed $100 million sign for less than market value after turning 30 so they can play on really good teams who have great young talent. I thought Paul Kariya would have done that to play, say, with Sidney Crosby.
You see this in the NFL and NBA. Randy Moss took a pay cut to play for the Patriots. We did see Kariya and Teemu Selanne do it in 2003-04, during the non-salary-cap era, and I wonder if we might see this practice again for players searching for their first Stanley Cup.
Along with the emancipation of the restricted free agent, the salary cap will not only result in NHL parity, but also in the filthy rich now getting younger. The Penguins will probably have to give Evgeni Malkin, who may win the scoring title and MVP award this season, a 10-year, $80-million deal to keep him after next season. This means the Pens won't be able to surround Malkin and Crosby with a deep team. There will be consequences for two players making at least $8 million annually on one team.
In the pre-lockout days, a player had to hope to stay productive into his 30s in order to get the leverage necessary in unrestricted free agency to obtain the big-money contracts like the ones Alexander Ovechkin, Mike Richards and even Dustin Brown have received. Now, we are seeing Powerball contracts going to the young and unproven. This will take money out of the older players' portfolios.
I wonder how this will affect the attitude of the younger players as the NHL moves forward. Will younger NHL players not respect older players as much because the younger ones make so much more money? Will we see more off-ice incidents because of all the money going to people with so little perspective in life?
From an owner's perspective, the big contracts to young players can go either way. It's good the league is younger because it is faster; but, it is, at times, also faceless. It's a good investment to give younger players the big contracts because they tend to be healthier, but career-ending injuries do happen. (Cam Neely, Adam Deadmarsh and so on.) A similar scenario will happen again in the future, but to a player owed $50 million, not $5 million.
It's a good risk to give Ovechkin a large contract, but what about some of these other deals? In 1980-81, Merlin Malinowski scored 25 goals for the Colorado Rockies. What if Malinowski were playing today and came off an almost point-per-game season as he did in the "Juice Newton Era"? What if Oilers GM Kevin Lowe (OK, this is last time I pick on Kevin, I promise!) suddenly got "Morning Train" Malinowski Fever and offered him a six-year, $24-million deal? Well, Malinowski went on to score 21 more NHL goals over three seasons before retiring as a Hartford Whaler. He now coaches the St. Mary's Lincolns Junior B team in Ontario. This kind of scenario also will happen.
3. Evolution of the "almost-foolproof draft era" and depth of front-office talent
Worldwide scouting and the ability to test fitness and scout amateur talent in pressurized tournament settings have leveled the playing field for the acquisition of young players. Daniel Alfredsson would not be taken 133rd overall today. In 1999, Patrik Stefan went No. 1 overall and Henrik Zetterberg was No. 210. This wouldn't happen today. There are only nine more teams than there were during the 1979-80 season, but there are probably 90 people better qualified and trained to run an organization. The NHL is deep in talent on and off the ice and the bunched-up standings should be a yearly occurrence. That's the point.
Mother of All Mailbags
Hey John,
What's your opinion on the circus that surrounds the Peter Forsberg situation and the endless rumors about his future? The rumors are getting out of hand!
Collin
Denver
Forsberg was a Flyer if he was coming back at all. He was close to a point per game last season and those players are rare. A healthy Forsberg was just what the Flyers needed now. Mike Richards has two goals in the past 14 games and continues to play a TON of minutes, probably too many. I imagine the Flyers are tempted to trade Jeff Carter to get some help, but I personally would not do that.
---
Bucci, Bucci, Bucci,
How do all 30 teams pass on Evgeni Nabokov in the first round? Mike Ribeiro? Paul Stastny? The aging Martin Brodeur? Even Henrik Lundqvist and Jean-Sebastien Giguere can't match up to Nabby's numbers. I'd pick Nabokov over at least 10 of the guys you picked (I've already mentioned five of them). Plus, Nabby is just 32 and has at least three great seasons left, if not more.
Jeff
The mock draft caused an e-mail flurry, especially with what some perceive as a lack of goaltending selected. With goaltending now becoming more of a science than an art, goalie has become a relatively deep position. The last three Stanley Cup-winning goalies were Giguere, Cam Ward and Nikolai Khabibulin. I see this trend continuing. The days of one or two dominant goalies are over.
---
John,
If you want to expand on anything regarding the Irish Hockey guys, you can check them out at www.IIHA.org. I have worked with them on their rink and they are trying to build several more rinks throughout Ireland, where there are only three full-time rinks right now. I sent them the link from your column and I'm sure they will enjoy it.
Pat Kelleher
Colorado Springs, Colo.
I could see a day when there is an NHL team in Dublin as part of an NHL European Division. The boards would be made of paneling and beer sales wouldn't be stopped in the third period. Bono would love the hockey. The Edge would change his name to The Inside Edge. In fact, he could buy a stake in the team and call it the Dublin Edge. Am I buggin' you? I don't mean to bug ya.
---
John,
As I stand here reading your weekly column on my subway ride home (Feb. 5 edition, I'm a little behind), I'm currently listening to the latest Editors album "An End Has A Start." Have you given this a listen yet? It's fantastic and yet was released this past summer with little fanfare. Reminds me of Interpol, which reminds me of that dark rock sound from the '80s. Most importantly, the guitar has some shades of The Edge, which we all know is a wonderful thing.
Ian
There is definitely an early U2 guitar sound on some of songs from the Editors' CD, especially track No. 4, "Bones." In fact, I could see the Dublin Edge taking the ice to "Bones." The latest by Editors and The Hold Steady will dominate my CD player through the Stanley Cup playoffs. And R.E.M.'s new CD "ACCELERATE," which will be released April 1.
---
Hi John,
Thought your readers might be interested in this site where they can customize their own sneakers with the logo of their favorite NHL team. www.rbkcustom.com
Dan
This is cool; check it out. Great for kids. You can put their name and number on the shoe.
---
John,
In a column talking about potential Hall of Fame goaltenders you wrote:
If you asked 10 goaltending folks, like John Davidson, Darren Pang, Daryl Reaugh, Linda Cohn and other lovers/historians of the game, who the best goalie of that lot is, who would they pick?
My question to you is, who would you pick as the top 10 goaltenders of the post-expansion era? You cannot pick anyone who played net in the NHL during the era of The Original Six. So, under that scenario, someone like Rogie Vachon wouldn't count even though he played into the 1980s [because] his career began with the Canadiens in 1966.
Thanks,
John
Top of my head, first 10 that come to mind, not necessarily in order:
1. Patrick Roy
2. Dominik Hasek
3. Martin Brodeur
4. Ken Dryden
5. Ed Belfour
6. Mike Richter
7. Grant Fuhr
8. Curtis Joseph
9. Bernie Parent (I'm cheating a little here. 57 Original Six games.)
10. Mike Vernon
---
Bucci,
I was recently on my honeymoon in Cabo San Lucas during the week of the All-Star break. One night, we decided to check out Sammy Hagar's Caba Wabo bar, where who do I see, but Mike Modano, Joe Sakic, Mathieu Schneider, Todd Bertuzzi and Sean O'Donnell. Against my wife's will, I walked over and said hello to Joe and later on talked with Mike and Mathieu outside as we were leaving. I just wanted to say that they were extremely nice and took the time to talk with me for a minute or two. I did not want to bother them, so I did not talk long, but what hockey fan wouldn't take the once-in-a-lifetime opportunity to shake hands with two definite future Hall of Famers?
Steve
St. Louis
What happens down in Mexico, stays in Mexico. See: Toby Keith.
---
Bucci,
You gotta give me the skinny. What are the chances of Jaromir Jagr becoming a Penguin again, either at the coming trade deadline or during the offseason? Jagr-Crosby-Armstrong and Sykora-Malkin-Malone? Those would be two pretty sweet lines.
Paul
Pittsburgh
This kind of goes with the premise I wrote above. Jagr just turned 36. Would he consider a three-year deal with less money, say $3-3.5 million a year and finish his career in Pittsburgh? He wouldn't have to carry the load and could play on a third line with people who suit him going against a No. 3 and No. 4 defenseman. I don't think he'd stylistically work with Malkin and Crosby in even-strength situations.
---
John,
So, I'm checking out the channels on the Center Ice package to get an idea of the scores around the league and which game I wanted to commit to after my Bruins dropped another heartbreaker. I notice that Ray Ferraro is offering commentary between periods on a game and I yell out, "Oh, there's Chicken Parm; I'm going to check that game out!" My wife's response was, "I was waiting for you to notice Chicken Parm was on." Now she's a keeper!
Pat Jordan
---
Bucci,
I keep reading and hearing rumors that the Maple Leafs are trying to get GM Ken Holland from the Red Wings to help rebuild their team. I'm having a hard time believing that Holland would really leave the Red Wings after all the success and history he has with Detroit. Help me out, would Holland really leave?
Alex
Eau Claire, Wis.
I would think, at some point, Steve Yzerman would like the keys to the car in Detroit. Holland is only 52 and has accomplished a ton in Detroit. Maybe, at some point, he feels the presence of Yzerman growing and wants a new challenge. Let's face it, there isn't a bigger challenge than rebuilding the Leafs and now is the time to take that job. One can only go up from there.
---
Hey John,
Maybe when Jagr is a free agent next season and Rangers do not re-sign him, my nephew Christopher will be ready to fill his skates. Nothing like watching my 5-year-old nephew in Rangers' blue learning how to skate.
Steven Cifuentes
West Babylon, N.Y.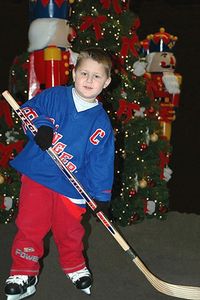 John Buccigross is an anchorman for "SportsCenter" and ESPNEWS. For questions, comments or crosschecks, e-mail him at john.buccigross@espn.com. To check out his new book, "Jonesy: Put Your Head Down & Skate," click here.