Welcome to NHL/ESPN.com TradeCenter '08! I'm John Buccigross, and for this show, I am not wearing makeup. That's the beauty of blogging.
We read that new-age bloggers complain when crusty old newspaper writers stereotype bloggers as "underwear-wearing yahoos in the basement of their parents' house." Well, (a) I am a homeowner and (b) I'm on the first floor of my modest Connecticut colonial, but (c) the underwear-wearing part is accurate! This is livin'.
Shot of the Week
You know how it works. We present an NHL photo, and Bucci provides a caption. E-mail him your suggestions (include your name and hometown/state), and we will use the best ones and provide a new photo the following week.
LAST WEEK: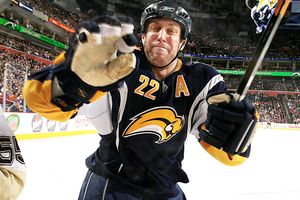 Adam Mair after five pounds of locker room grapes. (Getty Images)
Your captions:

"First, wax the glass, Adam-san. Wax on! Wax off! Wax on! Wax off!"
--
Jeff Folken (Kansas City)
"Gosh, that was funny, Sergei."
--
Tom D. (
North Tonawanda, N.Y.)
And you thought Frank Caliendo did a good Robert De Niro.
-- Louis Lukacsy
Moments before impact, Mair thinks: "What a shame that I don't have pads on my face."
-- Howard Freeland (Jupiter, Fla.)
"These Sour Patch Kids are rough!"
--
Chris DeJohn (Pittsburgh)
THIS WEEK: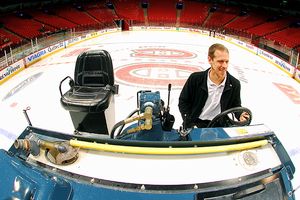 Starsky without Hutch. (Getty Images)
What I am doing today is watching TSN of Canada's coverage of TradeCenter '08, which is being shown on NHL Network (Channel 215 on DirecTV). Thankfully, our work has gotten the Darryl Sittler 10-point-night-pasta-eating-third-person-reference-Boston Bruins-old-timer game video off the continuous loop. TSN is 33 percent owned by ESPN, so we are allowed to steal part of their title and anything else that makes us good.
So, what I will do is watch TradeCenter '08 and comment on the deals or new contracts as they come down. Then, we will rate each deal from each team's perspective using The Otter System. Yes, it's been a quiet couple of years for our friend Ken the Otter. I believe Ken first appeared in this column some time during its inaugural season. A casual comment about having a pet otter in the back of my car has turned into an Internet phenomenon, just like Sarah Silverman and Matt Damon. So, we will rate the trades using the system:
Four Otters: Great deal! Well done! Your team is better. (Or could be.)
Three Otters: Good deal. Fans should like it.
Two Otters: Nothing great. Might have some upside.
One Otter: What were they thinking? You cannot be serious!
9:19 a.m. ET
Since things are a little slow to start the day, we will begin the proceedings by looking at three deals from Monday. Trade deadline is 5 hours, 31 minutes away.
1. Avalanche sign Peter Forsberg: With all of the Flyers' injuries, especially Simon Gagne, Forsberg went with his backup plan. The Avs are getting healthy and Forsberg won't be looked upon as a savior as he would in Philadelphia. With Joe Sakic and Paul Stastny back up the middle, Forsberg can slot himself in the lineup with no pressure, play with a talented winger like Marek Svatos or Milan Hejduk and try to help the Avs reach the playoffs. How cool would it be for the Avs to finish eighth and open up against the Red Wings?
Rating: Three Otters.



This was easy. Little price paid ($1 million out of a prorated $5 million deal), but Forsberg's injury is still a question. If Foppa doesn't play a game, it was worth the risk and nostalgia it produced for a day or so for those of us not writing the checks.
2. Flyers acquire Vaclav Prospal for Alexandre Picard and a 2009 conditional draft pick: Prospal has six goals in 43 playoff games, which suggests when the pressure gets thick and the intensity and quickness of the game heightens, Prospal is not a factor. He is not a good skater, which might explain some of that. He is a perpetual minus player. At 33, he's having a career season in a contract year. What a coincidence! Prospal reportedly wants $4 million a year this summer. If any NHL GM gives him that for three or four years he should be taken into the town center and shaved like a young Austin Powers. Picard is a solid puck-moving defenseman. OK on the power play. Not dynamic like Brian Campbell, but safe and smart.
Rating (Flyers): Two Otters.


The Flyers are injured and could use any depth at forward they can get. I don't see Prospal as a Flyer and I don't think he will have a lot of impact in Philadelphia.
Rating (Tampa Bay): Three Otters. They get a decent asset in Picard for a player who had zero chance at coming back.
3. Tampa Bay signs Dan Boyle to a six-year deal worth $40 million: Brian Campbell's price just went up again. This is a good signing by the Lightning. We talk about the Lightning more in the e-mail bag below. To be fair to Buffalo, Tampa Bay could have probably extended Boyle last summer for less. Ownership issues and conflicting plans certainly tied GM Jay Feaster's hands, so we give him a pass.
Rating: Four Otters.




It's 9:45 a.m. and Brad Richards is still a Lightning player. He will be moved Tuesday, so we will see what he brings; but getting Boyle in the fold was a must.
Now on to TradeCenter '08!
10:35 a.m.
New Jersey acquires Bryce Salvador for Cam Janssen.
Devils: Three Otters.



I've never met a Bryce who wasn't tough. Where else can you get analysis like that? This is exactly what the Devils need on the back end for the playoffs. David Clarkson made Janssen expendable.
Blues: Two Otters. The Blues get a St. Louis kid for a player they weren't going to bring back next season.
11:15 a.m.
Toronto's Wade Belak to Florida for a fifth-round pick.
This is a good trade for Florida because they are one of the softest teams in the league. Perhaps this is a sign of a shift to getting more grit and entertainment in Florida. The Panthers' passive approach is not working. They are a non-playoff team, and boring. Belak will bring some entertaining fights to South Florida for the fans to cheer. After Mats Sundin, Belak was apparently the next guy out the door.
Rating: Two Otters for both teams


11:24 a.m.
Buffalo's Brian Campbell to San Jose for Steve Bernier and a first-round pick.
This is a serious blow to the Sabres. It's amazing how this team has been dismantled, and not just from a pure employee standpoint. You can't discount the emotion, memories and moments Daniel Briere, Chris Drury and Campbell brought the past three seasons. Emotionally, this is another dark day for Sabres fans. Ownership has failed them miserably.
Rating (Buffalo): Three Otters.



Stay with me here, Sabres fans! Steve Bernier is only 22 and could step in and play on a No. 1 line with Derek Roy and Thomas Vanek. He's a great skater, has good size and can hit. He might be able to evolve into a 25-30-goal guy. The first-round pick has a chance to be at least a contributor down the road.
Rating (San Jose): Four Otters. Campbell instantly becomes the best defenseman on the team and among the top three players on the whole team after Joe Thornton and Evgeni Nabokov.
11:40 a.m.
Brad Richards and Johan Holmqvist to Dallas for Mike Smith, Jussi Jokinen, Jeff Halpern and a fourth-round pick.
Brad Richards was the second domino to fall in Tampa Bay after the Boyle signing. For the other two, check out the mailbag.
Rating (Tampa Bay): Three Otters.



I don't see how the trading of a player like Richards can possibly be a good thing. However, Smith could be the stabilizing influence the Lightning need in net. With more ice time, Jokinen could give the Lightning the same production as Prospal at a cheaper price; plus, he's a shootout specialist. Halpern is only 31 and provides a Tim Taylor kind of player.
Rating (Dallas): Four Otters. Great move by Dallas. Can you imagine the IQ of a Richards-Jere Lehtinen line? It doesn't matter who the third guy is. I would still be concerned about not having a pure goal scorer come playoff time, but getting a two-way player like Richards is a seamless and quality move. He won't have to play as many minutes, so he can play harder and faster. He will look great in Dallas.
11:50 a.m.
Montreal trades Cristobal Huet to Washington for a second-round pick.
Rating (Montreal): Two Otters.


This is a bit strange, but I have a hard time questioning GM Bob Gainey. Giving the keys to Carey Price is sometimes what an athlete needs to get him to the next level. Gainey must have been convinced he could not envision Huet winning a Stanley Cup.
Rating (Washington): Four Otters. I really like this deal for the Capitals. Huet has been a very good goalie for three seasons now. He is a late bloomer. He has good size and experience. I like this deal for the Caps.
12:15 p.m.
Florida's Ruslan Salei to Colorado for Karlis Skrastins and a 2008 third-round pick.
This is like trading the CD from the Jesus Jones library for a bucket of week-old warm carrots. I'm not going to dignify this trade with a Ken the Otter response.
12:16 p.m.
Carolina's Andrew Ladd to Chicago for Tuomo Ruutu.
Another trade that is impossible to rate. Two players who don't appear will make much of an impact in the NHL. Carolina has done a good job at revitalizing careers, so keep an eye on Ruutu.
Rating: Two Otters for both teams


12:35 p.m.
Chicago's Martin Lapointe to Ottawa for a sixth-round choice.
With Chris Neil out and accountability being an issue in Ottawa, Lapointe is an in-your-face player who is a leader. He doesn't score or fight as much, so we will see how effective that is. Chicago is in the process of turning its team over to the young guns and preparing to land a big free-agent fish in the offseason.
Rating: Two Otters for both teams


1:03 p.m.
Columbus' Adam Foote to Colorado for a first-round pick. For a team no longer selling out games, bringing back Foote and Forsberg will certainly do that. Foote must have some game left if Columbus was even thinking about bringing him back. He will always have leadership. Just imagine how stoked Colorado's dressing room is right now. Foote and Forsberg are gigantic figures in Avalanche history. Columbus gets a first-round pick that could bridge the gap in whatever contract issue it had with Foote. TSN's Bob McKenzie said it was a $500,000-a-year difference. That seems tiny in a $50 million cap world.
Rating (Columbus): Two Otters. (Colorado): Three Otters.



1:12 p.m.
Columbus' Sergei Fedorov to Washington for Notre Dame freshman Theo Ruth.
Fedorov has scored 39 goals in his last 190 NHL games. He is 38. But playing with great athletes like Alexander Ovechkin usually elevates a player's output. Fedorov might be an OK add, but he won't make a huge impact. Columbus gets yet another prospect in its perpetual build/rebuild/build/rebuild process. Ruth is solid and moves OK. He has had some trouble adjusting to the speed of the college game. Could be a No. 4 defenseman. Should be a No. 5 or No. 6 guy.
Rating: Two Otters for both teams


1:37 p.m.
Vancouver's Matt Cooke to Washington for Matt Pettinger.
Matt Lauer first broke this trade on "The Today Show." Matty Alou has no comment. Matt Damon is too busy with Sarah Silverman.
Rating: Two Otters for both teams


2:59 p.m.
Pittsburgh's Colby Armstrong, Erik Christensen, Angelo Esposito and a first-round pick to Atlanta for Marian Hossa and Pascal Dupuis.
Holy Shhhnikees! I've been pushing for this move in this space all season!
Rating (Penguins): Four Otters.




Hossa is now the best winger on the Penguins. When you can add a player like that, it is huge. The Penguins now have to be thinking Stanley Cup finals. No team can match their offensive output from the top two lines. I know some are concerned about Hossa's playoff numbers. But if you take out last season's four-game sweep by the Rangers and his teenage playoff years, Hossa went 12-18-30 in 37 games over a three-year playoff stretch. That is slightly lower than his regular-season production, but it's not obscene. Do not worry about Hossa in the postseason. The Penguins are perfect for him. Even if this is a rental, it is a good deal. But I would think if Crosby and Hossa do click, Hossa would hopefully ignore his agent's advice to get the most he can and take a deal from the Penguins in the six-year, $36 million range.
Rating (Thrashers): Three Otters. The Thrashers do well for a guy they had no chance to sign. Armstrong and Christensen give the Thrashers some winger depth and Esposito is worth the chance since he might become a good second-line center.
Mother of All Mailbags
Bucci,
Do you expect [new ownership] to fire coach John Tortorella and GM Jay Feaster this summer? I do think Feaster screwed the whole thing up letting [Nikolai] Khabibulin walk and pouring so much money into three forwards and needs to go. I like Torts, but the local perception is they're a matched set, and you know the saying about a new broom.
Joe
If the sale of the Lightning goes through to potential new owner Oren Koules (producer of "Saw," 47 episodes of "Two and a Half Men" and "Dumb and Dumberer: When Harry Met Lloyd"), one can expect big changes in Tampa Bay. He is a producer after all, and producers like to tinker and call something their own. Let's face it: Most of us would do that if we were given the keys to an NHL franchise. I would. What might be their plan?
1. Trading Brad Richards was the first step. This is a dangerous thing to do when trying to win Stanley Cups. Richards is a big-game player averaging better than a point per game in his playoff career. But $7.8 million a year is a big number, and if the Lightning don't get better goaltending and depth, Richards wouldn't have appeared in any playoff games in Tampa Bay to use his clutchness, anyway.
2. Extend Vincent Lecavalier's contract by 10 years. He needs to be marketed and cultivated as "Mr. Lightning," short term as a player and long term as a civic institution. Koules needs to "produce" the Lightning like a "Saw" movie with a touch of Frank Capra's "It's a Wonderful Life." They need some tradition and heritage. Sports fans go for that stuff.
3. A coaching change. Let's face it, this will happen. The producer always wants to pick a director to help bring out his vision. Koules will want a fresh start with a new coach; he will want to pick a big-time name who will make an impact around the league and grow the fan base. Producers think big. Don't weep for Tortorella. He'll get a job. He's a Stanley Cup-winning coach with experience. The Rangers, Blackhawks, Thrashers and Panthers may have an eye on him for next season. He probably prefers the Panthers so he can keep that year-round tan.
4. Jay Feaster may survive. How he managed the cap could be questioned by some, but one would think the new owners want someone who knows the organization's assets and infrastructure as intimately as Feaster does. The Dan Boyle signing was probably a good omen certainly "produced" by the new owners. If he remains, Feaster may have a shorter leash from here on out. He may choose to leave if doesn't like the new setup, but I would find that hard to believe. I say he stays.
---
Bucci,
I can't sleep because that image of Richard Zednik keeps replaying in my head. And now, Clint Malarchuk gripping his throat is back in my cranium, too. In high school, I had my arm skated over and severed my brachial artery and biceps tendon, requiring emergency surgery, so I know firsthand the horror he must have felt. I think the ref's injury from Saturday only further pushes the argument for mandatory visors, but now maybe neck guards? My father echoed the same sentiment. And he knows everything about everything. Really. I used to wear just one of the soft cut-proof cloth ones; I think that would suffice. Anything to prevent another one of these incidents.
Tony Chiatello
Pittsburgh
I don't understand how neck guards could hurt a player. I asked Barry Melrose about neck guards on "SportsCenter" and he mentioned how it has only happened twice in so many years and that the players would be too "hot" wearing a neck guard. (Too hot? For a 40-60-second shift? Take it off on the bench.)
I am shocked there aren't more skate blade cuts during fights (as players fall around the officials) and, the most frightening scenario for my vivid imagination, celebration pile-ons. There will come a day soon when we see a major cut injury in one of these pile-ons. Helmets come off and players just go diving around like they're in a Five Finger Death Punch mosh pit.
Should the NHL mandate visors and neck guards? From an economic standpoint, of course. There are cuts even with visors; but it seems, in certain situations, visors assist in protecting eyesight wayyyy more than they do in causing an injury. Neck guards? The way Olli Jokinen's skate appeared to graze across Zednik's neck and not in a blunt-force impact sort of way, I think a neck guard would have helped Zednik. But what if the skate gets tangled with the neck guard? Could that end up causing MORE damage? That's why some sort of turtleneck serving as a neck protector would probably be the best sort of protection.
Hockey is a dangerous game; that's part of its appeal. It takes courage to play the game. Players sign up with that risk in mind. But sometimes organizations need to look forward. We have netting at NHL games because a young girl died from injuries she suffered after getting hit with a puck at a Columbus Blue Jackets game in 2002. Although Brittanie Cecil walked out of the arena after the game, she died two days later. An artery in her neck had been damaged after her head snapped back from the impact of the puck. Despite the fact it was a VERY RARE set of circumstances, the NHL mandated netting above the end-zone glass in all NHL arenas. That was the right thing to do. If Richard would have died as a result of his injury, the NHL would probably have mandated neck guards. Should the close call be enough to expedite experimentation and discussion to protect necks and wrists? I'm sure it already has.
During an exhibition game in Sweden in October 1995, Bengt Akerblom's neck was slashed by a teammate's skate in a freak accident. By the time Akerblom reached the hospital, he had lost too much blood and died. As Rich Chere recently reported in The Star-Ledger, Martin Brodeur knew the family of a young player who suffered a skate cut to his neck during a game. The 13-year-old died from his injury.
These players didn't have the set of circumstances Richard Zednik had. His life was saved. How many far-reaching hockey games has your son or daughter played at a prep school rink in the middle of nowhere? How could they possibly be saved?
The NHL sets the tone for hockey throughout the world. It is the league to which nearly every player aspires. It is in a position of leadership. It needs to make a decision on whether neck guards should be mandatory and then explain its decision either way.
---
John,
First, I'd like to say that we miss ESPN hockey. Bad.
Second, a point about Ron Hextall that most likely hasn't been made yet in your e-mail bag. Other than Bobby Orr and Wayne Gretzky, I think Ron Hextall has been the most influential player in the NHL. Here's why: No goalie ever played the puck the way he did before he did as far I can remember. I'll admit, I'm only 29, so I haven't watched for as long as some. Still, the fact remains that he changed the game to such a degree that the NHL had to institute a rule so goalies couldn't play the puck as effectively. With borderline Hall numbers, I think this puts him over the top.
Kurt Cobain wasn't the best guitarist that ever lived, but he revolutionized the music world with a sound all his own. How much has he meant to the direction of music? And how much has Ron Hextall meant to the direction of goaltending?
Trey
Lebanon, N.H.
This is a fair point, but keep in mind NHL netminders have been roaming out of their nets for DECADES. I retro-blogged a Red Wings-Maple Leafs game from 1971 this season. While watching that game, I was reminded how well Jacques Plante played the puck. Now, he didn't fire it out of the zone and score a goal or attack Chris Chelios, but he helped control the play with his puck possession. Jean-Sebastien Giguere is a dreadful puck handler, but he is a Stanley Cup champion. A goalie should be judged on stopping the puck. And trying to play on team with Scott Niedermayer and Chris Pronger.
---
Bucci,
How about a little love for Barry Trotz?! In December, this team had two losing streaks of five or more games and was 14th in the West. As of today, they are in fifth and have the best record in the NHL since Jan. 1. And they are doing it with a team of blue-collar guys that nobody writes or cares about. Surely this coach has to merit "coach of the year" consideration. The death of NHL hockey in Nashville has been grossly overestimated.
Dave Manes
Nashville
GREAT CALL!! However, NHL coaches are like Maxim cover girls. You move on so quickly from one hot one to the next. First it was Ted Nolan, then Mike Babcock, then Claude Julien. Now, we are talking about Wayne Gretzky, Barry Trotz, Brent Sutter, Michel Therrien, Dave Tippett and so on.
---
Hi John,
Your point on the perils of possible Malinowski-like one-hit wonders is well taken (see also Wayne Babych, circa 1981), but your early '80s musical references are a bit garbled. Shockingly, you have confused Sheena "Morning Train" Easton with Juice "Angel of the Morning" Newton!
Jason Thomson
I could say I was just naming two separate references, mutually exclusive of the other for effect, but I would be fibbing. Comparing Sheena Easton with Juice Newton is like comparing Mats Sundin to Peter Forsberg. Similar, but different. I feel shame.
John,
Way to mention the Hold Steady in your most recent mailbag. Their shows are reminiscent of playoff hockey -- they always make it exciting and nothing else can really compare. Speaking of playoff hockey, do you think the Flyers are fluking now or were they fluking in late December when they were winning all the time? I can't tell if this team is for real or not. What kind of shot do you think they have? I feel like this lyric sums up 2008 for them so far: "Some nights were crystal clear, but tonight it's like we're stuck between stations." What do you think?
Andy
Philadelphia
It's going to be tough for the Flyers; but despite the injuries, they have lots of character. I love Braydon Coburn on defense. He's maturing into a top-flight defenseman. I picked the Flyers to miss the playoffs before the season because I thought next season was their year. I still believe this. Obviously, they still have a shot to get in this season, being so close.
I also like this Hold Steady lyric from "Stuck Between Stations:"
"He loved the Golden Gophers, but he hated all the drawn-out winters."
---
John,
I think you should have music playing when we click on the link to read your articles/mailbag. You could do something like the kids are doing on MySpace and Facebook and have a full playlist in a jukebox. This is common practice among people who start threads on message boards and I think it would add another insightful dimension to your already relevant posts.
Rob from Queens
It would probably cost us millions. Maybe we can have Melrose sing "Rise and Fall" from The Cinematics for us next week. Good Scottish analyst with a good Scottish band.
---
John,
My friends and I just got back from the World Pond Hockey Championships in Plaster Rock. Our team (The Whalers) had a decent showing, but hope to redeem ourselves next year. When can we expect to see you up there skating on the frozen tundra?
Wesley M. Aniello
When there is a team called Hakan and the Loobs.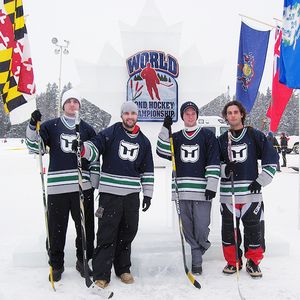 John Buccigross is an anchorman for "SportsCenter" and ESPNEWS. For questions, comments or crosschecks, e-mail him at john.buccigross@espn.com. To check out his new book, "Jonesy: Put Your Head Down & Skate," click here.