First, a programming note.
While many of you are enjoying the NCAA basketball tournament, don't forget that the NCAA hockey tournament begins this Friday. The hockey tourney gets to the Sweet 16 right off the bat: Four regionals have four teams apiece. ESPNU and ESPN360 will be your home for regional action.
Shot of the Week
You know how it works. We present an NHL photo, and Bucci provides a caption. E-mail him your suggestions (include your name and hometown/state), and we will use the best ones and provide a new photo the following week.
LAST WEEK: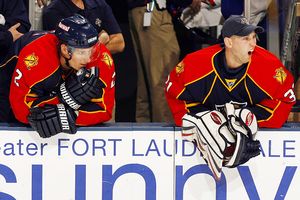 Every day is Groundhog Day when Craig Anderson is the backup goalie. (Getty Images)
Your captions:

"Huh-huh-huh! Hey Beavis, I see your mom selling peanuts!"
-- Matt Becker (Lancaster, N.Y.)
"Dude, you goalies need to do that back in the locker room when you're not playing!"
-- Paul Macuch (Germantown, Md.)
"Dude, I know we have good benefits, but colonoscopies rinkside? Come on!"
-- Craig Hurley (Lexington Park, Md.)
"I got $20 on him catching the puck in his mouth."
-- Howard Freedland
THIS WEEK: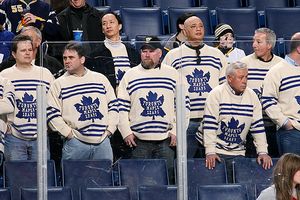 Cliff Fletcher's 2008 draft class. (Getty Images)
Saturday's Worcester Regional features Miami vs. Air Force before a classic college hockey matchup with Boston College taking on Minnesota. The two winners meet Sunday, and that winner goes to the Frozen Four in Denver.
I will be doing the play-by-play for the Worcester Regional along with Barry Melrose (analyst) and E.J. Hradek (sideline reporter). I'm extremely honored and pumped to be part of an awesome collegiate event and see a few guys who will be future NHL players.
Now, on to the current NHL players.
Five to seven games remain in the regular season, so it is probably safe to go through the major awards and announce some winners. Outside of a 17-goal game from Evgeni Malkin in Madison Square Garden on March 31, not much should happen from this point forward that would change one's mind. It is one of the most difficult seasons in recent memory to find clear-cut winners. For the record, your honor, I do not have a vote in any of the awards.
Jack Adams Award (coach of the year)
• Who votes: NHL Broadcasters' Association; Last season's winner: Alain Vigneault (Vancouver)
Bucci's winner: Mike Babcock, Detroit Red Wings. Just about every coach whose team has made the playoffs would be a good pick. If the Capitals make it, Bruce Boudreau would be an inspirational and fine pick. But Babcock is a top-tier coach who is an excellent model for others to follow. If I had a vote, I would go in that direction.
Norris Memorial Trophy (best defenseman)
• Who votes: Professional Hockey Writers Association; Last season's winner: Nicklas Lidstrom (Detroit)
Bucci's winner: Nicklas Lidstrom. That makes six Norris trophies in seven seasons for Lidstrom. He is the game's biggest presence on defense. To appreciate him most is to watch him in person. His brain is always 100 percent turned on. He must be exhausted after each game from all the mental fuel he uses during the course of a game.
Calder Memorial Trophy (rookie of the year)
• Who votes: Professional Hockey Writers Association; Last season's winner: Evgeni Malkin (Pittsburgh)
Bucci's winner: Patrick Kane, Chicago Blackhawks. Chicago's youngest player has been its best and most productive player. Kane, 19, should evolve into a 30- to 40-goal player with 60 to 70 assists. Jonathan Toews might end up being the best player of this class, but he missed 16 games this season with a knee sprain, and I think that's a bit too many.
Vezina Trophy (best goalkeeper)
• Who votes: NHL general managers; Last season's winner: Martin Brodeur (New Jersey)
Bucci's winner: Roberto Luongo, Vancouver Canucks. Boy, this is a tough call. Luongo and Brodeur have statistics that mirror each other. Evgeni Nabokov is showing Stanley Cup-winning, Conn Smythe-winning caliber play. But it just seems that Luongo has the most stress put upon his shoulders to go along with his great play. He has been great in regulation, overtime and the shootout. His team's nightly efforts rely mostly on his play, probably more than any other goalie.
Hart Memorial Trophy (most valuable player to his team)
• Who votes: Professional Hockey Writers Association; Last season's winner: Sidney Crosby (Pittsburgh)
Bucci's winner: Alex Ovechkin, Washington Capitals. This is the season of Ovechkin. No. 8 is a gigantic personality; so profound, it lights up the entire sport. With 60 goals and 106 points (through Monday), he has made his linemates better, especially rookie Nicklas Backstrom. Ovechkin plays a ton, averaging 23 minutes a night, and every minute is played with the aura of a freshly lit Christmas tree. He is clearly the MVP. This one isn't even close, playoffs or not.
Mother of All Mailbags
Hi John,
How do you feel about this theory?
The Detroit Red Wings are the only team in their division that will make the playoffs. With the unbalanced schedule, does that make their point total a little inflated as opposed to teams from the Pacific and Northwest, which are battling a group of playoff teams within their own divisions?
I mean, let's face it, the Central is a terrible division.
Jim Handzel
Sunnyvale
The Red Wings actually have been average against Central Division teams this season (13-11-2). The Wings DOMINATED the Northwest this season (15-2-3) and went 15-5-0 against the Pacific.
---
Bucci,
With all the talk of Dallas' great arena sounds, I thought I would throw in a local tidbit from the Carolina Hurricanes. The team added some toughness by bringing up Tim Conboy, and any time he drops the gloves, C.W. McCall's classic "Convoy" rings out in the RBC Arena.
Jon M.
Greensboro, N.C.
C.W. McCall's song "Convoy" reached the No. 1 position on both the pop and country charts in January 1976.
---
Bucci,
The Stars need one more quote from "Caddyshack" to fill out the roster. When Marty Turco makes a great save, fans should hear "You'll have nothing and LIKE it!"
Steve
Calgary, Alberta
And as a Dallas opponent lines up for a penalty shot or shootout attempt, you should hear "NOONAN! Miss it!"
---
Bucci,
I previously wrote to you about being graced with the chance to meet future Hall of Famers Mike Modano and Joe Sakic in January while on my honeymoon in Cabo. My new wife and I discovered three weeks ago that she was pregnant and had been since January. Since you are the man to ask, what would be a good hockey name for a son or daughter?
Steve Kaufmann
St. Louis, Mo.
Just name it after the father. Mike or Joe will work.
Hockey fact: Andy Bathgate began experimenting with a curve in the late 1950s and showed his experiment to Bobby Hull and Stan Mikita. It wasn't long before most NHL players had done the same thing.
---
John,
You criticize the Bruins for trading Joe Thornton, yet you say the Pens should trade Evgeni Malkin. This just doesn't make sense. How can you say one is bad and the other would be good? This season, Malkin has shown why teams need to have two top centers in their lineup. Where would the Pens be this season if they didn't have Malkin? It would be beyond stupid for the Pens to trade Malkin, just like it was when Thornton was traded.
Jim Schloder
Jacksonville, Fla.
The Bruins did not trade Joe Thornton for financial reasons. They traded him because they thought he didn't care enough. They were a group of old-thinking men judging a young man.
If the Penguins trade Malkin, it will be purely financial. It will be because Malkin demands more money per season than Sidney Crosby or because the Penguins will believe signing Malkin could cost them Ryan Malone, Marc Andre-Fleury and Jordan Staal. All could get big unrestricted or restricted offer sheets. Malone likely will get around four to six years at $4 million per on the open market this summer. Should the Penguins match that? Tough call. I lean toward no.
Malone has value with his size, fighting, adequate goal scoring and growing experience (he hasn't even played 300 NHL games yet); but, he is a slightly above-average player. I would be more comfortable at $3.5 million annually over a five-year deal. These are the tough kinds of decisions GM Ray Shero has to make as he manages his cap. He and other GMs can't fall in love with players much as NFL capologists don't. GMs must try to keep terms down. The two-year deal given to Petr Sykora last summer at $2.5 million annually is an incredibly astute signing by Shero.
Fleury is another interesting restricted free agent. Do you sign him for one year or try to lock him up for more term at a manageable cap number? What do you do if you are Fleury? Do you take $3 million a year for three years? $4 million a year over six? Three million for four years probably makes sense for both sides. I think Fleury would outperform that contract, but it is still $12 million guaranteed, and he can buy all the hair paste he needs.
Staal is another interesting case. Will he be advised to take it to restricted free agency? If he continues to improve, will someone take a chance with an aggressive offer sheet? He is on the wrong team to fully develop his game. He may never get the power-play time or ice time as long as Crosby and Malkin are on the Penguins.
The NHL probably needs to look at extending entry-level contracts from three years to five years, or at least having the option to extend it to five. Established players will go for that because these huge restricted free-agency year dollars are taking money out of veterans' pockets. And fans deserve seeing their teams have some continuity after they're asked to shell out thousands and thousands and thousands of dollars for season tickets.
---
Bucci,
All the hype for the Pens was with Hossa at the deadline, but what about Pascal Dupuis? Just wanted to know what you think of this guy and the impact he's had so far for the Pens.
Steve Lautman
Pittsburgh, Pa.
He's an average player, and there are hundreds of guys like him. Players like Dupuis are why the Penguins will probably be able to sign Malkin. Put average players like Dupuis and Malone with Malkin or Crosby and you have $2 million players with $4-million-a-year stats.
---
Bucci,
I just read a blog on TSN.ca in which Bob McKenzie mentions that the USHL has a rule in place where the linesmen can make the call on no-touch vs. touch-up icing. Sort of a hybrid where the linesmen can make the judgment that, if it is obviously icing or if it is a dead heat, they blow the play dead and it is icing, whereas if the attacking team looks to have the advantage, they let it play out.
Wondering your take on this whole touch/no-touch icing quandary and if you think the NHL would ever implement this "hybrid" icing the USHL is trying.
Lawrence Spencer
San Francisco, Calif.
I like that rule. A little subjective, but it could work. It is interesting how Torrey Mitchell's dangerous play ends Kurtis Foster's season and possibly his career, yet the Sharks forward does not get suspended.
---
John,
Is the NHL considering altering its playoff format? It seems unfair that each division winner gets a top seed, while possibly finishing second in the conference in terms of points garners only a fourth seed. I see no issue with a team being rewarded for winning its division, but I think that while being guaranteed a spot in the playoffs, a team's actual seeding position should be based on its point total.
Jason Katinas
Brooklyn, N.Y.
I agree, Jason. I would change that, especially with fewer division games next season.
---
JB,
I recently bought a Pat Falloon Sharks teal sweater for 15 bucks at a garage sale (the prior owner is a transplant from the Bay Area). Should I rock the sweater or not?
Derek
Peoria, Ariz.
By all means! And wear it the next time you patronize at an all-you-can-eat Country Buffet.
---
Dear JB,
Now that the playoff matchups are getting a little clearer, what do you think of the potential matchup of the Penguins vs. the Senators? As a Penguins fan, I'm not too thrilled for the first-round matchup. But as a hockey fan, I think it would be great, possibly the best matchup of the first round, plus there's the added drama of [Marian] Hossa playing against his first team.
Josh
Three Rivers, Mich.
Penguins fans should not fear the Senators. Senators fans should fear the Penguins.
---
John,
As a U.S. history teacher, it made me smile to hear that you and I are both TiVo-ing the "John Adams" miniseries. It's awesome. So, on to a more pressing issue, if GM Glen Sather does not re-sign Sean Avery, I say we (the Sons of Avery) give him the same treatment given to the Boston tax collector in Episode I. Am I being overdramatic here, or will the Rangers [without Avery] be like the First Continental Congress sans Ben Franklin?
"Pikey" Rossicone
Brooklyn, N.Y.
I have begun to reread David McCullough's John Adams book as I watch the seven-part miniseries on HBO. The history of the Revolutionary War always has had a hold on me. It's a big reason that history-rich New England was always on my radar while I grew up in Pennsylvania and Ohio.
Avery will be a Ranger next season. The New York Post's Larry Brooks reported earlier this month that Avery is looking for four years at about $3.75 million per, and the Rangers offered at least $1 million below that.
I don't blame Avery. He is a very good skater, he hits and fights, and should be around the 20-goal mark for the next few seasons. Who knows how much of a pain he is behind the scenes or if he embarrasses the Rangers with some of his actions. I understand people like that can suck the energy out of a room. But, in terms of his game, Avery is certainly Scott Hartnell. I'm sure that's his argument.
I also don't blame the Rangers. There are a lot of Sean Avery types who can disturb, fight and score 15 to 20 goals a season. Like we mentioned above with Malone, paying those kinds of players $4 million a year is a lot of money at the expense of a dynamic defenseman.
---
Bucci,
It's not that Joe Thornton can't shoot, it's that he doesn't shoot – his shooting percentage is the same as Vincent Lecavalier and a mere percentage point below Ovechkin. What would be very interesting would be to see what percentage of his offensive-zone passes end up being assists!
As for Phil Collins – in 1985, you couldn't turn on an FM station (any genre) without hearing him sing. I'm not sure if he is underrated, but he certainly was overplayed.
Paul
Denver, Colo.
I was in the ESPN gym and put Genesis' self-titled 1982 CD on the MP3 player and forgot what a great CD that is. Listen to that in your iPod or whatever device you have and tell me Phil Collins can't sing. Perhaps my comment on Phil was a bit ... emotional. "No Son of Mine" is also a great Genesis title. For my penance, I will now insert Five Finger Death Punch into my CD player.
And, I'm sorry, but Joe Thornton is not a great shooter. I've been pushing for Joe to be well over 200 shots a season, but his accuracy and velocity have never been consistent. That doesn't mean he isn't a great player. He is. And it just seems destined that a Cup will rise above his salad. It might be this season. My preseason pick here on ESPN.com was Sharks-Penguins.
---
John,
Hockey has some of the greatest nicknames in all of sports, like the Russian Rocket, Jovocop, the Golden Jet, Super Mario, Mr. Hockey, Killer, and so on. What are your top five nicknames? What nicknames would you give out to players who don't have them yet? What do you think about Robostop for Luongo?
Roberto
It all begins and ends with Pat Verbeek's nickname: Little Ball of Hate. Game. Set. Match.
---
Bucci,
Wanted to pass along a photo of my 3-week-old niece showing her Blue Jackets pride.
Kristin
Cleveland, Ohio
Every day is Columbus Day in Cleveland.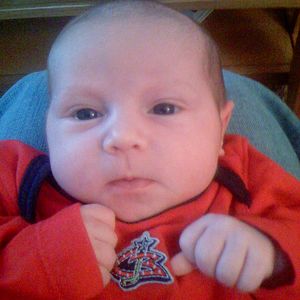 John Buccigross is an anchorman for "SportsCenter" and ESPNEWS. For questions, comments or crosschecks, e-mail him at john.buccigross@espn.com. To check out his new book, "Jonesy: Put Your Head Down & Skate," click here.