Shot of the Week
It's back. You know how it works: We present an NHL photo, and Bucci provides a caption. E-mail him your suggestions (include your name and hometown/state), and we will use the best ones and provide a new photo the following week.
LAST WEEK: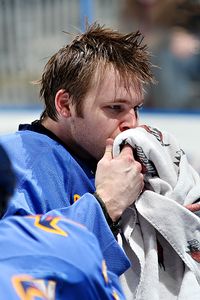 "Mmmm, chocolate-covered pucks! I love this time of year." (Courtesy: Getty Images)
Your captions:

"Hey Coach, does a runny nose get me another stint on the IR?"
-- Jeff Sutton (Atlanta)
Thrashers players show their support for a move to Las Vegas by hosting a Jerry Tarkanian tribute night.
-- Frank Weber (Largo, Fla.)
"I love the smell of defeat in the evening."
-- Matthew L. Koster
"The NHL can take my Michelin Man-sized pads, but it WILL NOT take my blanky!"
-- Russell Siminoff (Parsippany, N.J.)
THIS WEEK: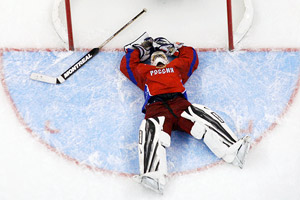 Vladimir the Snow Angel Goalie gets beaten again top-shelf. (Courtesy: Getty Images)
Happy New Year. Let's talk ...
World Junior Championship
I don't know whether all of you out there even know what this tournament is or what it is about.
It is an international hockey tournament held every year during the holidays, and countries select their finest under-20 players to compete. This year, the event was staged in Ottawa. Because of the format, participants and eventual single-elimination scenario, it is, in my mind, the finest hockey event. Additionally, it best illustrates what most of us already know: that hockey, at its highest emotional level, when played with as much sportsmanship as possible, is the finest game.
On Saturday night, the NFL playoffs were going on at the same time as the Canada-Russia semifinal game, and you could not compare the two in terms of excitement and skill. Keep in mind that this is coming from an American sports fan who loves and appreciates all sports.
As I wrote here in the spring, I don't like being called the "hockey guy" at ESPN. I have a passion for most sports. I want this to be understood so that when I give hockey a compliment, it is coming from a passionate sports fan, not some tunnel-vision yahoo wearing an Al Secord game-worn jersey.
I watch all sports and love them all in their own ways, but hockey in its highest form is the most exciting game, whether you see it in person or on television. After watching USA versus Canada or Russia versus Canada on television last week, you can't tell me hockey doesn't televise well. That is absurd.
Offside
This is something I just have to get off my chest. I love linesmen. Always have. When I was a kid, I would stare at the NHL linesman with the 29-inch inseam as he gathered the puck after an icing and raced down the ice to hand his partner the Ring Ding. It was done with such style and panache.
Today's linesmen are a little more textbook and perform that task without as much mustard, but the way they conduct themselves and athletically call the lines during an NHL game is part of the joy of watching hockey. That being said, when did they start screaming to indicate that a play is onside? And what is the purpose? Why, on a close offside/onside situation, do linesmen give the safe sign and scream "NO!!!"?
First of all, no sign is necessary. Ever. You play to the whistle. The whistle is the only signal needed for an offside call. But if you want to reinforce to coaches and fans that you are sure you saw what you saw, give a nice, emphatic, stylish safe sign. That can look pretty cool. You don't need to scream.
The Winter Classic
The outdoor game was another win. The television ratings, primarily because of the market size of the Detroit Red Wings and Chicago Blackhawks as well as the Wrigley Field setting, were up. However, if only 14 people had watched on television, it still would have been a success.
The brick wallpaper around the boards, exposing home plate, "Take Me Out to the Hockey Game," the old sweaters, Fergie Jenkins' iPod-sized earrings, the hats on the Red Wings' coaches and the rest of the deal all were right on the sweet spot. In fact, the presentation was so rich that a better outdoor game might not be played for some time. This may go down as the all-timer.
The outdoor game has replaced the All-Star Game as the premiere NHL regular-season event, especially in the United States. The New Year's Day date is perfect. I've heard some talk about having the All-Star Game become the outdoor game, and I have six words to respond to that: FOR THE LOVE OF GOD, NO!
The All-Star Game is the worst representation of hockey we have. I understand it's a good schmoozefest for sponsors, as it brings all of the best players into one city for a weekend. It also is good for fans of the host city to see players up close. When I covered the All-Star Game from 1999 to 2004, I liked seeing all the media converge in one place. The skills competition always has potential, and the All-Star Game, while not great, is not terrible.
But back to the outdoor game.
Part of its appeal is that it counts. It is a real game with real confrontations. An All-Star Game held outside would not have the same buzz.
What about future outdoor game locations? I still think Fenway Park would rival Wrigley's buzz. There is enough elevated seating to make it work. The Bruins, especially right now, are a strong brand with a following across the United States and Canada. The ratings in New England would be staggering. The Bruins have a vibrant heritage with the staying power of Bobby Orr, Cam Neely and Ray Bourque that stretches 40 years. Imagine all the pregame presentations. For fun, I'd have Manny Ramirez pop out of the Green Monster door holding a giant yellow icicle.
Plop in a star like Alexander Ovechkin, and you'd have another showstopper. Can you imagine Ovechkin playing in an outdoor game? He would look like a 10-year-old on a Skittles buzz. He may propel himself off the Green Monster for the first human wall ball. That boy has no dimmer switch. It is always go time.
Then, the following season, the outdoor game has to be in Minnesota. Venue choices? The Twins' new ballpark or, if you want to go back to the football field format, you could play in the Golden Gophers' new stadium. Wild versus Flyers.
Power Rankings
If I were decreed by the ESPN.com king to provide this week's Power Rankings, this would be my Top 11 (everyone does a Top 10; we do 11):
1. Detroit: Best offensive team in hockey.
2. Boston: The B's will cool down a bit, but they can play any style. Pliable.
3. San Jose: Jan. 17. Red Wings-Sharks. Show us the money, Sharkies.
4. Washington: Like one of those giant cement balls on "The World's Strongest Man."
5. Chicago: Speed, toughness, skill, goaltending, coaching. For real, yo.
6. Calgary: Secondary scoring! I still think Miikka Kiprusoff has lost his fastball.
7. Philadelphia: If the Flyers find a goalie to lift them, they could lift the Cup.
8. Montreal: Hanging in the weeds. Careful.
9. New York Rangers: Chris Drury's leadership and Henrik Lundqvist's goaltending.
10. New Jersey: The emotional leader is its coach. That's O'Reilly stuff.
11. Vancouver: Mats Sundin + Roberto Luongo + deadline deal = threat.
Hockey Death
In January 2004, I wrote this:
"Here's the scene. Two NHL players. One 6-foot-4, 235 pounds. The other, 6-5, 241. One player lands a punch square on the eye of the other. The punch breaks multiple bones in the player's face and renders him instantly unconscious. As he falls backward onto the ice, his head hits with such force that ... later that night, he dies."
In January 2007, I wrote this:
"Even Ultimate Fighters have a padded surface. People die from hitting their heads on natural and artificial ice every year. It's why USA Hockey coaches now have to wear helmets in practice. What do we do if someone dies?"
Well, it wasn't in the NHL, but last week a hockey player died as a result of hitting the back of his head on the ice at the end of a fight. Whitby Dunlops rookie defenseman Don Sanderson was fighting Brantford Blast forward Corey Fulton during the third period of their Ontario Hockey League game (senior AAA, players who are older than 21 and are too old for junior level at the season's start) on Dec. 12.
During the fight, Sanderson's helmet fell off, and both players then fell to the ice, causing the back of Sanderson's bare head to hit the ice. According to reports, he was out cold for about 30 seconds before he briefly regained consciousness. He later fell into a coma, underwent brain surgery and was put on life support until his death on Friday.
We all knew this was possible. Every time I see two NHL fighters falling to the ice, with one player driving the other toward the surface, I cringe. It is times like those when I fear the worst. It is such a sad, sickening moment when a 21-year-old dies. That sentence froze me.
I'm done for now.
Weekly Tribute to Jack Falla
The following is an excerpt from Jack Falla's "Home Ice." Falla passed away Sept. 14, 2007. We'll honor his memory each week with a few lines from one of his classic books:
Jacques Plante shattered what for decades had been the First Commandment of Goaltending -- thou shall not bother a puck that is not bothering you -- in favor of leaving his net to intercept passes and gain possession for his defensemen. Goalies were supposed to wait for trouble and then deal with it as best they could. Thanks to Plante, today's goalies can stop trouble before it happens, but as with most innovations, Plante's wanderings were not well received.
The Mother of All Mailbags
Bucci,
I had the pleasure of playing hockey for Jack Falla's dad (Jack Sr.). He coached a pee wee all-star team called the Boston Jr. Braves that went to the annual international pee wee hockey tourney every year in Quebec City. Jack Sr. coached the club in the 1970s and early 1980s.
For a 12-year-old kid to have that opportunity to play in such a tourney at the Quebec Colisee in front of so many fans was fantastic. The Falla family made the tourney even more memorable with its enthusiasm and support for all the Boston kids and families who were fortunate enough to be able to participate. A great family and great memories!
Jesse Cooper
Charlestown, Mass.
John,
You may have already received this info, but right now "Home Ice," "Saved" and "Open Ice" are all available at www.tower.com. … I'm considering it a late Christmas present to myself.
Kirk
Elk River, Minn.
I've received numerous e-mails from readers asking how they can obtain "Home Ice." I hope this helps. Thanks, Kirk.
---
Bucci,
My buddies and I are loving this hot, new fad! Mr. Joel Quenneville's moustache. We are very pleased to see the Hawks are cruising through the NHL by using da Quenneville 'stache as a push broom to steamroll over their opponents. Teams better think twice if they plan on defeating da Hawks, because that moustache is intimidating!
Casey
Arlington Heights, Ill.
There is no question that the resurgence of the Blackhawks and the revitalization of this storied franchise and its passionate fan base are entirely the result of Joel Quenneville's moustache. It's what I like to call the "Q-Stache." I was able to get an exclusive interview with Quenneville's Q-Stache during the holiday week:
Bucci: First of all, I bow to your majestic presence.
Q-Stache: As you should.
Bucci: What mysterious powers do you and others of your ilk have? Why does your type help Jason Giambi hit home runs and Tom Selleck score with women (despite wearing Hawaiian shirts)?
Q-Stache: First of all, don't compare me to my facial follicle brothers. You'll notice they no longer reside on the lips of Mr. Giambi or Mr. Selleck. They lacked the staying power to make real change. Those stars have faded. Mr. Giambi was a bust in New York. Mr. Selleck peaked with "Three Men and a Baby." He should never have gotten rid of the 'stache.
Bucci: But explain your powers.
Q-Stache: It's simply the ultimate sign of manliness. I mean, look at Mike Ditka. What more does one need to say? Chicago is the city of broad shoulders and hairy backs. Ditka, Ozzie Guillen, Phil Jackson. They are our championship coaches, and they all had hair on their faces. What more needs to be said?
Denis Savard clearly was fired because he has the skin of a "High School Musical 3" extra. Way too soft. Hockey is a game of stink. I mean, what's more disgusting than a 'stache after devouring two crab cakes? That's what I'm getting at here. That's the visual, the vibe. Patrick Kane and Jonathan Toews are still poppin' zits in the mirror. They need a man in charge here. Outlaw Josey Wales Conference, baby! Woo! I am Chicago. You take me off Joel Quenneville's face, and you know what you have?
Bucci: What do you have?
Q-Stache: Bob Saget. The "Full House" version of Bob Saget. The Q-Stache rules. The sooner you understand that, the sooner we can move on.
Bucci: Are you Canadian?
Q-Stache: I put the Man in Manitoba, be-ahh ...
Bucci: OK! I get it! You have more testosterone than the Canadian world junior team. I get it. I really do. And I truly bow to your presence.
Q-Stache: You are free to go. The Q-Stache needs to go kill a raccoon. Q-Stache needs to eat, too.
---
Hey Bucci!
I'm a college student at Georgia Tech, and I've been playing hockey since I was 4. I was born in Montreal, but lived in the small town of St. Albans, Vt., (hometown of John LeClair, but you know that already) until I was 12 and moved to Atlanta. Anyway, I've got a few questions to ask you:
-- I play ACHA Division III club hockey for Tech, but recently I've found my desire to play diminishing. The stress of hockey and my push to graduate leaves me struggling to make the decision whether to quit playing competitive hockey (and join the beer leagues) or to try and stay in it. What would you suggest I do?
-- Lastly, I am a Dominik Hasek fan. I remember combing through boxes of hockey cards to find the one Dominator card that I didn't have, and I would end up buying a bunch of dups anyway because I wanted them all! Tangents aside, do you think he is a Hall of Famer? And I still contest that Brett Hull's Stanley Cup-winning goal was illegal. It still burns me up to this very day!
Whit
Good gosh, Whit. Your "desire to play diminishing"? I can't imagine ever even thinking that phrase, much less admitting it to a highly distinguished and popular hockey columnist. What would I suggest you do? Start by accepting the Q-Stache as your personal savior!
Is Dominik Hasek a Hall of Famer?!?!?! Is a gold medal, a Stanley Cup, six Vezina Trophies and two MVPs enough to warrant discussion? Whit, move back to Montreal immediately. Atlanta is hijacking your hockey soul.
Random music download tip: "Skinny Love" by Bon Iver.
---
Bucci,
While I was waiting for the family festivities to begin on Christmas, I was watching some classic Pens TV (Pens versus Bruins, 1991 Wales finals) and I was wondering if there ever was a better playmaking/hockey-mullet combo than Mario Lemieux/Jaromir Jagr in the early '90s.
Erick
Pittsburgh
The only thing better was when Randy Johnson and John Kruk played bubble hockey in a Tampa, Fla., biker bar in 1994.
---
Bucci,
I made a special effort to get to a Worcester Sharks game while visiting family in New England for the holidays to get a peek at the legendary pest, and I have to say I wasn't blown away. He still has the hands to play in the NHL, but he was outmuscled and outskated by the other team and his linemates almost every shift. The most telling sign that this is a bad idea is he wasn't playing the role of agitator at all. If there was a scrum after the whistle, his back was to it. I didn't see him working the gap in the elbow pad or behind the knee with his stick like he did in his prime. What's the point of Claude Lemieux if he won't piss you off? What's your take on Claude's possible return?
Eric
Charlotte, N.C.
I think it is very intriguing, but it's not what the Sharks need to beat Detroit. Or Chicago. San Jose has enough character. The Sharks need to prove they have enough playoff skill. Or are they show horses?
---
Hi John,
Hope you had a great holiday. I read your last 2008 column and noticed your Stanley Cup faves. All good choices, but I love how you left off the Calgary Flames. Sure, they'll likely choke in the first round again, but they have been one of the better teams for six weeks now. The team finally has more depth and balance than before. If the team can keep playing consistently to the playoffs, the Flames could surprise. Not the favorites, granted, but might not be that far off from being a true contender. Besides, any team with an inspired Iggy cannot be counted out.
Mario
All fair points. See the Bucci Power Rankings above, sponsored by Aqua Net Hairspray.
---
Hey John,
I was wondering what you think the odds are of the Penguins' going for Marian Gaborik before the trade deadline. I think he could provide the much-needed spark to the offense, kind of like Marian Hossa did last year. Also, I loved the new Ben Folds CD and the MGMT CD, and was pretty stoked to see you say you liked them, too. You should check out The Airborne Toxic Event's self-titled CD.
Cameron
Richmond, Va.
MGMT keeps getting better with each listen.
Gaborik's 2008-09 ship appears to have sailed. The Penguins are in trouble. I still think they'll will their way into the playoffs. They are notoriously a second-half team and have injured players returning to the lineup. They still need to jell, which could take some time. But even if they do improve, as I suspect, they won't be a playoff force unless Sidney Crosby and Evgeni Malkin play out of their minds and the playoff power play is 68 percent.
Marian Hossa is an elite player. Ryan Malone is sorely missed. I underestimated his contribution and game. He won't carry a team or a line, but he is smart and battles like a good western Pennsylvania boy. I've written here that I think Malone will regret leaving Pittsburgh and not actively trying to make something work to stay a Penguin. I think the Penguins have similar regrets. I mean, did anyone think Miroslav Satan was the answer? Malone is exactly the player they need right now.
---
Bucci,
I just read the column that included the note on Patrick Kane. I grew up playing sports with Pat's father and uncles in Buffalo. (They lived down the street from me and next door to my own uncle.) After our college and junior days, like any other hockey-playing bunch, we all played "senior league" (and most still do). Patrick was the right-hand man of his uncle Don, who was to us what Pat is to the Hawks.
Anyhow, young Pat would come to our games and hang out with the guys in the room and on the bench. There he was, 7, 8, 9 years old, shooting tape balls at me in the room (I was the goalie) and talking with all the guys just like he belonged. He was a great kid then, comfortable even at a young age, because he comes from a great family and he has always loved the game so much. That's the big thrill my three young sons get when they see him play, that he once shot tape balls at their dad way back when. Pretty cool for all of us from south Buffalo.
Tim Melligan
Woodstock, Ga.
I love these kinds of e-mails. They add a unique personality to this column.
---
Hey Bucci,
I am a bit less enthusiastic about my Canadiens than I was at the beginning of the season. It just seems like we're missing that sniper who can score a goal when you need it the most. We have good players, but not one GREAT player. Alexei Kovalev can be GREAT on some nights, but not often enough.
I am sending you a picture of my son, who was born on Dec. 18. His name is Jacob. In this picture, he is watching his first Habs game at home! The first of many to come!
Jeremie
"When I think about those nights in Montreal,
I get the sweetest thoughts of you and me."
-- "I Just Wanna Stop" by Gino Vanelli
(Amazingly and truthfully, Vanelli will be playing in concert at the Club Regent Casino in Winnipeg, Manitoba, on April 16!)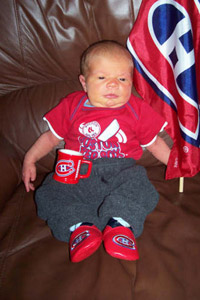 John Buccigross' e-mail address -- for questions, comments or crosschecks -- is john.buccigross@espn.com.