Shot of the Week
It's back. You know how it works: We present an NHL photo, and Bucci provides a caption. E-mail him your suggestions (include your name and hometown/state), and we will use the best ones and provide a new photo the following week.
LAST WEEK: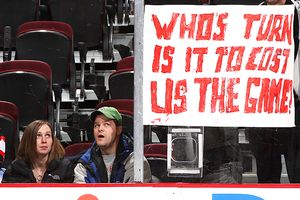 Senators fans 2, Grammar 0. (Courtesy: Getty Images)
Your captions:

"Who is turn is it too bye the nexed round of beer?"
-- Rob Scarpello (Buffalo)
"Oh crap -- here comes Chris Neil ... act natural, maybe he won't notice."
-- Yakko (Louisville, Ky.)
"A lot of empty seats, and seats near the ice. The chances should be good! Come on, Kiss Cam!
-- Don Young (Ponca City, Okla.)>
"Honey, sorry about spelling your name wrong on the Jumbotron, but will you marry me?"
-- David Montfort (Morristown, N.J.)
THIS WEEK: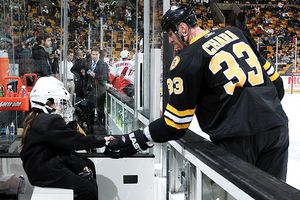 "Take these gummy bears and don't move until I'm done with work." (Courtesy: Getty Images)
There are NHL fans, and then there are hockey fans.
NHL fans watch their home team's games on their regional network, but rarely watch a national game involving two teams they don't root for.
Hockey fans watch every game on TV, including a Tuesday night Panthers-Thrashers tilt in standard definition. (I may have gone too far there.)
There are other things hockey fans do.
1. They sign up their sons and daughters for hockey to see if it takes. If it does, they spend the next 10 years driving across North America, early and often. This is less an act of sacrifice and love, but that's what is silently taught to Sparky. He will likely grow up humble, grateful and decent because he subconsciously witnessed selfless acts on a nightly and weekly basis from Mom and/or Dad (although Mom and Dad do it because youth hockey is so much fun to watch and the rink is such a warm place). A throwback in time to when communities were more tightly knit than isolated and shut in.
2. They skate outside. It takes toughness and love to brave the elements, as well as the uncomfortable act of tying stiff hockey skates with frigid fingers. Get through that, and you are flying. You are physically not on the earth. You are actually above the ground. You are flying.
3. They construct backyard rinks so that outside skate is mere steps away.
My backyard rink is up again here in Connecticut. The recent blast of arctic air has set us up for one of the finest stretches in Bucci Heritage Garden history. The kids have skated eight days in a row and 10 out of the past 12. Free ice, 30 feet from the back door.
It is amazing how your attitude toward winter changes after you construct your backyard rink. You instantly root for cold temperatures. The cold is your ally. You are not depressed by the short, dry, cold days and nights, but rejoice in them. Without question, my life is better with my backyard rink. I'm happier, more upbeat and more attuned to nature. I'm Henry David Thoreau with MGMT on his iPod.
The construction of a backyard rink is quite simple. You find a flat area for water to collect the easiest. My backyard has a decent pitch from right to left, so I had someone come in and install a 60-by-40 slab of asphalt. Those sport court things were out of my league. Back in the summer of 2001, I paid cash for my asphalt rectangle and got a good deal. You don't have to be wealthy. I told asphalt man, "Make it as flat as a pancake. I'm not worried about drainage." This probably isn't best for the surface, but it's been there eight years and I haven't touched it up yet. It still can take basketball and street hockey games in the summer. It might be time for a touch-up.
Once you have your flat surface, you simply surround the perimeter with boards. Mine are wood. I bought all of my backyard rink material from www.nicerink.com in 2001. They provided the brackets, which you put into the ground (before it freezes); the 2-by-6 boards, which slide into the brackets; the plastic liner, which drapes inside and over the edge of the boards; and the yellow bumpers, which tightly clasp over the boards and keep the liner from blowing into Rhode Island.
You have now created, in my case, a 60-by-40 swimming pool that's 2 feet deep. Actually, it's not a swimming pool until you add the water. This is where I grab the garden hose, drape it over a corner of the rectangle, turn on the water and wait. My water runs just under 24 hours in order to cover the surface. (I barely notice it on my water bill. Maybe that's because I stop showering in the winter.) Then, I wait for it to get cold. I actually don't put my liner in until I see a five-day forecast with temperatures in the teens and highs in the upper 20s.
Unfortunately, I have nary a tree in my backyard and the shadow of the house stops short of the surface. I'm convinced if I had shade, I would get 20-40 percent more skates. If it's 30-plus degrees, the sun softens the ice quickly. Especially for bigger people. My 195 pounds on a 35-degree sunny day will cause water to form on the edges. My son Jack and his 50 pounds can skate all day. The nighttime hardens the ice and morning skates are glorious, but I keep putting off planting some Alberta spruces along the near boards to cast a shadow across the ice. I think that would help. Maybe this summer.
I still have all of the original boards, brackets and bumpers from my initial purchase, but buy a new liner every year. That's my one expense. They are a few hundred bucks. One year, I tried to store the liner in the shed and use it again the following year, but there were just too many little holes and that is a disaster. There was no skating that year. Between pucks, skates and sticks, it's not worth the headache of having a liner with hole in it as you try to fill up your backyard rink. I would, and do, buy a new liner every year.
Like anything, you gain experience and knowledge as a backyard rink owner and develop your own style. For one, I no longer take down my boards. They stay up year round. In fact, I nailed them right to the brackets for extra stability. The boards don't interfere with basketball and enable Rollerblade and street hockey to take place in the summer. I also bought a shooting pad for us to shoot pucks off of in the summer.
Keeping the boards up year round saves an inordinate amount of time and labor. In December, I simply lay the liner in, even and smooth it out so it tucks up against the inside of the boards with as few wrinkles as possible, clasp the yellow bumpers over the sideboards and staple gun the liner to the taller end boards where the net is. That whole process takes about half an hour. In the spring, I punch a hole in the liner, and the water slowly drains out. I throw the yellow bumpers in the shed, take out the liner, fold it up and throw it on the curb for bulk garbage pick up. Done.
Despite my original orders to the asphalt man, there is still a slight right-to-left pitch to my rink, but it works out fine. The water heads down to the left and slowly fills back to the right. I don't even have boards up on the right side of the rink this year. There is a slight hill where the earth was removed to create and level the 60-by-40 court and it works just fine. The rink is probably 18 inches deep at the left end and slowly decreases to about 6 inches on the right. Even Stephen Leach.
The results are heaven. I started a journal of our backyard skates in 2001-02, but discontinued it after ESPN lost the rights to the NHL in 2005. I must have been in mourning. It's time to start up the journal again. My kids have grown -- Brett is now 16, Malorie 14 and Jackson 9. The neighborhood kids have also grown. Our first skate was at midnight on Jan. 1, 2002.
Here are some entries through the years:
Jan. 1, 2002: Midnight skate with Brett (9) and Malorie (7). Full moon, Jupiter and the stars … skated New Year's Day. Jack (2) tried and cried. Brett, Marcus and Joshua played shinny. Sunny and 35.
Jan. 5, 2002: Skated after Brett's squirt game. Brett's friend Kyle Benson [now high school teammates] came over. Malorie skated, too. Shot some basketballs on skates. Partly cloudy and 30.
Feb. 20, 2002: Took the boards down. One of the warmest Connecticut winters on record. Six total skating days.
Dec. 5, 2002: Malorie (still 7) woke me up at 7 a.m. to go skating before school. Brett joined us. Entire rink frozen solid in early December! An awesome half hour of skating before school. The year is off to a strong start.
Dec. 10, 2002: I've skated five out of the last six days. Brett and his friends skated after school. It's started to rain. I wonder how long until we skate again.
Dec. 17, 2002: 30 degrees and sunny. Brett skated while I was in Philadelphia watching the Flyers and Stars.
Dec. 18, 2002: 30 degrees and sunny. Seventh day of skating, already surpassing last year's total. I skated at 3 a.m. after coming home from a late "NHL 2Night."
Jan. 10, 2003: Brett, Malorie, Jack and I went out for some night skating. A beautiful night. Jack (3) is starting to shuffle on his own. He is very determined.
Jan. 12, 2003: Brett and I hit the ice at 7:30 a.m. after his 6 a.m. squirt practice. We skated for 90 minutes. Brett took a two-hour break, ate, and went back out at 11 a.m. and skated for three hours with friends Marcus and Joshua. Brett also had a game at the local rink at 4 p.m.!
Feb. 25, 2003: Cold, sunny, windy and 20 degrees. Me and the kids skated, but it was bumpy from the rain, wind and subsequent re-freeze. The end is near. [That was the 30th and last skate of 2002-03.]
2003-04: Year 3. HOLE IN THE LINER. NO SKATING! My Dad of the Year Award chances went right out the window.
Dec. 21, 2004: Year 4. Sunny and 30 degrees. Brett, Jack, Malorie, Marcus, Dana, Christina and Steven Wang all skated on the rink to start the 2004-05 season.
Dec. 25, 2004: Sunny, calm and 20 degrees. First Christmas Day skate, although it was only for about 20 minutes. The temperature was 53 degrees two days before and the ice wasn't quite ready.
Jan. 27, 2005: Frigid, sunny and 10 degrees. At about 5:15 p.m., Brett, Malorie, Jack and Daddy had a fun time weaving and passing the lighted puck (it flashes when you make contact with it). Playing some shinny on the backyard rink with my three children was the best birthday gift imaginable.
Jan. 31, 2005: Sunny, calm and 30 degrees. This is the seventh straight day of skating. A new record. After school, the kid donned Santa hats and Mom took pictures for next year's Christmas card. Dad put on his skates and it was shinny time. One of the best late-afternoon skating days of the year. The ice was firm, the passing quick and there was NO WHINING!
So, there it is. Some warm recollections from beautifully cold days. And so, it resumes again.
I have a new energy for the backyard rink this year. The journal is back and I will continue to document the days. After all, the Squirt is now in high school. The daughter is in high school, too. Jackson, who learned to shuffle and then skate on his backyard rink, is now a squirt who got his first career hat trick this year. Yes, my line of three is growing bigger and the days of watching them skate with complete freedom and joy are growing shorter. That realization energizes me. Good parenting takes great energy. The more energy you have and show, the better your kids will be for it.
Yes, time is running out. At the same time, while my energy makes me more alive -- makes me happy -- the inevitability of my growing children saddens me. It makes my chest ache.
The days, like winter, are growing short. Time is melting.
Gotta go skate.
Weekly Tribute to Jack Falla
The following is an excerpt from Jack Falla's "Home Ice." Falla passed away Sept. 14, 2008. We'll honor his memory each week with a few lines from one of his classic books:
The backyard rink also served, at times, as a family life preserver, uniting us in a common project on which everyone's help was needed and willingly given. Even today, when Barbara and I have what sociologists oxymoronically call "adult children," our phone calls and conversations with Brian and Tracey are peppered from October to March with questions about the rink: "How many boards are up? ... Do you think we'll beat the frost? ... Cold enough to flood tonight?" And the two most frequently asked questions: "How's the ice?" and "When are you going to buy a freaking snowblower?"
The Mother of All Mailbags
John,
I see by your column that your rink is up and running. I'll look forward to seeing your pictures. Brian Falla has the main ice down on Jack's rink and should be able to finish it off this weekend with the cold moving in. I am heading up there in a few weeks with the idea that we will be able to skate. I will be at the Falla rink on Saturday, Feb. 7. Brian and Tracey will be there visiting their mother. Patrick, Jack's brother, may also make it. I'll be coming up with the skates Jack writes about in "Open Ice." If the weather cooperates, we will skate; if not, we will visit.
Doc Kelly
John,
I feel a twinge of guilt writing this, as I had forgotten to check your weekly column recently, but in hearing that Jack Falla had passed, I felt compelled to write. I was fortunate enough to enjoy a six-week sports journalism course at BU prior to my senior year at Boston College (yes, it was tough taking the B Line down to the other campus). Luckily, I was able to be taught by Jack Falla over that time, which helped set me on my current path in the sports world.
Thanks for the weekly tribute, and now, as I watch the Blackhawks, I'll think of Jack, who used to wow us with his stories from his days at Sports Illustrated and hanging out with Wayne Gretzky.
Bill Potter
"One of the greatest problems of our time is that many are schooled but few are educated." -- Thomas More
---
Dear John,
I would just like to know who are your halfway-point NHL award winners? Thank you and I look forward to reading your answers.
Christopher Rautner
These change on a monthly basis as the unknown emerges from the uncertainty of the future. Pass the beer nuts.
MVP: 1. Ovechkin; 2. Malkin; 3. Datsyuk
Norris: 1. Boyle; 2. Chara; 3. Green
Vezina: 1. Mason; 2. Thomas; 3. Nabokov
Calder: 1. Mason; 2. Ryan; 3. Berglund
Adams: 1. Julien; 2. McLellan; 3. Keenan
"Don't aim at success -- the more you aim at it and make it a target, the more you are going to miss it. For success, like happiness, cannot be pursued; it must ensue ... as the unintended side-effect of one's personal dedication to a course greater than oneself." -- Viktor Frankl
---
Yo Bucci,
I hear the Q-Stache is squaring off with Chuck Norris. We'll need at least five counties cleared our for that brawl!
Chris O'Brien, M.Ed., ATC
I shudder at the carnage.
---
John,
I can't believe no one has mentioned the possibility of putting this event in Michigan Stadium. After they finish up the renovations in 2010, you invite Toronto and Detroit, and let two rivals have at it. I know they did this at Michigan State's stadium, so why not move it to a larger stadium and have two Original Six teams go at it.
Josh
Indianapolis
I think having an attendance of over 100,000 appeals to the NHL, as well. With the outdoor game being so hot right now, it might be worth skipping a baseball park for a year and go for the gigantic attendance at a college football stadium.
---
John,
Wish I had my camera at the Saddledome last weekend so I could have taken a picture and sent it to you. A fan was wearing an old-school Flames No. 12 jersey with "IGINLOOB" on the back.
Steve Saunders
Oh. My. God. Best. Sweater. EVER!
---
Bucci,
I have had my first extreme spine-tingling hockey moment of the year. It was Bobby Ryan's third goal of the game against the Kings the other night. We know you love each team, but spread a little love for our Ducks and take a look at the goal. If your spine stays intact, you're a better man than I. Got to be the nicest goal I have seen in a long time. The last one that did this to me was Alexander the Eight's goal while not looking and sliding on his backside.
Rick Allen
Bobby Ryan's goal in Los Angeles is certainly one of the goals of the season. Blake Wheeler's amazing goal in St. Louis also comes to mind. Ryan has had many jaw-dropping offensive moves this season around the net. It is startling how his game has come around, validating Brian Burke's selection of him as the second overall pick of the 2005 Sidney Crosby draft. Players taken after Ryan include Jack Johnson (third), Carey Price (fifth), Devin Setoguchi (eighth) , Anze Kopitar (11th) , Andrew Cogliano (25th) and Paul Stastny (44th).
There is still plenty of time for players to develop from the 2005 draft. Some of these players are 21-22 years old. But if that draft were held right now on what we've seen so far and what we can reasonably expect based on a conservative curve, my draft would look like this. (We can't simulate need; that would change things.)
1. Sidney Crosby: Will go down as one of the best of all time.
2. Carey Price: Great goaltenders are vital. Price is a step away from great.
3. Bobby Ryan: Haven't seen him? You should. Monster ability.
4. Anze Kopitar: Only 21. He has regressed this season as he tries to learn to play two-way hockey.
5. Paul Stastny: Point-per-game machine. Steady.
6. Devin Setoguchi: Admittedly, he plays with the ideal center in Joe Thornton, whose nickname should be "ATM" (the man who makes his wingers rich).
---
Hey Bucci,
First off, I was elated to see your Bon Iver plug. "For Emma, Forever Ago" is a tremendous solo effort and it's nice to know a musical sage such as yourself appreciates it.
Anyway, I just watched "Pond Hockey" for the first time last night (what an awesome Christmas present!). I was amazed at how well it appealed to more than just the visual. While watching, you can almost feel the cold, crisp air blowing through your hair and taste the distinct sensation of a deep draw of fresh, arctic air. And, maybe best of all, is the orchestra of steel blades on black ice. Wow.
The point that it really drives home for me is how great hockey people are. I know you have written before about the outstanding character of NHLers, especially compared to other sports professionals. What "Pond Hockey" shows you is exactly how this humility and dignity is born and bred and the one individual who epitomizes the hockey way of life more than any other, the late, great Jack Falla. A truly great film for any fan of hockey.
John Joe
St. Louis
Hey Johnny B,
I've got some music I think you should check out if you haven't already:
The Teenagers
Panda Bear
Of Montreal
Some might be too out there for ya, but there are at least a few AWESOME songs in the mix.
Daley
Bucci,
Just saw someone mention the Airborne Toxic Event in your mailbag. You have to give that band a listen. We have them in high rotation in the office along with MGMT, The Black Kids, Low Vs Diamond and The Tender Box. Can't miss with any album in that bunch.
James Korandanis
Bucci,
Love the column man. I also love great tunes. But I have a beef with you. Where's the country? Not even the obligatory Johnny Cash reference that all non-country fans claim to like. I can't get enough of the stuff and I'm born and raised in the Bay Area. I like everything from Joe Diffie and Alan Jackson to Kenny Chesney and Gary Allan. You'd like some of it, I guarantee it. Hey, if it's good enough for Joe Pavelski, it's good enough for Bucci!
Dan Pera
Joe Diffie's "John Deere Green" is one of my all-time favorite songs. I know every lyric of Randy Travis' first three CDs. George Jones, Alan Jackson, Garth Brooks, Restless Heart, Brooks and Dunn, Blackhawk and others are in my CD collection. I love the simple storytelling, wit and rural feel of country music. I attended Heidelberg College, soon to be Heidelberg University, in northwestern Ohio -- about two hours south of Joe Louis Arena and 90 minutes north of where the Columbus Blue Jackets play. We were surrounded by cornfields and quarter-draft nights. Towns like Tiffin are very much like small Canadian towns. Cold beer, warm people and a sense of community.
---
Hey Boochie,
Love your columns, loved you on "NHL 2Night" and, well, no more use of the word love. Do you think the Bruins will try to land Jay Bouwmeester from Florida? That is my hope and I am curious of your thoughts. Thanks.
Josh Stone
Adding Jay Bouwmeester to any team would be an upgrade, but I don't see a fit in Boston unless the Bruins traded a Mark Stuart, another young player and a draft pick. I don't know how the math adds up, but Bouwmeester's cap number is $4.8 million, so the Bruins may have to do something else. I guess it's possible, but unlikely. The Bruins would likely not be able to re-sign Bouwmeester because of cap issues. I think the more interesting question is what is Bouwmeester's market?
Wade Redden and Dion Phaneuf both have $6.5 million cap numbers, so one would think it would be around there. I would take Bouwmeester before Redden, but certainly not Phaneuf. Bouwmeester is still just 25 and is starting to amass double-digit goal totals and has proved to be a durable player. Durability is sometimes a byproduct of someone who doesn't play a physical/courageous game. That will be for GMs to judge. One would think Bouwmeester will get a five- or six-year deal at about $6-6.5 million a year next summer. I'd be more comfortable at $5.5-6 million, but what's $500,000 between millionaires?
---
Bucci,
Do you think any of Anaheim's current players will one day have their jersey hanging in the Honda Center rafters?
Todd Nelson
Anaheim
Wow, what a great question. Jean-Sebastien Giguere and Teemu Selanne are the only players who are worthy right now. We will have to see if any of the young players stick around for 10-15 years and keep producing at current levels. Paul Kariya falls short to me. He certainly was important in launching the franchise, but the holdout and leaving the Ducks after they didn't tender him a $10 million qualifying offer are big negatives to me. He did play 600 games in Anaheim. If the Ducks decided to raise No. 9 to the rafters, I wouldn't be surprised if it happened and wouldn't stage a protest. Kariya is the only Duck to wear No. 9.
---
Hi John,
I was just reading some Sens articles online from an Ottawa daily and it was bleak. I have heard more optimism coming from economists during a severe recession than what I read out of Ottawa these days. What's your take on the Sens' season so far (just how bad are we?) and is there anything to hope for? Please, unlike Coach Hartsburg's seemingly endless optimism, I would prefer a cold-hearted and honest opinion. Like my whiskey, give it to me straight, John.
Nate A.
An NHL scout told me the Senators are shopping everybody and a Jason Spezza-to-Los Angeles trade is being theorized.
---
John,
As a big Islanders fan, I have one question -- when will they be good again?
Josh Kirschner
Bet Shemesh, Israel
I will go with 2010-11.
"If we all worked on the assumption that what is accepted as true were really true, there would be little hope of advance." -- Orville Wright
---
Hi Bucci,
This is Casey. I was the one who wrote to you about Joel Quenneville's 'stache. I just wanted to say that you have made our whole year -- and by "our" I mean my friends and I. We bow to you and I give you my thanks! We have been laughing about the Q-Stache's majestic presence non-stop since your post last week.
I have attached a picture of us at the Hawks-Flyers game the day after Christmas. To show our love of the Q-Stache, we all wore fake grey moustaches with a sign that read: "Guess what I got for Christmas? Quenneville's moustache."
And, yes, that is my girlfriend, Laura, and, yes, she is also wearing a Buff jersey under her jacket, as well as sporting a Q-Stache. Talk about keepers!
Casey Borresen
Arlington Heights, Ill.
Q and A.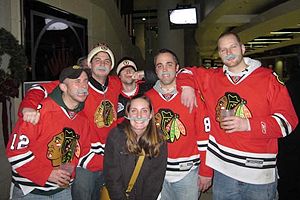 John Buccigross' e-mail address -- for questions, comments or crosschecks -- is john.buccigross@espn.com.