Shot of the Week
It's back. You know how it works: We present an NHL photo, and Bucci provides a caption. E-mail him your suggestions (include your name and hometown/state), and we will use the best ones and provide a new photo the following week.
LAST WEEK: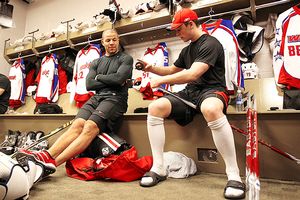 "Sandals and socks? OKKKKKK." (Courtesy: Getty Images)
Your captions:

"Hmm ... wonder what a pair of thigh-highs would look like?"
-- Ian Urquhart (Rochester, N.Y.)
"I'm telling you, they prevent spider veins and keep my legs silky smooth!"
-- Anthony Weiland (Lockport, N.Y.)
"OK dude, I seriously can't concentrate on this stick-taping lesson with you rocking those nylons!"
-- Jason Moore
"I'm serious, Jarome. If you Jazzercise before the game, it really gets the heart pumping."
-- Trent Stromberg
"You should have gotten the long-sleeved one ... it came with these muscles."
-- Brad Pietropola (Pittsburgh)
THIS WEEK: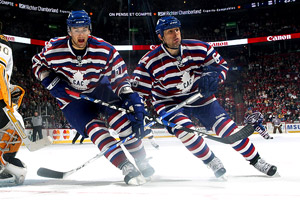 Jailbreak! (Courtesy: Getty Images)
Herb Brooks.
No other name is more synonymous to USA Hockey. In some ways, that illustrates the problem of expanding hockey in the United States. The biggest name in USA Hockey is a coach. There have been great U.S.-born players but no iconic names that have a story, game and persona to help the NHL game burst through to reach more fans. Then again, maybe it doesn't matter. I suppose some people think, or could be convinced, that Sidney Crosby is from Painesville, Ohio, or Oneonta, N.Y. Crosby would fit in both of those communities.
Even if the best player in the NHL is someday born and bred in the foothills of the Appalachian Mountains, Brooks will remain a force for all time. He was an interesting and unique character who was part of an extraordinary moment in North American sports history. Brooks is a great story, and it is no wonder multiple authors have taken on Brooks and his story.
The notable books are:
"The Boys of Winter: The Untold Story of a Coach, a Dream, and the 1980 U.S. Olympic Hockey Team" by Wayne Coffey and Jim Craig.
"Remembering Herbie: Celebrating the Life and Times of Hockey Legend Herb Brooks" by Ross Bernstein.
"America's Coach: Life Lessons & Wisdom for Gold Medal Success: A Biographical Journey of the Late Hockey Icon Herb Brooks" by Ross Bernstein.
And now, the latest one: "Herb Brooks: The Inside Story of a Hockey Mastermind" by John Gilbert.
The St. Paul Pioneer Press wrote of this latest Brooks book, "The book fans of Herb Brooks waited nearly 30 years for has finally reached bookstores. … This book reminds us how much everyone in the hockey world misses Brooks, who died in a car accident on Aug. 11, 2003, on his way home from a hockey fundraising golf event on the Iron Range."
I just got a copy of Gilbert's biography, and, so far, it is a great read. When I really get into a book, I periodically think, as I go through the day, how much I look forward to going home, falling into bed and continuing the book. That joy is right there with singing a Ben Folds song in the car with my 9-year-old son, Jackson. ("Kylie From Connecticut" and "You Don't Know Me" are our current favorites.)
As a hockey author myself (What? You haven't heard of or bought "Jonesy" yet? Order now after you buy the latest Brooks book), I like to give hockey books some pub so that you know they exist and because I know it's difficult getting the word out.
To get more perspective on "Herb Brooks: The Inside Story of a Hockey Mastermind," here is an e-mail exchange between Gilbert and me. There are some awesome nuggets in this exchange. Read carefully.
Question from Bucci: Explain your unique qualifications to be the author of a book on Herb Brooks.
Answer from Gilbert: I got to know Herbie when he was still playing on U.S. national teams, and I wrote hockey at all levels for the Minneapolis Tribune as he became an assistant and then a head coach. So I've written about him through every team and every year he coached. But Herbie had hundreds of close friends and many media friends. The thing that set us apart was that we both harbored a somewhat secret admiration for the way the Soviet Union approached hockey. Although, in the early 1970s, if you expressed admiration for the USSR's Red Army, you were treated like a Communist!
So, Herbie, having played against them, and I, having watched their skill and style with amazement, established an added connection of behind-the-scenes tactical and system discussions. We both knew where the other stood on that style. So when he started installing practice methods leading toward that, I always expressed support and admiration for how it worked.
Bucci: What are some of the nuggets in the book that perhaps help the reader learn a different side of Brooks?
Gilbert: Tracing his techniques, from being aggressively tough enough to show their skills, to conditioning and system demands, and to a capability to imagine the possibilities of perfection of his unique "sophisticated pond hockey," is the overriding theme of his coaching. The background nuggets, including elements of his stubbornness, his constant insistence to always challenge his players while defending them to outsiders, are less known.
Beyond that, his surprising appreciation for movies such as "The Sound of Music" and "Willy Wonka & the Chocolate Factory" show a softer side of the man. Also, unknown things, such as his incredible dedication to turning his yard into a meticulously arranged garden, which always ranged between being perfect and being completely torn up for the latest redesign, are perfect metaphors for his coaching.
Bucci: What would Brooks be doing today if he were still alive? Where was he headed in the hockey world?
Gilbert: Without question, Herb Brooks should be coaching a prime NHL team in the face of contrary traditions that keep suppressing pro hockey, and he also could have found time to reorganize USA Hockey's tradition-bound atmosphere to help generate a true U.S. hockey style.
Herbie's insatiable desire was to help upgrade the status of hockey in the United States. That included making players the best they could be, but also to coach the coaches to the point where they could offer players at the grassroots level a chance to rise to an elite level. Still, he was also driven by a desire to coach an NHL team to a Stanley Cup, but he had reached a point where he would only coach his way, without compromise. The egos that run hockey teams are too insecure to turn a team over to a headstrong and aggressive coach who might push the envelope.
Nearly everybody in pro sports compromises in order to keep his job, while Herbie refused to give up his ideals, and his chances of finding a management/owner combination that was secure enough to go with him were seeming less and less likely.
Bucci: Give us a behind-the-scenes story about the 1980 Olympics that we didn't see in "Miracle" or read about in any of the 1980 Olympics books.
Gilbert: The movie "Miracle" was great, and everyone gives them leeway for their "poetic license." My book points out some things that happened in the movie -- including my favorite scene -- and then describes what really happened.
When he refused to return to the press conferences because a New York newspaper columnist said he was coming without any players for his ego's sake, the movie makes it look like a pleasant split. In reality, he was steamed and put the media into his personal "adversary" list for the rest of the games. Nobody knew he met me in the arena manager's office after every game, which was neat for the Minneapolis Tribune at the time, but in light of the gold medal became a collection of priceless notes.
So, in the wonderful scene in "Miracle" after the U.S.' upset the Soviets, Herbie's character slumps to the floor in the darkened corridor. It was emotionally gripping -- but hockey fans will get an enormous kick out of learning what really took place after that game … he was waiting for me in that little office.
Also, the legendary call of Al Michaels -- "Do you believe in miracles?" -- which Al himself claims was his special idea in case the upset was completed, could be better attributed to a great memory than great inventiveness. Fans who still are understandably enthralled with all that happened at Lake Placid, as well as players on the 1980 U.S. team, will also be fascinated to learn what happened on the U.S. bench immediately after the victory over the Soviets, when all but one of the players already had gone over the boards to celebrate.
Bucci: Give me a "State of Minnesota Hockey" address, and compare it to the glory days of Herb Brooks.
Gilbert: Minnesota hockey is healthy and flourishing, despite the ever-present challenge created by overzealous parents, self-centered coaches and administrators, and a USA Hockey structure that tries to encourage the best young high school stars to leave their schools and go to national development camps. Those camps are excellent for every state except Minnesota, where high school hockey remains the purest form of the sport and the best stepping stone to social and hockey maturation. True, elite players chosen for those camps improve, but they are already elite players. I agree with Herbie's stance that identifying elite players is not the same as developing them.
Same with junior hockey, which should take players at age 18 after their high school careers if they still need a year or two of development to reach the college level. The high school structure allows those players to learn how to be the best in their school, their community, and for lifetime memories and respect of their teammates, and it enhances their development in wholesome and intense circumstances without the risk of burnout that has become a factor in the overstressed development structures. Not to be overlooked is that the good players on every team play up to the best players' level as the season progresses, so the presence of a few elite players sprinkled around on different teams helps the whole situation.
Skimming off the best dozen or so underclassmen from Minnesota high schools every year can only erode the most productive breeding ground for young U.S. players. True, teams can bring up a JV player who gets a chance to play on his high school team, but ask any NHL, college or junior hockey observer if he thinks his team is as good with its best players removed. The recent development of special high school elite hockey programs before and after the high school seasons has proven to be a perfect compromise to increasing the number of high-intensity games for the best players, if they choose to stay at their high schools.
Bucci: Amen.
Weekly Tribute to Jack Falla
The following is an excerpt from Jack Falla's "Home Ice." Falla passed away Sept. 14, 2008. We'll honor his memory each week with a few lines from one of his classic books:
"The unmotivated, the undisciplined, the weak do not take 8 a.m. classes, and on the rare occasions when a few have tried, they haven't lasted long. The ones who stay the course are an interesting and admirable group who share the culture and language of sport. One of sport's oldest mantras -- 'You've got to play hurt' -- is so much part of their character that I almost never had a writer use illness as an excuse for a missed assignment or class. Indeed, I once had a student, now a promising young TV sportscaster, sit through a class while holding his left shoulder, which I later learned had been dislocated in an intramural football game the night before. He was on his way to the infirmary. But he went by the classroom."
The Mother of All Mailbags
Bucci,
I was lucky enough to have Falla as a teacher my senior year at Boston University. I took his sports journalism course, and I think it says a lot about the man that in my four years at BU, his was the only class I was willing to take that began at 8 a.m. The early wake-up call was worth it. Jack Falla's passion for writing, sports and hockey, in particular, was infectious. Being the only female in his class that semester, he made a point of challenging me in class and with my writing. I think it's the kind of thing only a father of daughters would do, and I still thank him for that today. Here's hoping that his new place has a backyard rink that's always fresh, always frozen and always ready for a skate-around.
Nancy Diener
Chicago
---
John,
As promised, attached are some photos of the Portland Winter Hawks' trip to the outdoor rink in Enterprise, Ore., this week. We have lots, so please let me know if you want to see more. The trip was fantastic. The town showed us incredible hospitality, and several hundred people showed up to watch us practice, and then got on the ice with us themselves.
Graham Kendrick
Director of media relations
Portland Winter Hawks
---
Bucci,
Which of the following players do you think will get traded at the deadline, and where do you think they will go -- Bouwmeester, Lecavalier, Fernandez, Tkachuk, Kovalchuk, Kaberle, Alfredsson/Heatley/Spezza, etc.?
Justin H.
Westborough, Mass.
OK, quick, top-of-my-head musings to the above trade question:
Jay Bouwmeester: The Panthers have to make one more face-to-Bouwmeester's-face contract offer. If he says no, they'll have to trade him. They need to understand they cannot win the Stanley Cup finals this season and need to trust they are going in the right direction and can make a nice leap with a trade. Edmonton seems like a nice fit with its collection of young players. So does Ottawa. Bouwmeester for Spezza?
Vincent Lecavalier: I would explore a trade to Montreal along with Martin St. Louis for players such as Tomas Plekanec, Christopher Higgins, defenseman prospects and at least one first-round draft pick. Lecavalier and St. Louis will eat up $13 million of cap space starting next season. That money could be used to go after multiple young assets. It also should ensure the Lightning will plummet enough in the standings to get a good shot to be part of the John Tavares/Victor Hedman draft lottery. St. Louis will turn 34 in the summer. Lecavalier, who will turn 29 in April, has been playing very well lately. The Canadiens need this jolt. I really believe it will be best for all parties.
Manny Fernandez: Trading Fernandez certainly could land the Bruins a first-round pick or a depth defenseman. Fernandez will be a free agent in the summer, so that takes some teams out of the mix because they can get him for nothing this summer. He would really help a team like Detroit, but I think the Bruins will hang on to Fernandez for depth purposes in the playoffs. The Bruins have a realistic shot at a Stanley Cup, their first in 37 years, and with the way Tim Thomas plays and how much he puts into each game, you wonder whether he would have a problem staying fresh for two months.
Keith Tkachuk: He still has game and looked pretty good against the Wings on Monday night. He'll be a free agent again in the summer, so the Blues could trade him and then sign him again in the summer if both sides believe it is still a good match. Who could use Tkachuk? Believe it or not, I think the Bruins would be a good fit. He gives them playoff grit insurance. He wouldn't have to play every single playoff game and would be REALLY energized playing in Boston and playing for a team with a real good chance at a Cup. Buffalo, Anaheim and Pittsburgh also would be good fits.
Ilya Kovalchuk: Kovalchuk has an inviting $6.3 million cap number this season and next. He easily could be dealt to a number of teams at the deadline -- Montreal, Pittsburgh, Los Angeles, Vancouver and others come to mind. But I think Kovalchuk either will sign an extension with Atlanta or will be dealt at, or the night before, the draft in June, when the Thrashers will have all the GMs in one place to drive up the price. Plus, at that point, the Thrashers will know where everyone's picks will be.
Tomas Kaberle: Kaberle will miss at least four weeks with a broken bone in his hand, so that complicates things a bit, but one would think he would be good to go come playoff time. He has a good cap number at $4.2 million and is the type of defenseman who would virtually help a team. One could see him helping New Jersey, New York Rangers (would they trade Marc Staal for him?), Carolina, Buffalo, Anaheim, Dallas, Columbus and others. I think he will be dealt somewhere. Kaberle has a no-trade clause and has expressed little interest to waive it. Perhaps GM Brian Burke can use his powers of persuasion.
Daniel Alfredsson/Dany Heatley/Jason Spezza: This is really interesting. The Senators have no goaltending and no defense, and therefore will be no threat in the Eastern Conference for years to come. They will lose Filip Kuba's and Martin Gerber's contracts (a combined $6.7 million) after this season and won't need to be concerned with any restricted free-agent contracts.
Heatley has a $7.5 million cap number for five more years after this season, while Spezza has six more years at a $7 million hit. Certainly, trading all of the big three would bring a barge-load of younger, cheaper talent to Ottawa. The Sens could get multiple first-round draft picks. And if they were to trade the big three, or at least two of them at the deadline, they would almost guarantee giving themselves great odds of getting Tavares or Hedman. (Tavares and Hedman will be the top two picks in the draft and, I believe, will be impact players.)
The Senators could choose to trade someone such as Mike Fisher and his $4.2 million cap number instead of breaking up the big three and use the $11 million of space during the summer and make a run at Bouwmeester and Fernandez. Everyone would love to have Heatley and Spezza. I don't think the Senators would trade Heatley unless he were to make it very clear he wants out. Los Angeles would be a player in any trade because it has assets and cap room. A deal that at some point would send Spezza to Los Angeles feels right. Whatever happens, it will be interesting to see which hard decisions Ottawa makes.
---
Hi John,
You know the question. With [Henrik] Zetterberg locked up, can Kenny Holland manage to keep Marian Hossa and Johan Franzen? What if the salary cap comes down? If Holland can't work his magic, which player has better odds of staying with the Red Wings?
Greg
Let's assume the NHL salary cap is $55 million next season and completely overanalyze the situation.
One dimension of the Red Wings' salary-cap planning for 2009-10 will include whether Nicklas Lidstrom retires after this season. Keep in mind, Lidstrom will turn 39 in April. Now, my "Lidstrom retiring?" mentioning is not breaking news, a developing story or a this-just-in bulletin. I'm not retiring Lidstrom today, but we certainly are within that window. One wouldn't think the six-time Norris Trophy winner would leave $7.4 million on the table (that's his salary for next season), but Lidstrom will be 40 when the 2010 Stanley Cup playoffs begin, and he has made enough money for his grandkids to pay the Jonas Brothers' grandkids to wash their cars.
So, there are two scenarios to consider when pondering the Wings' roster and salary-cap situation for next season: (a) No Lidstrom, or (b) Lidstrom at the same $7.4 million salary.
1. Let's pretend Lidstrom retires. The Wings would have Pavel Datsyuk at $6.7 million, Henrik Zetterberg at $6.1 million and Brian Rafalski at $6 million for their big-ticket items next season. The rest of the under-contract roster would bring Detroit to about $40 million committed to next season. That would leave the Red Wings with about $15 million to spend. Hossa has said publicly he wants a long-term deal. He just turned 30, so he probably is looking for at least five years at $7 million per. MAYBE the Wings could go seven, eight or nine years and throw those tiny salaries at the end of the deal as they did with Zetterberg to bring the cap number down to $6 million.
Then they'd be at $46 million but still would need to re-sign Jiri Hudler and Franzen. I should think Franzen would want a Ryan Malone-type deal (six or seven years, $5-6 million early in the deal and a lower figure later for a cap number at about $4.5 million). That would bring the Wings to $50.5 million. Hudler is a restricted free agent and certainly deserves what Valtteri Filppula makes ($3 million a year), considering Hudler has almost twice as many points this season.
Then the Wings' payroll would be at $53 million. They'd be just about done, but they'd still have only Chris Osgood under contract next season in net. What if the Red Wings were to come to an organizational decision that they need to sign someone such as Fernandez or some other goalie in that $4-5 million range? What is helping the Wings this season is that they are spending $2.1 million on BOTH goalies! If that number goes up next season, it would make all these re-signings even more difficult. It shows how tight things are for the Red Wings even if Lidstrom were to somewhat unexpectedly retire.
2. If Lidstrom doesn't retire and requires the same $7.4 million next season, the Wings' payroll would be at $47 million before Hossa, Franzen and Hudler are signed. This probably would mean Hossa would be gone and the Wings could creatively keep Franzen or Hudler. Or maybe they could sign Hossa and let Franzen go via free agency and trade Hudler. Maybe these three will shock me and somehow get to an individual cap number that is way lower than the one I am forecasting.
So, Greg, looking at all of that data, it is possible, but highly questionable, that the Wings would be able to sign both Franzen and Hossa next season. They'd have to shed some salary from the likes of Hudler or by trading of someone under contract next season. A gift retirement from Kris Draper and Kirk Maltby ($2.4 million combined) could give that cap number to Hudler, and owner Mike Ilitch could sign Draper and Maltby to personal-services contracts spread over a few years to pay for the salaries they took off the books by retiring.
Isn't this fun? I will now shove a broken Koho down my throat.
---
John,
I hope you don't mind, but last night I was at dinner with my wife. I ordered the chicken parm sandwich (local bar, great food). After the dinner arrived, I exclaimed "Winner, winner, chicken parm dinner!" and she just about shot her martini out of her nose thanks to laughter. The use of the phrase helped make it a good night out. Thank you for bestowing this gem on us.
Brent H.
Missoula, Mont.
To quote James Taylor, "That's Why I'm Here."
---
John,
Instead of banning fighting, couldn't the NHL just set a maximum number of fighting majors for a player per season? After 10 (or some number) fighting majors, the player would be suspended for the rest of the season, but the team would still be responsible for his salary. Under these rules, the people who fight occasionally and are still contributing on the ice wouldn't have to change their game, and teams would no longer waste a roster spot on a so-called "enforcer."
Scott
Pittsburgh
I have written in this space for years that the NHL could simply eject players for fighting like in other sports. There would still be fights in the NHL if fighting were banned. I suppose the danger in this is that you could have nonconsensual fights, or a second-rate player could engage a first-line player and the first-line player would get ejected for defending himself. Maybe video replay could be used to determine whether a player is simply defending himself and whether that player could stay in the game. You also could have ugly stick incidents or players jumping other players with blind-side cheap shots.
Wherever you stand on the fighting issue, you have to agree NHL fights are nearly always consensual and fought ethically, however ironic that sounds. An argument against banning fighting is you may lose those ground rules and get more serious injuries than you do in the current situation. Hockey fighting is different than other spots because of the hard surface of the ice and razor-sharp skate blades. It is such a complex and fascinating debate/discussion/argument, but I do believe we are in the very, very early stages of an NHL in which fighting is banned, but there will still be fights.
---
Hey John,
I have some HHOF questions for you. First, do you think Dave Andreychuk is worthy of a spot in the Hall? Second: Phil Housley. HHOF-worthy? Also, I loved your book, "Jonesy." I read it on the plane ride to Boston from Santa Barbara, Calif., and then gave it to a dear friend to read in exchange for a car ride. He was elated!
Robert W. Boileau
Andreychuk is interesting. He ranks 13th all time in regular-season goals (640) but made only two All-Star teams and only twice finished a regular season among the top 10 goal scorers in the NHL (fourth and ninth). That is not really a Hall of Fame résumé. But before researching the numbers, I would have said yes, perhaps because he is a pleasant and engaging man with good manners to go along with his career goals.
In a situation such as Andreychuk's, you must do what you do with every Hall of Fame voting situation. You look at the players eligible and pick the best ones from the players who are at least in the conversation. All these players bring something to the team of Hall of Famers. Longevity matters. It shows a love of the game and an ability to adjust. I believe there will be a year when Andreychuk gets in. It takes all kinds to build a Hall of Fame.
Housley, like Andreychuk, played in a golden age of NHL offense, the early '80s to the mid-'90s, but was a career minus-53. That, as well as a very average postseason résumé, works against him. But seven All-Star Game appearances and 1,200 points probably will get him inducted eventually.
Upon further review, that "Jonesy" plug is allowed because, technically, it was not made by the author, and therefore a hockey fact is not required. But I'm a softy. Past five Selke Trophy winners: Datsyuk (2007-08), Rod Brind'Amour (2005-06 and 2006-07), Draper (2003-04), Jere Lehtinen (2002-03).
---
John,
The Fredonia State Blue Devils will once again be donning the pink jerseys for their second annual "Pink the Rink for Breast Cancer" awareness night, this Saturday, Feb. 7, against conference rival Buffalo State. I have attached a photo from last year's game. I was hoping you could spread the word for this great cause.
Christopher Dearth
Director of admissions
SUNY-Fredonia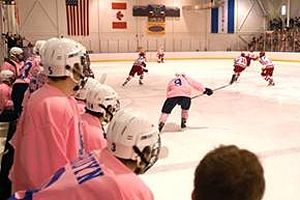 ---
Bucci,
While reading your latest column and mailbag rant on hockey celebrations, I noticed you forgot one crucial aspect of the goal celebration: It's a team celebration. Although some will do the Tiger Woods fist pump (Chris Drury) and others will jump into the boards (Mr. Ovechkin), the majority of goal celebrations are a huddle of the players on the ice. I love to see exuberant team celebrations, which is largely missing in the other sports. That's why hockey goal celebrations are the best.
Rachel
THAT is a terrific point, Rachel. That is one of the more beautiful aspects of hockey -- the inclusiveness of on-ice celebrations. You are right, Rachel. In other sports -- football, basketball and soccer -- we see scorers seek out solitude on their own self-constructed stage to draw attention to themselves. The celebrations seem based on anger or braggadocio. Swagger is celebrated. In hockey, humility is valued. Alex Ovechkin is just as excited when a teammate scores as when he does. Speaking of Ovechkin, as long as he or any fans do NOT get injured, I would love to see Ovechkin score a goal, hurl himself at the glass and have the glass shatter. Again, as long as there are no injuries, that would be very cool.
---
Hi Bucci,
I am disappointed that you did not mention the Devils as a team that can beat the Bruins in the playoffs. When Marty Brodeur returns, this is the best Devils team since 2003 and maybe even since 2001. True, the defense does not have studs, but it is a solid group, top to bottom. You would be hard-pressed to find many teams that have two top offensive lines as the Devils have. Elias is returning to his top form, and Parise and Zajac are constantly getting better. Brian Rolston is on the third line, and Brendan Shanahan and his 652 goals (and Bobby Holik) are on the fourth line! Not too shabby. I like the Devils' chances in a playoff series against any Eastern team.
Mike
Midland Park, N.J.
You should like the Devils' chances, Mike. They are experienced, deep and nasty. Zach Parise is an elite player. Travis Zajac's game has taken a jump this season. Bobby Holik is back to his in-your-face, on-the-edge game. Coach Brent Sutter has resurrected Holik and others. That's why Sutter is my coach of the year right now. Patrik Elias always has been one of my favorite players. No Devil should ever wear No. 26 after him.
The Devils are dangerous because they can play multiple styles. They have skill and sandpaper. They lack a dynamic presence on the back end, both physically (Scott Stevens) and skillfully (Scott Niedermayer), that they had when they contended and won championships. Still, they are certainly in the mix in the East. I still like the Bruins a little bit more if the two were to meet in a best-of-seven series, assuming both clubs were healthy.
If I were to assign Bucci's Top 3 Power Rankings for the Eastern Conference, it would be Boston at No. 1, just a shade in front of Washington. Then, the Devils at No. 3.
---
Hi John,
I have printed out excerpts and labeled it Bucci Wisdom; it hangs in my cubicle. You continue to be the single greatest hockey column available. Quickly, two things. First, Marc Savard was absolutely hilarious and highly entertaining during All-Star weekend. Down the road when the NHL inevitably returns to ESPN, you must make it a point to have him join you on "NHL 2Night" as an analyst as soon as he retires. Lastly, my wife and I are expecting our first child (boy) in eight weeks. I like strong, simple names. The beautiful other half goes for unique. Any suggestions?
Kris Robin
Rhode Island
Brooks Samuel Robin.
---
Bucci,
If the NHL wants to continue to grow in the U.S., it needs to take advantage of a glaring gap in the sports schedule in the States. The MLB's spring training is off until late February. The NFL's Super Bowl is done by early February. March Madness doesn't begin until, well, March. The NHL could use this lull in February to augment its fan base and create added excitement for the existing base with the NBA being the only real competitor.
This would involve the following -- setting a cutoff date and taking the top four teams from each division at that time and have them play each other in a mini-tournament with games worth more than the regular two points. The games would give every team more incentive to play hard and a new opportunity to move up in the standings.
Steve Chernoski
I like it.
---
Bucci,
The Q-Stache may be exceptional, it may be a wonder of the world all its own, but there is another. Who in the NHL has the mustache to unseat your precious Q-Stache? Why, the Detroit Red Wings' own Paul MacLean. You cannot deny the power of the MacStache. His Wilford Brimley-esque 'stache not only can make oatmeal on its own, but it could also fight off even the most staunch offender of 'stache.
USFC: Ultimate 'Stache Fighting Championship. Q-Stache versus MacStache. A battle for the ages. A battle for the ages.
Matt Amberg
Seattle
Paul MacLean has a tremendous 'stache, but I'm sorry, it falls short of the Q-Stache. The Q-Stache is like Bo Jackson in his prime -- a freak-of-nature mesomorph. I see the MacStache more along the lines of an endomorph 'stache, and that just can't compete. That's like an NFL guard trying to chase down Bo Jackson. Ain't happening.
"Courage is resistance to fear, mastery of fear -- not absence of fear." -- Mark Twain
---
Bucci,
Longtime listener, first-time caller. I am ridiculously good-looking, love sports and can read. I have a robust-sized head (not quite as big as Scott Van Pelt's, though), which I hear is a benefit while appearing on TV. Thus, I feel I am a tremendous fit for ESPN. Is broadcast journalism, or something of the like, a necessity to get a job at ESPN? How did you work your way up the ladder? Are they ever going to bring back "Dream Job"?
Kyle
NYC
I question your career chances off the bat, Kyle, because of your observational skills. Scott Van Pelt actually has a smallish head. I have a large, oddly shaped head. Pay attention to detail!
My career path:
1. I worked at the now-defunct cable news service on Cape Cod, Cape 11 News, to start my "career." There were about eight of us, and we used typewriters. My career began as grunge music was introduced to the world. I ate pasta just about every night. I was at Cape 11 News for a little more than five years and earned poverty wages as defined by the state of Massachusetts and the U.S. government. I had a wife and two children and made about $19,000 a year. We qualified for free cheese. Seriously. I remember my biweekly paychecks were $583 and my rent was $500. But I was very happy and loved my job. I recall all the days as sunny. To this day, I've never been career-oriented, always family-oriented. I lived for the day. In hindsight, this was probably immature and not very prudent.
2. My second television job was in Providence, R.I. I was there for two years. It was a great experience. Providence is a great city. I got to cover the Patriots, the Red Sox at Fenway Park, Tiger Woods' second U.S. amateur win in Newport, the NCAA Frozen Four, the last NHL and NBA games at the Boston Garden, a team from Rhode Island that made the Little League World Series final and lots of other great experiences. A lot in life is about timing, and luckily, the early portion of my television career was just before local TV began de-emphasizing local sports. ESPN, the Internet, cable news networks and other factors all led to local TV's decline. Cape 11 News is no more, and it's more difficult to find a good starting job to get your repetitions and experience. This was just pure luck for me.
3. Another bit of luck was ESPN's starting a 24-hour network called ESPNEWS in 1996. This meant it needed to hire 10 to 15 anchors to cover all the shifts. This was like NHL expansion. More jobs and more opportunity. Again, the timing was perfect. I was 30 years old, and there was an entire new network starting up. I remember sending ESPN a résumé tape, but I never believed I would get hired. I was too dumb to see that this incredibly successful and growing brand name would need workers to keep growing. I sent the résumé tape and just forgot about it. ESPN was the big leagues. I didn't have the self-esteem or confidence to think I could be there, but at the same time, I always visualized it.
When I played little league in Pennsylvania, the Pittsburgh Pirates were what ESPN would come to be. I would never be a Pirate; since ESPN was the best of the best, I would never be on "SportsCenter" the way I would never bat in front of Willie Stargell. But I earned an audition, and when I walked out the door here in Bristol, Conn., I thought I had the job. I interview well because I pay attention to detail, like understanding the true size of Scott Van Pelt's head. So, I'm able to carry on conversations with a variety of people about a variety of subjects.
Those are the nuts and bolts. Like I said, I've never been career-oriented or concerned with money or status. I just wanted to create things involving sports and music, like this column, and enjoy life. If sparrows can survive without pockets, cell phones or 401Ks, we should be somewhat assured we can make things work and have a good time doing it. My job philosophy isn't too complicated. In my three jobs in 20 years, I've called in sick twice. I show up and play hurt. And I love what I do. And of all the things I've done in my meaningless career, this column is the most satisfying and meaningful to me.
---
Dear Mr. Buccigross,
Thanks for the article about backyard rinks. I grew up in Alberta and never skated indoors until college. Now, my girls get the same backyard treat. Although asphalt would have been nice, it was vetoed by my wife. Instead, the landscaper made certain the yard was flat as a pancake. Plywood boards support my liner and helped with the snowbank look. No hockey stars in my family, but plenty of smiles over hot chocolate.
Happy skating,
Ben Wedro
Snow globe.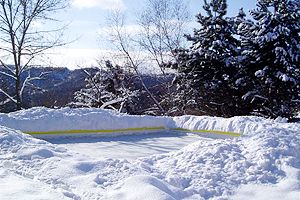 John Buccigross' e-mail address -- for questions, comments or crosschecks -- is john.buccigross@espn.com.