This week's blogumn was delayed a couple of days so we could react to the NHL trade deadline day proceedings. Let's look at the deals that went down on Wednesday.
• Smallish guy who plays on the perimeter. O'Sullivan is making the same money as Cole this season ($4 million), but his salary goes down to $2.3 million next season, which is why he has a cap number of $2.9M. His game kind of stagnated this season, so maybe the Kings thought he is what he is, and that Oscar Moller is a better player.
• Erik Cole returns to Carolina, where he played to well with Eric Staal. He only has 38 goals in his past 136 regular-season games, so we will find if he has lost a step on the outside or will reclaim his game and get back to that 30-35 goal rate. Cole is an unrestricted free agent this summer, so he is playing for a contract.
• Back-to-back 30-goal seasons and a really good playoff run back in 2006 (7-11-18 in 25 games). He gets paid $3.5 million a year over the next two years. If healthy, he is a better player than O'Sullivan and at a good age (27) to provide some experience and hunger. The next two years are important years for Williams.
• Kotalik is an unrestricted free agent after this season. He is a big, good skating forward with a big shot. I like this trade for Edmonton because they don't have a player like Kotalik. I tell you, Edmonton has a lot of very questionable contracts. This team is destined to be average for a long time.
• The Sabres were not going to re-sign Kotalik after this season. Jason Pominville's cap number goes to $5.3 million, Ryan Miller's to $6.2 million and Tim Connolly gets $4.5 million a year despite concussion and back issues. I thought Jay Bouwmeester would have been a good fit here, but that is obviously not going to happen with the Sabres' salary situation.
• Not only is Kyle McLaren still in the NHL, he is only 31 years old. He has been in the minors all season, but does upgrade from Worcester to Philadelphia.
• Moen and Huskins are free agents after this season. They are both big dudes. Moen, a grit guy who will be good for the playoffs, plays the left side and helps fortify the Sharks' third line. Huskins provided some depth on the blue line.
• Nick Bonino is a prospect many scouts really like. He currently plays for the top-ranked Boston University Terriers, a team with multiple future NHL players. Bonino grew up about 20 minutes from ESPN here in Connecticut.
• Noah Welch ... welcome to Tampa Bay, where the employees are charged for parking.
• Eminger has played pretty well for the Bolts at times this season and replaces Nick Boynton, who was sent home by the Panthers while on their last road trip.
• This guy was a fantasy hockey monster during a stretch this past season. This seems like a bit of a salary move to me. He is basically the same player as Upshall, except Carcillo fights more. Carcillo makes $893,000 next season, while Upshall is a restricted free agent coming off a $1.2 million season.
• I suppose Upshall fills a need for the Coyotes as an energy-grit guy, but only at their price for next season. I guess they got the second-rounder for giving the Flyers a player with a cheap contract number for next season.
• The Sabres needed some depth at center, and there is an outside chance he could be back next season if he fits in well.
• Getting a second-round pick for Dominic Moore is close to astounding. Here are some second-round picks from the past few drafts: Paul Stastny, Mason Raymond, Milan Lucic, David Krejci, David Booth, Loui Eriksson, Shea Weber and Duncan Keith.
• Tampa Bay also offered three cheerleaders to be named later, a no-initiation fee membership at Bear Mountain Golf Resort and the "Saw" series on VHS.
• It's French for Richard Petty. Hopefully, he wears No. 43.
• This is a good pickup by the Hawks. Pahlsson is rugged and responsible. He is a free agent after this season.
• This is an excellent Scrabble acquisition by the Ducks.
• He scored 50 goals for Kamloops playing Junior. Maybe the Ducks acquired him to convince him and train him to be Samuel Pahlsson. It's not glamorous, but you can play a long time in this league if you do.
• I'm writing this column on my O-Dell laptop.
• I guess the Rangers got him for the power play. Power-play goals this year for Morris? Zero. You can't get anything by GM Glen Sather.
• Nigel Dawes has scored goals at every level of hockey he has ever played in. If he played full time with Shane Doan and Peter Mueller, he would score 25-30 goals.
• Great size at 6-foot-6. He was close to useless as a younger player. Got to love his career playoff scoring line: 2-3-5 in 28 games. He is not the finisher the Rangers need, but he will score goals around the net. Had he been with the Rangers from the start of the season, Antropov would have led the Rangers in goals. That's a definite upgrade ... and explains the current state of the Rangers.
• This is a solid move by the Bruins. Recchi is an energetic player who is still a good set-up man at age 41. Considering the Bruins have a nice group of finishers, Recchi is a nice fit. Considering the Bruins have drafted Krejci, Lucic and Patrice Bergeron in the second round, acquiring a second-round pick in the deal, primarily for Matt Lashoff, was a nice move.
• The Bruins are deep at defense and Tampa Bay is not, so this is a great chance for Lashoff to play and help the Lightning next season.
• The Penguins had to do something to add some sandpaper to their top two lines, and they've done it by adding Chris Kunitz and Guerin. Both have won Cups and both can also score. They are not Ryan Malone and Marian Hossa, so the Penguins probably won't get back to the Cup finals; but this should get Pittsburgh into the postseason. The Pens are the one team the top three seeds in the East do not want to face in the first round.
• The fear for Islanders fans is this pick ends up playing in Kansas City.
• Ken Hitchcock will turn Kevin Lalande into a five-time Vezina winner.
• Olli Jokinen has never played in an NHL playoff game. Barring injury, he will this spring. He was the best player to change teams on deadline day and gives the Flames a center with size who can score and be a great power-play threat. The Flames have been playing well lately and this could really give them a push heading into April.
• The Coyotes are in full rebuilding mode again. Poor Shane Doan. I'd love to seem him traded to Pittsburgh in the offseason. He is needed there, his $4.5 million cap number is perfect for them and he will get to experience playoff hockey. I know he is uber-loyal and wants to see this through in Phoenix, but it would be great for the Eastern Conference to get to know him.
• Turns 29 in August. Wow, where has the time gone? He is a free agent this summer. It would be nice for him to sign with the Wild. The Wild are still in the NHL, right?
• I think the Avs will be busy on draft day. Jay Bouwmeester would look good in this uniform.
• Was part of Calgary's 2004 Cup finals run. Will punch you in the face if you try to take the remote control away from him. A former Erie Otter. What's not to love?
• The Finnish Samuel Pahlsson.
• The Columbus Blue Jackets' first two first-round draft picks were Rostislav Klesla and Pascal Leclaire. The Minnesota Wild's first two first-rounders were Marian Gaborik and Mikko Koivu.
• Perfect Ken Hitchcock guy. Good size, good skater and he can go see "Paul Blart: Mall Cop" in Westerville, Ohio, without anyone bothering him. A cap number of $2.7 million through next season.
• Plenty of Tellqvist jerseys over the border, Buffalo. Or not.
• And this trade ... sums up the 2009 trade deadline day.
Weekly Tribute to Jack Falla
The following is an excerpt from Jack Falla's "Home Ice." Falla passed away Sept. 14, 2008. We'll honor his memory each week with a few lines from one of his classic books:
"I am grateful to Matt, Smitty, Keith Fleming and others who have grabbed a shovel, marched to the front and performed vigorously. Their willing generosity reflects well on them. And on their parents. As for the third group ... well, shirkers we shall always have with us. But I don't think about them much. It is enough that I know who they are and that, in their hearts, they know I know. Paradoxically, while I credit the parents of the Smittys and the Matts and others like them, I don't blame the parents of the shirkers. Shirking is a reaction. Shoveling is a choice."
The Mother of All Mailbags
John,
My dad, Harvard Hockey 1938, and the man who taught me to skate over 50 years ago, died recently at the age of 92. In preparing a eulogy for his memorial service, I remembered your excerpts from Jack Falla's "Home Ice" and used the story of his son Brian breaking away from him at age 14 during a spontaneous race, to try and convey how I felt about losing my first coach. I just wanted to say "Thanks, Bucci."
David Eaton
Portland, Maine
---
Bucci,
Love your stuff, but I believe your missing the point regarding Sid's comments about Ovie. Go back to the game the teams played in January, and Ovie was taunting the Pens' bench after third-period goals, specifically Crosby. I'm all for celebrations, but he should stick to celebrating with teammates instead of taunting opponents. His routine was similar to that of Ilya Kovalchuk's boneheadedness (is that a word?) during Crosby's rookie year. There's a difference between exuberance and taunting. Your thoughts?
Troy
Miami
Lots of Alex Ovechkin/Don Cherry/Sidney Crosby/celebration e-mails this week. More below.
---
John,
It was an interesting discussion of personality you examined in last week's column. I have my own opinion of Crosby's workmanlike attitude, but it is somewhat colored by my own bias since I am fan. Since the kid was double-digits in age, he has garnered excessive media coverage, which increased exponentially after Gretzky's impulsive comment about Crosby being "the next one." Since then, the poor guy has had the weight of huge and unreasonable expectations thrust upon him in regards to his celebrity persona as the game's next transcendent star, his availability to the media and his on-ice play. The scrutiny his life has received is enough to break an average adult. And Crosby has had to deal with this since he was still a boy.
I think this is the reason for what we see today. The ice has never lost its appeal, but the weight of life outside can dampen one's enthusiasm, and the pressure to perform and appease the voracious media machine can become distracting. I know it sounds melodramatic, but I think Sid has been taught to be so PC to fulfill his role as hockey's savior -- placed on him by people with the game's best interests at heart but not those of a still maturing young man's -- that he has been saddled with too large a burden. He never has had an opportunity to screw up and be a young man because he has been hockey's "Golden Boy" since he was 15. I believe we will see more sliding backwards (just a little, even not playing at his best he is one of the best players in the league) until he has a little room to grow.
This is why I am so glad to see Ovechkin step into the limelight and embrace it so thoroughly. I hope he will give Sid that little opening to collect himself somewhat and find that love and enthusiasm that originally drove him to excel. It's amazing to me to think what he will accomplish after that as he has performed so well at all the tasks that have been set before him so far.
Chris
Atlanta
"It takes courage to grow up and become who you really are." -- e.e. cummings
---
Bucci,
It sure looks like Sidney Crosby isn't having any fun. There's an old story that suggests why he doesn't care for exuberant celebrations -- he has been burned when he has done it himself. Supposedly, Don Cherry ripped him on "Hockey Night in Canada" after Crosby scored a goal lacrosse-style, picking the puck up off the ice and backhanding it in a junior tournament, and he was never the same afterwards.
Crosby needs to stop worrying about his image and tell the league, the media, the Flyers, the Capitals, etc., to shove it. He will never win that battle anyway -- he should have never let anyone tag him as "The Next One" since the Gretzky-worshipping Canadians will never forgive him for it. They don't even regard him as a real Canadian (except when he leads them to Olympic gold) -- he's a Maritimer. Quebec native Mario Lemieux received the same treatment.
Rich
Bethel Park, Pa.
"I am only one, but I am one. I cannot do everything, but I can do something. And I will not let what I cannot do interfere with what I can do." -- Edward Everett Hale
---
John,
During the broadcast of the San Jose-Montreal game, Don Cherry addressed the Ovechkin-Crosby war of words from last week. I was kind of shocked to hear him compare The Great 8's post-goal celebrations to the actions of Sean Avery. I understand some people wanting NHL players to adopt the NFL policy of "act like you've been there before," but is that really what the fans want from the NHL's biggest star? So, my question to you is, is it just excitement and good for the game, or too much over-the-top sideshow antics?
Ben
Purcellville, Va.
Did I start this thing last week?
There is a lot here to sift through:
Goal celebrations: It takes a lot to offend me when it comes to goal celebrations. From Avery's push-ups to Teemu Selanne's shooting his tossed hockey glove like he was quail hunting back in his rookie season, that stuff just doesn't offend me that much, to tell you the truth. First of all, it's not an epidemic. If it happened more, I probably would feel differently about it.
Now, I understand how it can offend some in the hockey community, especially older people like Don Cherry. Most of that comes from nostalgia. We find comfort in our generation. It is familiar and comforting. Cherry comes from a time when everybody pretty much looked alike and thought alike.
We have addressed NHL celebrations a lot in this space this season. We have proclaimed that goal celebrations are 99.9 percent all-inclusive, team-orientated events. We have announced how we don't like "look at me" celebrations we see in soccer and the NFL. It still makes my stomach turn to watch Santonio Holmes of the Pittsburgh Steelers perform his LeBron James powder-in-the-air imitation seconds after his historic and amazing Super Bowl winning catch. It is amazing and disturbing to me, in such a historic and exciting moment, Holmes would have the presence of mind to perform an irrelevant and lame one-man-show skit. Why wasn't he instantly hugging his quarterback for throwing the ball? Or the offensive linemen who anonymously enabled his Sports Illustrated cover catch to occur?
Ovechkin: First of all, if he is committing a sin as a result of his exuberance, it is hardly a mortal one. He scores, takes his mouth guard out, raises his left hand, slides along the ice on his knee and, sometimes, jumps up against the glass. He then quickly hugs and smiles with his teammates. When a teammate scores a goal, Ovechkin is equally as jubilant, usually the first one to offer heartfelt congratulations.
I find nothing phony or insincere about Ovechkin after he, or one of his teammates, scores a goal. It's an amped-up world and an amped-up game. The arena atmosphere is all about adrenaline. In fact, take out the "D" in adrenaline and the first five letters spell "arena." Ray Bourque loved scoring goals. He got down on one knee and did a windmill motion with his arms like he was waving in the go-ahead run. Wayne Gretzky LOVED scoring goals. Everyone -- players and fans -- goes a little nuts when a goal is scored; that's because it's so hard to score!
Now, hurling oneself up against the glass seems like a little much at times, but at least it is based on joy. Nothing saddens me more than an athlete doing something that helps them or their team, and he or she responds with an angry scowl or arrogant indifference. We see it when baseball players hit home runs and basketball players dunk. We even see it in golf now when Tiger Woods hits a big putt.
I've always experienced the most joy and inspiration out of watching the athlete who is joyful. It's probably why I always rooted for Sugar Ray Leonard as a kid. He looked like he was giving maximum effort and was having fun. Go back to the 1986 Masters, and all of Jack Nicklaus' reactions were joy-based and filled with smiles. What did Mark Messier do after he scored the third goal of his Game 6 hat trick goal against the Devils in the 1994 Eastern Conference finals? He smiled and skated to the bench to hug his teammates. Still my all-time favorite goal celebration.
We also forget how young these players are. They are still trying to find their way and figure out what's important and what matters. Ovechkin is Peter Pan. He is a performer and a showman like Cherry. Now, there is a chance Ovechkin's act could grow tired and his celebrations become ill-timed. He will have to pay attention to his act and make sure it remains organic and does not become a contrived side show. He will. In the meantime, be joyful, No. 8. Love the game. Here we are now, entertain us.
---
Bucci,
My wife and her son (my stepson) made me watch a movie tonight. It was called "Hot Rod." I have one thing to say to you ... Sidney Crosby looks just like Andy Samberg.
Gregory Peak
Cincinnati, Ohio
Good to return to the IMPORTANT e-mails.
---
Mr. Buccigross,
How about a shout out to the Northeastern University Huskies? The season to date (from a Beanpot final appearance to consecutive ties against BU) has been a long time coming. For those of us fortunate enough to watch this team evolve over the last two-plus years, this season is pure sweetness. Also, can we get a little Brad Thiessen love? The kid is an absolute rock and the team is carried on his shoulders. Brad, keep up the great play.
Matt
NU Alumni
Washington, D.C.
Northeastern is in first place in Hockey East. It plays Boston College twice this weekend to wrap up the regular season. Brad Thiessen is among the candidates for the Hobey Baker Award.
---
Bucci,
What do you think about the deal the Pens made with the Ducks? Chris Kunitz is a solid forward, but I'm thinking they could have gotten a little more for Ryan Whitney, a first-class defenseman.
Nick
I liked the trade right away, Nick. As we have talked about in this space all season, the Penguins had a defenseman glut to make this kind of deal. Kunitz is signed for one fewer year and has a cap number that is $250,000 less than Whitney. The Penguins also received prospect Eric Tangradi in the deal, which is noteworthy because the Penguins have an issue with organizational skill and depth at wing. Kunitz will be a 26-33 goal scorer playing with Evgeni Malkin or Crosby. The question with Kunitz is, will he be a playoff performer? With a team like the Penguins, that's the most important thing. He has just one goal in his past 19 playoff games. There are factors that can contribute to such numbers, but facts are facts. If the Penguins make the postseason this spring, and I think they should, I would think Kunitz will produce.
---
John,
I was going to suggest Avery Schreiber's 'stache as a worthy opponent to the Q-Stache, but two things happened ... 1) You gave some very convincing arguments against a very similar 'stache in Lanny McDonald; and 2) I found out Avery Schreiber is no longer with us, and I'm not a big fan of hypothetical matchups like, "How would this year's lineup fare vs. the '27 Yankees?" Plus, he's wasn't involved with hockey (at least, not to my knowledge), so I apologize if I've gone too far off subject.
Brad
Findlay, Ohio
You've gone too far, Brad. For the record, I had dinner at an Applebee's in Findlay, Ohio, last September.
Avery Schreiber was a regular guest star on "Chico and the Man." He was also a frequent guest on the game show "Match Game" and appeared in an episode of "The Muppet Show." He passed away seven years ago.
---
Attention All Mailbaggers,
I now have a man-crush on John. His treatise on NHL stereotypes needs to be saved as one best comparative analysis "entertainment" articles I have ever read.
Joe Cicalese
Coral Springs, Fla.
I can't take the pressure. I quit this column.
Hey Bucci,
Frankly, you're not my favorite hockey columnist, but I do read you every week.
Peter Morden
OK, I'm back!
---
Bucci,
Did you know that if the Kings and Ducks both make the playoffs this season, it will be the first time that has ever happened? Hard to believe, yet true. Do you think that needs to happen before the SoCal rivalry kicks up a notch to full-speed hatred? Or are we too laid back out here for that?
Anaheim Andy
One series wouldn't quite do it. I think it would take about 10. But at least it's a start.
---
Hey John,
I've always wanted to shoot you a line since I started reading the column a couple years ago, but I never found the right time or right thing to mention. But now, I have, and I just wanted to say I completely agree with your Jim Hughson comments from this past week's column. Hughson is by far the best play-by-play man in the sport and your argument for best in all sports isn't going to be countered by this guy. I just wanted to ask, who else you thought deserved to be up there with the Jim Hughsons of the game?
Scott
London, Ontario
No one has the effortless language skills of Mike Emrick (Devils, NBC, Versus). I love Ken Daniels' (Red Wings) cadence, inflection and voice. John Forslund (Carolina) is like ESPN's Dan Shulman, and one of the best and most overlooked and underrated voices. I love Ralph Strangis (Dallas), and Randy Hahn (San Jose) makes every moment sound important. And I love Jack Edwards (Bruins) because he is completely insane. My kind of dude.
---
John,
Points on your recent Mt. Rushmore column. Well done, with the exception of:
-- Doug Harvey with bleu, blanc, et rouge over Guy Lafleur. Harvey is considered as one of the top two defensemen of all time and has seven Norris Trophies.
-- John Vanbiesbrouck with the Panthers over Roberto Luongo. Yes, Luongo is better, but Beezer did much more for the team.
-- Tom Barrasso for Pittsburgh over Malkin. Not only does Barrasso have two Cups, but he accomplished much more in Pitt than Malkin has to date.
Jack Seney
Harvey is a fair point. Six Cups and five in a row. The Beezer is the right call. That was my bad. Fair point on Barrasso, but Malkin will go down as a first-ballot Hall of Famer.
---
John,
I've said it before, and I'll say it again. When does Duncan Keith start getting Norris talk? 8-25--33 with a league-leading plus-32. This guy is the undisputed underrated king of the NHL right now. I'm as big a fan of Patrick Kane and Jonathan Toews as anyone, but if Duncan doesn't play for the Hawks, they're fighting for the playoffs instead of sitting comfortably in the No. 4 slot.
Mickey
Chicago
---
JB,
This is a picture of my son, Landon Barry Glur, at about 25 hours old. We were in the hospital still and as you can see on the TV in the background, we were enjoying his first Wild game. He had a little trouble understanding offside, but we have lots of time for him to figure that one out.
And no, "Barry" did not come from Melrose, but rather my father-in-law. However, if he starts growing a mullet and asking for pinstripe suits by age 4, we will know something is up.
My loving and dear wife Kristin took this picture from her hospital bed. Just to mix a little music into the hockey column, I met her in 2005 at an outdoor Jack Johnson concert.
Darren Glur
Howard Lake, Minn.
There's no combination of words
I could put on the back of a postcard
No song that I could sing
But I can try for your heart,
our dreams, and they are made out of real things
like a shoebox of photographs
with sepia-toned loving
Love is the answer
at least for most of the questions in my heart, like
Why are we here? And where do we go?
And how come it's so hard?
It's not always easy and
sometimes life can be deceiving
I'll tell you one thing, it's always better when we're together
-- "Better Together" by Jack Johnson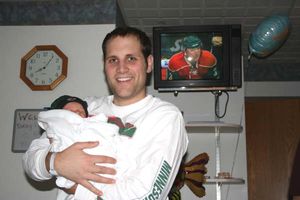 John Buccigross' e-mail address -- for questions, comments or crosschecks -- is john.buccigross@espn.com.