Shot of the Week
It's back. You know how it works: We present an NHL photo, and Bucci provides a caption. E-mail him your suggestions (include your name and hometown/state), and we will use the best ones and provide a new photo the following week.
LAST WEEK: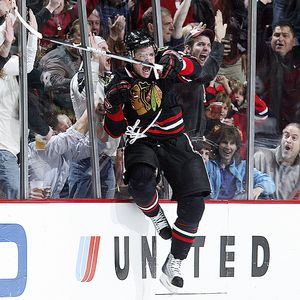 NHL customers display their disgust at another NHL player's throwing himself against the glass in excitement. (Getty Images)
Your captions:
A player screams. ...
Fans claw at the glass, powerless to save him. ...
One delusional onlooker gasps in anticipation. ...
The Q-Stache is coming.
-- Matt Kolb (Morgan Hill, Calif.)
"A MOUSE! A MOUSE! HEEEEELLLLLLPPPPP!
-- Tony Del Priore (Nashville, Tenn.)
"Damn Panthers fans. When did they start throwing live rats on the ice?!"
-- Jason Cheseborough (Coconut Creek, Fla.)
"That's not a celebration, Ovie. THIS is a celebration!"
-- Chris Ford (Iqaluit, Nunavut, Canada)
"And Sheldon Souray winds up for the slap shot ..."
-- Scott Bremner (Edmonton, Alberta)
Now THAT was a hip check!
-- Robert Skrydlak (Omaha, Neb.)
THIS WEEK: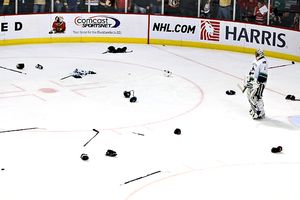 Roberto Luongo was confident he could post a shutout on "Naked/No Equipment Hockey Night." (Getty Images)
This past weekend, I performed a duty for ESPN that has become the highlight of my employment at the Worldwide Leader in Melrose. For the second straight year, I did play-by-play with Barry Melrose for the Northeast Regional of the NCAA men's hockey tournament in Manchester, N.H.
A couple of columns ago, I wrote about how listening to play-by-play broadcasters on the radio was the germination of my sports fandom and, as I got older, my career calling. When I listened to the radio when I was 7, I wanted to be a play-by-play announcer. When I read Peter Gammons when I was 12, I wanted to be a sports writer. When I saw Chris Berman on this new cable television thing when I was 14, I wanted to be a "SportsCenter" anchor. Today, I am kind of all three of those things, and I work with two of my heroes. That's why when I still play Powerball when it reaches more than $100 million (like this week), I don't get depressed when I inevitably lose. My dream has come true, and if I can contribute to the 28 people in Indiana who seem to end up winning and sharing those huge jackpots, so be it. I like people from Indiana.
But, above all, calling play-by-play always has been the ideal when it comes to earning a paycheck. To be at the game taps into the kid in me; to be the voice of the game is frightening and exhilarating, like the things in adulthood we eventually find most satisfying (parenting and South Beach).
The NCAA hockey tournament regional is the only play-by-play I do at ESPN, so it is a big deal to me. I immerse myself in getting to know the teams and the numbers. By the end of the weekend, I am completely spent, like that feeling you get after an intense vacation of doing something you love with people you love. I'm still dragging a bit as I write this, and I'm a little depressed I have to wait a year before I can do it again. Forgive me while I attempt to dredge my brain of anything left so that I can move forward and start to get excited about the Stanley Cup playoffs.
Here's what's left from my fried brain:
As expected, Boston University has the look and feel of a national champion. We should see more than one Terrier in the NHL next season. Colin Wilson will be a nice playmaking center for the Predators. He's a little bigger than Stephen Weiss of the Panthers, but I see him as being that kind of player, ideally, a No. 2 center on a good team. If he makes a jump physically and develops more of a killer instinct, he might be a No. 1 center.
Boston University's Matt Gilroy is a 24-year-old defenseman who is an NHL free agent. He shoots right-handed and has good offensive instincts. Toronto and Columbus are rumored to be in on him.
Expect New Hampshire's James vanRiemsdyk to turn pro. A team source tells me he and the Philadelphia Flyers want that to happen. He has great size and real good hands. He didn't stand out on the ice in the games I called, but you can see he'll be an NHL player. Like Blake Wheeler at Minnesota last year, vanRiemsdyk was forced to play center at New Hampshire. In the NHL, he will be a classic big winger.
While listening to XM Radio during my drive home Sunday night, I was able to listen to a rebroadcast of Casey Kasem's "American Top 40" from March 1982 and the Vancouver Canucks-Chicago Blackhawks game. How can you not say life has never been better?
Navigation systems have to be one of the three best inventions of the past 10 years not involving the medical field. They might be No. 1.
A team source told me Ohio State center Corey Elkins will sign with the Los Angeles Kings.
I will hand out Bucci's NHL awards next week. Here's one: The Vezina will go to Boston's Tim Thomas. Thomas would be the first Bruin to win the Vezina since Pete Peeters in 1983. That was the year my family first got cable TV, and I remember watching a few of Peeters' games on USA Network. The last Bruin to win the Vezina before Peeters was Frank Brimsek in 1942. The Bruins have won two Vezinas in the past 67 years! They also have won as many Stanley Cups during that time span.
There is no fighting in college hockey. In the three games I called on ESPN2 and ESPNU, there wasn't one cheap shot. The play was fast, physical, intense and exciting. If a player received a hard bodycheck, it was understood it was just part of the game. I'm just saying it's possible to have hard-hitting, exciting hockey without fighting.
But I really enjoyed watching Ben Eager and Milan Lucic fight. And watching Owen Nolan's decision not to fight only to exchange blows with a much younger Colton Orr kind of brought tears to my eyes. Fighting in hockey is the most fascinating debate in all of sports.
I am so done with regular-season games. I need the playoffs to start now.
Weekly Tribute to Jack Falla
As January pushes into February and the sun, daily rising toward the vernal equinox, hits the ice at ever higher angles, I can't help wondering which skating session will be my last for that season. Even on the coldest late February days, the midday sun reflecting off of the south-facing boards will soften and often melt the ice at that end of the rink. I think it was this curiosity about what would be the final skating day of the season that led Barbara and me to start recording the season's last skate in our rink's guest book.
The Mother of All Mailbags
Hello there,
I understand your side of the argument with a coach getting the choice between a penalty or a penalty shot, but at the same time, if there's 1:30 left in a game, a power play could potentially use up the remaining time, no? Should that be a choice the coach gets to make?
Anonymous

Absolutely! That adds a strategic texture to the game I think is sometimes missing. I like to watch coaches squirm because I fundamentally tend to be anticoach, although not in most hockey situations. I think college football and basketball coaches tend to make me nauseated with their evangelism and what I see as their getting rich on a system supported mostly by players who won't play professionally. I hate that. Hockey coaches, and hockey in general, are more human and interesting. For all those reasons I believe a coach should have a choice. And to take the argument somewhere else, I think another option should be to go ahead with the power play if the penalty shot is missed.
---
Hey Bucci,
I'm a huge Penguins fan born and raised in Pittsburgh. I'm currently a student at Duquesne University. Duquesne beat Pitt 5-3 in the Division I CHMA finals for the regular-season championship. For someone who has played hockey my whole life (street hockey, that is) and has cheered on the Penguins my whole life, it is awesome to see college hockey picking up in Pittsburgh. I was just hoping you would give the Dukes a shout-out, but not for basketball, for hockey!
Eddie P.
Congratulations to all the champions out there, whether in-house, mite, high school, prep school or beer league.
---
Hi Bucci,
My name is Erik. I wrote you earlier today about Jonas Gustavsson, goalie for Swedish club Farjestad. Well, the third game of the semifinals just ended and Gustavsson, aka "The Monster," recorded another shutout, making it five in seven games. In the process, he also earned a record for longest time without surrendering a goal in playoff history (Henrik Lundqvist had the old record with 175 minutes) and eventually set a record for longest time without surrendering a goal in Swedish Elite League history (preseason, regular season and postseason). The new record is 220 minutes and counting! I'll keep you posted.
Erik
Another fringe benefit of the annual Hakan Hanukkah song -- somewhat fresh Swedish hockey news.
---
Hey Buccizilla,
Have you ever thought of growing a 'stache that would someday rival the Q-Stache?
Matt
Phoenix
It would take me so long to grow a 'stache comparable to the Q-Stache that, moments before I would reach that point, I would be so old that I would begin to lose the ability to grow body hair.
John,
What would happen if the Q-Stache and Chuck Norris were to cross paths?
Christian Schefer
Floral Park, N.Y.
First? Armageddon. Second? Norris, RIP.
"Everybody gets so much information all day long that they lose their common sense." -- Gertrude Stein
---
Mr. B,
I am 0 for my last 3 in e-mails making it to the e-mail bag. Discouraged? Yes. Giving up? Never! You made reference twice in last week's mailbag that Victor Hedman should go before John Tavares in this year's draft. Popular belief seems to be you cannot be the team to pass up on Tavares. Why do you say Hedman should go No. 1?
Charlie Taco
The importance of a gigantic and skilled defenseman has an enormous impact on a hockey game and most bar fights. Now, I love how John Tavares appears to be in love with hockey. That would be a factor to me on a certain level. I would be curious to watch teams interviewing both players to get a sense of each player and his personality. And music tastes.
---
John,
Last night, Shjon "Podes" Podein brought the Cup back to Rochester, Minn., for his Team 25 charity. While he was here, I made sure to encourage him to work on a book with you. He said he hasn't read "Jonesy" yet. Think you could send him an autographed copy or something to get this project moving?
Chris Bennett
The crosscheck is in the mail.
---
Hey John,
I have been following your column for a while now, and I had to write in to ask you a question. How on Earth does Mike Richards of the Philadelphia Flyers not get as much recognition as some of the other star players in the league? I am a die-hard Flyers fan, and every time I watch a game, it seems as though he is on the score sheet in some way, or changes the momentum with a big hit or a good fight. It amazes me how such a leader of one of the better teams in the Eastern Conference goes mainly unnoticed by just about everyone in the media. Am I wrong, or doesn't it seem as though he should be a MVP candidate?
Ian Johnston
Philadelphia
This is a great point. This season, a large portion of the hockey world has talked about Alexander Ovechkin's goal celebrations and fighting. Other less-desirable places have spent time talking about Joel Quenneville's moustache. You would think, especially in Canada, that Mike Richards would be celebrated on a weekly basis.
We have heard more about Marian Hossa this season than Richards despite the following: Richards has more points (75) than Hossa (66). Blocked shots? Richards leads Hossa 83-9. 83-9! Only three NHL players in the top 20 in scoring have at least 100 hits this season: Ovechkin, Ryan Getzlaf and Richards.
The MVP question is a fair one. Richards is a factor in equal-strength situations and on the power play and penalty kill. He fights, hits and leads. He is such a strong pillar for an organization because you know that just about every night no one cares more about winning than he does.
---
Bucci,
Where's all the love for the Flyers right now? They recently beat Boston, New Jersey and Pittsburgh, plus they added Claude Giroux, whom you never hear any mention of. What's their realistic chance this year?
Derek W.
I really like Claude Giroux's game. He can create and finish. The Flyers are definitely in the Eastern Conference mix as a champion. I can see Boston, Washington, New Jersey, Carolina, Philadelphia or Pittsburgh having a chance to reach the Stanley Cup finals. In the Western Conference, I find it hard to believe the finals representative will be a team other than Detroit or San Jose. Chicago and Vancouver would be next in line.
---
Hey John,
I will definitely make sure to say "Hi" next time I see you. Getting punched in the face would be one thing, losing my girl would be another. To be honest, a simple "Hi" might not be sufficient to make up for it. I will have to drop to my knees and beg for forgiveness from my hero.
Joe Futtner
South Windsor, Conn.
That's a start. I'm kind of a big deal. I have many leather-bound books.
---
Bucci,
In the hair-gel episode of "Flight of the Conchords," when Brett slicks back his hair, he looks just like Joe Sakic. I'll keep you posted.
Ryan
Denver
---
Bucci,
You have no idea how happy it made me when you mentioned The Avett Brothers in your column. They are one of the most hardworking, honest, beautiful bands I have ever heard. I saw them live in Asbury Park, N.J., and it was truly an amazing show. Their songs are so heartfelt, and you can tell they still experience every emotion that the songs try to convey. I am seeing them in Philadelphia and New York City soon, and I recommend you see them as soon as you get the chance.
David Sisbarro
Clinton, N.J.
---
Hey John,
In your last mailbag, you mentioned South Carolina quarterback Chris Smelley. Fortunately for University of South Carolina fans (and students such as myself), Mr. Smelley is no longer on the team. He transferred to Alabama to play baseball at the end of the football season.
Brett Bozzelli
Turn that upside-down smiley right-side up. Or something.
---
Bucci,
As I have in years past, I ask for your help with my annual pre-playoff e-mail to the boys. Last year you sent: "Do the thing you have to do, when it ought to be done. Do it right and do it now." The year before, it was: "In times of battle, nothing comes easy." We've won two out of the past three years; got another phrase rattling around next to baby names and Guster tunes (can't wait for the new CD to drop)? Thanks a bunch; hoping our No. 1 seed brings us another championship.
Mike Marino
Nashville, Tenn.
For you to succeed and be happy, you must have self-confidence. Giving a speech in history class or inviting friends over to your house for a birthday party requires confidence. To win championships requires self-confidence.
You need to have self-confidence, and you will need it at every step of your long life.
Self-confidence is about belief in yourself and what you are doing. Self-confidence is having the courage to feel the fear, discomfort and doubt of losing, yet still do what you want to do anyway: to still step on that ice and play to win. Be confident, and you will win.
---
John,
I never played hockey as a kid or followed it much. I was shocked when my son asked to play ice hockey five years ago. We talked about it and agreed to let him try. He had skating lessons first, then played on an in-house team for a couple of years. Three years ago, he asked to play goalie and seemed a natural at it. This year, his squirt team, the Delco Phantoms, won the Delaware Valley Hockey League championship a couple of weeks back. They won three straight games in the playoffs by scores of 2-1, 6-0 and 3-0.
My son was the goalie for all three games; for his age, he was simply amazing, giving up only one goal in three games against some of the best teams in our league. Thanks to my son, I have fallen in love with a great game and especially love watching him play. I only wish I could go back in time and play ice hockey as a kid. I wanted to try to start playing in a novice adult league, but after two back surgeries in the past five years, my doctor didn't recommend it. But, for now, I can stand by and take great pride and joy in watching my son play a fantastic game. Attached is a picture of the winning team. My son Matt is in the front with the goalie pads on.
Nick DiIorio
Brookhaven, Pa.
This is where self-confidence can get you.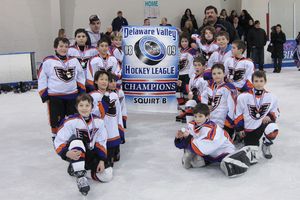 John Buccigross' e-mail address -- for questions, comments or crosschecks -- is john.buccigross@espn.com.