Three different champions have celebrated Cup wins in the three seasons since the end of the lockout: Carolina, Anaheim and Detroit. Three other teams have made it to the finals: Edmonton, Ottawa and Pittsburgh.
Ever since Carolina's improbable 2006 win, we at ESPN.com have tried to figure out where that next surprise team might come from, the team that could overcome long odds and rampant skepticism to become a factor in the NHL playoffs.
The first year, after discussing the issue with scouts and observers, we selected the Phoenix Coyotes as our first "Team Can Dream." OK, that didn't work out so well, as the Coyotes finished 29th.
Last season, it was the Washington Capitals. After a rocky start, the Caps turned into one of the most compelling stories of the season as they surged to the top of the Southeast Division under coach of the year Bruce Boudreau.
This season, we stayed in the Southeast for the third pick in our "A Team Can Dream" series: the Tampa Bay Lightning. Once Stanley Cup champs in 2004; last season, dead last in the NHL.
And so we start overseas; where it ends, remains to be seen.
---
PRAGUE, Czech Republic -- If new Tampa Bay Lightning owners Len Barrie and Oren Koules were foresters, you'd have to figure they'd be proponents of the scorched-earth method of reseeding.
The two, one a Hollywood impresario and the other a former NHLer turned land-developer, share a strong affection for the game and a unified belief that they are not going to do things halfway.
The pair are the front men for a group of owners that took over the Tampa Bay Lightning earlier this year and systematically began clearing away the old and replacing it with the new. Tom Kurvers came over from Phoenix as the assistant GM, while former agent Brian Lawton, once upon a time the first American to be selected with the first pick in the NHL draft, became head of hockey operations. Barry Melrose was coaxed out of the broadcast booth at ESPN to return to coaching for the first time since late in the 1994-95 season.
These moves, more so than the bold lineup moves that followed, created a ripple of skepticism throughout the NHL. Part of it is understandable. The NHL is in many ways a small town. When strangers come in and do things differently, they are bound to set tongues wagging.
The fact that well-respected hockey men like GM Jay Feaster and coach John Tortorella were casualties of the restructuring instantly got the hackles up from the hockey fraternity.
Then, Barrie and Koules got going on the lineup. The emotional highlights: Dan Boyle was angered at the way he was treated prior to the team's trading him to San Jose. There were arched eyebrows at the aggressive tack ownership took in acquiring defenseman Andrej Meszaros from Ottawa, where GM Bryan Murray couldn't bring the emerging defenseman under contract.
What About The Coach?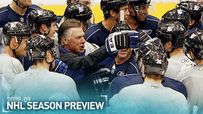 Plenty of skepticism surrounds the hiring of Barry Melrose as Tampa Bay's new coach, but the Lightning's staff and players aren't showing any signs of frustration. Burnside
• Burnside: Bolts team preview
One GM recently told ESPN.com there wouldn't be many tears shed around the league if the Bolts "lost every single game this season."
Adding to the dynamic is the plain and simple fact Barrie and Koules don't exactly look like charter members of the management club. They look like interlopers, a kind of curious blend of Duran Duran and "Slap Shot." Imagine Mike Ilitch, Peter Jacobs and the ultracasual Len Barrie together and we'll give you one guess which one is more familiar with the term "all-nighter."
Tortorella, now a national analyst in Canada, recently told an Ottawa radio station he thought Barrie and Koules are "a couple of cowboys" and that he had "zero respect" for them.
Their feelings don't appear to be hurt one little bit.
Sitting in the lobby of a hotel in Bratislava, Slovakia, Barrie is disdainful of what he calls the "old boys" club that he says permeates the NHL. He is even more disdainful at the number of people who are happy to slag his team anonymously.
"If you don't think we're a good team, say it. If you've got something to say, put your name behind it," Barrie said. "We were in 30th place; let's be honest. We've got nowhere to go but up. We needed to make cultural changes, on and off the ice."
He and Koules believe they have made those changes.
There have already been some successes.
Season-ticket sales had dropped off dramatically since the Lightning won the Stanley Cup in 2004. After the ownership change, the team saw season-ticket sales jump from 5,000 to more than 9,000. Barrie said he hopes to hit 10,000 by the start of the season. In three years, he hopes to have to cap the number at 16,500.
"Now it's time to separate the men from the boys and see where we're at," Barrie said.
The owner who played 184 NHL games has predicted the Lightning will not just return to the playoffs after finishing dead last in 2007-08, but also win the Southeast Division.
Can they? Look around the dressing room, and like any other, there are question marks and potential holes.
"I still don't think they solved what their problems are," former New York Rangers GM and current TV analyst and Anaheim Ducks scout Neil Smith said recently. "Their defense may be a little bit better, but not tremendously better, and their goaltending is still questionable."
With No. 1 draft pick Steven Stamkos in the lineup, some believe the top two forward lines somewhat resemble the dynamic Lightning team that won a Cup in 2004. But others say the rest of the lineup seems not to have matched the talent and depth of that championship squad.
"Can Gary Roberts and Mark Recchi contribute as third- and fourth-line players? I don't think they can," national broadcast analyst and former NHL netminder Darren Eliot said. "Establishing roles is critical. Everybody has to know, embrace and accept their roles.
"For all their wheeling and dealing, there are as many question marks as there are answers with their moves."
One positive is none of the key elements are in the dressing room reluctantly. Sure, they're here because the money was good, but, at least on some level, players like Ryan Malone, Radim Vrbata, Olaf Kolzig, Roberts and Recchi are here because they believe this is going to work. Others are here because the team aggressively sought them out, like defensemen Meszaros and Matt Carle and netminder Mike Smith.
This is a team built on players who should be motivated not just to defy skeptics of their team, but skeptics of themselves as individuals. If, as we believe, this is a team that can dream, the Lightning are a confederacy of dreamers.
Start with arguably the most important player on the team, Vincent Lecavalier. The silky smooth center could have become an unrestricted free agent at the end of the coming season and departed for a more traditional hockey market for top dollar. Instead, he signed on for 11 years. Lecavalier was named captain at age 19, then the youngest captain in league history. But he was stripped of the captaincy a few months later, when he missed the start of the 2001-02 season in a contract dispute. Lecavalier said at the time he understood he was too young, but the sting of disappointment lingered long after. Now, the captaincy has been restored and he seems eager to establish himself as the leader people have been expecting him to be since he entered the league as the first overall pick a decade ago.
"I didn't want to go anywhere else -- it's as simple as that," Lecavalier recently told ESPN.com. "Of course, there's a lot of places to play in the NHL. Montreal is one of them, Toronto, New York, Dallas -- they're all great organizations and great places to play, but I feel like my home is Tampa. I've never hidden that. I've always said I like Tampa and I like the people there. When you're in a place for 10 years, you feel like it's home. So, it was an easy choice for me and I got it done. I'm happy about that."
Lecavalier's decision was crucial for ownership in establishing credibility and stabilizing the dressing room, which has undergone a seismic shift in personnel in the offseason.
"His game will go to another level as his leadership goes to another level," Barrie said.
If Lecavalier seems set to be the perfect role model for another first overall pick in Stamkos (he will center the Lightning's second line), then Olaf Kolzig seems like the perfect fit for Smith, a young netminder trying to prove himself.
Both Kolzig and Smith will be looking to prove they're in the right place at the right time in their careers on a team that was tied for dead last in the league in goals allowed last season.
Kolzig, long the face of the Washington Capitals, was supplanted as the starter at the trade deadline in February, when GM George McPhee brought in Cristobal Huet from Montreal. Kolzig admitted he had to come to grips with not being a Capital anymore and for a time wrestled with whether to continue playing at age 38. But management pursued Kolzig and he is now here looking to fulfill whatever role is asked.
"I just thought it was a great opportunity," Kolzig said.
Kolzig's role will depend largely on Smith. Backup to Marty Turco in Dallas, the outgoing Smith was 3-10 with a 2.79 goals-against average and .893 save percentage for a Lightning team that was putting in time at the end of last season when he arrived at the trade deadline.
"Obviously, I'm at the point in my career where I have to prove myself," Smith said in an interview. "I have to prove it to everyone, not just the people in the organization. I've been a long time waiting for this opportunity.
"I know I'm good enough. I know I can be the guy."
In hockey, one element always leads to another. In some ways, it won't matter how good the goaltending is if the team is as bad defensively as some critics suggest it will be.
The Lightning blue line settles somewhere between a work in progress and a mystery. Paul Ranger, a young man who has grown up in the Lightning franchise and figures to play a prominent role on this oft-maligned group, will be out until after the European season-opening games, recovering from shoulder surgery.
He describes his apprenticeship here, some of which was spent playing alongside Boyle, as "inspiring" and said he is eager to step into a leadership role of his own.
"I'm looking forward to it. I feel like I'm ready for it," said Ranger, who just turned 24.
It's likely the opening-day roster will feature seven defensemen, all 28 or younger. Ranger said they're aware of the questions, but doesn't think it will affect how they play.
"It's not a question for us. I think our defense is going to work together," Ranger said. "Personally, I don't think about it too much. We're going to play our best regardless."
The common theory is the Lightning will light it up offensively and struggle to keep pucks out of their own net. Even among the forwards, though, there are plenty more folks under the gun.
Malone signed a seven-year, $31.5 million deal after a breakout season in Pittsburgh, where he scored 27 goals and became a solid two-way player. The Pittsburgh native will play with Stamkos and has spent most of the preseason pounding anyone who looks sideways at the talented rookie center.
As for Stamkos, Kolzig said he sees a little of Alexander Ovechkin in the rookie, not necessarily in his style of play, but in his confidence and outgoing personality. Veteran players are quietly suggesting Stamkos is special.
In the end, though, it is veteran Martin St. Louis who seems to sum up things best in the land of the Lightning.
A former NHL scoring champ and league MVP, St. Louis was on the Bolts' Cup-winning team and played in the World Cup of Hockey and the Olympics for Canada. Yet he said he feels very much like he's starting from scratch one more time. And that's not necessarily a bad thing.
"When there are changes, you have to re-prove yourself," he said. "Every season, you start expecting big things. You think big things. I definitely feel that way this year. It's definitely exciting."
Scott Burnside covers the NHL for ESPN.com.