Stock Up, Stock Down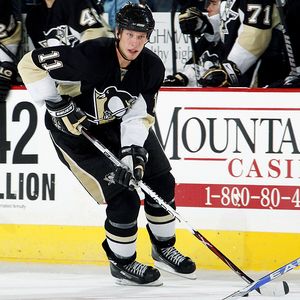 Stock Up: Pittsburgh forward Jordan Staal has put the NHL on notice he's back after a sophomore season offensive slump. The big center/winger, who became a defensive specialist a year ago after being a rookie of the year finalist in 2006-07, is on fire, as are the Penguins. Staal, 20, has eight points in his past six games as he's seeing lots of power-play time. Not coincidentally, the Penguins have won all six of those games and are tied with Boston for the second-highest point total (24) in the Eastern Conference behind the New York Rangers, who have 28 but have played three more games.

Stock Down: Florida Panthers defenseman Jay Bouwmeester has zero goals this year. That's not going to help GM Jacques Martin move the big defenseman, is it? Not surprisingly, the Panthers woke up Sunday morning on a 2-6-1 run and dead last in the Eastern Conference, tied with St. Louis with the fewest points in the NHL. And the hits just keep on coming in South Florida.
-- Scott Burnside
1. Are the surprising Los Angeles Kings ahead of schedule?
It's early, of course, and even bad teams manage to cobble together the odd string of impressive performances, but the answer seems to be yes, the Kings seem intent on getting to the playoff station faster than most predicted.
Count us among the skeptical when GM Dean Lombardi brought in veteran bench boss Terry Murray to help guide the youthful Kings forward after Marc Crawford wore out his welcome in L.A. Yet Murray has his Kings playing a disciplined, more defensively sound style of play that bodes well not just for the long-term future, but the immediate future.
The Kings began the week in 13th place in the Western Conference with a surprising 7-8-2 record, just three points out of eighth. They had a four-game win streak halted Saturday evening at home by Nashville 3-1 and then dropped a 2-0 decision to Anaheim on Sunday. In both games, the Kings outshot their opponents.
The positive changes are subtle for the long-suffering West Coast team.
A year ago the Kings were 30th overall on the penalty kill. This season they are fourth overall, a significant indication that players are learning the defensive aspects of the game.
"I think it's starting to happen," Murray told ESPN.com.
No one disputes the team's young depth: Anze Kopitar, Dustin Brown, Patrick O'Sullivan, Jack Johnson, Drew Doughty … the list goes on and on. How about 19-year-old rookie Oscar Moller, who has jumped into the lineup and has eight points in 16 games? But Murray gives a lot of the credit for the team's stability to the veterans. That includes veteran defenseman Sean O'Donnell, a victim of the salary-cap wars in Anaheim, who is playing with Doughty, the second overall pick in June's draft. Michal Handzus, considered a bust when he scored just seven times last season after signing a four-year deal worth $16 million, has been a stabilizing force up front with eight points.
The team is learning to play away from the puck, to check more efficiently, to be smarter, Murray said.
"The players are buying into it," he said.
"We're trying to accelerate that experience and that development through our practices. We definitely want to keep pushing the bar up."
So far, so good for the Kings.
2. Is that really Brian Boucher holding the fort while San Jose waits for Evgeni Nabokov to get healthy?
Yes. While other teams struggle to fill goaltending gaps (New Jersey, Columbus), the Sharks just roll merrily along, making GM Doug Wilson look like a genius for picking up a goaltender last February that looked very much like his best days were behind him. Boucher, who once recorded five straight shutouts for the Phoenix Coyotes during the 2003-04 season, is 3-1-1 since coming on in relief of Evgeni Nabokov and is tied for third in the NHL with a 1.99 GAA. His 5-1-1 record this season also includes a tidy .923 save percentage, even after Sunday's wacky 6-5 win over Chicago.
Last year Boucher, 31, decided to begin the season in the AHL, playing for the Philadelphia Phantoms so he could get enough work to determine whether he could still bring it at the NHL level. At the trade deadline last year, Boucher had so impressed Wilson that the San Jose GM brought in Boucher to back up workhorse Evgeni Nabokov. The two sides agreed to carry on the relationship this season, even if it meant Boucher would be Howard Hughes-like, given Nabokov's workload (the Vezina Trophy candidate led the NHL last season in wins and was second in total ice time). Yet Nabokov injured a leg at the end of a shootout Nov. 6 against St. Louis, and it's been all Boucher since then.
"It's been a long journey," Boucher told ESPN.com.
Like most backup netminders, the challenge for Boucher has been in preparing as though you're a No. 1 netminder, even though the reality is that, barring injury, you're only going to see a limited number of game situations.
"You have to have that mindset so you're not just going through the motions," said Boucher, whose other NHL stops have included Philadelphia, Phoenix, Calgary, Chicago and Columbus.
"It can be a little disheartening at times," acknowledged Boucher, a native of Woonsocket, R.I., who was the 22nd overall pick in the 1995 entry draft.
"You don't really feel a part of the success of the team."
That's a feeling that is quickly dissipating, as Boucher has kept the Sharks at the top of the NHL standings in Nabokov's absence.
"He's a leader. He brings a lot to the table," Wilson told ESPN.com. "You need two good goalies in this league. We have all the confidence in the world in him. He's got a great presence about him."
The feeling seems to be mutual.
"To me, I'm just really trying to enjoy the time that I am playing," Boucher said.
3. Speaking of goalies, how do you feel about the Montreal goaltending situation?
Honestly, slightly uneasy. There is no disputing that sophomore Carey Price is a world talent. But over the past week or so, the Canadiens have proven with a series of erratic performances that they're not going to run away with the Eastern Conference. Moreover, the up-and-down play of Price -- whose goals allowed over the past four starts look like this: 2, 6, 0, 6 -- begs the question whether GM Bob Gainey isn't headed down the same path that cost the Canadiens a trip to the Eastern Conference final a year ago.
You'll recall that after trading Cristobal Huet to Washington at last year's trade deadline, Gainey turned over the goaltending duties to two untested rookies, Price and Jaroslav Halak. In the end, that move cost the Habs, as Price wobbled at the end of the first round against Boston and then collapsed in a five-game series loss to Philadelphia. Price is still putting up solid numbers (he's 8-3-1 with a .915 save percentage and 2.61 GAA), and the Habs are still near the top of the Eastern Conference standings.
But the bottom line is the Canadiens' goaltending lineup lacked a veteran presence this spring, and there's no reason to think it won't lack that same presence next spring. That's why we'd keep our eyes on guys like veteran netminder Dwayne Roloson, who might look in a Canadiens jersey, or Nikolai Khabibulin, or Manny Fernandez, although that's not going to happen given that the Bruins and Habs are division-mates. Still, food for thought, no?
4. Not that we're into conspiracies, but how does Brian Burke's imminent arrival in Toronto affect the Mats Sundin saga?
Interesting question (aren't they all in this section?). It's common knowledge that Burke and Sundin met a few weeks back while Burke was still the GM of the Anaheim Ducks. It wasn't clear whether Sundin was really interested in the Ducks, who would have to move considerable cap space to bring in the former Leafs captain, or whether he is simply interested in jacking up as much market attention as possible. But let's say Burke and Sundin found some common ground that might be useful when/if Burke takes over in Toronto as GM, and likely as president. The Leafs still figure to be a playoff bubble team, but if Burke can sell Sundin on a quick makeover of the squad, something he accomplished in Anaheim, maybe it's not so far-fetched to imagine Sundin returning to the Leafs and signing a two-year deal.
5. Hey, didn't Darryl Sydor just do another boomerang when Pittsburgh dealt him to Dallas on the weekend?
Yes, he did. Sydor arrived in Dallas late in the 1995-96 season and remained a Star through their Cup-winning season in 1998-99 on through the end of the 2002-03 season, when he began an odyssey that took him to Columbus, Tampa Bay (where he won another Cup), back to Dallas and then to Pittsburgh for a year and a half. On the weekend, Sydor made -- which you have to imagine will be his last trip at age 36 -- the move back to Dallas one more time. Sydor never quite fit into Michel Therrien's plans in Pittsburgh, and though he was often a healthy scratch, Sydor never grumbled. It's that kind of stoicism and professionalism that the up-and-down Stars are looking for as they try to right the ship after a dismal start to the season. To obtain the veteran blueliner, they had to give up Philippe Boucher, who not so long ago was the anchor on the Stars' power play (he had 19 goals, 12 on the power play in 2006-07 for the Stars) but has fallen down the depth chart behind Sergei Zubov, Stephane Robidas and Matt Niskanen. Boucher will likely get a chance to work with the high-flying Penguins power play, although Kris Letang and Alex Goligoski have been staking a claim on that territory. Both defensemen can become unrestricted free agents at the end of the season and both, oddly enough, make $2.5 million.
Scott Burnside covers the NHL for ESPN.com.