Stock Up, Stock Down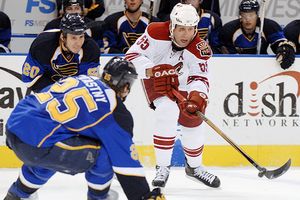 Stock Up: The Phoenix Coyotes have climbed back into the playoff hunt and one of the main reasons is the emergence of Ed Jovanovski as a top-flight point producer. After registering just one point and posting a minus-7 in his first 12 games, the veteran blueliner and former Canadian Olympian has 11 points in his past 10 games and is minus-1 over that time. Given the paucity of scoring from the Coyotes' forward contingent, Jovanovski's continued production will be key to Phoenix staying in the hunt.

Stock Down: After inexplicably hanging around the Eastern Conference playoff picture in spite of the absence of starting netminder Rick DiPietro, the New York Islanders have come back to earth with a resounding thud. The Isles have lost six straight games and have been outscored 30-11 over that period.
-- Scott Burnside
1. Is it just a matter of a team coming up with enough money for Mats Sundin?
Well, yes and no. If you want to acquire Sundin's services, you better have somewhere in the neighborhood of $4 million in real cash and cap space for the rest of this season; and that doesn't take into account Sundin's potential desire to sign a deal that extends through next season, too.
But there are other issues GMs in the hunt for the big Swede have to consider. With the exception of the Vancouver Canucks, all interested suitors would have to move salary. That means either demoting players to the minors or trading them out of their respective cities. That kind of rearranging can sometimes have a detrimental effect on a dressing room. Remember, teams that are interested in Sundin (and those he might have an interest in himself) are going to be potential Cup contenders. Sundin's not thinking of signing with the Islanders or Thrashers. So, does a GM risk upsetting the dynamics that have made his team a potential contender by adding Sundin to the mix?
What about the impact on a team when Sundin arrives? Players who have worked their way through training camp, and maybe found themselves playing top-six minutes, playing on the power play and killing penalties, may suddenly find their services aren't as valuable.
Now, every player will give up minutes and stats to win a Stanley Cup; that's a given. But that puts a lot of pressure on Sundin. Wherever he goes, he'll have to make something happen, not in a few weeks, but immediately. As one GM in the hunt told ESPN.com this week, "You'd better be real close if you're going after him."
2. Coach of the year?
We know midseason "awards" mean squat, but it would be hard to pick a Jack Adams Award candidate more deserving than New Jersey's Brent Sutter. The former blue-collar NHL player and successful junior owner and coach has had his fair share of ups and downs since taking over the Devils' job before the start of last season.
This season, of course, there's been a host of injuries to deal with -- Brian Rolston and Bobby Holik, and all-world netminder Martin Brodeur all have been hurt. When Brodeur went down with an arm injury on Nov. 1, it looked like the Devils would quietly sink beneath the surface of the Eastern Conference standings as they lost five of six games. Since then, though, Scott Clemmensen has emerged as this season's Ty Conklin (the backup who saved the Penguins when Marc-Andre Fleury went down last season with a high-ankle sprain) and the Devils have gone 9-2-0 in their past 11 games. They're lighting it up offensively, too, with four or more goals in five of their past 11 games.
With the Rangers and Penguins both struggling, look for the Atlantic Division to turn into a war with Philadelphia, New Jersey, Pittsburgh and the Rangers all battling for the top spot. It wouldn't be a surprise to see all four in the postseason, which would set up a nice intradivision series or two.
3. The 2010 Olympics machine
The Vancouver Olympics are still more than a year away, but you can already see the machinery starting to turn on roster selections. Hockey Canada announced this week that Pierre Gauthier and Joe Nieuwendyk would join GM Doug Armstrong in putting together Canada's 2009 World Championship team.
Later, as ESPN.com's Pierre LeBrun reported over the weekend, Armstrong met with Steve Yzerman, the executive director of the 2010 Canadian team, Ken Holland, Kevin Lowe and Johnny Misely of Hockey Canada to come up with a list of 40 to 50 players who will be considered for the Olympic squad. Make no mistake, there is a direct tie between the World Championship team and the Olympic squad. As Armstrong told ESPN.com, the World Championships represent the only top stage on which young players whose teams aren't in the playoffs (or are knocked out early) can prove they can play in pressure situations between now and the naming of the Olympic roster in late 2009.
While Armstrong and his staff will be picking players they think can help Canada win in Switzerland, he said he'll be in contact with Yzerman about the process of putting the team together and making sure the two goals (gold medals at both competitions) can be achieved. It's not beyond the realm of possibility that a player who shines at the 2009 worlds may find himself invited to the August Olympic orientation camp and/or selected to play in Vancouver in a year's time.
The Americans' World Championship squad will once again be selected by a four-man team, including Toronto GM Brian Burke -- who will also be the GM for the U.S. Olympic squad in 2010 -- Don Waddell, Ray Shero and David Poile. Philadelphia GM Paul Holmgren will also be involved in the process. Obviously, the Americans don't boast the depth Canada does, which is why players who are asked to join the U.S. team in Switzerland next spring decline at their peril, a source told ESPN.com this week. The U.S. team in Vancouver looks to be very young, so experience in pressure situations will be at a premium. Players should think twice before begging off in taking part.
4. The mythology surrounding hockey players
The myth is hockey players are salt-of-the-earth-type guys who just get paid a lot of money to play a game. Is that true?
Let's ask Chicago Blackhawks GM Dale Tallon what he thinks.
Late last month, Tallon was in Gravenhurst, a rural/resort community north of Toronto, while his team was on a six-game road trip. His father, Stanley, was hospitalized after breaking his hip and Tallon was in the process of moving his mother into an assisted-care facility.
His father took a turn for the worse and died. An only child, Tallon prepared to say farewell to his father with just a small group of family and friends. On the day of services, he saw some members of the Blackhawks enter the small funeral home. Then, more and more. Two busloads to be exact, including the coaching and management staff, made the two-hour trip from Toronto to pay their respects.
Tallon said he thought, for a moment, he was back in Chicago when he saw assistant general manager Stan Bowman and his father, and team adviser Scotty Bowman come in. Team president John McDonough was on hand, too, and assistant GM Rick Dudley. And, of course, the players.
"It was pretty special. I was taken aback by it," Tallon told ESPN.com this week.
Tallon's father was a hockey man, so there was some nice symmetry to the moment. Tallon said his mother was also touched by the gesture and that it helped make a difficult time more manageable.
The Blackhawks had played in Toronto the night before and rearranged their schedule so they could attend the services. They headed back to Toronto, but stopped at a couple of fast-food restaurants along the way, one of which featured NHL player trading cards (adding to the legend surrounding the trip).
If the Blackhawks make some noise in the playoffs this spring, they might well look back on this moment as a time when a special bond was formed. It's certainly something their GM will never forget.
"It was pretty amazing," Tallon said. "It makes you feel pretty good."
5. Is there really parity in the NHL?
It's kind of a ridiculous question, but we'll answer it anyway. First, take a look at the standings. As of Sunday morning, in the past 10 games, nine of 15 Western Conference teams had a record somewhere between 4-6 and 6-4. Just nine points separated last-place Dallas and third-seeded Calgary.
In the East, things are a little less tightly packed, but that's a function of the conference being home to the three worst teams in the NHL: Tampa Bay, Atlanta and the New York Islanders. Still, 11 points separated Ottawa (12th) and Washington (third). The tightness, especially in the West, puts a premium on minimizing losing skids.
The Minnesota Wild, for instance, have looked like a sure-fire playoff team and the cream of the Northwest Division for most of the season. But a five-game losing streak had them clinging to the last playoff berth.
It will be interesting to see how the Wild respond now that erstwhile star Marian Gaborik is skating again. The assumption has been GM Doug Risebrough will look to move Gaborik as quickly as possible after he returns to action (Gaborik can become an unrestricted free agent in July and has shown little inclination to sign an extension with the Wild). The GM wouldn't mind if the Slovak put up some points for the goal-starved Wild along the way.
Scott Burnside covers the NHL for ESPN.com.