Monday, November 30 2020
Good As Gold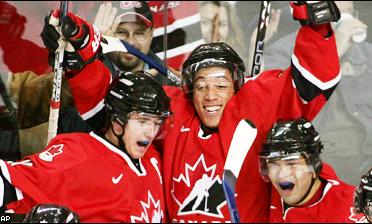 Canada won its 11th title and first since 1997.


On the Hrink: The U.S. can mine medals
Team USA was a goal away from winning back-to-back medals at the World Junior Championship. There is a way they can do it -- and do it more often.
Burnside: Oh, Canada!
Under the NHL-style leadership of coach Brent Sutter, the Canadian players never let up. There was never a moment of tentativeness, never questions of self-doubt or of focus en route to the gold.
Burnside: World weary
Plagued by illness, injury and ultimately chronic sloppiness and a lack of discipline, Team USA bowed out of the World Junior Championship with an excruciating 3-2 overtime loss in the bronze medal game.
Canada earns golden title
Favored Canada erased eight years of frustration by rolling to a 6-1 win over Russia on Tuesday in the gold medal game of the World Junior Hockey Championships.
Czechs beat Team USA in OT for Worlds bronze
Petr Vrana's overtime goal gave the Czech Republic a 3-2 win over the United States for the bronze medal in the World Junior Hockey Championship.
Opinion on Worlds' local financial impact differs
Some area businesses say the big boost in business they expected during the World Junior Hockey Championship did not happen.
On the Hrink: A question of intent
The United States could beat the Czech Republic for the bronze medal -- if they feel like it.
Finland comes from behind again at Worlds
Andre Reiss scored a power-play goal with less than two minutes left to lift Germany over Belarus 4-3 in the relegation round of the World Junior Championship on Monday.
Burnside: Canada's question mark
If Team Canada has one weakness heading into the World Juniors final, it's that goalie Jeff Glass has yet to be tested.
Burnside: Still a reason to play
The Americans may have failed to defend their gold medal, but they can still successfully defend their pride.
USA falls to Russia, goes for bronze at World Juniors
Russia will meet Canada for the World Junior Championship, title after beating the defending champion United States 7-2 on Sunday night.
Burnside: Child's play
Team USA's must-win game against Sweden turned into Phil Kessel's coming out party.
On the Hrink: USA vs. Russia
Team Russia is like a train picking up speed as it moves down the track. Can Team USA stop it?
Burnside: Czechs ready for Canada
The Canadians cruised through the preliminary round, but the Czechs may be more prepared for their semifinal matchup.
Striking green: World Juniors turns profit
USA Hockey says it will make money on the World Junior Hockey Championship for the first time in the four years it has hosted the international event.
Burnside: Team USA's saving grace
Team USA still has a chance to win the World Junior Championship. And goaltender Al Montoya knows that chance begins with him.
Burnside: Believe the hype
Sidney Crosby is leading the undefeated Canadians at the World Junior Championship -- just like any ordinary 17-year-old.
Burnside: USA unraveling
After two consecutive losses at the World Junior Championship, Team USA is in a full-blown crisis of confidence.
Cox: Red-faced, white and blue
The Americans' collapse against Belarus injected some much needed drama into the World Junior Championship.
World Junior organizers swap mascots
Organizers of the World Junior Championship hockey tournament have switched the event's mascot, saying they needed a symbol that better represents the United States as a host country.
Burnside: Junior mint
Canada is favored in what could be the toughest World Junior Championship ever.
On the Hrink: Locked out and loaded
With the NHL shutdown, Team Canada will have a full compliment of players for the World Junior Championship -- just like they did in 1995.
Burnside: Red, white and blue all over again?
Team USA won its first gold medal at last year's World Junior Championship. Now the tournament is on home ice. Can they do it again with everyone watching?