Monday, October 19 2020
Finding The Future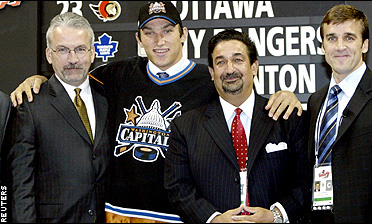 When Alexander Ovechkin will play for the Caps is unknown.


Draft Features
Adelson: Brave soul
Nothing could stop Duncan MacPherson while he roamed the ice. Only one thing stopped him while he roamed the world.

Special threads
Opportunity is knocking. And Michigan goalie Al Montoya is going to answer the door wearing an ill-fitting suit.

Kelley: The great goalie dilemma
Goaltending is the most important position in hockey -- arguably in all of sports. So why is deciding where to draft one so difficult?

Kelley: Depending on the draft
The road to the Stanley Cup seems to be paved with green. Yet many teams have been led down it with players they didn't buy.

Burnside: All Futures Unknown
The draft's first two picks are certain. What happens after that -- from pick No. 3 to next season to the next draft -- is anyone's guess.

Kelley: Another cold war with Russia
Alexander Ovechkin is expected to be the No. 1 pick in the NHL draft. But when he'll actually join the NHL is uncertain.

Joyce: Ovechkin relaxed at No. 1
Alexander Ovechkin is comfortable -- and somewhat cocky -- as the NHL's top-ranked prospect.
Joyce: Kicking the tires
The NHL's combine isn't about making a reputation, but protecting one. Robbie Schremp is a perfect example.
Draft rankings: Michigan's Montoya tops goalies
Michigan sophomore Al Montoya topped the list of North American goaltenders eligible for the NHL draft in rankings released Wednesday.
Caps win drawing, No. 1 pick
The Capitals won the NHL's draft drawing on Tuesday, earning the right to the first overall selection in the June 26 entry draft.