Ducks at Habs: Galchenyuk hitting high notes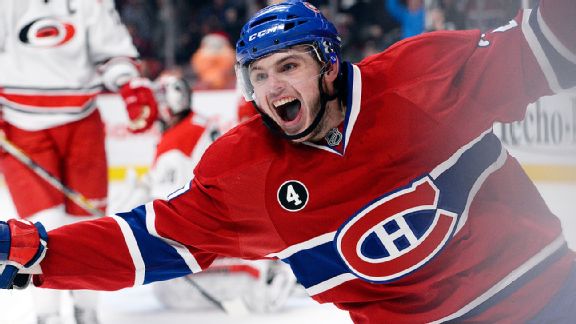 Eric Bolte/USA TODAY SportsAlex Galchenyuk is scoring and playing with style for the Canadiens.
Montreal Canadiens forward Alex Galchenyuk doesn't need to worry about Christmas shopping.
That's because the holiday came early for the Galchenyuk family when Alex's mother, father and sister were all on hand at the Bell Centre to witness the 20-year-old's first NHL hat trick on Tuesday in a 4-1 win over the Carolina Hurricanes.
"It definitely put a smile on their faces," Galchenyuk told ESPN.com in a telephone conversation Wednesday. "Everyone got a goal."
Galchenyuk's banner night propelled the Canadiens to their third consecutive victory to stay among the top teams in the Atlantic Division. Heading into Thursday's ESPN.com Game of the Week against the Anaheim Ducks, the Habs are just one point behind the division-leading Tampa Bay Lightning.
But perhaps just as importantly, Galchenyuk's dazzling performance was at least an early affirmation that his recent transition from wing to center -- his natural position -- could yield positive results.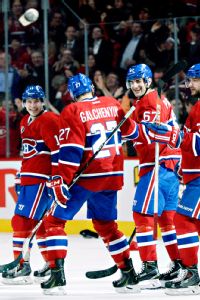 Eric Bolte/USA TODAY SportsAlex Galchenyuk has enjoyed good chemistry with Max Pacioretty and Brendan Gallagher.
Galchenyuk (9 goals, 12 assists, 21 points) is still adjusting to the change, but he seemed to forge immediate chemistry with new linemates Max Pacioretty, who assisted on all three of Galchenyuk's goals on Tuesday, and fellow youngster Brendan Gallagher.
"You definitely need a little time to get used to the position and your linemates," Galchenyuk said. "I've never really played with a guy like Pacioretty before, so to build chemistry with him, it's a different game. [Playing center requires] more mobility; you have more ice to skate around, make your plays. I felt comfortable playing it. I was able to touch the puck more, make plays, but at the end of day, it's the same game and I have to still be solid defensively. That's what I try to do."
Although a team source told ESPN.com that Galchenyuk's move to center is "definitely the long-term plan," it remains to be seen if he stays there once Lars Eller returns from injury.
For now, Habs coach Michel Therrien wants Galchenyuk to focus on playing the game, regardless of what position he's in for the night.
"What I'm evaluating with Galchenyuk is that I don't want him to change his game because he's at center," Therrien told ESPN.com's Pierre LeBrun Tuesday morning in French. "I want him to exploit the strengths in his game, his speed, his creativity, his ability to go hard to the net, etc. The next few games will tell us if he's at ease at center playing the same type of game. That's what I'm looking at. When a player changes his game, then maybe he's not quite ready."
The Canadiens have experimented with shifting Galchenyuk to the middle before, to varying results.
"We tried him a few times last year; it wasn't conclusive. We tried him at the start of this year; it wasn't conclusive," Therrien said. "So far this time around, it's been good, but we're going at it one day at a time. Obviously, eventually we all want him to be comfortable at center. You never have enough centers. He's only 20 years old; we're working with him. He's got a great future. We'll keep evaluating where this goes [at center]."
Regardless of where Galchenyuk plays in the short term, he is no doubt one of the talented young players who will comprise the team's core for the future. And considering he is playing the last season of his entry-level contract, the Canadiens might be forced to think about his future with the team very soon.
Stud defenseman P.K. Subban signed an eight-year, $72 million extension this past summer, and Brendan Gallagher signed a six-year, $22.5 million extension earlier this season.
The latter poses an interesting question in Galchenyuk's case, because it broke from the norm in Montreal, a team that has, in recent years, reverted to the standard two-year bridge deal for players coming out of their entry-level contracts (see Subban, Pacioretty).
Could Gallagher's deal provide Galchenyuk leverage in that sense?
Though Gallagher has already proved himself as more of a known commodity, Galchenyuk's potential and age make his value more difficult to project on a long-term deal.

#27 C
Montreal Canadiens
2014-15 STATS
GM

32

G

9

A

12

PTS

21

+/-

3

PIM

17
"If we repped him, I think we'd be pushing for more short term because his upside is higher than Gallagher's," one NHL agent told ESPN.com.
But Galchenyuk, the third overall pick in the 2012 draft, insists he isn't thinking about any of that right now.
"I mean, I don't think his contract really changed anything for me. I haven't thought about it myself," he said of Gallagher's deal. "When he signed, I was so happy for him and the city and the team, of course. He's a great guy, great player, and he brings a lot to the team. I didn't think about what it meant for me."
Galchenyuk is far more concerned with the immediate task at hand, beginning with Thursday's game against the Ducks.
Since Anaheim is one of the top teams in the Western Conference, Galchenyuk is anticipating a tough test.
"We're a really motivated group in here. We're really competitive. We really want to bring our game to the next level," he said. "To be the best, we have to beat the best."
ESPN.com
Katie Strang covers the Detroit Tigers for ESPN.com. She is a graduate of Michigan State University and the Columbia University Graduate School of Journalism.
W2W4: Ducks at Habs
By
Kevin Gibson, TSN
| ESPN.com
Ducks (47 points) at Canadiens (42 points), 7:30 p.m. ET

• MTL was 2-0-0 vs ANA last season
• ANA has gone 3-1-0 in past 4 games in MTL (lost last)
Anaheim (21-7-5)
• 1-2-0 on current road trip (lost last), 2/9 on PP
• 15-0-4 when scoring first
• Getzlaf: 3-game point streak (2G, 3A)
Montreal (20-10-2)
• Won 3 straight, all at home, outscoring opponents 13-4
• 12-0-0 when scoring first
• Markov/Desharnais: each has 1G, 2A past 2 games

Power Rankings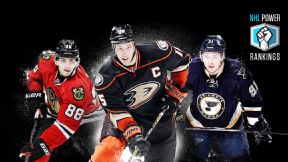 ESPN Illustration
The Ducks are leading the pack, but them pesky Habs aren't far behind. Power Rankings »
Fantasy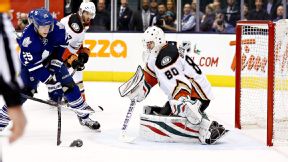 Steve Russell/Toronto Star/Getty Images
Will we be seeing former and current Duck Ilya Bryzgalov in the nets for the Ducks against the Canadiens? Fantasy Grapevine

Power Forwards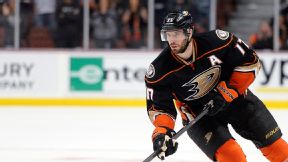 Harry How/Getty Images
Does the Ducks' Ryan Kesler rate among the top physical and puck-possessing forwards in the game? Coller »