---
Zach Parise is bringing championship chops

By Craig Custance
ESPN.com
Archive
The exact words have been lost in the haze of celebration and time. In keeping with one of the greatest traditions in sports, the Kings and Devils lined up to shake hands after Los Angeles beat New Jersey in Game 6 of the Stanley Cup finals last June.
Kings captain Dustin Brown has known Zach Parise since he was 15 years old, when the two went to Europe together for a tournament with USA Hockey. Their friendship grew during world junior tournaments, and eventually the Winter Olympics. Brown knows that there are few players in the NHL who take losing harder. And like any captain, Parise shoulders an unreasonable amount of the blame when it happens.
So what do you say to a devastated Zach Parise in the handshake line when he came so tantalizingly close to a Stanley Cup, only to fall short?
"Just keep your head up," Brown told ESPN The Magazine. "He's one of those guys who really takes it to heart. ... He played well for that team. I just told him to keep his head up."
That wasn't the final exchange Brown would have with Parise over the summer. He waited a few days for the Stanley Cup sting to wear off, and then started texting his pitch for Parise to join the Kings.
"I've been talking to Zach for five years about coming here," Brown said.
When Parise hit free agency in July, 14 teams made contract offers to sign the Devils captain. Several more called to inquire about their chances.
One GM who made a pitch called Parise the first true franchise forward to hit free agency in his prime in the salary cap era. And the cap didn't hold anybody back.
As you know, the Minnesota Wild signed him to a contract for 13 years, worth $98 million. You might not know he took less money so his deal would match Ryan Suter's, who joined him with the Wild in July.
The Wild were so confident in the quality of person they were signing that the first conversation between Parise and Minnesota GM Chuck Fletcher didn't take place until after contract terms were settled.
"The first time I talked to Zach was to give him the fax number," Fletcher told ESPN The Magazine. "And true enough to form, it took an hour to get back to me because he was working out."
The guy had agreed to the biggest contract of his life -- and celebrated with a workout. That might be the best indication as to why the Parise and Suter gamble could pay off huge for the Wild, who are off to a 2-0 start thanks, in part, to three points by Parise. Minnesota looks to stay perfect during Suter's first game against his former team, the Predators, Tuesday night.
It's impossible to find anyone who doesn't like Parise and Suter as players and as people, but there are some who quietly suggest that the Wild paid A-plus money for B-plus players.
Parise had a good regular season last year, not great. He had 31 goals in his first full season back from a knee injury that cost him most of the 2010-11 season. It was the second consecutive season his goal total declined following his breakout 45-goal season in 2008-09. He was, however, great in the playoffs. His eight goals led the postseason. Nobody had more than his 87 playoff shots.
But with Parise, the stats don't always tell the story. It's his relentless drive that turns B-plus into an A.
As a competitor, Kings defenseman Rob Scuderi loves playing against guys such as Parise, and especially enjoyed it on hockey's biggest stage.
"He's just a little engine. He just never stops," Scuderi said. "Even when there's spots where you don't think anyone can go, where there's just not enough space there and there's no way he's going to get there in time, he always seems to find a way."
One play during Game 1 of the Stanley Cup finals still makes Scuderi shake his head. Scuderi had position on Parise and knew there was no way he could score, even though Parise worked his way into Jonathan Quick's crease while the puck was still loose.
Parise found a way.
"He threw it in with his hand," Scuderi said. "I remember going nuts."
The goal was correctly waved off, but Parise's resourcefulness still earned a bit of additional respect from the veteran defenseman.
"Afterwards, I think, 'That guy will do anything to score a goal,'" Scuderi said.
Parise's relentless attitude isn't just in the Stanley Cup finals. It's in the middle of the regular season. It's in practice, as the Wild quickly discovered. It's always been that way.
"Day in and day out," said Hall of Famer Larry Robinson, who coached Parise in New Jersey. "That's what makes great players unique, that they're not just great on nights when you get to see them. ... You come to practice and you see a guy like Zach working his tail off, you almost feel embarrassed if you're not doing it."
Yet, it's Parise's greatness in the biggest moments that have defined his career so far.
Like the goal with 24.4 seconds left in the gold medal game of the 2010 Winter Olympics that sent one of the all-time great hockey games into overtime. It was vintage Parise. He's around the net, creating traffic in front of Canada's Roberto Luongo, and then pounces on a rebound from a shot first fired by Patrick Kane.
"I remember Kane taking a little spinning shot and me and [Jamie] Langenbrunner found ourselves behind their guys. It hit Jamie's skate and I think it went off Luongo. I think that messed him up a little bit," Parise said. "I found myself with an open net. It was unbelievable."
As he waited in the Vancouver dressing room for overtime to start, he couldn't help but think about where a gold medal might place his team in American hockey history.
"You're thinking, if we score the next goal, we're going to win the gold medal. We hear so much about that '80 team," Parise said. "Unfortunately, it didn't work out."
Sharks forward Joe Pavelski was on the ice in those final seconds and he remembers a play Team USA teammate Parise made earlier that set up the goal. It's the kind of small play that's forgotten by most, but not teammates.
"I took that draw and I want to say Zach had a good winger win. ... He was able to jump in," Pavelski said. "He definitely helped. As a centerman, you remember that."
Ryan Suter was also on the ice for that Olympic goal, but it might not even be his favorite Parise moment.
"How about the goal in the U-18s," Suter said. "Ever heard about that one?"
In 2002, USA Hockey took a group of teenagers to Slovakia to compete in the IIHF World Under-18 Championship. Suter and Parise were on that team, along with future NHLers Ryan Kesler, Jimmy Howard, David Booth and James Wisniewski.
Team USA was playing Russia, led by a kid named Alex Ovechkin. The Americans had a 2-1 lead late in the game, but because of tournament tie-breaking rules, had to win by two goals to win the gold medal.
Late in the third period, Team USA coach Mike Eaves gathered his team around him on the bench and asked them the question: Win the game, or pull the goalie and try to win the gold?
"Of course, we want to go for it," Eaves said.
Team USA lost the draw and the puck was sent down the ice. Suter retrieved it and sent the puck up to Parise.
"Zach was down the left side and had to lean in to protect the puck. All his weight was on his right leg," Eaves said, remembering every detail. "He fired it between the blocker and the body. That became our two-goal spread."
They won the gold.
"He just buried it," Suter said. "Then when it happened in Vancouver to tie it up, I was like 'Oh, man, this is weird.'"
There's always concern when you sign an athlete to a 13-year contract. Maybe the fire that drove him to success and into a free agency payday dims with the lifetime security provided by nearly $100 million.
But it'd be a mistake to assume Parise is driven by money. Or security.
In Minnesota, he has a chance to bring the Stanley Cup to his home state for the first time. For Minnesota and for him. The Devils last won the Stanley Cup in 2003, and he made his NHL debut two seasons later.
Still, the experience playing in a consistently successful Devils organization taught him how to win -- something he brings to a Wild team that still needs to learn it.
"You really learn how hard it is," Parise said. "To get through three rounds to actually get there. You learn to have a really short memory, whether you win or lose."
You learn to have a short memory when it comes to off-ice success, too. Free agency, the huge contract, half the league pursuing you on July 1 -- that's now forgotten. For Parise, it's on to bigger things.
EA SPORTS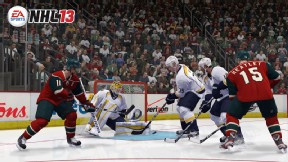 Courtesy of EA SPORTS
EA SPORTS gives you a preview of what to expect when the Nashville Predators visit the Minnesota Wild. Simulation »
Stay On Your Skates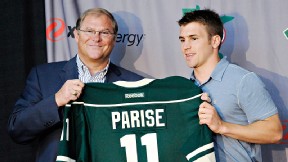 Hannah Foslien/Getty Images
It was a 15-page packet on the virtues of signing in Minnesota that was the tipping point in Zach Parise deciding to return home. Custance

Stats & Information
Key points about Tuesday's game:


HISTORY
• NAS 3-1-0 vs MIN last season, winning twice in a shootout
• NAS won 2 of past 3 games in MIN, 1-for-8 on the PP
NASHVILLE
• Both losses in a shootout at home
• 4 of their 5G have come in the 1st pd
• Hornqvist 1G, 3A this season
MINNESOTA
• Both wins at home, allowing two goals
• 7-for-7 on the PK, back to last season; 17-for-17 on PK last 5 games
• Dany Heatley has 2G, 1A this season
--Courtesy TSN

Hockey Today
Hockey Today
Scott Burnside and Pierre LeBrun discuss buyouts and contracts before the season starts. Plus, they give predictions for division surprises and playoff locks.