---
Newest Flyer Knuble back where he belongs

By Scott Burnside
ESPN.com
Archive
There are moments, storylines really, that you hark back to when you follow the game, moments that make you wonder if the thread will be broken or not.
As this lockout-shortened season began, we recalled a chat with veteran winger Mike Knuble in a boardroom at the Washington Capitals' practice facility in Arlington, Va., last spring before a playoff game against the New York Rangers.
He talked passionately about how, yes, he wanted to play beyond last season.
"I'd like to. I'd absolutely like to. I want them to tear the jersey off me. I want them to have to burn it to get it off me," he said at the time. "It's the greatest job in the world."
He would turn 40 about a month later, the Capitals having fallen in seven games against the Rangers and Knuble's time in Washington at an end. And for a while there, it looked as though all that Knuble might be left with would be the charred tatters of an NHL jersey.
Almost. But not quite.
When we talk to Knuble on this day, he is in his New York hotel room preparing for his third game as a member of the Philadelphia Flyers.
He was in Philadelphia for about three hours after the Flyers signed him late last week after Scott Hartnell went down with a broken foot. Knuble met with team doctors and passed a physical. He checked into a hotel and saw the practice facility briefly. At a glance, it looks like his new seat at the practice rink is the same one he occupied when he was first a member of the Flyers for four years coming out of the last lockout.
"It's nice. You know the staff. Everyone knows your name. They bring up stuff that happened here before," he told ESPN.com Monday. "It makes it easier to adjust."
Four or five guys are still with the team from Knuble's first go-around, and in fact he was joking with veteran defenseman Kimmo Timonen on the team bus after Sunday's game, the second in 24 hours for the Flyers, about whether Timonen could go again on Monday if he had to do three games in three nights.
They both laughed, happy that they didn't have to answer that question.
Knuble spent the lockout at his offseason home in Grand Rapids, Mich., working out with the Detroit Red Wings' AHL team. It was pretty much perfect, about a seven-minute drive to the rink. When the lockout was over, he attended the Wings' training camp and then signed a professional tryout with Grand Rapids, playing in one AHL game before the Flyers called.
When you play 1,040 regular-season games, you know all about the highs and the lows, but still all the scenarios were playing out for Knuble: What if Game 7 of the second round against the New York Rangers was it? What next? What about life without hockey?
"You're pretty much prepared for anything," he said. "If you're going to play again, you're going to play. If you didn't get to play again, you didn't get to play."
But being prepared isn't the same as not caring, and more than anything Knuble hoped for another shot.
Knuble's wife, Megan, last spring talked about the fire that still burned in her husband's almost 40-year-old heart, not just to play but to keep playing.
"He's never lost that crazy, crazy desire to play," Megan said at the time.
And so instead of wondering if the storyline had run dry, Knuble is in New York, getting ready to face the Rangers once more.
He played 14:23 in his first game, a 7-1 victory over Florida in which he earned an assist. He played 10:05 in the second game, Sunday, a 4-1 loss to Tampa.
He played on the power play, parking his big frame near the net, and he helped kill penalties. None of which surprised GM Paul Holmgren.
"With Mike you know pretty much what you're going to get every night," Holmgren told ESPN.com Monday.
Although Knuble's role with the Capitals changed under head coach Dale Hunter last season, he played well in the playoffs when the seventh-seed Caps knocked off the defending Stanley Cup champs from Boston in seven games. In fact, it was Knuble who set up the overtime winner in that deciding game last spring.
Former head coach Bruce Boudreau, when asked about Knuble last spring, described him as one of the greatest professionals he'd ever coached.
"Great team player, hard worker. He's a guy, if I'm a player, I would have wanted to be a friend of. He'd be the kind of guy I'd want to hang out with," Boudreau told us at the time.
For the Flyers, who have seen veterans such as Chris Pronger and Jaromir Jagr disappear, the current spate of injuries has tested the team's depth and its experience. Hartnell, coming off a career season, will be gone at least a month with his injury, likely more. Veteran defenseman Andrej Meszaros is out with a shoulder injury for a month or so. With the Flyers relying on lots of young guys to hold it together during a rough start to the season, Holmgren was looking for a player, yes, but also someone who could help provide ballast in rough waters.
"I guess the familiarity was part of it. You know Mike. You know what kind of guy he is," Holmgren said. "He just seemed like the ideal guy to bring in."
Knuble admitted there are questions you ask yourself when you get dropped into a situation, as was the case Saturday in Florida playing in his first NHL game since May 12.
"You wonder, am I in over my head now?" he said.
But he knows many players were like him, working out at home, waiting for the lockout to end. So he's not really far behind many of his peers.
"It just might be a little while before you sit down and relax for a second," he said.
But know this: At this stage of his career, there is a price to be paid for hanging on to that jersey.
There is a pause at the other end of the line when Knuble is asked what it was like to leave his family.
"That is a good question. It's obviously hard to do that," he said. "The kids are excited. But there's no easy way around this part."
Megan and the three kids, all under the age of 12, are at home in Michigan while Knuble has checked into a Philadelphia-area hotel that will serve as home as long as this latest hockey adventure lasts.
But as hard as it is being apart from his family, there is also no denying that Knuble has, in many respects, come home again. Home to the Flyers, yes, but home to the game and to a jersey that no doubt he will insist be torn from his hands before this is truly and finally over.
"It's a great world to be in," he said.
EA SPORTS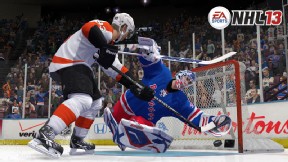 Courtesy of EA SPORTS
EA Sports gives you a preview of what to expect when the Philadelphia Flyers visit the New York Rangers. Simulation »
Stay On Your Skates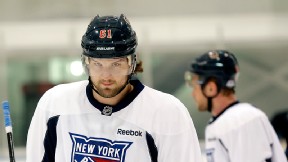 AP Photo/Seth Wenig
Rangers coach John Tortorella is concerned that his team's balance might be off kilter with the dominance of the Nash-Richards-Gaborik line. Strang »
W2W4: Flyers at Rangers


Last time around: The winless Flyers knocked off the Rangers to earn their first victory last Thursday in Philadelphia. Trailing 2-1 the Blueshirts had a chance to tie the game with a key 5-on-3 opportunity in the third period, but let that go to waste in what resulted in their third loss of the season. After the game, coach John Tortorella called his first line "invisible."
Lightning strikes: The Flyers are coming off a dispiriting loss to Tampa Bay in which they got thumped 5-1 in backup goalie Michael Leighton's first start of the season. Philadelphia was 0-for-6 on the power play.
New arrivals: Both teams boast new additions since the last time they met. In wake of Scott Hartnell's toe injury, the Flyers have signed 40-year-old veteran Mike Knuble to his second tour with the team. Meanwhile, the Rangers got quality minutes out of recently recalled winger Benn Ferriero, who was acquired in a minor-league swap with Pittsburgh last week.
--Katie Strang
For more on this game, stop by ESPNNewYork.com.

Hockey Today
Hockey Today
Scott Burnside and Pierre LeBrun discuss buyouts and contracts before the season starts. Plus, they give predictions for division surprises and playoff locks.
Stats & Information
Key points about Tuesday's game:


HISTORY
• PHI is 1-0-0 vs NYR this season, winning at home
• NYR have won 4 straight at home vs PHI, allowing 4G
PHILADELPHIA
• 2-1-0 past 3 games, 3-for-16 on PP
• 1-3-0 on road, 16-for-22 on PK
• Max Talbot (2A) over the past 2 games
NEW YORK
• 2-1-0 past 3 games, 1-for-13 on PP
• won 2 straight at home, scoring 9G
• Marian Gaborik (5G, 3A) during a 3-game pts. streak
--Courtesy TSN

NYR: