Pens at Kings: Breakout season for Niskanen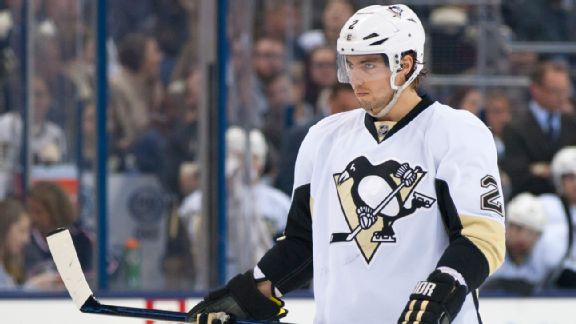 Cal Sport MediaMatt Niskanen is holding down the fort for the injury-riddled Penguins
One of hockey's oldest adages is that injuries create opportunity. And that's a good entry point into an excellent season had so far by Matt Niskanen.
The Pittsburgh Penguins defenseman, whose high-flying club plays the Kings in Los Angeles on Thursday night, stepped up large when his club's blue line was absolutely ravaged earlier this season.
"It's been a good year, a lot of fun," Niskanen told ESPN.com this week.
Niskanen's 30 points (7-23) and plus-29 in 53 games lead all Penguins blueliners. In fact, he's been plus or even in 48 of 53 games; a career season, indeed. He's also fifth on the team in ice time at 20:16 per game. According to behindthenet.ca, his 6.58 Corsi rating (essentially, a shots plus/minus stat) also leads all Pittsburgh blueliners.
"This is the best I've played in my career, on a night-to-night basis. I'm finally to a point where I feel like I'm a consistent, reliable defenseman," Niskanen said. "Certainly, about a month ago, the injuries that we had presented an opportunity where I played a lot, and that helped my confidence. It's been going well. It took me a while, I think, to develop and figure out exactly what it takes to be a consistent defenseman."
That's what he's become, one of those reliable, two-way guys. The kind most teams never have enough of.
"Right-handed defensemen are always in demand, it seems," an Eastern Conference team executive told ESPN.com on Wednesday. "He's a puck-moving defenseman, a solid top-4, reliable with the puck. I like him a lot, actually. He's found his niche on a very good team. Good year for him to have found his stride, too."
Ah, yes, the 27-year-old Niskanen is eligible to be UFA July 1, one of the many tough decisions that face Penguins GM Ray Shero over the next six months or so. Well, they're good decisions, because the Penguins are so darn deep on defense throughout the organization. There are kids ready to make the jump next season, and Niskanen and Brooks Orpik are both UFAs. There could be trades or signings or both.
In Niskanen's case, his agent, Neil Sheehy, spoke with Shero at the start of the season but at the time the Penguins GM just wanted to see how the season played out. It's how Shero has approached things with all his impending free agents this season.
"It's a good situation to be in, really," said Niskanen of his pending UFA status. "I'll let my agent take care of that stuff. But for now, I'm just focusing on the season. Certainly, I like it here a lot, I think I fit well here. I'd like to stay as long as I can. But there's more to it than that, I understand that. Pittsburgh has several good young defensemen prospects, so who would argue if they want to go that route. It's a matter of what they want to do. I'll just play as best I can, I'll be thrilled to stay on but if not, we'll see what happens."
Really, it's a win-win for Niskanen. Either the Pens re-sign him and he gets to stay on a contender or he goes to July 1 and makes the most money he's ever made.
It's the kind of scenario Niskanen probably didn't envision nearly three years ago, when he almost felt like the throw-in as part of a major trade that saw star winger James Neal join him from Dallas to Pittsburgh while blueliner Alex Goligoski went the other way. (Take a bow, Ray Shero, by the way.) But at the time, Niskanen was hardly that relevant in the deal.
"At that point, my confidence was at an all-time low," said Niskanen, drafted in the first round, 28th overall, in 2005. "I wasn't playing much [in Dallas], the coach had zero confidence in me, it wasn't a good situation for me. They basically just gave me away. I'm thankful Pittsburgh gave me a chance to play my way onto it. They helped me out a lot. Since that trade, I've been just building and building, and the Penguins have helped me along the way. Big time."
Truth is, for all the Drew Doughtys of the world that just step right in as a teenager and figure it out, the vast majority of defensemen take way more time than that to settle down and grow comfortable in the role.
"There's very few that are just at that level within the first couple of years," Niskanen agreed. "You might even go through that first year without a bump but usually within those first 2-3 years, there will be a period of time where you're fighting it, things aren't going well and it just takes you time to figure it out."
Odds are his offensive production will slow down with the Pens' blue line now restored, but Niskanen is on pace for a 46-point season, which would easily eclipse his previous high of 35 points, set in 2008-09.
"The same thing happened that second season in Dallas. We had a couple of our main defensemen out for a good chunk of time and I played on the main power play for a while," said Niskanen, a native of Virginia, Minn. "I don't think I'm ever going to be a 45- or 50-point guy, I just don't know if that's ever going to be in the cards for me, but with the chance to play an increased role this year, the offense is going to come when you're on a good team with a good power play. If you make good passes and shoot the puck a lot, you're going to get the points. I don't really focus on it, my role on this team right now. I don't need to be a high-risk offensive defenseman, I just try to make good outlet passes, get the forwards the puck so they can do something with it and in the offensive zone I shoot it a lot. It's worked out this year where I've gotten the points and I think it's a good recipe for success."
As for the rest of the season, it's about erasing the memory of last spring's Eastern finals, when Boston absolutely shut the Penguins down in a four-game sweep.
"I think we all have a little bit of a bitter taste in our mouth from the way in which it ended last year," Niskanen said. "I think we all felt there was more to that group, especially with the additions we made at the deadline. It sucked the way it ended. That being said, we can't just fast-forward to the playoffs again. We have to go through the process of the regular season, enjoy the process. We've had a pretty good regular season. We still need to get better at things, continue to fine-tune, we're having fun at it, and we'll try to be better this time around in the playoffs."
ESPN Senior Writer
Covers the NHL for ESPN.com and TSN in Canada
Six years on the "Hockey Night In Canada" Hotstove panel
13 years at The Canadian Press national news agency
W2W4: Penguins at Kings
Penguins (76 points) at Kings (66 points), 10:30 p.m. ET

• Teams last met in Nov. 2011, PIT SOW in L.A.
• PIT has gone 5-1-0 vs. LAK in shootout era, 2-1-0 in L.A.
Pittsburgh (37-14-2):
• 27-2-1 when scoring first
• 3-1-0 past 4 games, 10/12 on PK
• Crosby (2G, 4A) past 4GP
Los Angeles (30-19-6):
• 28th in the league on the PP (13.8 percent)
• 1-5-1 past 7 games, 9GF, 3/26 on PP
• Carter (0G, 1A) past 4 games


Stay On Your Skates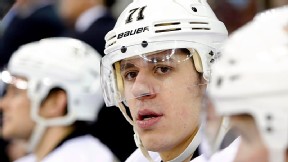 James Guillory/USA TODAY Sports
Evgeni Malkin is on the midnight train to redemption after missing more than a month with injury. But, OK, where is he ranked? Prospectus