---
W2W4: Predators at Flyers
Titans tangle, dealing with different issues

By Pierre LeBrun
ESPN.com
Archive
Surprise!
By now, surely, nothing the Nashville Predators do should surprise anyone, right? And yet, when the Preds beat the Chicago Blackhawks twice just before the All-Star break to move level on points with their Central Division rivals, it's as if the rest of the hockey world suddenly took notice of a quiet ascension that caught everyone off guard.
After months of debating the three-team race in the Central Division among Detroit, Chicago and St. Louis, the men from the Music City have muscled their way into the conversation.
Well, that's what 13 wins in your past 15 games can do for you, right?
"Right now, we've got really good team chemistry," Preds coach Barry Trotz told ESPN.com on Wednesday. "Talk about a group that just comes to play. We're getting great goaltending but, really, contributions throughout our lineup. ... Everyone is playing with a purpose."
Trotz, in fact, credited the incredible competition in his division as a factor in his young team's rise. He feels the standard is so high when playing against the Wings, Blues and Blackhawks that his team has no choice but to try to keep up.
His team feeds off those challenges. Much like the Preds look forward to a tough test Thursday night in Philadelphia in what is ESPN.com's Game of the Week, teams separated by two points.
"Philly's a really good measuring stick for what the league has to offer as a top team," Trotz said. "There's also a couple of ex-Predators on that team. We don't play them a lot but they're always good games."
The Preds beat the Flyers 4-2 in their first matchup, Jan. 14 in Nashville, so Philadelphia knows what to expect.
"Barry's done a terrific job in Nashville, and his longevity proves that," Flyers coach Peter Laviolette told ESPN.com on Wednesday. "They've got good goaltending, good defense and they're able to get the offense that they need. Anytime you get good goaltending and good defense, you're in the game. That team just always seems to be in the mix."
Somehow, inexplicably, Trotz has never won the Jack Adams Award as coach of the year, despite year in and year out maximizing the best possible performance in Nashville on a shoestring budget.
The Predators, as GM David Poile explained to ESPN.com on Friday, are trying to shed their small-payroll ways. They've got the green light from ownership to sign both Ryan Suter and Shea Weber to lucrative extensions if and when their two stud blueliners decide they want to do just that (Suter will be an unrestricted free agent July 1, while Weber will be a restricted free agent).
And on the ice Thursday night in Philadelphia will be the reminder of Nashville's difficult financial past -- Kimmo Timonen and Scott Hartnell jettisoned to deep-pocketed Philly in June 2007 solely for money-saving reasons. As Weber himself remarked Friday at media day during All-Star weekend, it hasn't been easy seeing those guys walk out the door.
And yet, here are the 2011-12 Predators, on the ice challenging the big boys for the Western Conference title, off the ice sending signals that they're ready to increase payroll.
"As a hockey franchise in a nontraditional market, we're pretty rock solid right now," Trotz said. "There's a real solid ownership right now that is willing to do the things to bring a Cup to Nashville."
The Predators finally won a playoff series last spring, a hugely important achievement.
"That playoff experience last year and getting the elephant out of the room has really helped us," Trotz said. "From an organizational standpoint, it's raised our expectation and has given us confidence."
A long playoff run this spring could be the key in convincing Suter and Weber to stay on board and sign extensions.
Of course, Suter first has to survive the trade deadline. By his saying during the All-Star weekend that he didn't want to sign an extension before the trade deadline, it has put even more pressure on Poile. Further, it has forced Poile to make a tough decision. He needs Suter on his roster to make a Cup run -- and help convince Weber to sign -- but he can't afford to have Suter walk out July 1 and get nothing in return. What will Poile do?
Suter, to be clear, remains interested in talking contract with the Predators; he loves playing in Nashville, but he wants to shelve that contract conversation until after the season in order to focus on the playoff drive.
"I know with Ryan, what you say and what people hear are sometimes two different things, you know?" Trotz said. "I talked to Ryan about the whole situation. He's fine; we're fine. The only date that we're worried about is July 1. As I said to him, if things change and he wants to get it done today, then that's this prerogative. It's no different than Pekka Rinne deciding to sign and getting his deal done. It was no distraction. Right now we're just having fun winning hockey games; we want to get into the playoffs and see if we can go after that Cup, plain and simple."
If only anything was plain and simple in Philadelphia when it came to goaltending. It was hoped, if not expected by the Flyers, that after two decades-plus of goalie woes, they had finally solved their issues by slapping nine years and $51 million alongside the signature of Ilya Bryzgalov last summer.
Well, so far that has been far from the answer. The media folks who cover the Flyers will tell you that young backup Sergei Bobrovsky should be the starter now, not the universe-answer-seeking Bryzgalov.
Bryzgalov stopped 21 of 22 shots and was beaten for the only shootout goal in a 2-1 loss at home to Winnipeg on Tuesday night in what was a solid performance. He has allowed one goal in three of his past four starts, so perhaps he's finally showing signs of turning the corner.
"I think when you have change like he's had -- you leave an organization you've been with for a long time -- and you come to a big market where there's expectations not just for him but all of us to be successful, I think there's just a change that goes on there," Laviolette said. "Hopefully, he's been here now for a bit and he settles down in the second half. He played a real strong game [Tuesday night], and we need him to continue to do that."
Pierre LeBrun covers the NHL for ESPN.com.
Stay On Your Skates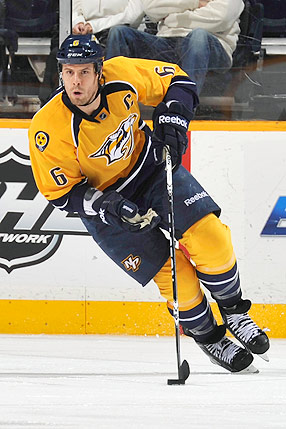 Getty Images
Shea Weber has been a beast for the Predators yet again this season, pushing his team. How does he stack up against the rest of the league? Thin Blue Line »
Calder Trophy Race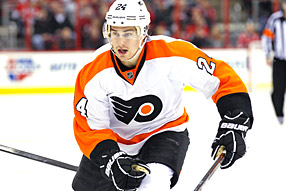 Getty Images
Sure, Matt Read is having a great season for a rookie. But he's playing on the stacked Flyers, so that has to water down his Calder chances, right? Think again. Trophy Tracker »
Stats & Information


Key points about Thursday's game:
•
Predators:
13-2-0 in last 15 games (won five straight) •
Predators:
Pekka Rinne: Allowed two or fewer goals in nine of last 10 games (10-0-0)
•
Flyers:
Claude Giroux: 18 goals, 37 assists, 55 points (2nd-most points in league) (0 goals in last 12 games)
•
Flyers:
Won last four home games vs. Western Conference opponents