Blackhawks at Ducks: This rivalry is cooking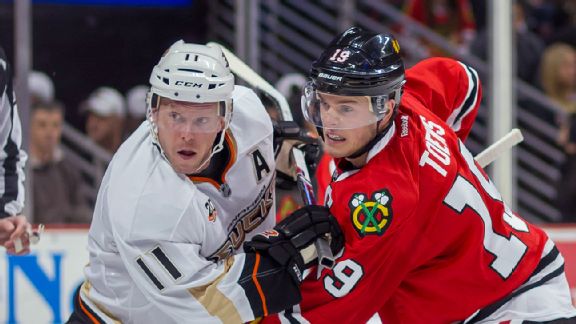 Cal Sport Media/AP ImagesThe Ducks and Blackhawks will determine how the top two teams measure up against each other.
The Chicago Blackhawks had been searching for answers in their play and put their focus into a home matchup with the Anaheim Ducks nearly three weeks ago.
On Jan. 17, the Ducks arrived in Chicago having won 18 of their past 19 games and were the team to beat. With something to prove, the Blackhawks put together one of their more complete games of the month and defeated the Ducks 4-2.
Nearly three weeks later, the Ducks find themselves in nearly the same position. The Ducks are now the ones looking to change their trend, as they have lost five of their past nine games, including three out of their past four.
For the Ducks, there might not be a better team to get them back on track than the Blackhawks. Anaheim hosts Chicago at 10 p.m. ET Wednesday.
The Ducks' loss to the Blackhawks in January began their decline, and at this point the Blackhawks are the Ducks' greatest threat for the Presidents' Trophy. The Blackhawks' 82 points is second to the Ducks' league-high 85 points.
"It's a great challenge for us," Ducks goaltender Jonas Hiller was quoted on the team's website Tuesday. "I thought we played our best games against good opponents because everyone comes in here and is motivated. We kind of want to prove why we're first in the league. Definitely want to get a win out of it.
"At the same time, we have to play better than the last few games. We need a good game out of everyone. I think everyone has to come in focused tomorrow and be ready to play at their best."
One of the Ducks' issues as of late has been scoring. They're third in the league with a 3.26 goals-for average, but averaged 1.33 goals in their three recent losses and have scored more than two goals in just three of their past nine games. Their power play has one goal in the past five games.
Ducks coach Bruce Boudreau thinks playing the Blackhawks is just what his team needs.
"The fear of getting beat bad is a great motivator," Boudreau said. "We can't continue playing the way we've played three out of [the] last four games, and Chicago can't be expected to come in here and lay down. They were the team that was first overall last year and won the Stanley Cup. I think they would like to get back into that position."
The Blackhawks head into Wednesday's game feeling good about their play. They've gone 4-2-3 -- beginning with their win over the Ducks last month -- and are 2-0-2 on their current six-game road trip. They defeated the Los Angeles Kings 5-3 on Monday.
Blackhawks goaltender Corey Crawford said Monday his team wanted to catch the Ducks for the league's best record, but had to go about it in a certain way.
"That's important," Crawford said. "We take every game one at a time. Our job is to win the game and really focus on that. We can't control what they're doing. For us, it's a matter of staying within the game we're in and make sure we're playing at our best and trying to get two points every night."
Blackhawks coach Joel Quenneville understands the Ducks are going to be hungry and ready for his team.
"It's been a good trip so far," Quenneville said on the team's website Tuesday. "We know we're going into a real tough place to play as well. We want to make sure we sustain and expect much of the same."
ESPN Staff Writer
Scott Powers is the Blackhawks beat reporter for ESPNChicago.com. He is an award-winning journalist and has been reporting on preps, colleges and pros for publications throughout the Midwest since 1997.
W2W4: Blackhawks at Ducks
Blackhawks (82 points) at Ducks (85 points), 10 p.m. ET

• CHI is 1-0-1 vs. ANA this season, both games in CHI
• ANA was 1-0-0 at home vs. CHI last season
Chicago (34-10-14):
• 26-1-6 when scoring first
• 2-0-2 on their road trip, 13-for-14 on PK
• Patrick Kane has 3 G, 1 A on road trip
Anaheim (40-13-5):
• currently on longest losing streak at home this season
• lost 2 straight, 2 GF, haven't lost 3 straight since an 0-3-2 skid in November
• Ryan Getzlaf has 2 G, 3 A in past 5 games

Stay On Your Skates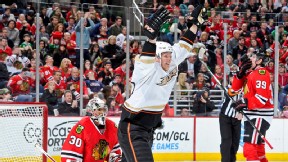 Bill Smith/NHLI/Getty Images
Corey Perry, where are you now? In terms of our top 200 player rankings, that is. Fantasy »