---
Clarkson stepping it up

By Katie Strang
ESPNNewYork.com
Archive
David Clarkson broke into the NHL much like he did in junior hockey as a teenager -- with his fists.
Growing up in Canada, he emulated Wendel Clark and Jarome Iginla -- true power forwards who coupled production with physicality -- and aimed to do the same.
Signed by the Devils as an undrafted free agent in 2005, Clarkson racked up a whopping 183 penalty minutes in his first full season with New Jersey. The following year, he tallied 164, cementing his status as a fan favorite for his feisty play while adding a career-high 17 goals.
Now in his fifth full season with the Devils, Clarkson has eclipsed that goals milestone and, with 30 games remaining in the regular season, is on pace to almost double that mark.
The 27-year-old winger, who has 20 goals and nine assists heading into Tuesday night's game against the Rangers, has taken his game above and beyond that of a gritty forward with offensive potential. He has established himself as a scoring threat and vital member of the Devils' balanced attack.
"I think they're rare," Devils coach Pete DeBoer said of players like Clarkson. "They're few and far between, and I think that's why they're valuable. Those guys that combine that physical power-forward game with the fact that they'll drop the gloves and fight anybody are hard to find."
Devils GM Lou Lamoriello is thrilled to see Clarkson rewarded with his success, a feat that he said "hasn't come naturally."
"This is a player that had something to prove," Lamoriello told ESPNNewYork.com. "He wanted to be an NHL player, and he wanted to be more than just a fighter. He deserves everything he's gotten because he's worked at it."
---
DeBoer was coach of the Ontario Hockey League's Kitchener Rangers team that acquired Clarkson from the Belleville Bulls almost a decade ago in an unremarkable deal ("I don't think there was another player in the trade," Clarkson recalled) and said Clarkson was "a similar player" back then.
"I sort of fought my way into the league, and then, when I realized and people realized I could stay, I started playing more," Clarkson said. "I think I broke into the NHL the same way."
Clarkson, who won a Memorial Cup with DeBoer and Kitchener in 2003, credits DeBoer with helping him toward a promising NHL career.
DeBoer provided the necessary nudge when Clarkson was re-evaluating his life -- and whether he wanted to continue playing hockey -- following the death of his two grandparents, with whom he was very close.
Family is and always has been important to Clarkson -- he says his 11-month-old daughter, McKinnley, helps him put things in perspective during tough times -- and DeBoer realized then that the passing of two relatives was a devastating blow to the teenager.
So DeBoer kept on Clarkson, luring him back to hockey, pushing him to become better and encouraging him to realize his potential.
Had it not been for that, who knows?
"I was just lucky that I had people around me that pushed me in the right direction," Clarkson said. "Pete believed in me, and that's how I made it, just with family support and with someone like him behind me to tell me he liked how I played."
---
When Lamoriello first met with Clarkson before signing him as an undrafted free agent in August 2005, the Devils general manager was immediately struck by the earnest young player.
"Sincere," Lamoriello said of the first impression Clarkson made. "He wanted to be a player, wanted a chance. Opportunity is what mattered to him."
In his first AHL campaign, Clarkson posted a respectable 13 goals and 21 assists, but raised eyebrows with 233 penalty minutes. The following season, 2006-07, Clarkson continued to improve, scoring 20 goals for the Lowell Devils and playing well enough to earn a seven-game stint with the big club and a three-game appearance in the playoffs against Ottawa.
Clarkson cracked the Devils roster out of training camp in 2007 and has remained ever since, steadily earning more ice time and opportunity along the way.
After averaging 12:02 in ice time in his first full season with the Devils, Clarkson now logs 16:10 per game and plays a pivotal role on the power play.
"He's versatile," said good friend and teammate Martin Brodeur. "You can put him on the first or second line or you can put him on the third or fourth when needed. He'll never back out, either. When it gets rough, he's always a fun guy to have around because you know he's willing."
It's that versatility that can, at times, fool opponents.
Rangers defenseman Steve Eminger witnessed that happen plenty while the two were teammates in Kitchener. Now, facing Clarkson six times a year as Atlantic Division rivals, he finds it happening again.
"He tricks you sometimes. It's almost deceiving because he doesn't have the hands of [Ilya] Kovalchuk or [Patrik] Elias, but he'll make some moves that will surprise you. I think some guys don't think he has that, but he does," Eminger said. "He's deceptively skilled. And I don't think he gets enough credit for the skill he has."
---
Reunited with DeBoer, who was hired as head coach by the Devils in July, Clarkson is surpassing his previous accomplishments with the best season of his career.
He still possesses the edge that allowed him to carve out a niche on the Devils roster, but his game has evolved.
"Some nights he's a 30-goal scorer, some nights he's a heavyweight," Lamoriello said, before chuckling. "And some nights, you don't know."
Clarkson must now be more discerning when he drops the gloves, considering the trade-off it might create for the club. Although he leads the team with 88 penalty minutes and is tied with Cam Janssen with five fighting majors, Clarkson also is tied for second on the team with six power-play goals.
"I think he sort of toned down how aggressive he is on the ice as far as fighting and yapping," Brodeur said. "He still does it, but I think he's more conscious of how important he is to our hockey club. And that's maturity."
As the Devils push for a playoff spot among the top eight teams in the Eastern Conference -- heading into Tuesday's match against the Rangers, the team is in sixth place with 63 points -- Clarkson will have to keep this in mind.
To help his team, Clarkson will have to find a balance between the player he was when he cracked the lineup five years ago and the player he has become since.
"We talk a lot about walking that line where he's still a presence, but doing it in the right way. He knows that line's moved from where it was early in his career where he was fighting every night just to stay in the league," DeBoer said. "Now, he's a valuable part of our lineup."
Katie Strang covers the NHL for ESPNNewYork.com.
Stay On Your Skates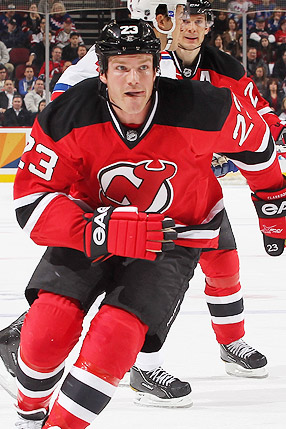 Getty Images
David Clarkson's 88 penalty minutes and above-average shots on goal will help you in other departments in your fantasy league. And then there's his sick power-play totals. Front Line »
Calder Trophy Race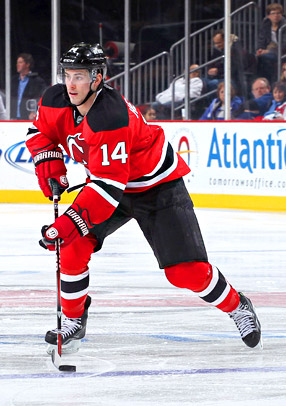 Getty Images
Adam Henrique is no ordinary rookie on no ordinary team. Sure, he's been dealing with injuries and a slump, but he's still in the running to be the league's top freshman this season. Trophy Tracker »
Stats & Information


Key points about Tuesday's game:
• The Devils lead the league with 13 short-handed goals, five more than the Hurricanes. The Rangers are 27th in the league on the power play.
• The Devils (.294) and Rangers (.250) are third and fourth, respectively, in winning percentage when trailing entering the third period.
• The Rangers have blocked 835 shots, tied for fourth in the NHL. That emphasis is not shared by their opponent, as no team has blocked fewer shots than the Devils (604).