---
W2W4: Canucks at Red Wings
Canucks want to end the streak

By Craig Custance
ESPN.com
Archive
DETROIT -- Canucks Kevin Bieksa and Ryan Kesler were sitting in their hotel rooms in Edmonton, watching the final period of the Sunday matinee between the Sharks and Red Wings. Detroit's home-wins streak was on the line, one it would extend to a record 23 games with a 3-2 win. And despite competing with Detroit for the top spot in the Western Conference, Bieksa was rooting for the Red Wings.
He didn't want the Sharks to break the historic streak. He wants the Canucks to do it. He'll get that chance Thursday night when Vancouver visits the Red Wings in Detroit.
"Weirdly or not, we were cheering for them," Bieksa told ESPN The Magazine on Wednesday on the way to the Nashville airport to catch a flight to Detroit. "Any time you get a chance to play in an important game in February ... to have a game like this that not only is battling for the top of the NHL standings, but they're trying to extend their streak, a part of history, and we're trying to end it, it's going to be a little bit more emotion added to an already emotional game."
Detroit has a two-point edge on the Canucks in the Western Conference standings, but Vancouver has a game in hand. The streak has meant more buzz in the league around Detroit than the reigning Western Conference champs. Detroit is making history and GM Ken Holland was aggressive in the trade market in adding Kyle Quincey. Todd Bertuzzi is also expected to sign a contract extension. There's been a lot of news around Detroit.
Meanwhile, Vancouver has managed to quietly keep pace. As impressive as Detroit's home record is, Vancouver's road record is just as good -- especially compared to Detroit's mediocre road record of 15-16-1. The Canucks are the only team in the league with at least 20 wins on the road, which is particularly impressive considering the amount of travel they face each season. The game against the Red Wings is the third in a six-game trip that concludes in Phoenix on Feb. 28. Coyotes GM Don Maloney knows it won't be easy, even when catching Vancouver at the end of a road bender.
More From Custance

Craig Custance takes you inside the NHL with the latest news and analysis from around the league. Blog

• Rumor Central

"They're quietly one of the top teams in the league," Maloney told ESPN The Magazine. "All you have to do is peek at the standings. They're playing with confidence, they have depth and they have a good mix. They're a team to be reckoned with."
The game in Detroit marks a return home for Canucks forward David Booth. He told NHL.com that he has played in every NHL arena except Joe Louis Arena, thanks to a career that started in the Eastern Conference and that has seen more than its fair share of injuries. Growing up in the Detroit area, he played on a youth team with Detroit's Drew Miller, Kesler and Oilers defenseman Corey Potter. The team was loaded, but Miller said Booth was easily the best for their age.
Since coming over in a early-season trade with the Panthers, Booth has provided the kind of power forward that was lacking on a team loaded with skill. February is shaping up to be his most productive month with the Canucks. He has three goals and three assists in 10 games, giving the Red Wings another player to think about when trying to shut down the Sedins and Kesler.
"[It will] reunite him and Kess on Michigan soil," Bieksa said, joking. "He's somebody we needed. A power forward in the truest sense. He takes pucks to the net, hard. He's a big body, hard to move. He's got a great shot. You need guys like that on the team."
So Booth will get his crack to return home to the building where his parents have long held season tickets. He also has a chance to make it memorable and put an end to Detroit's historic run.
It's his first game at home and if he does that, he might not be welcomed back.
"He's got a lot of people coming," Bieksa said. "It's exciting for him."
Craig Custance covers the NHL for ESPN The Magazine, ESPN Insider and ESPN.com.
Stay On Your Skates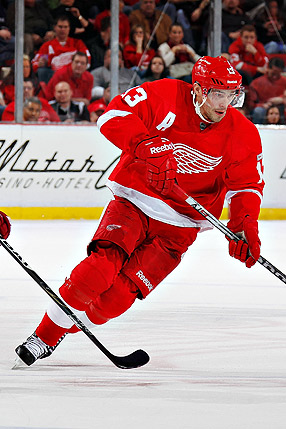 Getty Images
Trying to extend their home winning streak to 24 got a bit more difficult for the Red Wings with Pavel Datsyuk expected to miss two weeks after undergoing knee surgery. Story »
Cross Checks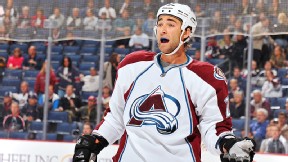 Getty Images
The Red Wings have already made a move before the trade deadline by acquiring Kyle Quincey. What else will happen before Feb. 27? Cross Checks »
Stats & Information


Key points about Thursday's game:
• The Red Wings (24) and Canucks (22) rank first and second in wins this season when leading after the first period. So who has the edge on Thursday? The Canucks are a plus-31 in the first period this year with 66 goals scored, both tops in the NHL.
• The Red Wings would be well advised to stay out of the penalty box. The Canucks boast the league's top-rated power play (22.1 percent) and will look to exploit the Red Wings 18th-ranked penalty kill (81.6 percent).
• Ten of Johan Franzen's 23 goals this season have been game winners, tied with Radim Vrbata of the Coyotes for the most in the NHL this season.
• Canucks goaltender Roberto Luongo is 7-1-3 in his past 11 starts.