---
Could be a bit of Eddie Shore

By James Murphy
ESPN.com
Archive
Tuesday night's Game of the Week between the Ottawa Senators and the Boston Bruins promises to have some old-time hockey. In the third period of Saturday's game in Ottawa between the division rivals, Kyle Turris leveled Bruins defenseman Joe Corvo with a high hit. The hit was reviewed by the NHL and deemed a "hockey play," but Corvo had strong words when asked about it Monday.
"Let's just say I'll be looking for him right off the bat," Corvo told the media after practice. "I'm not [happy]. Two days I've been walking around with a headache. Just because I didn't lay down on the ice and get carted off and miss a period ... doesn't mean that it wasn't a cheap shot. In my opinion, he saw my numbers and took the opportunity to seek revenge for the game prior, when we were at home. Hopefully, he's a man and he'll step up tomorrow when I come after him. I'm not going to try and hurt him, but I want to fight him." However, Corvo backed off those words Tuesday, apologizing for putting himself "ahead of the team," adding he had a "bit of foot-in-mouth syndrome."
Even though they are 0-4-0 against the Bruins this season, the Senators might have found a way to hang physically with the defending Stanley Cup champions. Almost overcoming a 4-1 deficit in Saturday's 5-3 loss, the Senators got a late-game spark from physical and emotional leader Chris Neil's devastating but clean hit on defenseman Johnny Boychuk that left Boychuk with a mild concussion. Neil had to answer the bell for that hit in a spirited fight with Bruins captain Zdeno Chara that ended with Neil wrestling Chara to the ice.
The surprising Senators (33-23-8, 74 points) trail the Bruins (37-20-3, 77 points) by three points in the division, but Boston holds four games in hand. The Bruins have outscored the Senators 19-11 in the teams' four games, and no matter how good the Senators might be playing -- they're 6-1-1 in their last eight games -- Boston remains a thorn in their sides.
The biggest thorn has been the reigning Vezina Trophy winner Tim Thomas, who has a 2.00 goals-against average in six consecutive wins over Ottawa.
After the Senators acquired goaltender Ben Bishop from St. Louis on Sunday and then defenseman Matt Gilroy from Tampa Bay before the deadline Monday, the Bruins made two late deals at the deadline, acquiring forward Brian Rolston and defenseman Mike Mottau from the Islanders and defenseman Greg Zanon from the Wild. Speaking to the Boston media via phone after he was traded, Mottau, who is from Quincy, Mass., expressed how excited he was to be playing for the team he grew up cheering.
"I always said I'd take a puck in the teeth for the Bruins; now I have a chance to do that," Mottau said.
If the bad blood from Saturday carries over to Tuesday night, Mottau will need to be wary of his teeth, and it won't necessarily be pucks he should be looking out for.
James Murphy covers the NHL for ESPNBoston.com.
Stay On Your Skates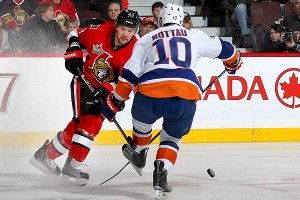 Getty Images
The Bruins added to their depth by acquiring Mike Mottau and Brian Rolston from the Islanders before Monday's trade deadline. Story »
Trade Tracker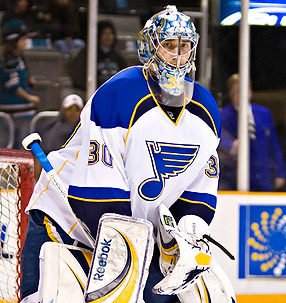 Getty Images
The Senators acquired promising goaltender Ben Bishop before the trade deadline. Check out all the deals up to the deadline. Trade Tracker »