W2W4: Lightning at Rangers
Rangers won't blame injuries for problems
GREENBURGH, N.Y. -- Winless in their past four games, the Rangers appear to be in line for a big boost heading into Thursday's game against the Tampa Bay Lightning at Madison Square Garden.
Although neither player would give a firm commitment, it appears that both star winger Rick Nash and top-pair defenseman Ryan McDonagh are poised to return to the lineup.
For an injury-ravaged squad that has struggled of late, that news comes as a huge relief.
"The guys that are out are pretty important guys," coach John Tortorella said. "If you get some back in, it will certainly help."
It would've been pretty easy for the Rangers to blame their recent woes on injuries. During their current 0-3-1 skid, the team saw Nash and McDonagh felled by injuries, as well as another top-pair defenseman, Michael Del Zotto. Even ironman blueliner Dan Girardi had to be helped off the ice in Saturday's shutout loss to Montreal after blocking a shot with his foot, although he returned the next game.
But dwelling over each absence would not have been a productive endeavor, nor would it have invoked much sympathy around the league -- has anyone seen what the Ottawa Senators have accomplished without Erik Karlsson and Jason Spezza? -- so it was not ever a crutch the Rangers employed.
But the Rangers need to inject some life, and depth, into their lineup. And the return of Nash and McDonagh may be just what the doctor ordered.
"Pucks aren't going to flow around the ice like they potentially would when you have the full lineup. It's a fine line there of staying patient and not trying to do too much and where you're pressing and all of the sudden it's in your net," Brad Richards said. "We can't do anything about injuries, but if they're coming back, we'll welcome them with open arms."
Richards would be one of the main benefactors in Nash's return, especially if he reprises his role as the first-line center between Nash and speedy forward Carl Hagelin against his former team on Thursday.
The 32-year-old veteran has gone 13 straight games without a goal, a painful slump that caused both benchings and demotions for the alternate captain.
If the Rangers are to reclaim their swagger from 2011-12, when they finished with the top regular-season record in the Eastern Conference, the team will need top players like Richards, Marian Gaborik and captain Ryan Callahan to produce.
The last had one of his finest efforts of the season in Tuesday's 4-3 loss to the Winnipeg Jets, a performance that Tortorella hopes will inspire those around him.
"He tried to will us to a win [Tuesday] night and he almost got us a point," Tortorella said. "Other players, the more skillful guys, I think can take a lesson from that and add some of that grind and will in their game and it may help a lot of guys on the team to get out of their funk."
Aiming to turn things around and recapture some confidence in the second game of a four-game homestand, the Rangers will entertain the eighth-place Lightning Thursday night with a mere point separating the two teams in the standings.
Although the Bolts have surrendered two straight, they still boast one of the NHL's elite talents in former first overall draft pick Steven Stamkos.
Stamkos leads the league with 14 goals and 30 points and enters Thursday's tilt on a six-game goal-scoring streak. The 23-year-old center has also racked up a whopping 13 points in the past seven games.
A lot of that comes down to his notorious shot, which he has an uncanny ability to rip past opposing defenders.
"He just has a knack for getting it off under pressure," said Rangers defenseman Matt Gilroy, who played with Stamkos in Tampa. "His one-timer, he can one-time almost anything you throw at him -- hard, soft, wobbly and his wrist shot is just as good, just lethal."
With McDonagh back on defense, the Rangers will likely have a better chance at keeping Stamkos' shot contained -- he registered a season-high eight shots on goal against Buffalo on Tuesday -- but reigning Vezina Trophy winner Henrik Lundqvist is prepared for what he'll be facing.
Lundqvist chastised himself Tuesday night for giving up the game-deciding fourth goal against the Jets to Winnipeg's Evander Kane, and he's not in the mood to mull another save he should've made.
"They're a skilled team," Lundqvist said. "Great shooters. You can't give them too much space. They're really tricky. But, if we play like last night, we have a good chance of winning."
ESPN.com
Katie Strang covers the Detroit Tigers for ESPN.com. She is a graduate of Michigan State University and the Columbia University Graduate School of Journalism.
EA SPORTS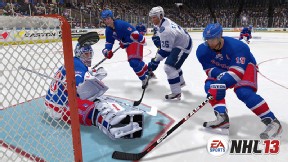 EA Sports
EA Sports gives you a preview of what to expect when the Tampa Bay Lightning visit the New York Rangers.
Simulation »
Stay On Your Skates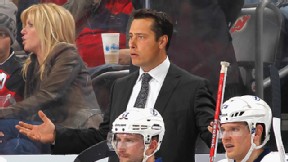 Andy Marlin/NHLI via Getty Images
Could New York's John Tortorella or Tampa Bay's Guy Boucher end up as the next coach in the unemployment line?
Grantland »
By the numbers
By
ESPN Statistics & Information


• Steven Stamkos leads the league lead with 14 goals.

• Martin St. Louis is top 5 in the league with 20 assists; 14 have been secondary assists.

• The Lightning's 3.68 goals per game leads the league.

• Brad Richards has six points (two goals, four assists) as a member of the Rangers in six games against the Lightning.

• The Rangers' 11.1 power-play percentage is tied for the worst in the league.
Cold Hard Blasts
Watch the best goals, biggest hits and top saves from the the last week in the NHL.