Ducks at Sharks: Torres eager to bring grit back
Raffi Torres saunters off the ice after a recent morning skate at Nassau Coliseum. Dripping sweat, he pauses at the edge of the visitors' dressing room. He's going to go back out on the ice, he decides.
So for another 20 minutes, Torres works with San Jose Sharks assistant coach Jay Woodcroft, taking deliberate angles around a stray glove positioned at the center of the right faceoff circle and ripping off a succession of shots at an empty net.
Torres returned two weeks ago after tearing his left knee ACL in the preseason, but has not played in the past five games. The Sharks are playing a big game Thursday night against the conference-rival Anaheim Ducks in ESPN.com's Game of the Week. Could he play through the pain and discomfort now? Sure. But would he be at his most effective? Doubtful.
And as much as Torres' past transgressions are often discussed, his actual play usually gets lost in the conversation. There's no denying Torres has earned himself a reputation, one he is unlikely to ever shake, but there's also no ignoring that, when healthy, he has been a supremely effective player.
Acquired at the 2013 trade deadline by the Sharks, Torres provided an immediate jolt for the Sharks, with two goals and four assists in 11 games during the compacted push before the playoffs. He was a physical, punishing force for the Sharks in their first-round sweep of the Vancouver Canucks, and he scored the game-winning goal in Game 2 of the Western Conference quarterfinals.
Heck, in his first two games back after surgery to repair the ACL, Torres scored three goals on the first three shots he took.
"He's a catalyst," Sharks coach Todd McLellan said. "He makes things happen for our hockey club. He has the reputation for being very physical and being a bit of an agitator, but we see his hands and his knack around the net and his ability to create for teammates off the forecheck. So there's a lot more to his game than just the physical attributes that he brings."
Of course, it is the nasty, jagged-edged style he plays that has gotten Torres into trouble in the past.
Most notably, Torres earned a 25-game suspension (later appealed and reduced to 21 games) while playing for the Phoenix Coyotes in the 2012 playoffs, when he leveled Marian Hossa of the Chicago Blackhawks with his shoulder on a late hit, resulting in Hossa being taken off the ice on a stretcher. Torres was also suspended for the remainder of the second round last spring after a hit that injured Los Angeles Kings forward Jarret Stoll in Game 1 of the conference semifinals.
Torres knows he won't be able to erase his history, but he can't completely abandon his game, either. That rugged physicality is what has allowed him to remain in the league for the past 11 years.
The 32-year-old Toronto native was selected fifth overall in the 2000 draft by the New York Islanders, heralded as an elite scorer in the Ontario Hockey League, where he had 111 goals in three seasons for the Brampton Battalion. But he couldn't maintain that same scoring touch once he arrived in the NHL, a realization that caused him to adjust his game.
"There was no way I could score 40 or 50 goals here. I had to bring something else," Torres told ESPN.com. "It's just something I've kind of blossomed into, an energy guy you can look to when things aren't going too good."
#13 LW
San Jose Sharks
2014 STATS
He credited his early days in Edmonton for helping him evolve. It was veteran players Ethan Moreau and Steve Staios who would encourage him, even on nights when he failed to score, to keep bringing that type of energy into every game.
"As a group of veterans, all we tried to do was create an understanding environment, one of trust," Staios told ESPN.com in a phone interview.
Staios, who now works in a player development role for the Toronto Maple Leafs, sensed that Torres didn't feel that same sort of support when he was in the Islanders' organization, where Torres started his career. Staios wanted Torres to know he had a valuable role for the Oilers.
And Staios could empathize with what Torres was dealing with during the transition. Staios came into the league as a 27th-overall pick, with 79 points in his final season of junior hockey, and quickly had to adjust to become a more defensive, physically consistent presence.
"It takes some time. The great thing about Raffi is that he was willing," Staios said. "He's a great teammate. It took him a lot of time, understanding his role, grappling with what every player goes through in a time where they have to figure out what can make them a full-time NHL player."
Now, those added elements -- energy, grit, physicality -- are what Torres embraces about his game.
"If I were to change that now, I don't know if I'd be able to play in the league," Torres said. "At the same time, I've never gone into the game and thought about hurting someone. Sometimes I'm a little late or a little early or a little high, but my intentions are never to put a guy out on a stretcher or anything like that, just to get the crowd going and get our team going."
And teammates do love him -- for his fun-loving nature in the dressing room, his fierce competitiveness on the ice, and the sense of calm he brings to a team.
"I've never seen a guy who opponents know is on the ice more than him," Sharks center Tommy Wingels said. "Yeah, he's had some questionable hits in the past, but it's because of the way he plays. He plays as hard as anyone in the league, whether it's hitting guys or winning battles, so it's a testament to Raffi and his work ethic."
That's why it's hard for teammates to see him pigeonholed as just a repeat offender, because they believe his skills are often underestimated.
"Oh, no doubt," Wingels said. "And he knows that. He knows he's under the bright lights at all times and that he has to scale back. His game is often overlooked but he can score. There's a reason he was a first-round pick."
With the Sharks in great position to lock up a playoff position in the Western Conference, they have to find the best way to maximize Torres' effectiveness. Right now, that means getting chances to rest. With the team cruising along at a 10-2-1 clip in their past 13 games, the Sharks can err on the side of caution in easing Torres back into the lineup.
Though Torres said his surgically repaired knee feels "night and day" better than the last time he suffered the same injury, in 2007, there are still days of soreness and fatigue.
He feels fortunate to have recovered as quickly as he did this time around, but doesn't want to rush anything, considering the team's playoff chances. Currently pushing the Anaheim Ducks for the Pacific Division title, the Sharks seem to have all of the vital elements of a Stanley Cup contender: a strong core of veterans, a dynamic group of skilled youngsters, and terrific goaltending.
Add an effective checking line that includes Torres, and the Sharks are one of the deepest, most daunting teams in the West.
"I'd rather be 100 percent going into the playoffs than going at like 75-80 percent and struggling to get through it," he said. "My job is to just provide energy, nothing changes. I need to be 100 percent."
And with his game lending itself to playoff-style hockey -- when every hit is an investment -- he is a good bet to have an impact once again this spring.
Staios still recalls the crushing blow Torres delivered to Milan Michalek in the 2006 Western Conference semifinals against the Sharks. With the Oilers down two games to none, Staios called it a "series-changing hit."
"He became one of the catalysts," Staios said. "There was the belief that we could physically handle that group."
The Oilers rallied from a 2-0 hole to rattle off four straight wins and knock off the Sharks, ultimately advancing to the Stanley Cup finals.
"He's the type of player you want on your team, especially in a playoff series," Staios said. "There are some players you have to keep an eye on out there, and he's definitely one of them."
ESPN.com
Katie Strang covers the Detroit Tigers for ESPN.com. She is a graduate of Michigan State University and the Columbia University Graduate School of Journalism.
W2W4: Ducks at Sharks
Ducks (97 points) at Sharks (97 points), 10:30 p.m. ET

• San Jose is 2-1-0 vs. Anaheim this season, 2-0-0 at home
• San Jose has won 4 straight at home vs. Anaheim, winning twice in a shootout
Anaheim (45-17-7):
• 0-for-21 on the power play in past 6 games
• 5-1-0 past 6 road games, 21 GF, 2-for-18 on PP, 17-for-23 on the power play
• Hampus Lindholm (4A) 3-game points streak
• Ryan Getzlaf (0G, 7A) 9 GP since the Olympics
San Jose (45-18-7):
• 32-3-5 when scoring first
• lost previous game; hasn't lost 2 straight since 3 in a row Jan. 27-30
• 5-1-1 past 7 home games, 1-for-31 on the power play
• Patrick Marleau (5G, 3A) in 10 GP since the Olympics
• Logan Couture (3G) vs. Anaheim this season
Stay On Your Skates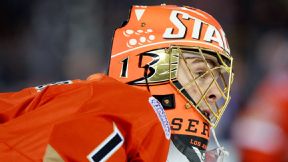 Jeff Vinnick/NHLI/Getty Images
The playoffs are the thing now, but the Ducks and Sharks also have UFAs to think about. Custance