---
Huge game for Sabres, Caps
By Scott Burnside and Pierre LeBrun
ESPN.com
Special Scott Burnside and Pierre LeBrun Daily Debate within the Game of the Week. Bonus. Go!
BURNSIDE: Good day, my friend. I notice you placated all those angry Buffalo fans by slotting the Sabres into the 10th spot overall in the weekly Power Rankings Monday. Tenth? Wow, where would you put them if they were actually a playoff team? Sure, they Sabres are smokin' hot right now, going 6-0-2 in their last eight games. But all that hot streak has given the Sabres is a shot at the postseason, nothing more, nothing less. That shot will come into much clearer focus Tuesday night, when Buffalo visits Washington for a game against another resurgent club. The two teams are tied in points, with Washington currently holding down the eighth and final playoff berth, thanks to a big lead in regulation and overtime wins. With Ottawa winning a wild and wacky affair in Winnipeg Monday night to pull four points ahead of Buffalo and Washington and with Florida still owning a three-point lead on the Caps in the Southeast Division with a game in hand, it looks like two teams are vying for that one last spot -- Washington and Buffalo. Drama? There should be no shortage of it Tuesday night in Washington. For me, this is a great chance for both teams to display leadership that has been missing for most of this season and beyond, if you look to recent playoff disappointments both teams have endured. These two teams have failed to live up to high expectations time after time. Could either of these teams give a top seed a scare in the first round? Could either pull off an upset? Sure. When you're talking about Alex Ovechkin and Ryan Miller, anything is possible. But they've got to get in the door first, and I don't think it's a stretch to suggest that the team that walks away with two points Tuesday night, especially if it's in regulation, will find itself in the tournament in less than two weeks.
LEBRUN: Well, for starters, you shortchanged the Sabres by 11 games when you spoke of their hot streak. Try 13-2-4 in their last 19 games, a season-changing stretch that began with a Feb. 19 win over the Pittsburgh Penguins. They host those same Penguins on Friday night, which is why Tuesday night's game in Washington is even that much more meaningful. With the Penguins having won 14 of 16 games with the full arsenal at their disposal, that's going to be a tough one Friday. I think the question so many people around the hockey world are asking about the Sabres is just why it took this long to play like the contenders we all thought they were in September. I think Miller said it best in his Q&A with me last Friday when he pointed out that the hype had been premature in September, that it was wrong for them to be labeled as contenders until they grew into that team over the course of the season. His reasoning was you can't force that, it has to happen naturally. And now it has. Of course, the Caps have been contenders for years now, but like the Sabres only of late have begun to look like one again. The Caps are 9-4-3 in their last 16 games and most noticeably have benefited by the best hockey of the season from captain and superstar Ovechkin. Of the two clubs, though, I'm less sure about Washington's turnaround. Too many times this season it appeared the Caps had turned a corner before finding ways to disappoint again.
BURNSIDE: These two teams illustrate why it's so difficult to make up ground after enduring a rocky start. We've seen Anaheim make noise like they were going to get back in the hunt and then fall out of the pack. New Jersey did it last year, falling just short. The L.A. Kings might do the same in the crazy Western Conference this season. The Caps and Sabres have managed to find a groove, and yet at the end of the day I believe one of these teams will end up spending a long summer wondering about how things went so wrong. I am with Miller, saying the hype was premature, but you can't blame people for expecting more from the Sabres. They've been a bargain-basement team in terms of spending for years, and when owner Terry Pegula finally gave GM Darcy Regier and coach Lindy Ruff more financial leash than they've ever had, it took a long time to come together. Fair enough. But this is also a team that has squandered playoff leads the last two years and has squandered the fine play of former Vezina Trophy winner Miller. Maybe Tuesday night marks the defining moment for this team and how it has overcome adversity to get back into the playoffs and reward not just Pegula's faith but the faith of fans who have longed for a Stanley Cup championship for decades. So who's your hero Tuesday, if you're thinking the Sabres come out on top? That line of Tyler Ennis, Marcus Foligno and Drew Stafford has been the recent catalyst, with 15 goals and 33 points in the last eight games. Can those guys keep it rolling?
LEBRUN: I see a 3-2 Sabres overtime victory, with Jason Pominville scoring the winner. That would leave the two teams just one point apart with five games left for each. Before Ottawa picked up a huge win Monday night in Winnipeg, I was beginning to wonder if the Senators might be passed by both the Sabres and Caps. That's still possible but those two points Monday night were gigantic for the surprising Senators in gaining a little breathing room, giving them a four-point cushion now over both the Caps and Sabres with 12 days to go in the regular season. Ottawa no doubt would prefer a Buffalo victory in regulation because the Senators hold the tiebreaker on the Sabres but not on the Caps. Washington holds it on both teams with 36 ROWs (regulation and overtime wins,) while the Sens check in with 34 and Buffalo only 30. The Sabres can only make the playoffs the traditional way -- by having more points than Washington or Ottawa.
BURNSIDE: Certainly the Sabres look to have an edge, given their strong play and great goaltending. I spoke last week with Washington GM George McPhee about Ovechkin's play of late. Ovechkin has seven goals and one assist in his last five games and is up to 36 goals on the season, and McPhee acknowledged Ovechkin is looking more like the Ovechkin of old. But the Caps will need more than Ovechkin if they're going to get a win Tuesday and get back to the postseason for the fifth straight year. Braden Holtby has done a nice job since coming up to ostensibly replace the injured Tomas Vokoun. He is coming off his first shutout this season, although shutting out the Minnesota Wild hardly counts as an accomplishment these days. Still, head coach Dale Hunter is looking for a goalie, any goalie, really, to seize the reins down the stretch. And the Caps are going to need more depth scoring. Apart from Ovechkin, there isn't a 20-goal scorer on the team. Jason Chimera is second, with 19 goals. Top center Nicklas Backstrom is listed as day to day -- he won't play Tuesday night -- as he tries to recover from a concussion that has cost him half the season, but the Caps can't count on Backstrom to get them over the playoff hump. So here's how I see it shaking down: Ovechkin has another big night and the Caps blunt the Sabres' playoff hopes with a 3-1 victory.
Stay On Your Skates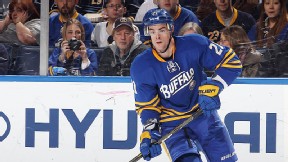 Getty Images
The patience management showed the Sabres this season, patience that looked foolish just a couple months ago, is paying off. Craig Custance

Cross Checks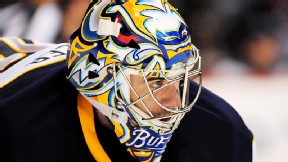 US Presswire
Ryan Miller explained how the Sabres have surged up the standings and why they shouldn't have been labeled Cup contenders. Pierre LeBrun »
Stats & Information


Key points about Tuesday's game:
• The Capitals are 6-2-2 in their past 10 games. In those games, Alex Ovechkin has 10 goals and 12 points, and he has seven goals in his past five games. Ovechkin has three multigoal games in his past seven.
• Goalie Ryan Miller has started the past eight games for the Sabres (6-0-2) and has given up just two goals in the past three games.
• Ovechkin has three goals in as many games against the Sabres this season, tied for the second-most against any opponent this season.
• The Sabres' Marcus Foligno has 10 points and six goals in eight games since being called up March 10.