W2W4: Canadiens at Bruins
Rivals enter showdown with similar strengths
BOSTON -- The rivalry returns to Causeway Street.
When the puck drops between the Boston Bruins (21-7-3) and Montreal Canadiens (20-7-5) at 7:30 p.m., Wednesday night at TD Garden, first place in the Northeast Division will be at stake. Currently, both teams have 45 points but Montreal has the advantage because it has more regulation wins (18) than Boston (16).
"Where we are in the standings, and we're playing a divisional game, but also it's a huge game," Bruins assistant captain Patrice Bergeron said. "It's always a fun game against them, but it's always a hard game so we need to make sure we're ready for that."
It's been a tight battle between the storied franchises during this lockout-shortened, 48-game schedule, and with one month remaining in the regular season it's only going to get more interesting.
"This is the third time in a row that we have played them and for the third time it's for first place in the division," Bruins forward Milan Lucic said. "It just makes for a much better game."
When the rivals are both playing well, they have similar strengths. Both possess strong goaltending, a well-rounded defensive game and a potentially explosive offense.
After the Montreal organization crash-landed in last place a season ago, the Canadiens have witnessed a resurgence under coach Michel Therrien. In their past 10 games, the Habs are 6-3-1 and they've played better on the road with an 11-3-2 record.
The first time these teams played this season, the Bruins posted a 2-1 come-from-behind win on Feb. 6 at Bell Centre. Boston trailed by a goal, but scored twice in the third period for the victory.
Montreal beat Boston in the most recent meeting on March 3 at the Garden. The Canadiens scored two third-period goals en route to a 4-3 win. They're receiving strong goaltending from starter Carey Price, who is 16-5-4 with a 2.32 goals-against average and a .911 save percentage.
The Bruins are 6-4-0 in their past 10 games with an 11-2-1 record on home ice. They haven't played their best of late and are struggling to score goals on a consistent basis.
After a 3-2 shootout win against the Toronto Maple Leafs on Monday night at the Garden, coach Claude Julien said it was a "gutsy" victory for his team. He added fatigue has been a factor in the team's lack of consistency, so the coach decided to give the players Tuesday off. The much-needed R&R should help since the Canadiens played at Pittsburgh Tuesday night.
Boston is looking to improve on one thing for the stretch run.
"Consistency," captain Zdeno Chara said after Monday's game. "At this time of the year, that's what everybody's looking for -- consistency and having the right approach toward the end of the season and obviously the playoffs."
What the Bruins need is a good old-fashioned, Garden-style win over the Canadiens on Wednesday night.
ESPN Staff Writer
Joined ESPN in 2010
Former Red Sox and Bruins beat reporter
Covered Boston teams since 1992
Trade Rumblings
either the Bruins or the Canadiens willing to pay the Sharks' price for Ryane Clowe?
Pierre LeBrun » Northeast deadline fixes

EA SPORTS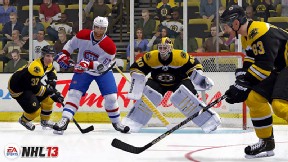 EA Sports
EA Sports gives you a preview of what to expect when the Montreal Canadiens visit the Boston Bruins.
Simulation »
Stay On Your Skates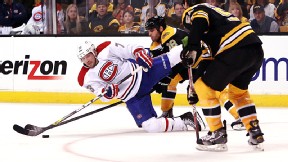 Alex Trautwig/Getty Images
Michael Ryder is not only filling his role for the Canadiens as a power-play specialist, but is making an impact at even strength, as well.
Sean Allen »
By the numbers
By
ESPN Statistics & Information


• The Canadiens lead the NHL in total power-play time (219:21) and are tied for the most power-play goals (29).
• The Bruins have won 57.3 percent of faceoffs this season, the best in NHL.
• P.K. Subban has nine goals, the most among NHL defensemen.

• Andrei Markov is the primary assister on five of Subban's nine goals this season.

• Patrice Bergeron has 14 career goals against Montreal, his second-most against any team.