Blackhawks-Bruins: Scene of the crime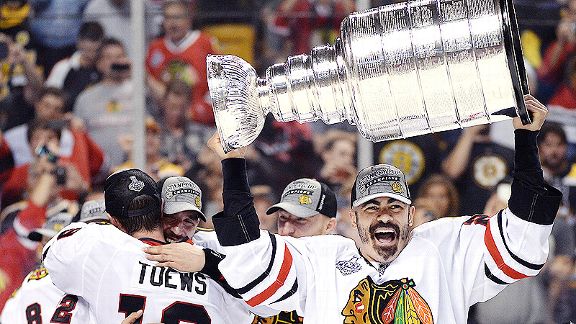 Harry How/Getty ImagesWe all remember what happened the last time the Blackhawks were in Boston.
WILMINGTON, Mass. -- In the hours following their Stanley Cup victory last June, the
Chicago Blackhawks
understandably trashed the visitors locker room at TD Garden in Boston.
The tiny room was littered with empty beer cans and champagne bottles. Even the hallway outside the room and the tunnel leading to the ice were drenched with celebratory libations. The newly crowned champions of the NHL cut out the netting from the goal in which the Blackhawks scored a pair of goals in a 17-second span in the final 76 seconds of regulation en route to a 3-2 win over the Boston Bruins in Game 6.
Chicago owned the Cup, and they won it on Boston's ice.
For the first time since June 24, 2013, the Blackhawks return to Boston on Thursday night.
This isn't about a rematch. The stakes are a lot less significant this time around, but it should still be a fantastic game between two of the top teams and Stanley Cup contenders.
"It will probably bring back some good memories for them," Bruins goaltender Tuukka Rask said. "At least this time they're not going to break our visiting locker room, I hope. It'll be a tough game. Year in and year out they're a good team, a great team, and they always give a great challenge to teams. It's going to be a good matchup."
Thursday will be the second time these teams have played since the Cup finals. The Blackhawks defeated the Bruins 3-2 in a shootout on Jan. 19 at the United Center in Chicago. In that game, the Bruins' Brad Marchand scored a pair of goals, while Rask finished with 35 saves. Marchand scored Boston's lone goal in the shootout, but the Blackhawks' Jonathan Toews and Patrick Kane also scored in the shootout en route to victory.
The Bruins and Blackhawks are heavyweights in their respective conferences. In fact, the past seven games these teams have played against each other have been emotional, but not dirty. When Boston defeated the Vancouver Canucks for the Stanley Cup in 2011, a genuine hatred was created between the two teams, and it hasn't changed.
It's different between the Blackhawks and Bruins.
"It's a little different because last year's finals were really honest and well fought. There was no crap around besides hockey," Rask said. "What happened on the ice stayed on the ice, and both teams played tough. There were no hard feelings from our team or their team."
Added Bruins coach Claude Julien, "There's been a respect between two teams. They're a great team. They play the game the right way, and we'd like to think that we do as well. It makes for a good matchup. It makes for exciting hockey. It just goes to show you don't need all the extracurricular stuff to make it a good game. These two teams have been a really good matchup. In the playoffs last year, it was real fun hockey to watch. Even as a coach it was a great series to coach. Hopefully, we don't disappoint anybody tomorrow in regards to that."
The crowd at the United Center in January was amazing, as usual. On Thursday, the Garden faithful should match it.
"The crowd's definitely going to enjoy it and fans should enjoy the game," Marchand said. "It's always a big game when your rival in the Cup finals comes back, so I'm sure they're expecting a big game. We just want to continue playing the same way, and we're not looking at it any differently than the last 13 games. We just want to continue playing the same hockey."
The Bruins had their 12-game winning streak snapped in a 2-1 shootout loss to the Montreal Canadiens on Monday night at TD Garden. Despite the loss, Boston remains pleased with its play this month, and facing the Blackhawks will be another test.
The Bruins currently lead the Eastern Conference with 104 points. Chicago is ranked fourth in the Western Conference with 99 points. It's possible these teams could be on a crash course for a rematch in the Cup finals this spring. Anything can happen in the playoffs, but it would be something special for both teams, and the NHL, if there's a rematch this season.
For now, both teams are focused solely on Thursday night.
"It's a big game, a big test," Bruins forward Milan Lucic said. "They're obviously still one of the premier teams in the league, and they're right up there in the standings, as well. We know about their lineup, how good they are and how good they can be. It's a big test for us with 10 games left in the season. For us, we can't let a shootout loss [to Montreal] deflate us and ruin our momentum we have right now. We want to focus on playing the right way, and I think we have been as of late, and that's where our focus needs to be against Chicago."
A less focused team might become complacent with a playoff berth already in hand. The Bruins are making sure that doesn't happen. It's important for them to sprint, rather than crawl, into the Stanley Cup playoffs. Facing tough opponents such as Montreal and Chicago creates a playoff-type atmosphere, which will serve the Bruins well in a few weeks.
"The main focus right now is keeping that momentum and playing the right way, creating those good habits and getting that final tuneup before the playoffs start, because you know it's not just a switch you can turn on and off," Lucic said. "You want to have a good last 10 games to finish out the year."
Watching the Blackhawks hoist the Stanley Cup on Garden ice last spring stung the Bruins and their fans. Boston understands firsthand what it's like to celebrate in hostile territory. The Bruins did just that against the Canucks after Game 7 in 2011 at Rogers Arena.
Make no mistake: There will be haunting memories for the Bruins leading into Thursday's game against the Blackhawks.
"Nobody in the dressing room is going to forget we played them in the finals last year. Nobody's going to forget any of that stuff," Julien said. "[Thursday] is not about remembering that more than knowing it's going to be a good game between two good teams and we should look forward to it."
But when the puck drops Thursday night at TD Garden, players on both teams won't be thinking about a rematch of last season's Stanley Cup finals. That scenario can wait until June.
ESPN Staff Writer
Joined ESPN in 2010
Former Red Sox and Bruins beat reporter
Covered Boston teams since 1992
W2W4: Blackhawks at Bruins
Blackhawks (99 points) at Bruins (104 points), 7 p.m. ET

• First meeting in Boston between teams since Game 6 of Stanley Cup finals
• Chicago is 1-0-0 vs. Boston this season (shootout win at home)
Chicago (42-16-15):
• 34-1-7 when scoring first
• have scored 2 or fewer goals in 6 straight road games (2-3-1) 0-for-18 on power play
• Jonathan Toews has 1 G, 1 A in the past 4 games
Boston (49-17-6):
• 37-5-1 when scoring first
• 12-0-1 past 13 games, outscoring opponents 47-18, 36-for-40 on penalty kill
• Brad Marchand has 2 goals vs. Chicago this season
• Patrice Bergeron (4 G, 2 A) is on a 5-game point-scoring streak

Stay On Your Skates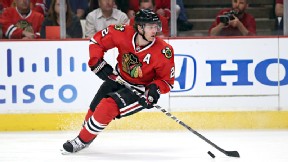 Jonathan Daniel/Getty Images
Blackhawks defenseman Duncan Keith is known for his assists on the offensive end of the ice. Lately, however, he's been a scoring force. Scott Powers »