Jackets vs. Flyers: The great goalie swap
Steve Mason and Sergei Bobrovsky weren't actually traded for each other, it just feels that way, doesn't it?
It seems natural to compare how each netminder is doing with each other's former team.
They'll both be front and center Thursday night as the Philadelphia Flyers and Columbus Blue Jackets hook up in ESPN.com's Game of the Week, a game of obvious importance for both clubs.
Both netminders are 1-0 in their one and only start against their former clubs, but they haven't faced each other yet mano-a-mano. Until now, that is. Both are slated to start Thursday night in Philly.
"I'm not really thinking myself versus Sergei, it's more important for the Flyers versus the Blue Jackets right now," Mason told ESPN.com Wednesday. "Sergei got the win against us the last time out [Jan. 23], and hopefully we can turn the tables Thursday night because we need the two points."
The Flyers are three points behind the Rangers with two games in hand for second place in the Metropolitan Division, home ice in that opening-round series very much a dangling carrot.
The Jackets have even more on the line, just one point up on the danger zone as they try to secure a playoff spot in the East.
"That's the most important thing right now, we just need two points, it doesn't matter who we're playing," Bobrovsky told ESPN.com Wednesday, downplaying that he's facing the Flyers for a second time.
Both goalies, however, will forever be linked.
The Flyers, having splurged on the ill-fated signing of Ilya Bryzgalov in the summer of 2011, shipped Bobrovsky to the Jackets in June 2012 for a second-round pick and a pair of fourth-round draft picks.
"I was happy with the trade, I was excited to get an opportunity to try for a No. 1 job," said Bobrovsky. "It was good for me."
Less than a year later, at the April 2013 trade deadline in the lockout-shortened season, the Jackets returned the favor to the Flyers by sending them Mason in exchange for Michael Leighton and a third-round draft pick.
In between, Mason and Bobrovsky were teammates for a few months last season.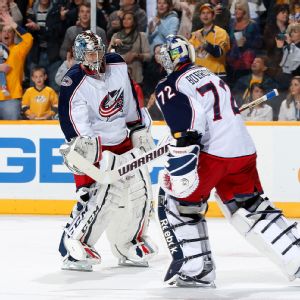 John Russell/Getty ImagesSteve Mason, left, and Sergei Bobrovsky were teammates in Columbus for a few months last season.
"He's an incredibly hard worker," Mason said of Bobrovsky. "He's earned everything he's got right now. It's nice to see an athlete rewarded for all the hard work he's put in."
"Mase is a great guy," Bobrovsky said in turn. "He's a great teammate and a really good goaltender. I think it's going to be a great matchup."
At the end of the day, these two organizations essentially swapped former starting netminders, and both goalies have responded kindly to their respective fresh starts.
"I really thought Bobrovsky was climbing to be a No. 1 in Philly but their impatience there, and signing Bryzgalov, forced them to move a really good goalie," former NHL goalie turned respected broadcaster Darren Pang said Wednesday. "It's not like Bobrovsky was playing poorly in Philadelphia. And yet they moved -- at that point -- what ended up being their best asset. I like his game, he just had to calm things down a little bit, he tended to get a little bit overactive. But his athletic ability has always made up for any kind of shortcomings in positioning."
Bobrovsky won the Vezina Trophy as the NHL's top netminder in his first year in Columbus, accepting his hardware last summer right around the time the Flyers were deciding to buy Bryzgalov out of his massive contract.
But while the Flyers were getting hammered for said Vezina going to a goalie they had shipped away, a funny thing was also happening: Mason showed signs of life after getting dealt late last season to Philadelphia and has carried that through this season to be a solid, dependable starter on the playoff-bound Flyers.
"I think [Flyers goalie coach] Jeff Reese has done a really good job there with Steve Mason," Pang said. "Sometimes you just find the right chemistry between the goalie coach and the goalie, which gives you confidence to get through the tougher times. Mason for so many years just looked confused in net. We know as goalies what it's like when you don't have confidence, the puck can be as small as a pea coming at you. Mason has done a really good job in battling and competing harder for pucks in Philly. I think that rapport with Jeff Reese has really been key."
No question on the Reese factor, said Mason.
"That's been one of the most natural transitions I've ever had in terms of working with a coach," said Mason. "Right from Day 1, he expressed his confidence in my ability as a goaltender and I truly enjoy working with him each and every day. It's just a great working partnership. Our relationship is not just about hockey; we've become good friends. Without him, a lot of this would not have become possible."
The switch to Philly seemed seamless from Day 1 for Mason.
"I just felt at home here, somewhere where I was comfortable playing," he said. "There's just something about this organization that unless you've pulled the sweater on, it's hard to explain. There's a sense of pride that comes with it, and it's a pretty cool feeling."
The numbers for each goalie this season are almost identical: Mason with a .916 save percentage and 2.53 goals-against average; Bobrovsky with a .919 save percentage and 2.47 GAA.
"Steve Mason has always been an extremely talented goalie," a goalie coach on a Western Conference team told ESPN.com Wednesday. "He was in a situation where he couldn't do anything right anymore and a fresh start has been a new lease on life for him. Sergei Bobrovsky only needed an opportunity to be a starter; he's taken that and gone above and beyond what was ever expected of him. Both have flourished in their new surroundings. Not sure that would have happened if they remained where they were."
Both are 25 years old, and both are largely playoff neophytes: Mason with only four NHL postseason games under his belt from his time in Columbus and Bobrovsky having appeared in seven playoff games during his stay in Philly.
So both are eager to beef up that part of their respective resumes.
"You don't play hockey to play 82 games in the regular season," said Mason, who beat the Blue Jackets on Dec. 19. "You play to make the playoffs with that ultimate goal of winning the Stanley Cup. We have a lot of confidence in our room. There's a lot of excitement right now."
Bobrovsky has got to play playoff-like games right now just to get into the playoffs. It's all that matters to him.
"It's a huge honor to go into the playoffs, it's the most fun time," said Bobrovsky. "That's the only goal right now."
In the end, what we have here are two happy masked men, having switched organizations but clearly for the better.
"I could not be any happier here," said Mason. "I'm sure Sergei is obviously happy being in Columbus having the success he's had there.
"For myself, I just don't look back anymore. I had my fresh start late last season here. This is an opportunity and a privilege to play for this organization and I'm grateful for it. I just look forward to being here for a long time."
Added Bobrovsky: "We're both happy. I love it in Columbus, I love everything here. Mase I think is happy there. I think it's been good for both of us."
ESPN Senior Writer
Covers the NHL for ESPN.com and TSN in Canada
Six years on the "Hockey Night In Canada" Hotstove panel
13 years at The Canadian Press national news agency
W2W4: Blue Jackets at Flyers
Blue Jackets (83 points) at Flyers (87 points), 7 p.m. ET

• teams meeting for the fourth and final time in 2013-14
Columbus (38-30-7):
• Blue Jackets have a one-point lead for the final wild-card berth in the Eastern Conference
• Blue Jackets won two of teams' first three matchups, including a 5-2 victory in their most recent showdown Jan. 23 at Nationwide Arena
Philadelphia (39-27-9):
• Flyers are 5-0-1 in six all-time meetings between these teams at Wells Fargo Center
• Flyers have a four-point lead over Columbus for the No. 3 seed in the Metropolitan Division

Stay On Your Skates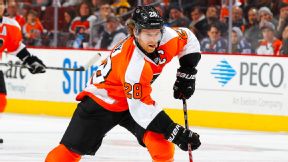 Jim McIsaac/NHLI/Getty Images
If the season had started in mid-December, Claude Giroux would be the scoring leader and, possibly, MVP. Player Rankings