---
Closing the season with two playoff races
Sharks stand in Kings' path to titleThe Los Angeles Kings are oh-so-close to their first division title in … 21 years?
That's no typo. Not since the 1990-91 season, when Wayne Gretzky hung 163 points on the rest of the league and led the Kings to the Smythe Division title, have L.A. hockey fans celebrated first place in their group.
Oh, and that's the only division title in Kings franchise history.
So you can excuse the folks at Staples Center if they're just a little excited about being so darn close to capturing the Pacific Division.
"It would definitely be a nice accomplishment," Kings star Anze Kopitar told ESPN.com over the phone Wednesday. "We've been talking about it for a couple of years. Now that we're so close, it's nice to have your fate in your own hands. We can create in our destiny."
[+] Enlarge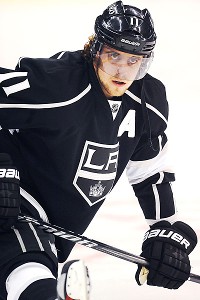 Jayne Kamin-Oncea/US Presswire"Now that we're so close, it's nice to have your fate in your own hands," Anze Kopitar said.
Standing in the way of their destiny, of course, would be your Pacific Division penthouse regulars, the San Jose Sharks. They've won the Pacific six of the past nine seasons, it's old hat for them, and they can possibly make it five straight division titles if they best the Kings in the home-and-home series, which begins Thursday night in L.A. and wraps up Saturday night at HP Pavilion in San Jose.
The Kings lead the Sharks by one single point, and we're not going to get into all the permutations with as many as six points in play if both games go to overtime.
Keeping in mind what the Phoenix Coyotes can also get done with their two final games, being that they're tied for points with the Kings, it's nothing short of monumental what is at stake in the home-and-home between rivals San Jose and L.A., with the No. 3 Western Conference seed on the line.
"These games are huge," Kopitar said. "We've been playing pretty well the last couple of weeks, and you want to ride that momentum all the way to the end. It's going to be a pretty good test for us. They're a good team, they're on the bubble, and we want to win the division. There's going to be a lot of emotion and it's going to be good preparation for the playoffs."
The two clubs have two wins apiece in the season series, although the Kings smoked the Sharks 5-2 in their last meeting March 20.
"They're a quick team," star Sharks center Logan Couture told ESPN.com Wednesday. "They made some changes. They called up some guys that are playing really well for them. They played well against us this year, and I'm sure it's still in the back of their mind what happened against us last year. They probably want revenge."
The Sharks knocked their Southern California rivals out in six games in the opening round last spring, a loss that stung a Kings club that wants desperately to take the next step.
"They ended our season last year," Kopitar said. "Any time you can get 'em back, we'll definitely take it. Especially right now, they're not where they were last year when they had the division locked up pretty early. It's a little different story this year. You want to stay on them as much as you can."
If we could take some liberties with what Kopitar was really trying to say, I think it would read like this: They're on the ledge, and we want to push them off it.
"We're going to be ready [Thursday night], and we're going to be firing on all cylinders," Kopitar said. "Because we know they'll be ready, too."
It's mind-boggling that the Sharks have resorted to having to battle for their playoff lives, a team that many picked for loftier things after it reached the Western Conference finals in back-to-back years.
You wouldn't find a single player in the Sharks' dressing room who would have believed you in September had you told them they'd be heading into Game 81 without having clinched a playoff spot.
"You just have to get in," Couture said. "You can't look back and say, 'What if?' You have to deal with what you've got. We've got an opportunity to get into the playoffs. We're playing L.A. in two huge games that are basically already the playoffs. We want to get into the playoffs playing the right way, and we have two games left to get ready for that."
The Sharks are finding their legs. They just swept a critical home-and-home with the Dallas Stars and for the first time all year, really, are showing off a four-line attack that has teeth.
"With the additions we made in [Dominic] Moore, [T.J.] Galiardi and [Daniel] Winnik, and with Marty [Havlat] coming back, we can roll over our four lines," Couture said. "I honestly can't tell you who our fourth line is really, because they're playing so well it's hard to tell. Our bottom two lines are playing so well and generating offense for us. That's what we need. That's why we were successful against Dallas -- because we had all four lines pitching in and scoring goals."
They'll need that offense because Kings netminder Jonathan Quick and his league-leading 10 shutouts present a mighty challenge for the Sharks.
"He's had a great year," Couture said. "He's one of the tougher goalies in the league to score on, that's for sure. The key for us is to get bodies to the net, get as many pucks there as we can and score on the second chance. You rarely score on Quick on the first shot -- he's just that good."
-- Pierre LeBrun
---
Panthers, Caps cross paths
When he took over as the coach of the Panthers, Kevin Dineen didn't set specific number goals for this season. Instead, he aimed for something else. He wanted this group to be playing for something meaningful in the final week of the season, and he didn't mean a lottery pick.
"We wanted to feel like we were a relevant and important part of the conversation of the hockey world come this time of year," he told ESPN The Magazine. "That's exactly where we want to be."
That's exactly where they are.
Yes, they suffered a total collapse in blowing a three-goal lead against the Jets on Tuesday night, when a win would have clinched the Southeast Division. But Thursday, they play in Washington in a game against the Capitals that will be the conversation of the hockey world. At least those in the East.
[+] Enlarge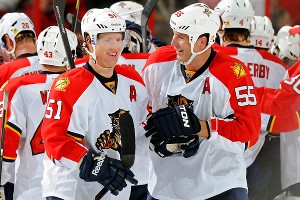 Phil Ellsworth/NHLI/Getty ImagesThe Panthers have achieved their goal of playing for something meaningful in the season's final week.
All the Panthers need is one. One point, and they win the division for the first time in franchise history. One point, and they bury the ugly distinction of being in the NHL record books for missing the playoffs 10 consecutive seasons.
They have two games to do it, but the schedule has given them the opportunity to take down the team chasing them for the division. It's a chance to take down the team that has owned their division for years.
"It's head-to-head," Dineen said. "There's different ways you can spin numbers and sit there and play out different scenarios. At the end of the day, you put your destiny in your own hands and line up against another team -- that's all a player can ask for."
Unlike the Panthers, the Capitals had higher aspirations than just being relevant entering this season. They didn't just want to be part of the conversation. They wanted to be THE conversation.
The Capitals were built this past summer to win in the playoffs. They just have to work out one small detail nobody figured would be an issue.
They have to make the playoffs.
"It's not the position we set out to be at the start of the start of the year. Unfortunately, that's where we are," Capitals forward Brooks Laich told ESPN The Magazine. "The main thing to focus on is we're still in control of our own destiny. Maybe things haven't gone our way. To still be in the position to make the playoffs, you're still in a good position."
And there's something to be said about this group of Capitals fighting for every point rather than setting it on cruise in February like they have in the past. That strategy clearly didn't work, so there remains a chance that this one will.
The regular-season inconsistencies will be forgiven if Washington can transform this newfound resiliency into a playoff run. Little will be forgiven if the Caps miss the playoffs entirely.
"People can say what they want, they can say this group hasn't played up to their potential," Laich said. "We've been pretty much everything they've wanted to see out of us the last couple years, and it hasn't translated into playoff success. Maybe this new identity, maybe this is what we've had to become to get playoff success."
They just need to make it first, and there's a team coming from South Florida looking to bury demons of its own.
"That's what we work for all year -- guys working out in the summer, the preparation, the flights, the travel -- all the things that go on through the course of a season," Dineen said. "These are the moments you really look forward to."
--Craig Custance
Stay On Your Skates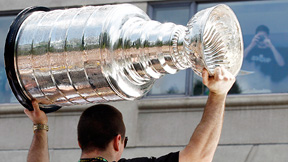 AP Photo
Craig Custance talks to rival players, coaches and scouts to break down the strengths and weaknesses of teams heading into the playoffs. Scouting reports

Cross Checks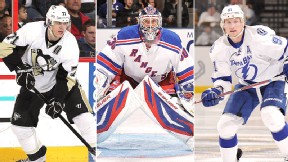 Getty Images
With the regular season wrapping up, Scott Burnside and Pierre LeBrun hand out the hardware. Trophy Tracker » Your picks? »
Stats & Information
Key points about Thursday's games:


• Florida has posted a mediocre road record this season, 17-16-7, and is minus-24 on the road, good for 25th in the league.

• Florida has 11 shootout losses this season (6-11), tied for most in the league. In comparison, Washington is 4-4 in shootouts.

• Since the beginning of March (17 games), Alex Ovechkin has scored 10 of his 36 goals. During this period, he has averaged 4.47 shots per game compared to 3.78 shots for his first 59 games.

• Alex Ovechkin has the fourth-most shots this season with 299.


• This season, Los Angeles averages the second-fewest goals per game, 2.27, but averages the second-fewest goals against per game at 2.03.

• San Jose has the third-best power-play percentage at 20.4, but Los Angeles has the third-best penalty-kill percentage at 88.0.

• Jonathan Quick is tied for fourth among goalies with 67 starts this season and has the ninth-best GVT rating (18.8) of all players in the NHL. GVT represents a player's value above a replacement or threshold player.