Sharks-Ducks: Plenty on the line in Pacific clash
e playoffs don't begin until next week, but don't tell that to the teams clashing at the Honda Center on Wednesday night.
Tune in for the San Jose Sharks and Anaheim Ducks and you might be confused, because the spectacle you'll be treated to will resemble a no-holds-barred postseason affair.
Kind of like when the Sharks beat the Los Angeles Kings on Thursday 2-1. Or when the Sharks beat the Ducks 3-2 on March 20. Or when the Ducks beat the Kings 2-1 on March 15.
If this were soccer, we might be able to create a separate competition during the season, calling it the California Cup, perhaps. I'd pay to watch every single game between these three teams.
Two of them are guaranteed to face off in the opening round of the Stanley Cup playoffs next week, with the Kings -- in third place in the Pacific Division -- waiting to see whether it's the Ducks or Sharks who finish second in the division and get rewarded with an all-out war with the 2012 Cup champs in the opening round.
So, yeah, there's definitely something on the line Wednesday night. The Ducks can clinch the Pacific Division title with a win in regulation over San Jose.
"That's something we've been working for all season," Ducks captain Ryan Getzlaf told ESPN.com on Tuesday afternoon. "To have it within our own grasp right now, it's a big game for us. We're going to be facing a hungry team, we know that. I thought we played really well last game [3-0 win at Vancouver]. As long as we can continue down that path, hopefully we can get it done."
The Sharks need a victory in regulation to cut Anaheim's lead atop the division to one point and set up an intriguing final two games for each team this week.
"I think that's pretty much a given that we have to win the next three if we want to win the division," Sharks star center Logan Couture told ESPN.com.
The Sharks finish the season with a home game against Colorado on Friday night and a road game at Phoenix on Saturday night. The Ducks are at L.A. on Saturday night then wrap it up at home against Colorado the following night.
Tough games for both teams, which is why a Sharks win Wednesday could make things interesting. The Sharks have won three of the four meetings this season with the Ducks but lost the only one played at the Honda Center, 6-3 on New Year's Eve.
"We haven't beat them in their building yet this year. They play well at home," said Couture. "We know what kind of challenge it's going to be. It's going to be tough."
Judging from the intense, playoff-like game the Sharks and Kings played Thursday night in San Jose, it's clear what to expect Wednesday as well.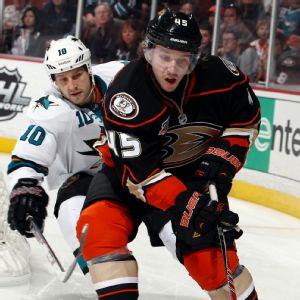 Debora Robinson/NHLI/Getty ImagesWednesday's game will have a lot to do with whether the Ducks hold off the Sharks in the Pacific.
"Every time we play the Sharks over the last couple of years, they're tough games. We've built up a pretty good rivalry," said Getzlaf. "Playoff series will do that. We played them a few years back in the playoffs [2009, Ducks upsetting top-seeded San Jose], and ever since then, every game has been a battle. We expect nothing else Wednesday night."
Wanting to avoid the Kings in the opening round is the elephant in the room. The Sharks and Ducks will not openly admit that for a variety of reasons, including to avoid giving wild-card teams (which the Pacific Division winner will face) any bulletin board material.
But who's kidding whom? An opening-round series with the Kings is about as enticing as dental surgery. Sure, the Ducks and Sharks are both capable of beating L.A., but at what cost?
Just ask the Kings, who went through a six-game war with St. Louis last year in the first round followed by a monster seven-gamer with San Jose in the second round. The Kings were a bunch of walking wounded and out of gas by the time they got to Chicago for the conference finals.
No one is saying the wild-card team that faces the Pacific champ -- whether it ends up being Minnesota, Dallas or Phoenix -- can't produce an upset. But facts are facts, and that's a first-round matchup that's a lot more appealing for the Ducks or Sharks.
Hence the importance of Wednesday night's tilt. Even if Getzlaf and Couture both downplayed wanting to avoid the Kings.
"The reality is we're going to have to go through the elite teams if we want to get to our goal in the end anyway," said Getzlaf, whose sensational season should earn him a Hart Trophy finalist nod. "But anytime you can finish as high as possible and get that home ice, that's going to help us no matter who we're playing. That's our main goal, to clinch that home ice and make sure we have it for most of the playoffs."
Said Couture: "We're going to have to go through some good teams to win the Stanley Cup, whether it's in the first round, second round, third round of the Cup finals. If we end up with L.A., it's going to be tough, but if we end up playing someone else, it's still going to be tough. The 16 teams that make the playoffs are all good hockey teams. We're going to have a challenge in the first round regardless."
Just as important for both the Ducks and Sharks is that neither team is really firing on all cylinders. Curiously, both clubs have laid some eggs the last few weeks with the Pacific Division lead up for grabs.
The Sharks have lost to the likes of Calgary, Winnipeg and Nashville since March 24, while the Ducks have a pair of losses to Edmonton plus a loss to Nashville during that same stretch.
"Those were games we didn't necessarily play well in," said Couture. "The last little while, we haven't really been playing our best. That's the main thing for our team. We need to get our game where it needs to be going into the playoffs and not look back."
Both contenders want to get their games right before next week.
"As long as we're headed into the playoffs playing the way we know we can, and I thought Monday night was a big step for that, then we're happy," said Getzlaf, again referencing the 3-0 win at Vancouver.
There's another factor at play Wednesday night. It's the final regular-season game between the Ducks and Sharks, potential second-round playoff opponents. Similar to the way the Sharks seemed intent on sending a message to the Kings on Thursday, there could be a bit of that Wednesday night as well.
"You always want to put some kind of doubt in their mind, if you can get the upper hand at any time going into a playoff series. These are the teams we're going to have to go through if we want to win a championship," said Getzlaf. "If we can put any doubt in their mind, that should be a goal of ours."
Said Couture: "We played a physical game against L.A. I was happy with the way we responded in that game. Hopefully we can do that same Wednesday night."
Giddy-up! I love me some Cali hockey.
W2W4: Sharks at Ducks
Sharks (107 points) at Ducks (110 points), 10:30 p.m. ET

• San Jose is 3-1-0 vs Anaheim this season, 0-1-0 in Anaheim
• Anaheim has gone 4-1-0 past 5 at home vs San Jose
San Jose (49-21-9):
• 34-4-6 when scoring first
• 3/15 on power play vs Anaheim this season
• 5-1-1 past 7 road games, 14GA, 5/15 on power play
• 4/7 on PP last 2 games
• Joe Thornton (1G, 5A) vs Anaheim this season
Anaheim (51-20-8):
• 31-5-6 when scoring first
• 3-1-0 past 4 at home, 16GF, 2/10 on PP (lost last)
• Ryan Getzlaf (1G, 5A) vs San Jose this season
• Corey Perry (1G, 1A) last 2 games

Stay On Your Skates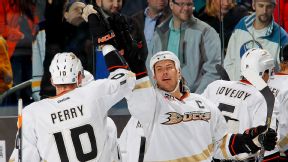 Bill Wippert/NHLI/Getty Images
Corey Perry and Ryan Getzlaf are making noise this season, but where do they stand on the player power rankings? Hockey Prospectus