Dan Boyle still believes in Sharks' bite
DETROIT -- Dan Boyle understands the interest. There was a time when he was a hockey fan and followed the trade deadline with the same enthusiasm that fans tracked every rumor last week.
"When you're a fan, the trade deadline is so fun," he said after a Wednesday practice in Detroit.
As a player? Not so much fun. Truth be told, Boyle hated that his name was out there in the days leading up to the deadline. He could live without the emails and texts from friends wondering if he was headed to New York or Philadelphia.
Sometimes lost in the frenzy that comes with trade speculation is that trading a player across the country, as was rumored with Boyle, is extremely personal. It's not just a cap number, a solution for a power play or some draft picks being swapped back and forth.
"It's life-changing stuff," Boyle told ESPN The Magazine. "Guys have families, they have houses, they have kids going to certain schools -- their friends. There's a lot of people involved. It's tough."
He tried to avoid the trade talk as much as possible, but when it's your immediate future being debated, it's almost impossible to ignore. So, yeah, he watched some of the trade deadline coverage on television. He read an occasional newspaper story. To not follow it meant avoiding all forms of media and burying the phone at the bottom of the suitcase for a week. It's really the only way.
When last week's deadline passed and the Boyle trade rumors remained only rumors, there was a feeling of relief. Huge relief.
Not just because he wasn't eager for a life-altering event in the middle of a season, but also because he still believes in the Sharks. He wants to be part of a breakthrough in San Jose, not be brought in as a final piece of some other team's puzzle.
Maybe the Sharks' core is getting old, but Boyle believes there's another run left in this group. GM Doug Wilson made it pretty clear leading up to the deadline, in dealing Ryane Clowe and Douglas Murray, that he won't wait forever for it to happen.
"If you don't win, guys go," Boyle said. "Whether it's Clowe or Murray, or this summer someone else. If you don't win, guys are going to move, guys are going to leave. I don't want to go anywhere. We have to win as a team, that's the only way."
Lately, that's what the Sharks have been doing. They enter Thursday night's ESPN.com Game of the Week against the Detroit Red Wings with wins in seven of their past nine games. They've been dominant at home with a 14-1-5 record but quite the opposite on the road, with only six road wins all season. The Ottawa Senators are the only other current playoff team with so few wins away from home.
And things have especially clicked into place since Brent Burns' shift to forward, which is slowly moving from experiment mode to something the Sharks might want to consider long term. Burns' success at forward has opened opportunities on defense for Jason Demers, Justin Braun and Matt Irwin, with coach Todd McLellan singling out the play of Irwin since Burns moved to forward. Irwin's average ice time per game in April is at 19:53, his highest of any month this season.
And with Burns at forward, Boyle's presence on defense is as crucial as it's been at any other time in his San Jose tenure.
"When Brent went up front, it created depth immediately," McLellan said. "It created size, shot, a bull in the China shop-type player to play on one of our top lines. That depth kind of reset a number of guys. It's worked until this point. We'll see what happens."
It's a bit reminiscent of the Kings' addition of Jeff Carter last season in that it allowed other forwards to slot into their proper positions on the ice. McLellan shuffled the lines a bit at practice Wednesday partly because of the matchup with Detroit, so the trio of Joe Thornton, Burns and Martin Havlat may not remain intact. But with three lines anchored by centers Logan Couture, Thornton and Joe Pavelski as well as a fourth line that brings speed and grit, the Sharks are more balanced up front than they have been all season.
The game plan is the same as it always is with the Sharks -- get in the offensive zone and try to wear down the opposition.
"When you get tired, they pick you apart" Red Wings defenseman Kyle Quincey said. "We have to do a good job of not being in our zone for a minute, minute and a half."
The decisions to keep Boyle and move Burns to forward have kept the Sharks competitive. As the playoffs approach, they just have to find a way to win on the road and deliver that consistent effort every night. If they want any form of home-ice advantage in the playoffs, and their home record suggests they desperately should, a repeat of Tuesday night's road loss to the Columbus Blue Jackets can't happen.
"We just showed each other what we can do with a real honest, hard effort," McLellan said. "We can't give ourselves permission to take days off right now."
ESPN Senior Writer
Senior NHL writer for ESPN The Magazine
Wrote for Atlanta Journal-Constitution
Wrote for The Sporting News
EA SPORTS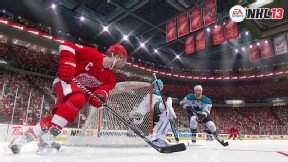 EA Sports
EA Sports gives you a preview of what to expect when the San Jose Sharks vist the Detroit Red Wings.
Simulation »
Stay On Your Skates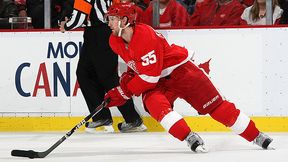 Dave Reginek/NHLI/Getty Image
Niklas Kronwall
has a plus/minus of minus-9, which would be a career worst.
Thin Blue Line »
By The Numbers
By
ESPN Statistics & Information


• Joe Thornton (Sharks): He has a league-high 782 assists since the start of the 1997-98 season.
• Patrick Marleau (Sharks): His 403 goals since the start of the 1997-98 season are sixth-most in the NHL in the span.
• Antti Niemi (Sharks): He is 9-2-2 with a 1.81 GAA and two shutouts against the Red Wings and has never allowed more than three goals in a game to them.
• Henrik Zetterberg (Wings): He has career-lows in shooting percentage (6.1 percent; eight goals on 131 shots) and goals per game (0.22).
• Pavel Datsyuk (Wings): He's the only player among the NHL's top 10 in takeaways (47, 2nd), short-handed faceoffs won (62, T-5th) and power-play faceoffs won (78, 4th).