Great start for Clowe with Rangers
Ryane Clowe's Rangers debut went far better than he could've imagined, considering he took a red-eye flight from San Jose and slept just 30 minutes the night before Wednesday's game at Madison Square Garden.
The forward, traded to the Rangers from San Jose on Tuesday, tallied two goals and added an assist to propel his new team to a 6-1 drubbing of the first-place Pittsburgh Penguins.
"It was a pretty special night, obviously," Clowe said Thursday in a radio interview with ESPN New York 98.7 FM. "It was a pretty crazy 24 hours after being traded. & That's not exactly how I expected it to go. I couldn't imagine it going so well."
Clowe admitted to feeling some fatigue during the game -- his eyes were getting heavy in the third period -- but he said he had it easier than other guys.
Fellow new additions Derick Brassard and John Moore, acquired from Columbus in a trade on Wednesday, barely had time to say hello to new teammates before stepping onto the ice.
"At least I had a little bit of time. Those other guys who came in right before warm-up. They didn't even have time to shake hands; they had to get dressed," Clowe said.
That didn't seem to hinder any of the three newbies, though. Clowe, Brassard and Moore all scored goals and combined for eight points.
"It was a pretty wild night, but to be able to get thrown together like that and jell together was pretty special," he said.
Clowe said the move from San Jose, where he played since the 2005-06 season, will be a tough one, but that having a no-trade clause made the decision easier. Clowe said he spoke with Sharks general manager Doug Wilson about the possibility of a trade and the direction San Jose was going.
"I tried to do my homework on where I fit in & and the Rangers were on the top of my list right away," Clowe said. "Once I knew they were interested, I knew I could fit in and help out here."
Clowe said he always viewed the team as one that was hard to play against and didn't give up.
"I looked at them as a team that was on the bubble of making the playoffs, but I didn't look at them like they should be there," he said. "I looked at them as a top team."
As for Rangers coach John Tortorella, Clowe's initial impressions were "fiery" and "intense" -- though his three-point effort protected him from any of that Wednesday night.
"We'll see down the road," Clowe said. "So, so far, so good."
ESPN.com
Katie Strang covers the Detroit Tigers for ESPN.com. She is a graduate of Michigan State University and the Columbia University Graduate School of Journalism.
EA SPORTS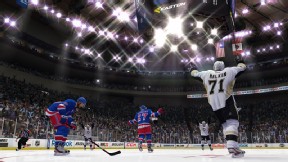 Courtesy of EA Sports
EA Sports gives you a preview of what to expect when the New York Rangers play the Pittsburgh Penguins.
Simulation »
Stay On Your Skates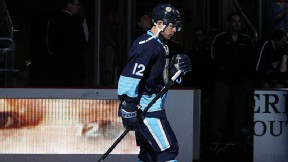 Charles LeClaire/USA TODAY Sports
With
Sidney Crosby
out indefinitely with a broken jaw, the Pens look to recently acquired veteran
Jarome Iginla
to pick up some slack.
Front Lines »
By The Numbers
By
ESPN Statistics & Information


• Rick Nash has scored or assisted on 35.3 percent of the Rangers' 85 goals this season.
• 40.0 percent of the Rangers' goals have been scored in the third period or overtime. Ten of Nash's 13 goals have come in the third period or OT.
• Ryan Callahan has five of the Rangers' 18 power-play goals. His first came in the first meeting against the Penguins this season.
• The Penguins will be without league-leading scorer Sidney Crosby, who is out indefinitely with a broken jaw.
• Pascal Dupuis has 18 goals this season, 16 during even-strength play and one each on the power play and short-handed.
• On 10 of Chris Kunitz's 20 goals, the primary assist has gone to Crosby.