Sharks at Blues: Who is best in the West?
The Blues are 4-0, the Sharks are 5-0. How can this not be the Game of the Week? What say you, Scott Burnside and Pierre LeBrun?
BURNSIDE: Greetings, my friend. Hope you didn't overdo it on your Thanksgiving holiday. I always recall Pat Quinn when he was coaching in Toronto lamenting the effects of tryptophan from eating too much turkey and how it makes you sluggish. But I'm pretty sure there will be no sluggishness in St. Louis Tuesday night, when two titans of the West tangle. Last week, it was the Blues knocking off Chicago in a Central Division statement game; now this Sharks-Blues tilt will establish the top team in the Western Conference. The two have thus far combined to go 9-0, allowing just 14 total goals and posting a combined plus-29 goal differential. In short, the Sharks and the Blues have it all going on. Now, the teams' records shouldn't really be much of a surprise, but maybe the fashion in which they've arrived at this stage has raised some eyebrows. San Jose rookie Tomas Hertl is the top goal scorer in the NHL as of Tuesday morning with seven. Of course, four of those came in a 9-2 pounding of the New York Rangers, but that's still pretty darned impressive and another indication of the work GM Doug Wilson has done in rebuilding this Sharks team on the go. The Blues, meanwhile, are being backstopped by Jaroslav Halak, who has been dogged by injury in the past couple of years and in many ways has been a non-factor with the Blues. That's not the case anymore, as Halak has gone 4-0 with a 1.75 GAA and .934 save percentage.
LEBRUN: I was sensible in my turkey consumption, thanks for asking. On the red wine? Not so much. But I digress. Indeed, a tantalizing matchup between two of the four teams that many consider the most serious Cup contenders in the West along with the last two champs in Chicago and Los Angeles. To me, one of the Sharks, Kings, Blackhawks and Blues will end up in the Stanley Cup finals next spring. Book it. And, of course, because of the new divisional setup for the playoffs, unless a wild-card team wreaks havoc, the Western Conference finals will feature a Central-Pacific matchup, so you're talking perhaps Hawks-Kings again, or Hawks-Sharks, or Blues-Kings, or yes, maybe Blues-Sharks? All of which makes this game a tasty appetizer for what might come in the spring. The last time these two teams met in the playoffs, in the spring of 2012, I covered that series, the Blues dismantling the Sharks in five games and San Jose looking like a slow, old team needing an overhaul. We know that "resetting, refreshing" of the roster, as Sharks GM Doug Wilson likes to call it, happened just before the trade deadline last spring with a series of moves that on the fly woke up the Sharks but also made them a faster team, not only with the players they acquired (most notably Raffi Torres) but more so with it freeing up ice time for younger players to step up and contribute more. A lot of credit goes to head coach Todd McLellan and his staff as well, as they've had the Sharks buy in since last March to a style of play that's hard and fast, constantly reminding the players to keep their feet moving and not getting caught standing still, which the team was guilty of in the past. Both these clubs have a top nine that contributes offensively, three lines deep like few other teams in the league. And while you mentioned the red-hot Halak, Antti Niemi has been just as dynamic, picking up where he left off last season, when he was a Vezina Trophy nominee. And I should mention that the Sharks and Blues are 1-2 in scoring, the Sharks tops with 4.80 goals per game and the Blues at No. 2 with 4.75 goals per game. It's a great matchup all around.
BURNSIDE: That's bold of you to pick four teams in the West and suggest one of them will end up in the Stanley Cup finals next spring. I agree on Niemi, although we probably shouldn't be surprised by his level of play, given that he was a Vezina Trophy finalist last season. But Halak is the real key for the Blues. Longtime NHL netminder and national analyst Darren Pang told me about how Halak rededicated himself in the offseason to getting in shape and putting himself in position to stay healthy. "He's changed everything about his game," Pang said. That includes work habits, his attitude, everything. Beyond that, the Blues are getting early on what they did not get in the first round of the playoffs against Los Angeles, when they blew a 2-0 series lead and lost in six games, and that's terrific offensive balance. Heading into Tuesday's game, the Blues had 10 players score goals, including Vladimir Tarasenko, who has three goals so far after an up-and-down rookie season.
LEBRUN: You're way too formal, Scotty. We just call him "Panger" at TSN when the knowledgeable little Buddha of hockey knowledge joins our panel. But agreed on Halak; I wrote about that before camp even started this season, how so much rested on his shoulders. The Blues gave him the keys and challenged him to get back to being the 2010 version of himself, the one that was sensational in Montreal. It was the smart thing to do for the Blues, ending the goalie sharing with Brian Elliott. The latter has been solid for the Blues, put up great numbers at times, but his playoff losses the last two springs told the Blues they needed a healthy Halak to be the man. Given that it's a contract year, it's certainly important for Halak himself to re-establish himself as a trusted starter, and he's doing just that right now. If he can keep this up, the Blues will finally get over the playoff hump.
BURNSIDE: Well, you know I am nothing if not formal, my friend. The Sharks will bring to town a very similar lineup with 10 different goal scorers, and that number does not include the two Joes, Pavelski and Thornton, who are without goals. You know, in previous seasons this would have been a big story, and yet the Sharks, as you pointed out, are a much different machine this season. OK, time to go into prediction mode. I'll give the nod to the Sharks, let's say 4-3 in a shootout. And of course Hertl will score the winner.
LEBRUN: Thornton's winger Brent Burns is off to a good start with three goals and three assists in five games, and his plus-9 leads the NHL. His move up front from the blue line last March was seen as temporary at the time, but the Sharks have made the right call to keep him there. He's turned into one of the elite power forwards in the game. Having said that, give me the Blues, 3-2 in regulation, Jaden Schwartz with the winner, a young player more fans around the league will begin to notice more as this season goes on.
ESPN Senior Writer
Covers hockey for ESPN.com
10 years at Toronto Sun, Windsor Star and National Post
Wrote best-selling true crime book "Deadly Innocence"
ESPN Senior Writer
Covers the NHL for ESPN.com and TSN in Canada
Six years on the "Hockey Night In Canada" Hotstove panel
13 years at The Canadian Press national news agency
Power Rankings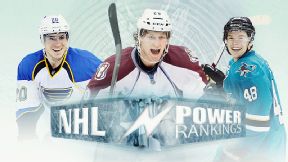 ESPN Illustration
On Canadian Thanksgiving, the Blues, Avalanche and Sharks are grateful to have perfect records. But which team is the best? Power Rankings »
W2W4: Sharks at Blues
Sharks (10PTS) at Blues (8PTS), 8 p.m. ET
• STL was 2-1-0 vs SJ last season, winning final 2 meetings
• Teams split 2 games in STL last season

Sharks (5-0-0)
• Last game: Home W - 2/6 on PP - Alexander Steen 1G, 3A
• all games have been at home, 6/16 on PP, 7GA
• 3/7 on PK last 2 games
• David Backes 3G, 1A last 2 GP
• Vladimir Sobotka had 3G, 1A vs SJ last season

Blues (4-0-0)
• Last game: Home W - 50 shots for - Brent Burns 1G, 1A
• have outscored opponent 24-7 this season
• 1 road game this season
• Tomas Hertl (7G) over past 4 games
• Patrick Marleau had 2A vs STL last season

Stay On Your Skates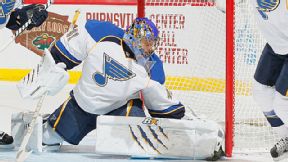 Andy King/NHLI via Getty Images
Blues goaltender Jaroslav Halak is showing every game that last season's disappointing results in the crammed schedule should be thrown out. Custance