Pens at Caps: Carlson looking to impress
If the hit TV show "Person of Interest" has taught us anything, it's that someone is watching you 24 hours a day, seven days a week, 365 days a year.
So, if you're John Carlson, you can rest assured the prying eyes of Team USA have noticed you've put up seven points (5-2) in nine November games with a plus-6, while playing massive minutes.
In short, after a slow start to the season that dropped him down the Team USA depth chart, Carlson has improved his chances this month with some terrific hockey at both ends of the ice. He's not a lock to make the team by any means, but he's got a shot.
Another audition comes Wednesday night in Washington, D.C., with Team USA head coach Dan Bylsma behind the Penguins' bench, as well as Ray Shero (Pens GM) and Don Waddell from the U.S. management team in the building (Shero also took in Washington's 4-1 win over St. Louis on Sunday; Waddell is slated to also watch the Caps play Friday night).
Like I said, people are watching.
"Everyone always thinks about those things," Carlson told ESPN.com when asked about Wednesday's audition. "You hear stuff through the grape vine. But at the end of the day, once we get out there, we're going to have a big enough task just to get the W, so that takes pressure off your mind and keeps you focused on the game."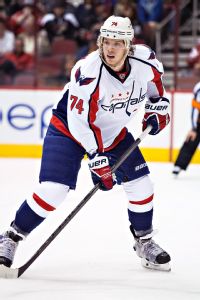 Jerome Miron/USA TODAY SportsJohn Carlson knows his play is under scrutiny.
But he's not going to lie. The 23-year-old New England native admits it's hard to ignore all the Olympic hype.
"Absolutely. It's one of those things where you kind of tip-toe around the question almost every time someone asks," Carlson said.
The question now is whether he's done enough to push his way onto the team. There's still another month to prove himself to Team USA.
"I'm biased, but I think he really should make the Olympic team," Caps head coach Adam Oates told ESPN.com on Tuesday. "He can do it all, kill penalties, run your power play, 5-on-5, log big minutes, skate; it's a big ice surface [in Sochi], what can't he do?"
The Caps have the second-best penalty kill in the league as of Wednesday morning and Carlson averages the second-most shorthanded ice time per game (4:17) in the NHL. So there's that. He also anchors the Caps' top shutdown defensive pair alongside Karl Alzner, and over the past week has played more power-play minutes with Mike Green out of the lineup.
Carlson has basically been a 35-point player since entering the league and is on that pace now, and his 22 points in 48 games last season translated to a 37.5-point season over a full 82 games. There's a sense now that his development has brought him to a stage where he can do more offensively if given the chance.
"He came into the league and built a really good defensive foundation in his game," Blues head coach Ken Hitchcock, whose team played the Caps on Sunday, told ESPN.com. "Now he's being used more in offensive situations and responding. But he's always had that good foundation.
"He's built his game up. He's got a real sound all-around game."
For Carlson, his biggest focus since entering the league has been to improve one specific thing.
"Ultimately, I think, my consistency," he said. "Sometimes I play a lot and I have to make sure I don't have any lapses. The guys in this league are so good, you can't take a shift off. That's one of those things I think I'll be working on until the day I retire. But I think I've gotten better at it."
That's exactly what Oates has asked of Carlson, to challenge himself to continue to grow as a player despite his successes already.
"We ask him to do a lot," Oates said. "Mike [Green] went out the other night and we asked Carlson to play 32 minutes."
That's Ryan Suter territory, I suggested.
"He's got Suter-type potential, in my opinion, he does," Oates responded. "He's got an unlimited tank, he can skate, he's powerful, he's strong, I think he's handling the workload and the physicality that goes along with playing against the league's top players. I think he's got a chance to be a top defenseman every year. I really do.
"All I ask from him is to keep his mind open and keep growing as a player. He's a young kid. Even though you're a very good hockey player, there's always more to learn."
In the meantime, the Olympic flame is burning strong in Carlson's heart. Like any other hopeful, it would mean everything to get to Sochi.
"It would be a dream," Carlson said. "Everyone has followed it since they were a kid, it's a special event. It's a great accomplishment for any hockey player to get there. I'm trying to do everything I can for the Caps right now and hopefully that transfers to help me make that team."
ESPN Senior Writer
Covers the NHL for ESPN.com and TSN in Canada
Six years on the "Hockey Night In Canada" Hotstove panel
13 years at The Canadian Press national news agency
W2W4: Penguins At Capitals
Penguins (26 points) at Capitals (25 points) - 8 p.m. ET
• PIT was 3-0-0 vs. WSH last season, 1-0-0 in WSH
• PIT has gone 2-1-0 past 3 games in WSH
Penguins
• Last game: Home W - 1GA - Malkin 2A
• 2-1-0 past 3 games, 10/11 on PK
• lost 3 straight on the road, scoring 1G in each game
• Crosby has 0PTS over his past 3 road games
Capitals:
• Last game: Home W - 1GA - outshot 47-20
• won 3 straight games, scoring 11G
• won 6 straight at home, 6/19 on PP
• Ovechkin (4) has scored in 3 straight games

Rivalry Stakes Raised
One of the NHL's top rivalries was intense already, but when realignment put Pittsburgh and Washington together in the same division? Geez, Louise.
"They just slammed that right on us, too, right?" Caps blueliner John Carlson asked ESPN.com, chuckling.
The Penguins and Capitals currently stand 1-2 in the Metropolitan Division, separated by only a point.
A rivalry spurred on originally by the entry into the league in 2005-06 of dueling franchise players Sidney Crosby and Alex Ovechkin now has a real target on the line: the division crown.
"It can't really get much more of a rivalry, but it's cool to see," Carlson said of both teams being lumped into the same division.
"It's a good game to play, always, it's good for hockey to see those two teams go up all the time. It just [stinks] for all of us defensemen."
Pretty sure I heard a laugh from Carlson over the phone at the end of that line. I think.
Caps-Pens, bring it on.
-- Pierre LeBrun
Stay On Your Skates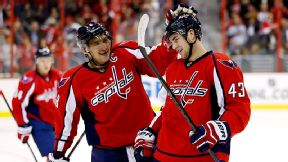 Geoff Burke/USA TODAY Sports
Is it time to upgrade Washington to one of the few legitimate Stanley Cup contenders in the East? Craig Custance